The under-counter refrigerators are probably the thing that you have seen many times before but never really paid attention to it. However, according to the statistics, it is possible to say that this kind of refrigerator is one of the most used ones and, one of the most effective interior decisions.
If in the past, maybe, this kind was considered as the budget one and limited in functioning, then now, with the development of modern technologies, it is a high-tech appliance. Moreover, the under-counter refrigerator is the perfect decision for the small kitchen.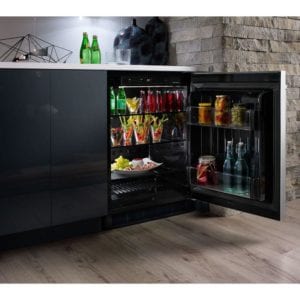 Because of its compact shape, it doesn't occupy much space and fits the tiny apartment rooms, so common for the big cities. On the other hand, there are different kinds of under-counter refrigerators. Some of them are made for storing everything (food and drinks), some are suitable only for keeping the drinks; others are better for storing vegetables.
They can be freestanding and built-in types. The assortment today is wide, so you can always find the item you are looking for. Check this list down below and we guarantee, you will make your perfect choice.
Image
Product

EdgeStar CBR1501SLD




Beverage Cooler
Powerful
Makes noise

Check Current Price

SABA 27"




Compact and easy to relocate
A fridge for everything
Easy to clean

Check Current Price
Allavino VSWR56-1SSRN


A fridge for wine
Various temperature modes for various types of wine
Convenient shells

Check Current Price

Avallon ABR241SGRH




A fridge for all types of beverages
Nice design
Requires exrta care

Check Current Price

Kegco VSCB-24SSRN




Perfect for the large-size beverages
Good price

Check Current Price
Midea WHD-113FSS1


A fridge for all types of food
Well-designed
Affordable

Check Current Price
SPT BF-314U


Unusual design
Qualitative materials
Makes slight noise

Check Current Price
1. EdgeStar CBR1501SLD 5.49 Cu. Ft. EdgeStar 142 Can Built-in Stainless Steel Beverage Cooler
A classic under-counter refrigerator, which is, as you can understand from the name, is made for storing beverages. It is ideal for game rooms and kitchens. However, the unit is ideal for indoor purposes only. Its built-in capability and versatile, the front-venting design allows a seamlessly integrated look.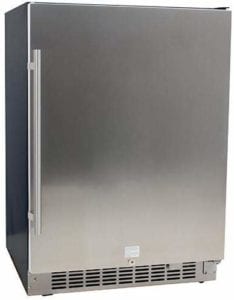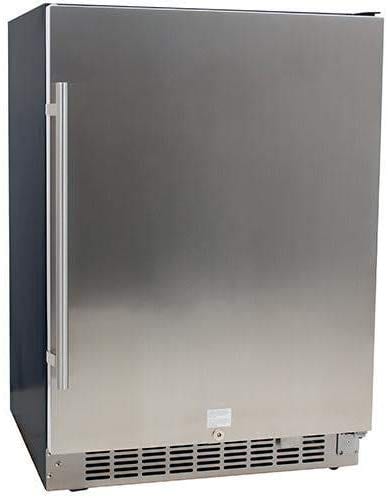 The unit comes with 142 standard 12 oz. cans. By the way, it can be found in both variations – freestanding and built-in one. The cooler is 24 inches wide which makes it perfect to fit into the mid-sized under-counter kitchen spaces. The unit measures 24.8 x 23.5 x 33.5 inches.
EdgeStar CBR1501SLD is a beverage center type under-counter refrigerator that is specially designed to keep your beverages cool at all times. This is the type of refrigerator that is air-cooled. The air inside the unit is fan-circulated. This mechanism is known to be more effective than the cold plate cooling, which tends to create cold spots in the fridge.
It has a powerful compressor-based cooling system that keeps the temperature in the range of 38 to 50 degrees Fahrenheit. This refrigerator has the shelves made of glass and it even has a factory-installed lock that offers security from unauthorized use. Moreover, this item even has a built-in carbon filter that maintains the efficiency of its work.
Besides, this item is equipped with a digital temperature control system that allows you to adjust the unit settings and monitor the unit temperature. It also has LED interior lighting that illuminates the unit and you can easily pick the right drink even when its dark outside.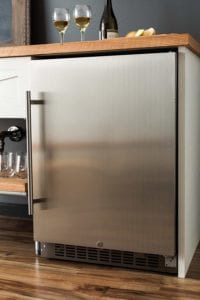 Considering the design, it looks sleek and modern. Made of the stainless steel, a reversible door helps in keeping the unit cool as it is well-insulated to keep the beverages cool and refreshing. This door has a hinge that lets you choose the swing of the door so that you can enhance the flow of your cabinetry.
Of course, you might want a different design, for example, with a glass door – well, we're going to cover these models next. By the way, one more bonus of this EdgeStar CBR1501SLD under-counter refrigerator is that it's energy-efficient.
The only drawback of it is it makes humming when it's working. In cases when it is placed somewhere in the gaming room it's not a problem, but for smaller apartments, it can be an issue. Besides, if you want to save space in your kitchen, use compact furniture, such as extendable dining tables. If that disadvantage doesn't bother you, then you can invest money into this (since the price is above the average).
2. SABA 27″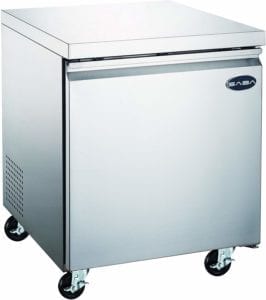 Also an interesting option for your kitchen (especially if it's small to that extent that cannot fit a full-size refrigerator). It is a freestanding kind, and you can see it has small wheels, which make this item easy to move. Thus, SABA brings to you this brilliant under-counter refrigerator that can be adjusted anywhere in your kitchen.
This refrigerator comes with a lot of great features positive seal self-closing door with 90 degrees stay open feature. Moreover, the customer service and support offered by SABA for this appliance include more than 350 well-trained technicians nationwide – not all the companies are so meticulous about it.
One more bonus here is that SABA 27″ has the 2-year warranty for appliance parts and labor, 5-year warranty for compressors used commercially and 5 yeas warranty for compressors used for residential purposes.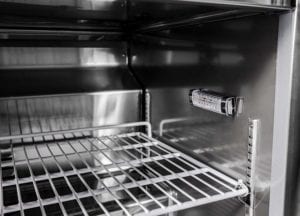 The refrigeration system of this models can hold 33F up to 41F (0.5C to 5C) or -8F to 0F (-22Cto -18C) for optimum food preservation. Another distinctive feature here is that it has the unit that comes with a magnetic door gasket. The latter contains no tools that should be removed for cleaning.
So now you can forget about the headache days when you had to plan how you're going to clean your refrigerator. There are also adjustable PVC coated shelves and an insulated lid that helps in maintaining the freshness of food items. The condensing unit is present in the back of the cabinet that slides out easily for better comfort of use.
Just like the previous item, it is energy-efficient. For those who are curious, it is more affordable than EdgeStar CBR1501SLD. But these are two different kinds so comparing them doesn't really make sense.
3. Allavino VSWR56-1SSRN Wine Refrigerator
How many wine lovers are out there? Since the popularity of this drink grows day by day, there is sure a lot of you. Consequently, the market suggests the perfect storage for true fans where they can store their bottles of fine wine.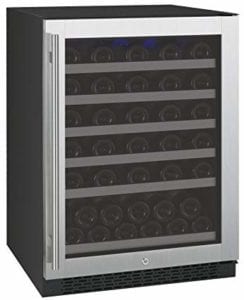 The modern, classy Allavino VSWR56-1SSRN Single Zone Wine Cooler Refrigerator offers elegant built-in or freestanding storage of up to 56 bottles. Its cutting edge shelves are made out of durable metal, which makes the appliance stable and reliable as it doesn't sag over time.
The design of the shelves is a separate feature here that deserves special attention. They are engineered in such a way that they are quite thin. This aspect makes the unit more spacious than any other wine refrigerator you have ever seen.
Seriously, this is like, the main goal of each owner of the refrigerator – so it would fit every single thing possible. In this case, we have almost the same. All the decorations of the shells are matching the door design. The interior design also features wood slats that cradle your bottles and help minimize vibration.
The digital display and controls of the appliance let you control the unit temperature easily. Depending on the kind of wine that you have in your storage – sparkling or red – the temperature can be cool enough or hot enough. The temperature range of this refrigerator is settled between 41 degrees Fahrenheit and 64 degrees Fahrenheit.
In total, there are 5 shelves that can fit up to 9 bottles each and a bottom shelf that can fit up even to 11 bottles. This maximum storage capacity can be reached with many different bottle types and is only affected when adding in larger Pinot or Champagne bottles, making this the perfect storage solution for wine enthusiasts with diverse collections.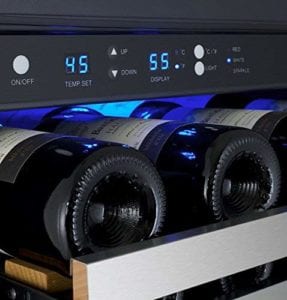 Apart from all this, the unit features a 25 percent more energy-efficient advanced cooling system. By the way, unlike the first product, this one has a completely quiet cooling system, without any vibrations – so it is perfect for any house. Another great feature of this item is that it has a good price.
What is more, the fan-circulated cooling system circulates air throughout the cabinet, creating a more efficient cooling to eliminate temperature fluctuations in order to keep the quality of your drinks safe.
So, summarizing all the points, this Allavino beverages refrigerator might be a perfect addition to the original one – it will make your kitchen look like a high-tech room.
4. Avallon ABR241SGRH 140 Can 24″ Built-In Beverage Cooler
In case you are not looking for something that highly sophisticated, you can choose this more simple product. Without any extra features (which are not always useful) and at a more affordable price, it still can be a great beverage refrigerator for you, your friends and your family.
You might just fall in love with its easy to operate and maintain touch control panel and the white LED temperature display. It doesn't have displays on the outer side, like the previous product, but still, it has them in the inside. And don't think that its temperature range is weaker – it is still quite impressive for such a compact appliance.
It can go as low as 34 degrees Fahrenheit, letting you get your beverages as cold as possible without freezing. It is actually really cool that such a powerful refrigerator can be found on the market at such a low price. If you need some pieces of ice, then you can buy a portable ice maker.
Apart from that, with Avallon, you never have to worry about hot spots or uneven cooling due to its powerful circulation fans, which work along with the compressor to uniformly distribute cool air throughout the unit. For lighting, it gives you two options to choose from a bright white LED or a soft blue LED.
Considering the capacity of this unit, Avallon ABR241SGRH measures 23.7 x 23.9 x 34.5 inches and weighs 114 pounds. In total, it can store as many as 152 standard-sized soda or beer cans.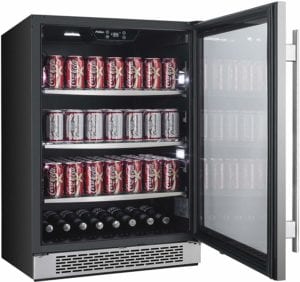 By the way, pay attention that unlike the previous under-counter refrigerator, this one is an in-built type. It can be used as a freestanding unit as well, but everything depends on if your home space is enough for that.
The door of this model is right hinged and made from double-paned, Low-E glass, with Argon gas between the two panes. This helps in maximizing insulation in the cabinet. In addition to that, the sturdy handle is made from stainless steel as well.
For those who want to prevent any unwanted access, there is a smark lock function on the refrigerator's door. And with the help of three sanded glass shelves, picking anything from the unit is never an issue.
The only drawback of Avallon ABR241SGRH under-counter refrigerator is its maintenance. The coolers of this type usually require a lot of attention and effort to keep them in the working mode. If you neglect it, the refrigerator can stop working already after a year of usage.
5. Kegco VSCB-24SSRN Beverage Center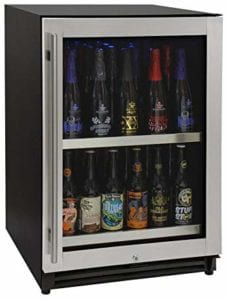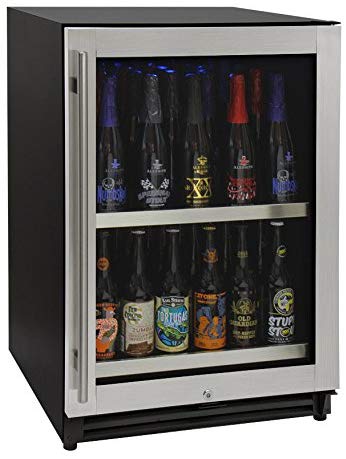 You see that most of our list are beverage under-counter refrigerators. It is probably the best kind, since if you'd like to have a fridge for all types of food then it's better to get a regular one.
But let's get back to the model that we have here. The Kegco VSCB-24SSRN craft beer center bomber refrigerator has been specially designed to meet the growing needs of all the beverage lovers. This Kengo under-counter unit is equipped with a black, UV protected interior that keeps the drinks safe.
It also prived a decent range of temperatures, which adds extra points in terms of functionality. A distinctive feature of this item is that it allows you to store really high and wide bottles. Although the unit is designed for freestanding use, it incorporates a front-venting design that allows it to also be used in built-in applications.
It comes with an efficient and powerful compressor that can be easily controlled with the help of a push-button. And just like the previous items, this one also includes a digital temperature display that can be set as low as 39 degrees Fahrenheit for serving and as high as 64 degrees Fahrenheit in case you want to age your collection over years.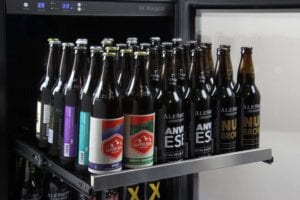 The unit measures23.6 x 23.4 x 33.9 inches and weighs just 114.6 pounds. Moreover, Kegco features sturdy metal shelves. The design of the latter is so well spaced that you can use it to store bombers as well as a wide variety of large format 750mL bottles (but only in upright position).
Being completely honest here, this Kegco VSCB-24SSRN under-counter refrigerator is originally made for storing the bottle of beer.
With the telescoping shelves, you can reach out to even the rear bottles without moving the content stored in front, allowing easy access to everything. These shelves are strong enough to accommodate heavy bottles without sagging, yet conserving space.
Another cool feature of the design of this compact refrigerator is a brushed stainless steel trim that is provided on each shelf to match the door. Besides, here you can choose a curved handle or towel bar to add to the décor. Want to secure the fridge from unwanted hands? No problem – this item offers a security lock and UV protection.
6. Midea WHD-113FSS1 Double Door Mini Fridge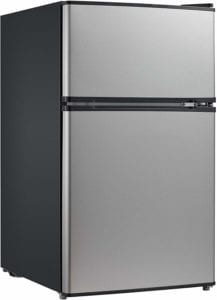 For those who are looking for an affordable and efficient compact refrigerator for all kinds of meals and drinks, this is probably the best choice of all. Coming together with a small fridge on top of it, Midea WHD-113FSS1 Double Door Mini Fridge is one of the most popular items on the market.
The temperature range of this item differs from those which are meant to store beverages and vary between 32 to 50 degrees Fahrenheit. The freezer unit has a temperature range of 3 to 50 degrees. Another distinctive feature of this fridge is that it has adjustable legs which can change its height.
The door here is also reversible and can be opened both from the lest and right side. Moreover, the refrigerator has the partial automatic defrost function in case you want to clean it and reload it.
Of course, the interior has lightning. Considering the interior, there are also separate fruit and vegetable drawers. It even includes a crisper drawer. The interior part on the door also has the beverage-hold units.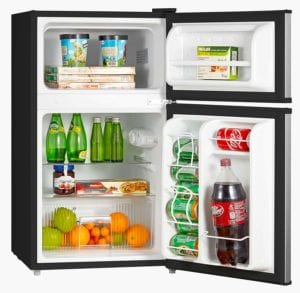 The internal walls of the main compartment are slightly tapered toward the back. With proper ventilation, the Midea compact refrigerator-freezer can be tucked under a counter and it can be built into a cabinet or piece of furniture for a customized look.
Another advantage of this model is it works quiet, unlike some refrigerators. The only humming you can gear is when it starts to colling down. Midea WHD-113FSS1 under-counter fridge is perfect for tiny homes, dorm rooms, bedrooms, RVs, or any small space that requires quiet.
A Midea refrigerator-freezer is an excellent value that will bring years of quiet, reliable use. For its price, it is a really decent product. If you check it out on Amazon, you'll see that it'ss marked as "Amazon's choice".
7. SPT BF-314U Stainless Steel Under-Counter Beer Froster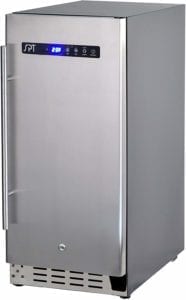 If you already have a big refrigerator at your house but you want an additional unit to store beer in there then this is the best product on the market. Designed to hold your beer at 24 degrees Fahrenheit, SPT BF-314U under-counter beer froster is specially designed to maintain the optimum temperature for aluminum beer bottles.
Its attractive stainless steel door and pro handle, along with the adjustable digital thermostat and shelving make it a perfect choice over several similar appliances. This model comes in small size with dimensions 22.4 x 15 x 34.5 inches and weighs just 70.5 pounds.
Its 15 inches width is perfect for replacing old trash compactors. It has 2.9 cu. Ft. storage capacity (12 fluid oz. aluminum bottles x 56 or 12 fluid oz. aluminum cans x 90). Moreover, there is front ventilation that makes the flush built-in application possible.
This under-counter fridge has a door made of stainless steel with a black cabinet, and there you can store aluminum bottled beer at the optimal temperature. The unit is equipped with a memory IC that lets it resume operative at the previous setting in case the power failure happens.
The only negative aspect of this refrigerator is that it makes quite a loud noise. Logically it will be more suitable for bigger houses with larger kitchens, so the noise can't be heard in living rooms.
You may also like: 50 Must-have kitchen gadgets
FAQ for under-counter refrigerators buyers
1. Is it better to buy a new under-counter refrigerator or a used one? 
It depends on the brand, but normally buying a used fridge is a good idea. Especially, if it is a good brand that was in exploitation no longer than 1-2 years. Then the price will be, probably, twice less than it was at the beginning and therefore, you are getting a perfect-functioning item at a bargain.
2. Will the additional fridge for beverages consume much of the electric power? 
That's how it was in the past. Back then it was really unprofitable to have one at home since it was quite energy-consuming and only people with high income could afford that. Nowadays, there are lots of energy-efficient under-counter refrigerators for drinks, and having them as not as expensive as it used to be.
3. What is best to use to clean inside of the refrigerator?
Take two tablespoons of baking soda and one quart hot water. (Food absorbs odors, so it's best to use unscented mild cleaners.) Rinse with a damp cloth, then dry with a towel. Soak the removable sections in the same solution, scrub, rinse, and dry.
4. Do I even need to clean my compact beverages refrigerator? 
You do. Remember, the quality of your care after this appliance will determine the useful life of the fridge. Even if drinks never spill inside the fridge, you need to clean outer parts, remove the dust and defrost it from time to time to avoid the iciness on its walls.
5. How much does an under-counter fridge weigh?
Usually, it weighs on average 30 kg or 66 pounds.