The smoker is a useful buy for lovers of meat and fish delicacies. Shop products often do not meet the requirements of quality and safety. Home smoking allows you to reveal your own culinary talents and experiment with recipes.
Backyard smoker can be stationary or portable, a variety of models will allow you to find a suitable option. All smoker units can be divided into two main groups: for hot and cold smoking.
Hot smoking
This smoker is a metal tank into which a food tray, a fat tray, and a chip tray are installed. It is used to create aromatic smoke. In some models, chips are placed directly on the bottom of the container without a special tray.
During fuel shading, a large amount of heat is generated and smoke is generated. It provides products with a characteristic golden crust and a wealth of fragrances. Hot smoking involves faster processing than cold smoking, but the shelf life of the food is shorter.
Cold smoking
Such devices have a more complex design. The products are treated with smoke, the temperature of which does not exceed 30 degrees and the duration of treatment is at least 8 hours.
Such smokers are a separate structure. Between the smoking tank and the hearth must remain space, they are connected to each other by a hose. The smoke, passing through it, has time to cool down to the right temperature. Cold smokers are stationary structures with which you can prepare delicacies with a long shelf life.
Pay attention to these features when choosing smokers for hot or cold smoking:
| Hot smoking | Cold smoking |
| --- | --- |
| Type of fuel. Classic smokehouses run on coal and wood, but you can choose a modern electric or gas model for your home. | Availability of hydraulic shutter to ensure tightness. Such installations should completely exclude the penetration of smoke into the room. |
| Construction. For permanent use you can choose a stationary smoker, for rare use - portable or walking mini smokehouse. | The presence of a tray in which fat will accumulate. The tray should be easy to clean from impurities. |
| Housing material. The most durable but quite expensive option is stainless steel products. Also smokers can be made of cast iron - it has a lot of weight, but it keeps heat well and can serve long. | The wall thickness of the smoker. It should be at least 1.5 mm thick, as the walls will be constantly exposed to high temperature loads. |
Backyard smoker will allow you to please friends and family with delicious delicacies of its own preparation, you can experiment with recipes and spices. In this case, you will be able to fully control the observance of technology and high-quality products.
In this review, we have collected for you the best backyard smokers, which have the best characteristics and feedback.
This backyard smoker has the best price and quality:
Our Top Pick

Royal Gourmet 30" BBQ Charcoal Grill and Offset Smoker 

This is a traditional charcoal grill with offset smoker combination for dual style barbecue.


Check Current Price
Other great backyard smokers:
IMAGE
PRODUCT

Masterbuilt Digital Electric Smoker

This model combines the best features such as digital and temperature control, patented wood chip loading system.  

Check Current Price

Bradley Smoker BTDS76P

This model allows you to smoke a wide variety of foods. It features a powder epoxy steel construction and polished stainless steel interior. 


Check Current Price

Dyna-Glo DGO1176BDC-D

This model of the backyard smokers gives you a truly distinct flavor and a wealth of custom cooking options. 

Check Current Price
Weber 18-inch Smokey Mountain Cooker



This smoker

 helps you achieve an authentic smokehouse flavor at home.

The big cooking area easily executes a large roast that'll feed the family for days.

Check Current Price

PIT BOSS 77435

This model features a spacious cooking area, four porcelain coated cooking racks, an oversize front load wood chip tray, and external heat indicators.


Check Current Price

Fire Sense 60508 Notebook Charcoal BBQ Grill

This smoker is designed with ventilation holes at both ends of the grill so that air flow can be easily controlled and heat is evenly distributed on the grill.


Check Current Price
1. Royal Gourmet 30″ BBQ Charcoal Grill and Offset Smoker
This must be the biggest hot smoker in our ranking. There's a furnace inside this smoker. There is no doubt that in such an appliance you can cook a lot of fish or meat.
Cooked food is enough even for a big enough company. Of course, not everyone likes an electric smoker. Many people want to get meat, for the preparation of which was used the decay of wood chips. But even such people can't help but recognize some of the advantages of an electric appliance.
In particular, it has at least some kind of automation. This smoker is able to serve briquettes independently, doing it every 20 minutes. This model, like many other representatives of our rating, allows you to regulate the temperature. It is possible to achieve the largest at 160°C. You can see the current temperature with the help of a thermometer.
As for food, it is placed on four grids. It is known that fat can be excreted from meat during hot smoking. Here it flows into a special pallet. It should be noted that this smoker allows not only hot but also cold smoking.
The process is controlled with the help of mechanical regulators, which is very pleasing. And also pleasant emotions are caused by power consumption, not exceeding 500 W.
When you look at such a device, it seems to you that the power consumption will be at least equal to that of a power tool, and at most to a microwave.
2. Masterbuilt Digital Electric Smoker
Our rating couldn't do without at least one more electric smoker. Such appliances are in demand among buyers because they can be used even on the balcony of an apartment building. For example, there can find a place for this copy.
It has a simple design, so the smoker is very affordable. If you can not provide perfect ventilation, it is better to take this model to a more open place. There it will look perfect. Please note that this is not a vertical, but a horizontal construction.
The cover with a metal handle is located in the ripener. Its opening will allow you to place two long enough grids inside the smoker, on which the food is placed. On the floor, the device stands with four not-very-thick legs. In fact, they are enough to withstand the relatively low weight. If you use electric smoking, the power consumption of the device is 1200 W.
It seems that this is quite enough for cooking very large amounts of meat and fish. You can also use this device as a regular smoker by starting to cook on wood chips. No matter how you spin it, only hot smoking is available to the user. But, many customers do not need more.
This smoker has an appropriate pallet. It's easy to empty it. Not all people suspect that the cylindrical form of the smoker has a serious dignity.
The smoker will roll down its walls instead of falling as droplets on the cooked food. It remains to add that this is one of the most compact smokers in our ranking. Such a smoker will fit not only in the rear seats of the car but also in many trunks.
3. Bradley Smoker BTDS76P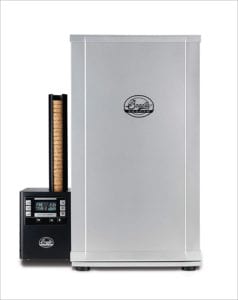 This is one of the most atypical smokers in our ranking. The fact is that this model is made of grey steel. Already one of these makes the smoker more elegant and interesting. And it also has a square design. Perhaps none of your guests at first can understand what exactly appeared at your disposal.
This smoker can be called an ordinary one. This means that it has not received any electrical equipment, for smoking is used only for fire.
There's only one flaw in that. Cold smoking is not available to the owner of this model. A good smoker can't do without a hydro shutter. Here, of course, it is present. And the product also received a tray to collect fat.
In short, nothing should prevent the perfect hot smoking, during which you can cook delicious fish, meat, or even vegetables. The manufacturer intends to install a smoker on the floor. In this case, he implemented the disassembly and assembly of the structure.
This makes it possible to hope for easy transportation of this device in the trunk of a spacious car.
For cooking, two grates are used here. As can be easily guessed, they also have a square shape. The smoke is extracted through a chimney. There are no complaints about the lid, either. It fits as tightly as possible on the whole structure.
It's probably one of the best smokers among those that work on the traditional principle. Of course, unlike the electric ones, this smoker will not offer you any automation. But it's not disappointing in any way. But you'll get dishes that taste perfect.
4. Dyna-Glo DGO1176BDC-D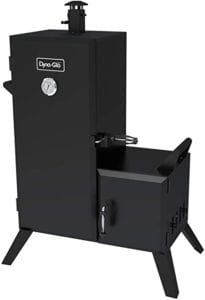 After purchasing this representative of our rating it is obligatory to invite guests. As you will soon find out, many cheap smokers use wood chips as fuel. Well, this model implies the use of charcoal. There are advantages and disadvantages to this.
It's easier to get dirty with coal, and it's a bit harder to get. But it provides much longer decay, which allows you to leave the smoker without supervision for a little longer.
As you have already understood, the product can only be hotly smoked. It's good to have a thermometer. Some models can do without it. Practically all construction is made of steel. Pay attention, the smoker has decent sizes, its transportation is capable to cause certain problems.
It also has a water tray. Without it, it's hard to imagine the hot-smoking process. As for coal, it is placed in a special compartment, access to which is provided by a very large door. Well, the food is cooked on the grates, as it is implemented in other smokers. By the way, it is not necessary to use coal after all.
The manufacturer also allows you to place the usual wood shavings inside the appliance. But we warned you: coal will be more efficient. On the ground, the product is as stable as possible.
This smoker has three massive legs, also made of metal. The inside of the smoker should be noted separately. They are made of heat-resistant enamel. A quality handle reinforced with fiberglass reinforcement is also used here.
5. Weber 18-inch Smokey Mountain Cooker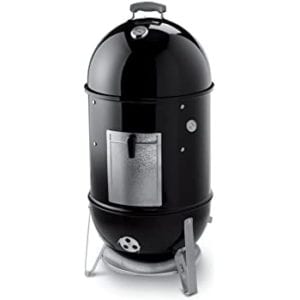 Our rating also includes much more compact smokers. After all, not all of them are designed for continuous use in the same place. There are smokers, which are usually taken with them when they go out in nature. Such copy must fit in the trunk of the car. And such a smoker will not hurt a case that would not let the trunk get dirty.
All the above parameters correspond to several smokers sold on Amazon. The best of them is considered this model. It is distinguished by its moderately small size, quality steel construction, and modest price tag.
There are no electrical components. In fact, the product consists only of sheets of steel. With their help, even a water shutter is realized, without which it is difficult to imagine quality hot smoking.
It is glad that the smoker received a pallet for fat collection. The food here needs to be placed on the grids. The set comes with two pieces. Also in the box with the product, you will find the case, which we already mentioned.
In the smoker itself, you will find a nice bonus – a bag with chips. So, you can start smoking hot food almost immediately after buy. But do not forget that this bag is enough just for once. But, chips – this is one of the cheapest fuels, so do not worry, you certainly do not go bankrupt on the buy of this sawdust.
6. PIT BOSS 77435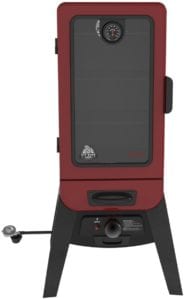 This smoker has the usual shape, and it already has a stand consisting of four metal legs. I am pleased with the steel used here. It is polished, so it will reflect the environment. As a result, the smoker looks much prettier in the open air than anywhere else in the room. But, you can't call the ideal construction used here.
This smoker is one of the smallest in our selection. But even it is enough to cook fish or meat for several people. All you have to do is stockpile enough chips, the smoldering of which ensures the hot smoking process. As mentioned above, the body of this product was made of steel.
If you are going to store the smoker in one place without moving it anywhere, it is better to consider the option created from thicker steel.
This smoker was created for trips to nature, where it is transported in the trunk of the car. This is implied by the case that comes with it. It will not let the trunk get dirty with any garbage that remains on the walls of the smoker.
As you might have guessed, the food here falls on complete gratings. There's a water shutter on top of the smoker – it's what keeps smoke out of the lid.
There is only one way for it – to a small pipe, which is several centimeters long. And the product also has a tray to collect fat. This is a necessary thing, but some smokers still forget about it.
Perhaps it's not a bad field trip. Not bad for those who do not gather in nature or in the country house is not a very big company. The main advantage of this model is the very low cost.
7. Fire Sense 60508 Notebook Charcoal BBQ Grill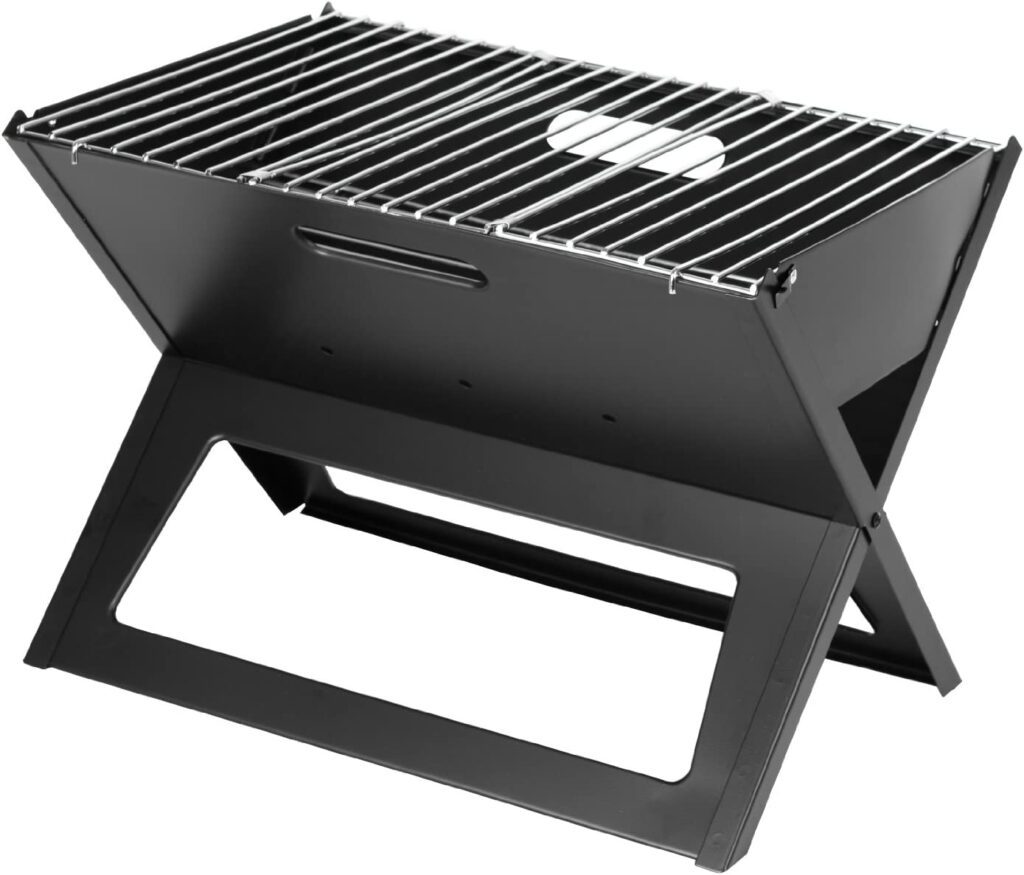 You might have probably noticed that this charcoal grill boiler is larger in size than the other items presented on this list. In case you are into grilling and you just want to cook something delicious in the best grill Traditions then this is your perfect choice.
It has an extra structure and consists just of one level. You can transform this smoker into a small portable grill and this feature is really convenient if you like going out on picnics or hunting trips. The smoker includes two grades.
The first one can smoke three large ribbons of ribs and the ladder can smoke a large piece of pork. You can also remove the grates and hang big fresh catch fish with five hooks. The item itself is made of stainless steel case and it has a porcelain enamel coating that retains Heat.
These all features make the smoke circulate and therefore it gives a smoky flavor to the meat or any other type of meal that you are grilling here. There's also this special flap on the lid and at the bottom of the smoker.
Therefore you can adjust the internal temperature. You need to open them in order to increase the temperature and close them in order to decrease it. There's also an inbuilt thermometer so you are always aware of the temperature inside the smoker.
These packs also allow you to control the temperature more precisely than in the case with other grills. At the bottom of the smoker, you will find a basket for coals and a 10 liter of the water tank.
It is needed for controlling the humidity inside the smoke chamber. These old features will make your meal even more delicious.
8. Traeger Grills Ironwood 650 Wood Pellet Grill and Smoker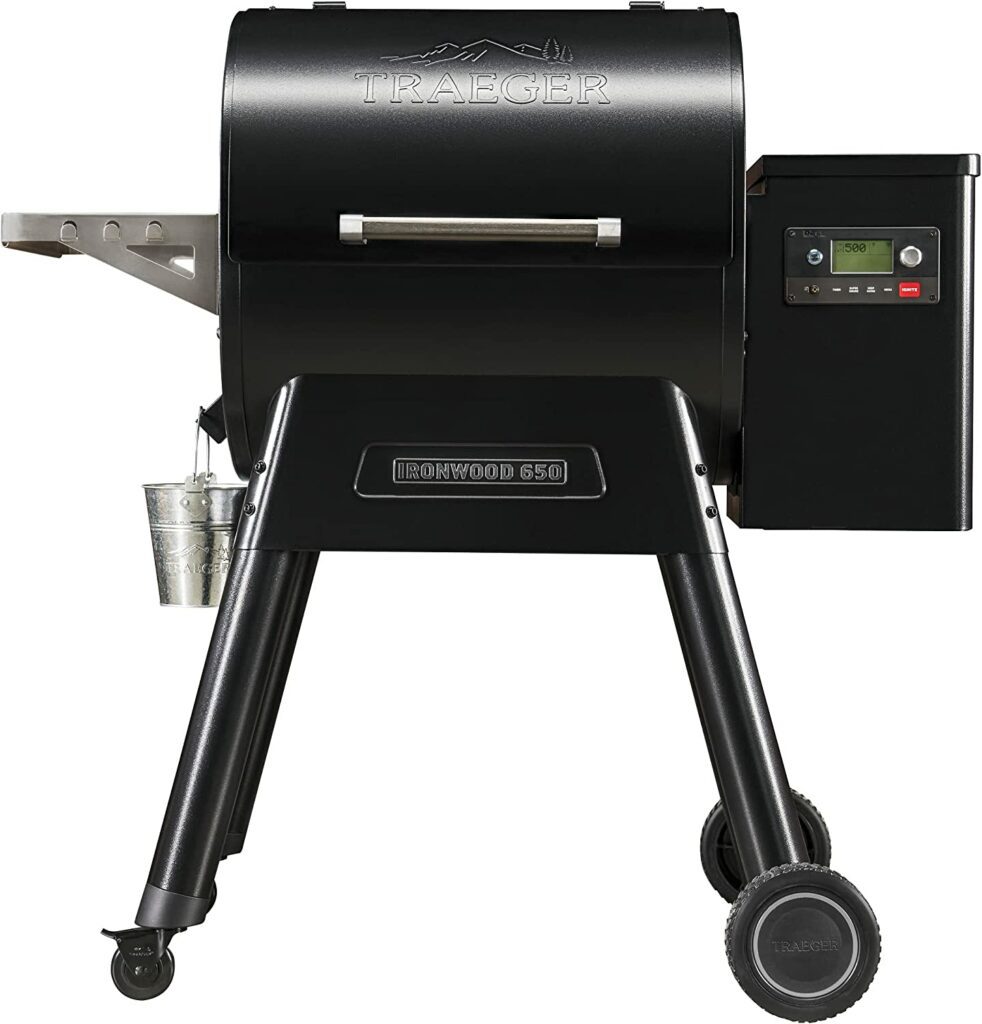 The most prominent feature of this Grill is the smoker. It's truly one of the top recommendations for those who want to buy a smoker grill. It will bring to the food the right amount of smoked flavor no matter if you're doing brisket, ribs, pulled pork, and other traditional barbecue items.
There is a super-smoke button that gives you an extra burst of smoke. In case you are doing traditional smoking below $22 Fahrenheit degrees it will bring a more intense smoke flavor to the meals.
It's also a little bit pricey in comparison to other models but it does make sense when you use it. You can cook meat with or without salt and you will get an excellent result anyways.
This item is easy to clean since the part of it are detachable and in total it has 650 square inches of grilling space. An interesting feature is that it includes wireless control true an app or Amazon Alexa.
9. Z GRILLS ZPG-550B 2022 Upgrade Wood Pellet Grill & Smoker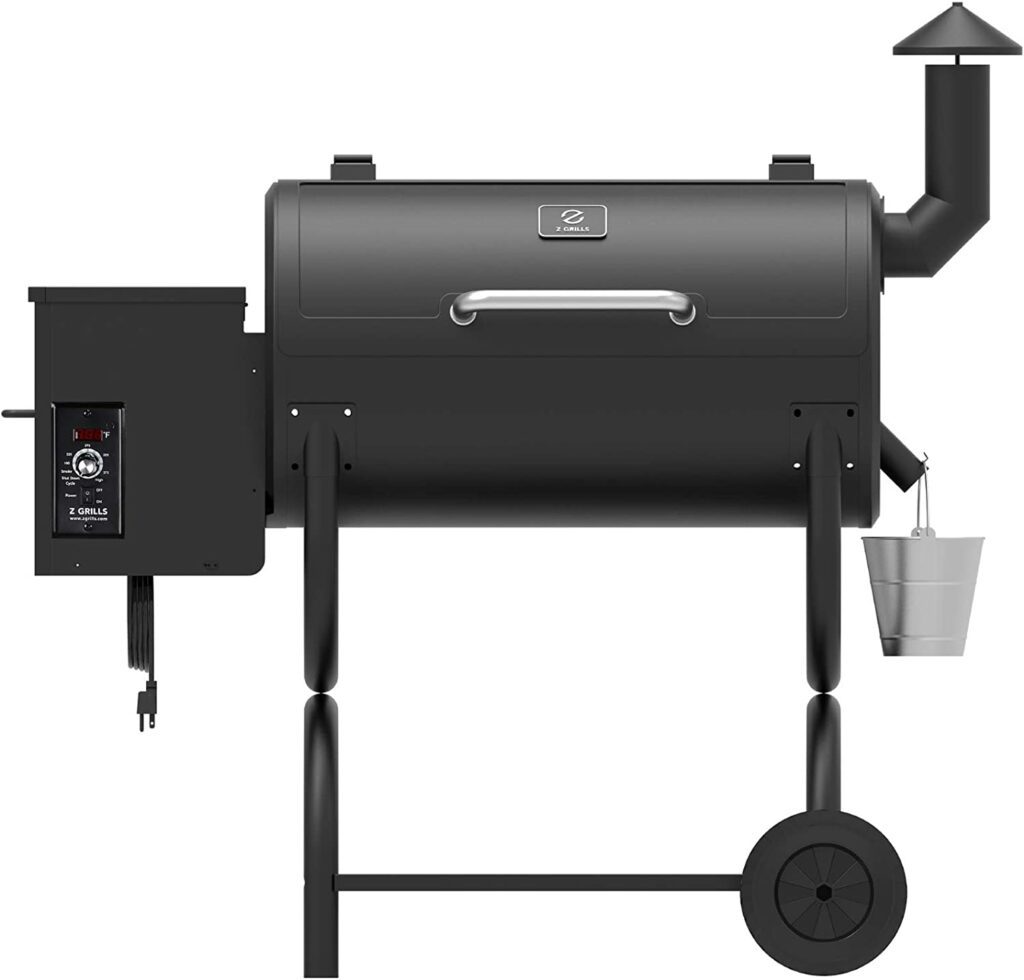 If you have a smaller space or you just want to start smoking meat without splurging too much money on it this is a nice option. It is a functional model that costs under $500.
It will make a nice barbecue for you though the smoke flavor won't be the same as in the case with the previous model. It combines six functions in one and you can use it as a grill or oven with reliable temperature precision.
And just like the previous item, it has digital temperature control and 538 square inches of grilling space which is quite enough for feeling a large family. Another advantage of this smoker is that it includes a rust-proof cover and racks.
However, taking into consideration the lower price of this model keep in mind that the pellet feeder can jam. Its total capacity is 10 lb and it's run on electricity.
Here you can also smoke a rack of ribs or grill a wood-fired pizza or even bake a berry cobbler. The grill is cost-effective and will be a suitable choice for everyone who is within the budget but still wants to make smoked grills.
FAQ for Backyard Smokers buyers
1.
What kind of dishes can be cooked in smokers?
Fans of poultry and meat dishes will be surprised by the aroma and taste of smoked meat. Beef and lamb ribs, smoked loin, homemade hot smoked sausages, chicken or duck hot smoked, smoked turkey, quail, and much more.
Fish and seafood lovers will be surprised by the ease of cooking and the extraordinary flavor of hot smoked dishes: salmon, salmon, trout, shrimp, mussels, and much more.
In addition, you can smoke your favorite varieties of cheeses, both soft and hard, as well as various vegetables and mushrooms.
2.
How do you adjust the density of smoke?
The density of smoke is regulated by the upper flap. It is recommended to smoke either with the flap open or in case of large steam emission, with the flap fully open so that the temperature inside the smokehouse can reach the desired level.
3.
How much smoke does the smoker produce?
Too much smoke to use in an enclosed space without a hood. Outdoors, however, the smoke will dissipate quickly and will not bother the neighbors.
4.
Where can I install the smoker?
The smoker should be installed outdoors, especially since most models are quite easy to replace.