We love citrus fruits – they're delicious, bright-colored and have a bunch of nutritive elements and vitamins. But the way, how many of them do you know, except the most popular oranges, tangerines, lemons, and limes? But have you heard about some rare examples, like kumquat or papeda? It's time to try something new!
Citrus fruits are an excellent source of vitamin C, a nutrient that strengthens the immune system and keeps your skin smooth and elastic. They also make a great contribution to fighting all kinds of flu and support the immune system.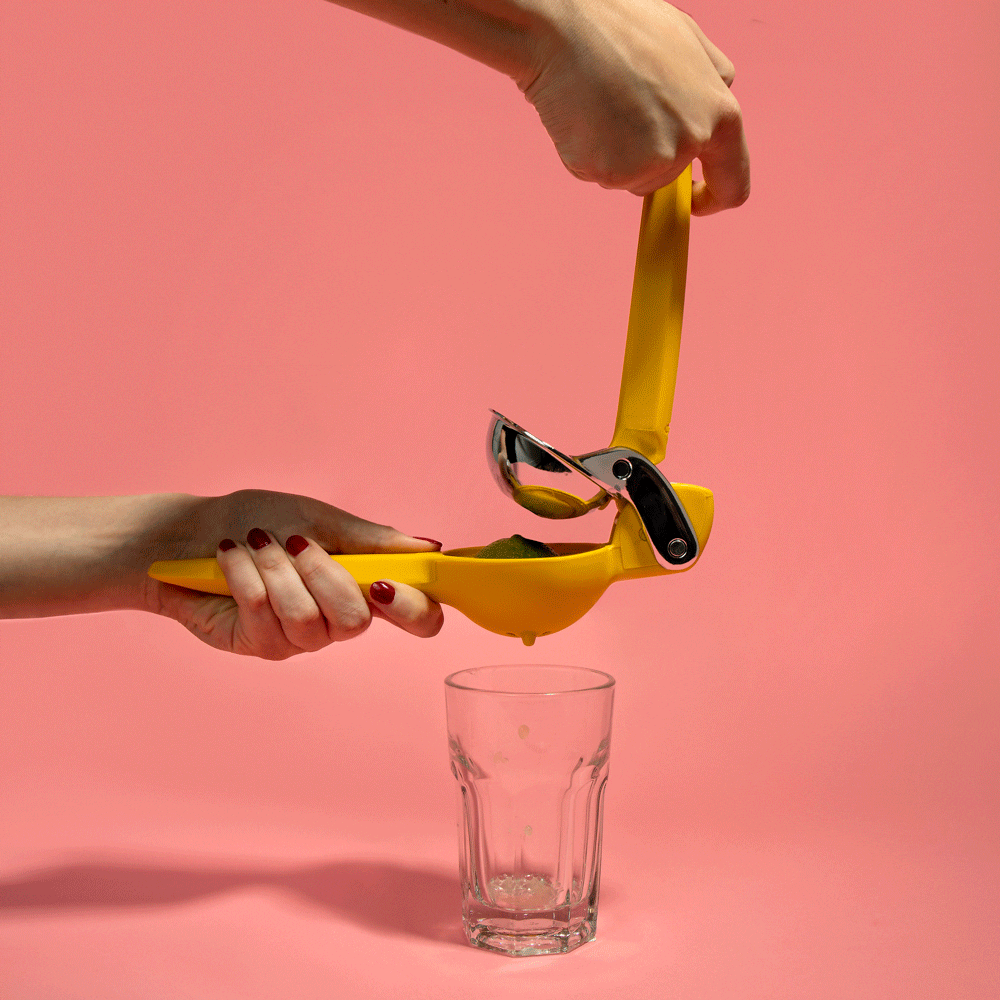 Additionally, they are rich in plant compounds that have various health benefits, including anti-inflammatory and antioxidant effects. In addition to that, they're a great source of fiber and low in calories.
Citrus juices (especially the orange one) are extremely popular in the whole world. However, those which come in packages often contain some artificial preservatives and chemicals that can be not so beneficial for your health.
Buying freshly pressed juice can be expensive. But what if you do the citrus juice yourself? The juicers on our list down below will give you a hint of a great variant.
Our Top Pick
Aicok Electric Citrus Orange Juicer
A classic citrus juicer, which is easy to use. This juicer can press the juice out of any kinds of citrus fruits with no effort. It is also easy to wash. The price is adequate and mathcing the quality.
Check Current Price
Other great citrus juicers:
Image
Product

Breville 800CPXL




Premium-quality juicer
Can process any types of citrus
Two option for pulp control

Check Current Price
Cuisinart CCJ-500


Pulp control
Price/quality match
Dishwasher safe

Check Current Price
Proctor Silex Alex's Lemonade Stand Citrus Juicer Machine


Affordable price
Pulp control
Perfect for big amounts of juice

Check Current Price

Hamilton Beach 932




Professional juicer
Can process any kind of citrus
Expensive

Check Current Price

Zulay Premium Quality Metal Lemon Lime Squeezer




Manual juicer
Affordable pricce
Can handle only small citrus fruits

Check Current Price
Seenlast Stainless Steel Juicer


Metallic cup
Affordable price
Easy to take with you

Check Current Price
1. Breville 800CPXL Die-Cast Stainless-Steel Motorized Citrus Press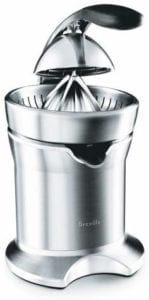 What can be more convenient for pressing the juice of out citrus than a special juicer for that? This citrus Breville juicer is designed to make juicing a simple, fast, and quiet process. The reamer of it has ridges of varying sizes which makes it easy to juice any fruits from key limes to grapefruits without having to change out the reamer.
The motor of this item can be activated by the lever arm. Unlike other juicers, this one doesn't take much force so your arm won't be tired after pressing even a number of fruits.
Another distinctive feature of Breville Press is that this unit comes with two options for pulp control thus giving you far more options than a simple strainer that keeps all pulp out of your juice. Its spout is high enough so you can use any glasses without a problem.
Moreover, it has a locking mechanism that stops pouring immediately in order to prevent drips. The item itself is made of the BPA-free plastic, but from the outside, it looks like stainless steel. The construction can be taken apart easily and all the particles can be washed in a dishwashing machine.
But users note that the plastic piece that holds the fruit dome in place often breaks easily and repeatedly. Unfortunately, Breville doesn't cover this piece under the one-year warranty. It is not that expansive to repair or replace, but for the price that you pay for this press, it is a clear disadvantage.
You may also like: 7 Best Juicers for Greens Reviews
2. Cuisinart CCJ-500 Pulp Control Citrus Juicer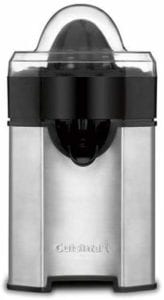 For those who prefer something at a more affordable price, this is a great choice. And in this case, you won't even have to sacrifice the quality of the product – the Cuisinart is the brand which is known as one of the best juicers on the market.
This electric juicer features a universal cone that works effectively both on fruits as small as key limes and as large as grapefruits. Moreover, it is relatively quiet and fast. In fact, it will take you longer to cut a fruit than to press juice of it with Cuisinart CCJ-500.
One of the best aspects of this juicer is how well it works to squeeze every bit of juice out of your fruit. The reamer is auto-reversing so that it gets all of the pulp and juice out of the fruit before discarding it. And when the fruit is removed, you can use the final-spin feature to spin out the remaining juice out of the pulp.
Besides, like other electric juicers, this model has a three-option setting that gives you an opportunity to control how much pulp you want to have in your drink. The parts of this item are dishwasher safe. But this juicer works so neatly that it barely needs any cleaning afterward – you can just rinse it with the water.
This model is made of BPA free plastic, while the remainder of the unit is stainless steel and comes with a whopping three-year warranty.
3. Aicok Electric Citrus Orange Juicer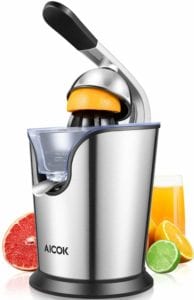 One of the best ranked by users and hyped juicer on Amazon. It's gained popularity mainly because of its simplicity on usage. The reamer of this model is sized to handle any fruit equally well and comes with an auto-reversing feature to get the most pulp out of every fruit.
One of the distinctive features of this model is its ergonomic lever arm. The reamer will automatically start when the lever is pushed down and stop when the lever is lifted. Thanks to the design here it is easy to hold the fruit with your hand and apply pressure manually when needed.
The juice spout is a clean and unobtrusive design but won't drip onto your counter – a nice bonus for those who want to keep their kitchen clean while cooking. It is made of BPA-free plastic that is dishwasher safe.
And like with previous items, it's easy to pull apart the top half of the juicer to simply rinse each part individually before reassembling. The remainder of the juicer is modern-looking stainless steel that is easy to wipe down.
And the last but not least great aspect of this item is that it comes with a life-long warranty. The only drawback is that this model doesn't include pulp control. Not that it is very expensive, but still, for this category, the manufacturer could add it.
4. Proctor Silex Alex's Lemonade Stand Citrus Juicer Machine
Don't feel like you're ready to spend more than 20 dollars for a citrus juicer? There is a great option for you – this machine by Proctor Silex. You will be pleasingly surprised how many premium options this item has to offer despite its price.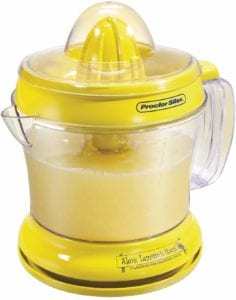 Let's start with the reamer here – it is not universal, but the unit is provided with one large and one small reamer.  But you can be sure that the quality of your juice will be more than good since the reamer has the auto-reverse feature.
Another cool feature here is that the juicer has a dial for controlling how much pulp you want to have in your juice – and usually it's a distinctive feature of only expensive premium juicers. In addition to that, in this model, you will also find a built-in pitcher.
It's not very convenient to use when you are planning to make only a single glass of juice, but when you need to press a number of fruits for lots of juice it's a great option. A pleasant bonus here is that this Proctor Silex press comes with a recipe book where you can find new exciting recipes (or at least give it to someone as a present).
The juicer can be easily taken apart and all of the BPA-free plastic parts are dishwasher safe. The juicer also comes with a one-year warranty for peace of mind. However, you should still remember that this is a budget item so don't but too much pressure on it. There are cases when users managed to break it after the first use.
5. Hamilton Beach 932 Commercial Citrus Juicer
If you've decided that you need an extra-powerful citrus juicer and you are ready to invest the money into it, but not sure, which item to go for – this is a great option. Here the advanced technologies are mixed with the incredible easiness in usage.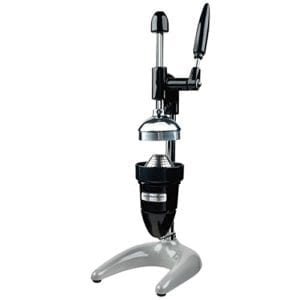 Considering the construction of it – here the lever arm is height adjustable to accommodate fruits of many different sizes and the reamer is similarly designed to handle whatever fruit you place on it. This also makes it easy to adjust the arm so that the squeezer rests on the top of the fruit before you begin to apply pressure.
But here applying some pressure is easy because of the ergonomic lever that won't exhaust your hand.
Moreover, since Hamilton Beach juicer has a heavy foot design, you don't need to worry about the juicer tipping over when you press on the lever.
Almost all parts of this model are made of stainless steel. Ther are easy to remove and you can always wash them in the dishwashing machine.
The only exception is the cup, which is designed to swing out when you're not using it and act as a drip-stop for when there is no glass under the juicer.
Just keep in mind that the cup mentioned above is sprayed for acid resistance fro the outside and from the inside. It is made in order to make it resistant to constant contact with acidic citrus juice. Since the cup itself is aluminum it can corrode over some period of time.
This juicer by Hamilton Beach will serve you a long life but it also requires high maintenance. Buy it only if you are really into home-made citrus juices.
6. Zulay Premium Quality Metal Lemon Lime Squeezer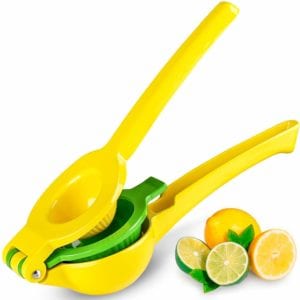 This is a little bit less sophisticated option, but for those who are not going to use the citrus juicer too often, it is a great variant. Moreover, it is one of the most popular items on the market marked as "Amazon's choice".
No need to say that this press uses the most simple design possible – simply press the fruit into place on the reamer as you would for an electric juicer and then press the lever down with some pressure to squeeze the fruit.
Although this may sound tiring, the lever applies enough force thanks to the heavy cast-iron construction that it takes very little effort to fully squeeze numerous fruits in a row. And as you can see, there is no spout on this model. Instead of that, here the cup goes right under the squeezer.
Moreover, usually, the manual squeezers limit the range of cups that you can use, but this unit has an adjustable height so that you can put a tall glass or pitcher under the squeezer. The best part of it is probably the cleaning – thanks to a simple construction it doesn't require a lot of effort.
The cup design is removable. What you need to do is to take the used squeezer and rinse it under tap water. For a better effect, you can always place it into the dishwasher. The rest of the juicer can be wiped down occasionally but should not require frequent cleaning.
The one big disadvantage here is that this squeezer is made for smaller-sized fruits. Mainly those are lemons or limes. Although larger fruits like oranges can be forced to fit, grapefruits will be out of the question. And, of course, it's not that fast in processing as electric juicers.
One of the drawbacks of this juicer is that it is not really comfortable to use, if you're constantly putting it away and taking again – your hands are going to get tired.
You can also check: 7 Best Lemon Zesters Reviews
7. Seenlast Stainless Steel Juicer
Another budget manual juicer that is more sophisticated than the previous one. This uniquely designed manual juicer from Seenlast gets the job done in a cup that is hardly larger than a can of soda. The convenience of this unit is that it brings no problems in storing it in the kitchen and, what is more, you can always take it with you while traveling.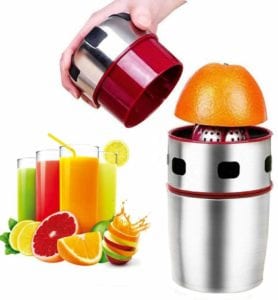 This item consists of three parts: a cap, a reamer, and a cup. And unlike the previous item, the reamer here is designed to be universal for fruits up to the size of large oranges and has spiral ridges running from the center to aid in the juicing process.
The cap is designed in such a way that it puts pressure on the fruit and allows you to turn it against the reamer. It is important to note that doing that maybe not as easy as it seems, and you will have to put a lot of effort to manually turn the fruit against the reamer.
The juice then comes out into the cup. By the way, this juicer will fit everything except the grapefruits. The ending juice will be free of pulp – those who like the latter should keep that in mind.
Apart from that, because all three parts mentioned above take action in the juice extraction, you will need to wash all of them after usage. By the way, here the washing is not the easiest task to do – you will have to get deep into a part.
You still can use a dishwasher but then you will have to do that frequently. However, from a food safety and durability standpoint, this is not a problem thanks to the BPA-free plastic and stainless steel construction. Another disadvantage is that the manufacturer says nothing about the warranty. Well, for such a price it's not critical.
FAQ for citrus juicers buyers
1. What is healthier – the juice with or without the pulp? 
The juice with the pulp is absolutely healthier (only if it's a freshly pressed juice). The pulp contains nutritive mico and macro elements beneficial for our bodies.
2. What can you juice in a citrus juicer?
Citrus fruit can be juiced if peeled first. All fruits with pits, hard seeds, or stones such as nectarines, peaches, mangoes, apricots, plums, and cherries must be pitted before juicing. A small amount of lemon juice can be added to apple juice to inhibit browning.
3. How does a citrus juicer work?
Press the citrus half until no more juice comes out, throw that half away, and repeat. Manual presses work in much the same way but leave out the reaming step. The press forces the fruit against a perforated cone, breaking up the pulp to release the juice.
4. Can you put a whole apple in a juicer?
It depends on the juicer, but for citrus ones, it's not recommended. Well, with the manual ones you should definitely not try it. If you're using an electric juicer – be careful with seeds and other hard parts of an apple.