Even though garlic might seem like something insignificant, it can be actually found in thousands of dishes all around the world. What do you think makes your chicken taste so good with the bitter and spicy flavor? It is nothing, but garlic.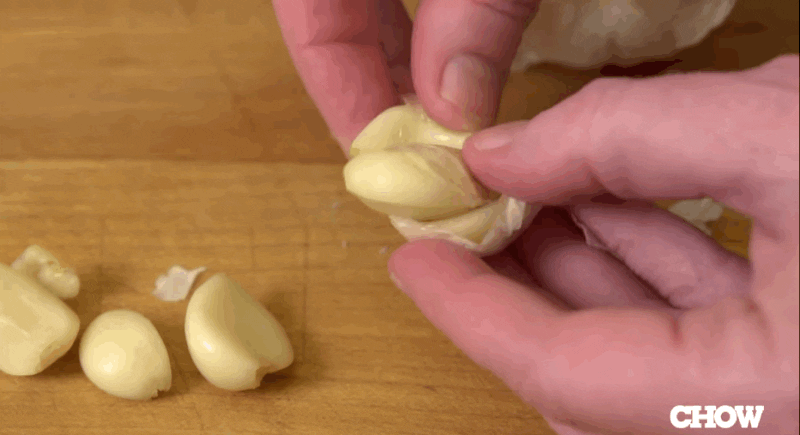 Probably, the cuisine that utilizes this item in their dishes the most frequently is the Indian one. Who can imagine a curry without it? A curious fact is that ancient Egyptians were the first to discover it. Apart from that, garlic is widely used in Tibetian, Chinese, and Greek cuisines.
But this product is beneficial not only for the taste. It has plenty of unexpected properties: for example, it purifies the blood. For those who struggle with acne, try to eat a couple of garlic cloves in the morning drinking them up with warm water and you will see how your body will purify itself.
Another feature that you are probably aware of is that garlic boosts the immune system. It is especially important when you have a cold and flu. Moreover, it can even lower the risk of heart diseases because it's a natural anti-oxidant. There have even been studies proving that garlic helps to reduce the risk of getting cancer.
So yes, garlic is extremely beneficial for our health, and, what is more, it's cheap. So you decided to stay healthy, bought tons of garlic… And have no idea how and where to store it? Wait for a second, there are special garlic keepers that will help you to keep your garlic fresh and full of flavor.
Our Top Pick Garlic Keeper
Other great garlic keepers
1. Fox Run 3971 Garlic Keeper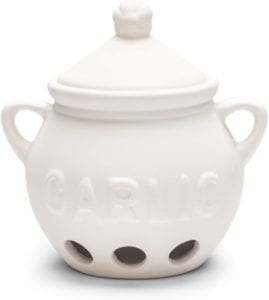 Even if you don't buy garlic that often and don't quite understand what do you need a garlic keeper for, this vessel will surely become the decoration of your kitchen. It has a nice white color and it is made from non-porous and unglazed stoneware.
It is rather able to absorb moisture than odors. But that's good because it's better for garlic (not for the kitchen). It also contains vent holes near the base to allow air to the garlic. On the top of its lid, it has the knob so you could protect the garlic from the light (it makes it dry out).
The vessel has two cute handles on its sides which remind of the shape of the garlic. This keeper will hold around one and a half normal size bulbs unbroken, or you may be able to fit more than two bulbs in if you break them up first.
However, as it was stated at the beginning, this container hs a small size and will be more suitable for storing smaller amounts of garlic. Well, for buying it as a decoration, it has quite an attractive price.
You may also like: 7 Best Pepper Mills Reviews
2. Progressive International GK-68 Terra Cotta Garlic Keeper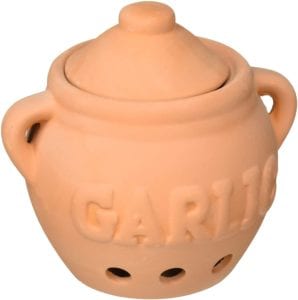 If you're looking for an even more affordable option but of a larger capacity, then check out this item. It is an unglazed keeper that will block moisture absorption and its vent holes at the bottom will keep the air flowing.
It is 5 inches tall, moreover, it also has a lid with a knob and two handles, on the sides. Basically, it's a bigger version of a garlic keeper by Fox Run. If you break the bulbs it will be able to hold an even bigger amount of product.
Of course, considering the materials and its price, be ready that the item is going to be very fragile. It increases the risk that you're going to get it broken. In addition to that, the lid is quite fragile so be careful so it wouldn't chip.
When you want to clean this garlic keeper, just wash it in the warm water.
3.  Stoneware Garlic Keeper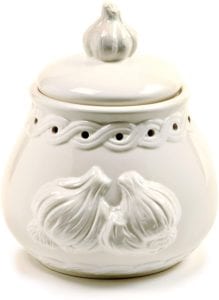 For those who still want to have something more qualitative for their garlic keeper, here is a cool option. This is A 7 inches garlic keeper that will store up to six bulbs of garlic. It made of the non-porous stoneware with went holes.
It looks quite interesting in terms of design because of its white color and the decoration in the form of the garlic on its front side. Another nice decoration is the garlic-shape knob on the lid. Here you should keep in mind that since it's made of the stoneware it won't capture any odors or moisture.
It is more of a decorative element. Only the lid will prevent the light to leak inside. On the other hand, the item is super easy to clean.
However, another aspect you should remember about if you decide to order this item is the stoneware is a fragile material so it can easily become broken during transportation.
Also, because it's quite a big item, it will take lots of space on your countertop. So think before buying it if you don't usually use much garlic in your cooking.
4. Norpro 250 5-Inch Ceramic Garlic Keeper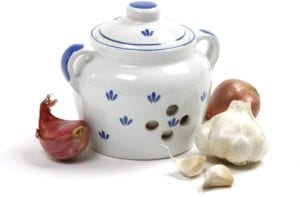 This is probably the best garlic keeper on our list. This is 5 inches tall, so it's quite compact, still, it can hold 3-5 bulbs of garlic. This is exactly how much garlic the regular man uses on a weekly basis.
This is a kiln-fired keeper which has been glazed in white and decorated with dark blue accents in a retro design. Thus, it would become a cool decoration for your kitchen. According to the standards of garlic keepers, it has a lid with a knob and two side handles.
Besides, it has 8 ventile holes in total, towards the bottom of the keeper. It is compatible with the dishwasher, but still, it's highly recommended to wash it by hand. By the way, the item is quite spacious inside even though it looks small on the outside.
The only drawback here is that the opening of the keeper can be on the small side if you prefer to store larger bulbs. In other aspects, it's a cute and practical garlic keeper by a reliable brand that has been on the market since 1973.
5. Mud Pie Ceramic Garlic Storage Keeper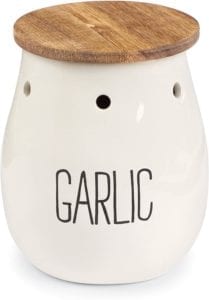 For those who like cute little things in the form of jars, this garlic keeper will be an excellent choice. It is made of ceramic, has a white color with the black inscription "garlic" at the front. The Mud Pie garlic keeper has small vent holes towards the top of the keeper to help maintain airflow and a wooden lid.
It is smaller than the previous item, but it still can hold 2-3 small bulbs of garlic. Maybe if you cut the bulbs into half you'll get more space. In general, it's a simple and cute item that will fit into the modern design of the kitchen.
And of course, because here we have a garlic keeper made of ceramic its price is going to be higher, however, it is more sturdy and won't break at any possible case.
6. Le Creuset Stoneware Garlic Keeper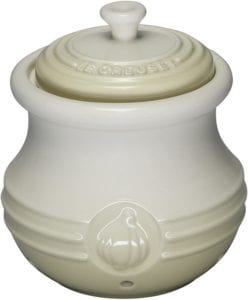 If you're a garlic lover and you know you're going to eat large amounts of it, then this keeper is for you. It is made of the high-fired stoneware to block moisture absorption. Moreover, Le Creuset is a famous kitchen brand that has been operating since 1925. Its products are known for high-quality and durability.
The distinctive feature of this garlic keeper is its lid. It is made on the way to provide tight sealing and prevent the escape from the moisture and stop the leakage of light. Also, on the lid, you will find an abbreviation Le Creuset.
Thus, the garlic won't lose its odor. This keeper has a non-porous enamel finish to resist staining and cracking and has a signature-style glaze finish in a neutral dune color. Moreover, unlike other garlic keepers, this one has comparatively small vent holes.
They're placed around the base for improved airflow. The keeper can fit up to 4 bulbs of garlic. The interior is also glazed and is nearly non-stick. It makes it easy to clean and even dishwasher safe.
Another interesting aspect of this garlic keeper is that it can even be placed into an oven up to 500 degrees Fahrenheit, which makes this tool also a garlic roaster.
You're probably wondering why is this item is meant for true garlic fans? Well, if you want to buy it, be ready to pay a considerable sum of money. Only in case you want to have your garlic in the perfect condition and store in a luxury item, you should buy this keeper.
You can also check: 11 Basic vegetables with different storage conditions
7. Joie Terracotta Garlic Keeper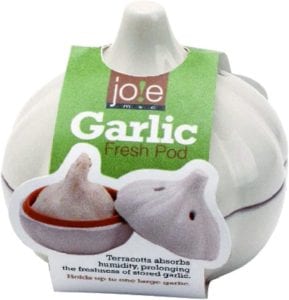 This is a garlic keeper with the most original design. It's made from terracotta to absorb moisture and its vent holes also allow air to circulate. Another distinctive feature you can note when you see this keeper in real life is that it has an extra-shiny exterior.
This authentic item will fir the interior of modern-styled kitchens.
This is a smaller keeper designed to hold one large bulb (not elephant garlic) or several smaller bulbs.
Moreover, just like in the case with many previous garlic keepers, this one is quite fragile and can come damaged after delivery.
However, even though it can hold a comparatively small amount of garlic it promises to keep it fresh for longer periods of time. In addition, it has a great price and will become a nice decoration element for any dining table.
FAQ for garlic keepers buyers
1. Why do garlic keepers have holes? 
To provide better circulation of the air. Thus, the air will be constantly renewed and will keep the fresh odor of the garlic.
2. Do I need the garlic keeper? 
If you want your garlic to stay fresh as long as possible, then yes. Also, it is a nice decoration for the kitchen. Of course, buying an item like this makes no sense if you never use garlic.
3. What is the most sturdy material for garlic keepers? 
It's probably ceramic. It's going to be a little pricy, but that's truly the most sturdy and versatile material (it's dishwasher and oven safe).