How often do you bake? Have you noticed that this method of cooking is getting more and more popular nowadays? There are several reasons for that. First of all, all the baked meals, either these are vegetables or meat, taste much better because baking enhances their natural flavor.
Secondly, baked meals are much healthier than roasted ones. In fact, baking is one of the ways to cook with the heat without food acquiring any harmful elements and fats. And, of course, we all love bakery – buns, cookies, and cakes. For sure each of us has baked something of the latter at least once in their lives.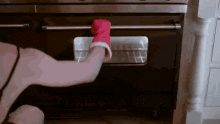 So you are ready to add more baked meals to your life? As you can see, one of the most crucial elements for that is to find the right temperature in the oven. Unfortunately, this is often the point where the problems occur – the oven warms up not enough or too much, or it has no thermometer at all so you could be sure you got what you need.
For those purposes, it makes sense to buy an additional oven thermometer. You'll be surprised how that little thing will make your life easier. What is more, it is not a luxury product and everyone can afford one. In the article below you will find out, which oven thermometers have proven themselves to be the best on Amazon.
Our Top Pick Oven Thermometer
| CDN DOT2 09502000954 | | |
| --- | --- | --- |
| | A thermometer by a respectable brand, precise, freestanding and reliable. Comes with a 5-year warranty. | Check Current Price |
Other great oven thermometers
Image
Product
Rubbermaid Instant Read Oven/Grill/Smoker Thermometer
Presice, durable and reliable thermometer. Made of the stainless steel. Great both for home and commercial usage.
Check Current Price
Rubbermaid Instant Read Oven/Grill/Smoker Thermometer
Has a large dial, made of the durable and corrosion-resistant stainless steel.
Check Current Price
Cooper-Atkins 24HP-01-1
A more compact thermometer, made of high-quality stainless steel.
Check Current Price
AcuRite 00620A2
This versatile thermometer has a large indicator and 10-year warranty.
Check Current Price
Farberware 5141019
A freestanding thermometer with a bright indicator.
Check Current Price
Winco TMT-OV3 B001B4KUPY
A retro-styled item which measures only in Fahrenheit (but does its job well).
Check Current Price
1. Rubbermaid Instant Read Oven/Grill/Smoker Thermometer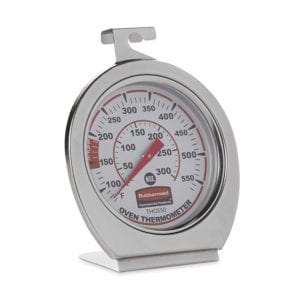 Precise, light, reliable. What else would you need in a thermometer? This product by Rubbermaid is exactly like that. It is made of durable stainless steel construction that guarantees its durability. The measuring system is clearly marked with easy to read and understand temperature units.
It measures 2″ long by 4.55″ wide and this is a suitable size for most ovens. You can hang this thermometer or place it on the shelf – as you wish. The lens of this item is top-quality so they are break-proof. Another cool feature of this thermometer is that you can measure the temperature either in Celcius or Fahrenheit.
Rubbermaid oven thermometer is NSF approved which gives it an additional score to be an excellent choice no matter if you want to use it for your home oven or if you are a professional chef who needs this thermometer for the commercial use. The item itself weighs 1 pound. The price is mega affordable.
You may also like: 7 Best Kitchen Timers Reviews
2. Rubbermaid Instant Read Oven/Grill/Smoker Thermometer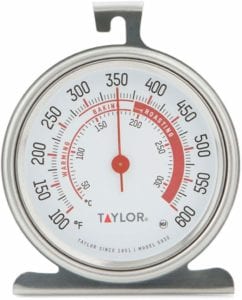 For those who are looking for a large dial, so they could see the temperature in the oven even from the large distance, there is a thermometer by Taylor Classic Series. This product features a 3.25" analog dial for fast temperature monitoring.
The material that was used for making this item is durable and corrosion-resistant stainless steel. Like in the previous case, this thermometer can be hanged on the wall or places standing somewhere.
As it has been already mentioned before, this thermometer is extremely easy to read, all the measurements are numbers are clearly marked. The item provides measurements both in Celsius and Fahrenheit. The temperature range for the latter is 100°f – 600°.
Another great feature of this thermometer is its minimalistic design which will be suitable for all kinds of ovens. The item is NFS approved as well. By the way, for the best results, it is not recommended to put it into the dishwasher. Also, remember that right after use it can be extremely hot so don't forget to use gloves.
3. CDN DOT2 09502000954 ProAccurate Oven Thermometer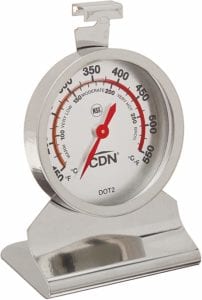 This thermometer is bigger than the previous ones and occupies more space in the oven. At the same time, it doesn't influence its great quality – the material used for its manufacturing is a superior quality 304 stainless steel and a long-lasting glass lens which defies high temperatures.
As you can see on the picture enclose, the item has a red indicator needle and the 2" large dial that allows you to accurately keep track of your cooking temperature without any hassle. A bonus feature of this thermometer is that it comes with the 5-year limited warranty which is rare for the items of this category.
Another prominent feature that you can see here is that this thermometer is constructed in such a way, that it can be freestanding or hanged on the wall. It has a flat base that makes it possible to place it everywhere (well, in ovens). For example, in the pizza oven. Its measurement range is 150 to 550°F/70 to 280°C. Moreover, it has the feature of target range indication.
By the way, if the reputation of the brand is important to you, then CDN is your choice. It's a respectable company that has been on the market for over 30 years already, and it's known for making its high-quality kitchen measuring tools.
For the best results, the thermometer is recommended to be set in the oven during the pre-heating process to allow it to heat and contract together with the coil for precise monitoring. One more distinctive feature of this item is that it is ergonomic, which makes it a great thermometer for commercial purposes as well.
4. Cooper-Atkins 24HP-01-1 Oven Thermometer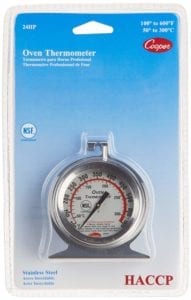 Another oven thermometer on our list that is marked as an "Amazon's choice". It is a more compact offer, measured 3" tall by 2 ½" wide. Just like the previous items, it is made of quality stainless steel and glass. One outstanding feature that this thermometer has is its black indicator needle and HACCP dial reference.
The latter makes the temperature adjustment more precise. Here is it possible to track the heat level both in Celsius and Fahrenheit. The range is 100 to 600F / 50 to 300C. It is NSF approved and just like the previous models, you can either hang this one or just place it on the shell. The accuracy of this oven thermometer is -+25 degrees.
5. AcuRite 00620A2 Oven Thermometer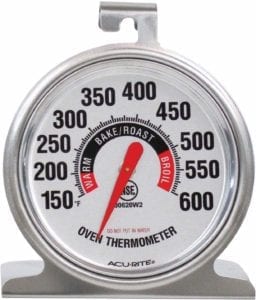 Now, this is a thermometer with truly large numbers on its indicator. This is a great option if you are looking for a versatile thermometer for several cooking situations. This item is suitable for measurements when you're roasting, baking, warming or boiling.
It boasts of long-lasting stainless steel housing and a quality glass lens for accurate monitoring of heat. By the way, its cool feature is that it helps you in cooking – its indicators show you the optional temperature for all the activities mentioned above. Thus, you will not even always need a recipe book to get a perfect dish.
This thermometer is totally safe to be used both in the oven and the grill. The only unfortunate aspect here is that it measures the temperature only in Fahrenheit and its measuring range is 150° to 600°F. It also includes an integrated hanger for easy mounting or stands upright on base.
Another cool feature of this item is that it has a 10-year limited warranty! Sometimes even more serious kitchen appliances don't provide that. By the way, you can use this oven thermometer in conventional ovens as well. It's a little bit more expensive than other thermometers on our list, but it also provides more possibilities.
6. PECULA Oven Thermometer 50-300°C/100-600°F
In case you're looking for a thermometer regards with an outstanding design this might be your option. If you want the measurements would be easier to read by painting them with bright colors then this is a perfect option.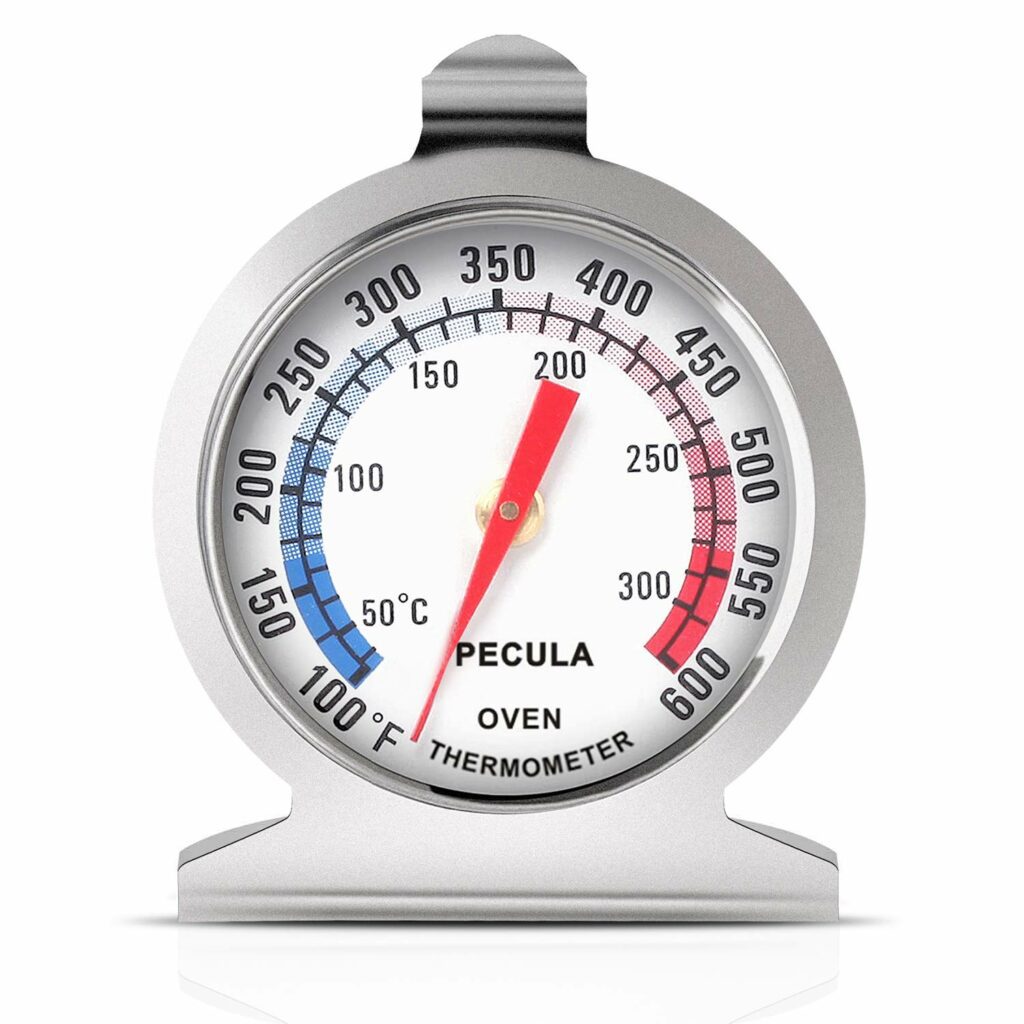 The temperature here will be visible even to those who do have not the best vision. This thermometer weighs 1.6 ounces and you can either hang it in the oven or just place it on the shelf. It can measure the temperature in Celsius and Fahrenheit which is also convenient.
It's incredibly affordable but it also means that it's made of cheaper materials than the previous models. However, this fact means that it's easier to maintain.
If you want you can hang it on the wall or place it on the shelf, just like all the previous thermometers. By the way, the oven thermometer is not the only item manufactured for the set by Farberware. There is also a refrigerator, meat, stainless candy, and many other thermometers that you can check out on the website.
All you have to do is just to wash it with warm water and light detergent. Overall, the materials are huge this thermometer is made of are quite durable and they will serve you for several years at least. The product has great reviews from its customers and it can be found on all famous marketplaces.
You can also check this: Is Your Skillet Oven-Proof? 5 Tips To Check
7. Winco TMT-OV3 B001B4KUPY Oven Thermometer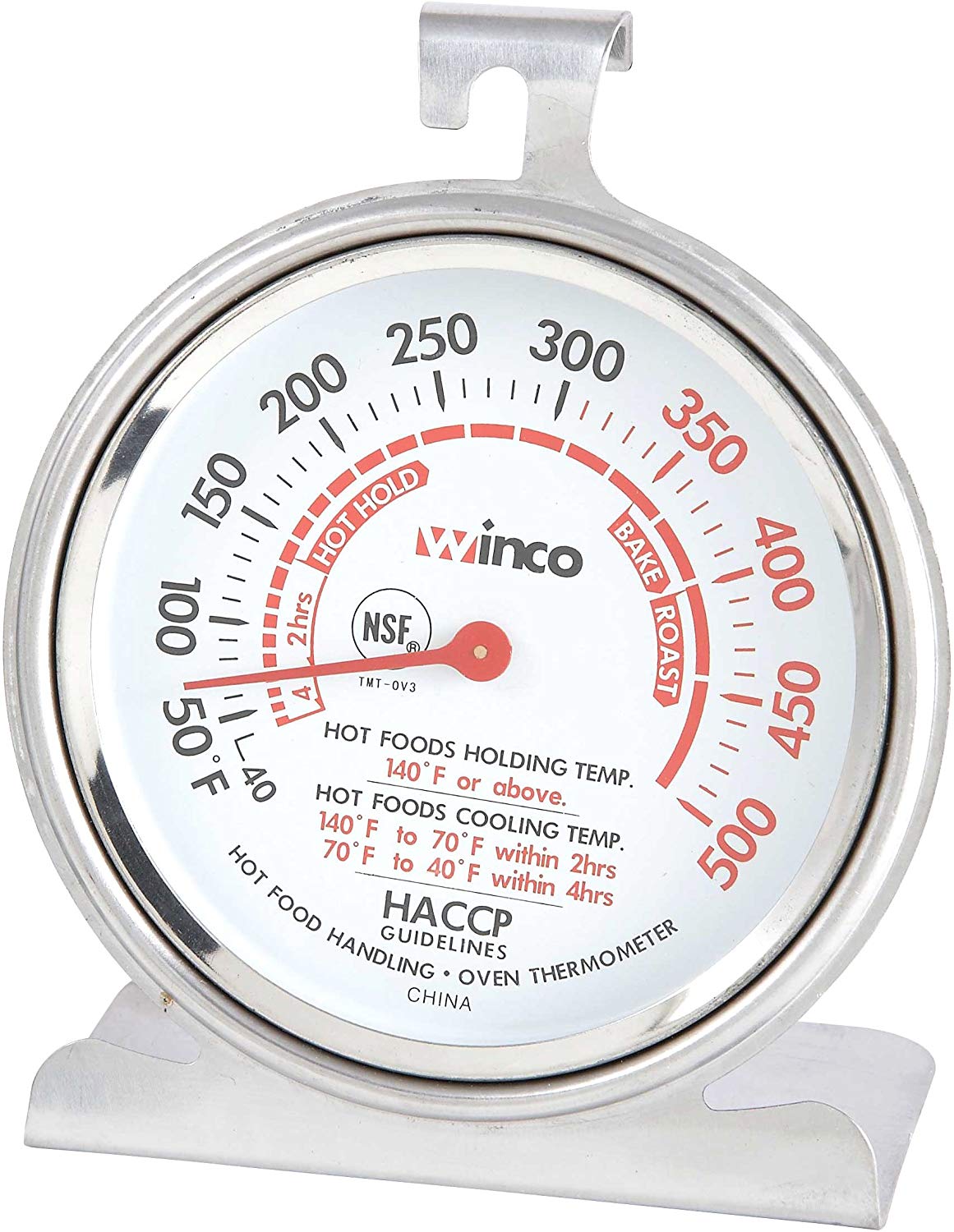 If you fond of things with the retro design, this is it. It is an affordable and simple thermometer. Its distinctive feature is that it has HACCP reference on the dial to help you monitor set your recommended temperatures to suit your preferred cooking method.
It measures the temperature only in Fahrenheit, withing the range of 50 to 500 degrees. Thus, you will always stay aware of the optimal temperature wherever the dish you are cooking. As always, it has the 2-way mounting, sp place it as it's comfortable for you.
And don't think the fact that this item is cheap is going to influence its performance. It is approved by NSF. For those who only start their journey with cooking this thermometer is especially recommended because of its simplicity in usage and tips right on the indicator.
8. Admetior Kitchen Oven Thermometer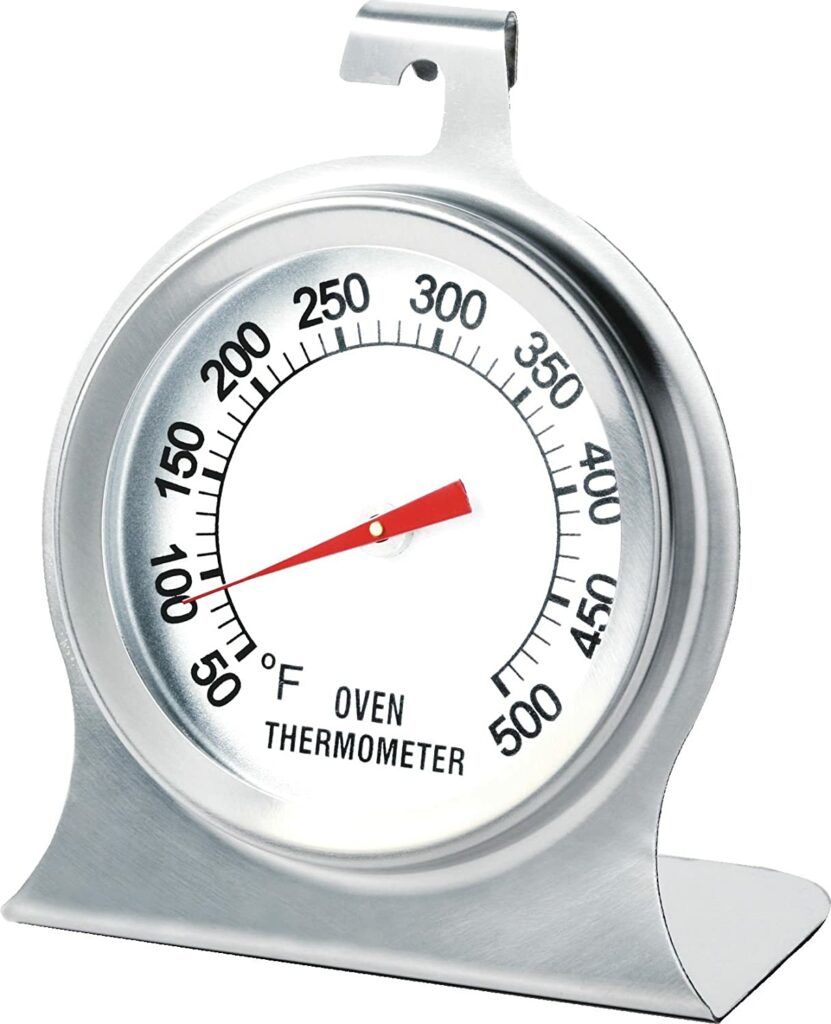 Several years ago it was one of the leaders in the market. And even though now there are better models, this one is still a good choice. This no-frills model reports temperatures with superior accuracy and it responds quickly to any temperature changes.
It's so easy to use and you can just hang it in the oven on the oven rack or just place it on the shelf. Despite the fact that it's rather a small thermometer it's easy to read thanks to clear and bold print and distinct tick marks.
The overall temperature gauge here starts at 50° F which ensures that you can see the needle move even when the thermometer is placed at room temperature. This thermometer can read the temperature only up to 500 degrees Fahrenheit
9. Taylor Precision Products 5932
In case you want to have a thermometer with one of the largest faces, big tick marks, and a graduated Collierville that makes it a breeze through an Owen window, look no further than this option. It's not the best in terms of accuracy and it's not very responsive either.
It has quite a multibody and you will need to put some effort to place it between the rags. However, this will be an exception for those who have bad vision.
The option is also a little bit pricey. But it can measure the temperature up to 600 Degrees Fahrenheit.
Despite the fact that it's bulking, it's made of stainless steel and it's quite durable and it's resistant to corrosion. The thermometer has quite positive reviews from parents customers which means it's quite safe to use.
FAQ for oven thermometers buyers
1. How can I check my oven temperature with a thermometer?
Hang an oven thermometer in the center of the middle rack and preheat the oven to 350˚F (176.67˚C). Allow the oven to preheat for at least 20 minutes and take a temperature reading. This will tell you if the oven is even reaching the desired temperature from the beginning.
2. Is it safe to leave the thermometer in the oven?
It is, just makes sure you're providing proper cooling of an oven after the baking process is over.
3. How can I find out if my oven thermometer is accurate?
The first thing you need to know: the freestanding thermometer is the best kind to measure the precision of the temperature indicator. Place it right in the middle of the oven. Set up an oven to a certain temperature, then see which number will the thermometer show.
If the number differs by more than 50 degrees Fahrenheit, then it is better to acquire an additional thermometer and check one more time if it's your oven works wrong or the thermometer.
Of course, if you want to get the extra precision, you can buy an advanced digital thermometer and measure the temperature with that, but here you should decide for yourself if you're ready to invest that much money into a simple comparison. You can take your thermometer to a special laboratory as well.
4. Is there any way to check the oven temperature without an oven thermometer?
There is. Take 1 cup of room temperature water and check its temperature with an immersion thermometer. Adjust the temperature with either warm or cold water to make it 70F. Then place in the oven for 15 minutes. Check the temperature again and it should read 150F.
5. Do oven thermometers expire?
If you put some effort into its maintenance, it shouldn't. A thermometer should be checked when brand new and rechecked every six months. In case you drop or otherwise traumatize it when you haven't used it in a while then its quality of work may be questionable.