A food processor is a super-important thing for almost any family since it saves so much time. Moreover, parents don't need to waste that much time on cooking, the time that they indeed do not have. So in the following article, you will find the food processor size guide for families of 2,3,4 and more.
So to start with, let's think about which size of food processor you need in general.
You may also like: 7 Best Food Processors Reviews
Family of 2 or less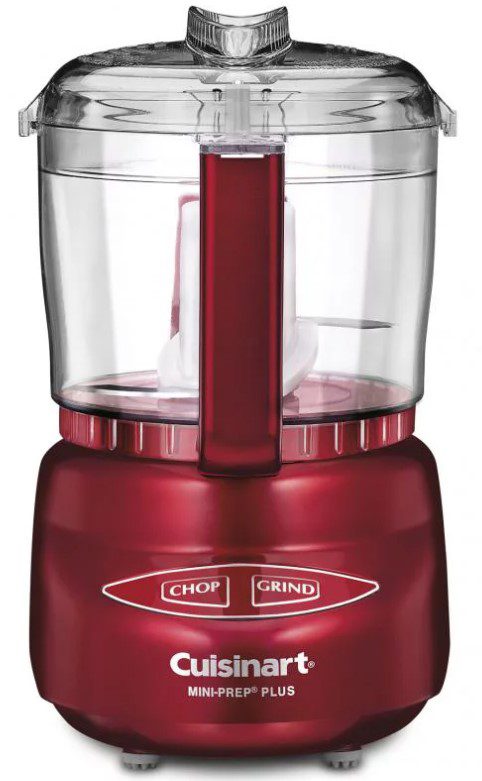 It all depends on what you are going to do – the higher capacity of the model is, the more possibilities it has. We recommend going for something like a 3-in-1 processor because in case you are cooking only for yourself, or for a family of 2.
This is a perfect option for small families since it's super fast in usage and it's not that noisy. You can quickly shred the products and cook what you want. What is more, the cleaning of such food processors is easy and fast.
Here is shortly what this type of processor is capable of:
It allows you to make toppings like bread crumbs or bases like parfaits.
You can chop onions fast, also nuts, and fresh herbs.
Mix the ingredients for spiced lamb meatballs, falafel, or shrimp cakes.
Puréeing small batches of hummus, sage pesto, flavored aioli, or other dips and sauces.
You may also like: 7 Best Vegetable Dicer For Quick Cooking Reviews
Family of 3 or less
Next, there is a 5-cup food chopper, with a whisking attachment, that allows you to whisk, whip, emulsify and stir. Savory or sweet, smooth or coarse, whip up your latest inspiration, or make the whipped cream effortlessly, in just 30 seconds. There are also some options as cordless food choppers.
In culinary art, this food processor is basically capable of the same things we described before (in a 3-cup item), but here you can make it in bigger amounts.
Family of 4 and more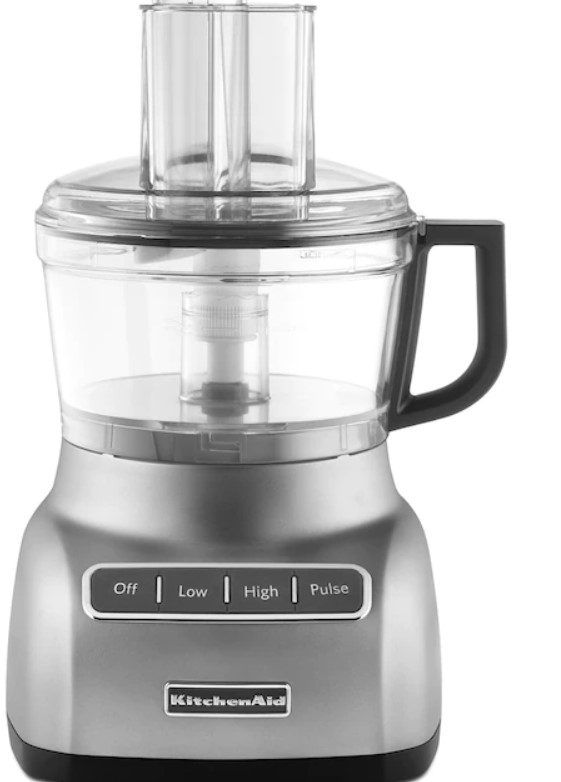 The larger family can also use the 7-cup food processor. There are such functions as slice, shred and knead with the dough blade with the reversible medium slice shred disc, so you can cook more challenging meals and take on new cuisines, or perfect your go-to recipes.
The 9-cup food processor plus gives you almost limitless possibilities to create, whether you want to cook an artisan pizza or fresh apple pie – there is a capacity to explore it all.
Here is a short description of what a 9-cup food processor can cook:
It will help you to make salads, ratatouille, root vegetable gratins, etc.
Shredding carrots, hard cheeses, potatoes, and cabbage to make a slaw to complete your fish tacos. Moreover, with this type of processor, you will be able to make salsa and poblano cream sauce as well.
Making any type of dough and filling for hand pies and dumplings like Yunnan-style pies, beef empanadas, and pork and vegetable dumplings.
Mincing ingredients for chicken nuggets, veggie burgers, and more.
Puréeing sauces, soups, desserts, and dips like roasted garlic cashew dip.
Kneading dough to make pizza crust, biscuits, etc.
Chopping onions, and vegetables, or making desserts, like a nut and chocolate medley for parfaits.
You can also check: 7 Best French Fry Cutters Reviews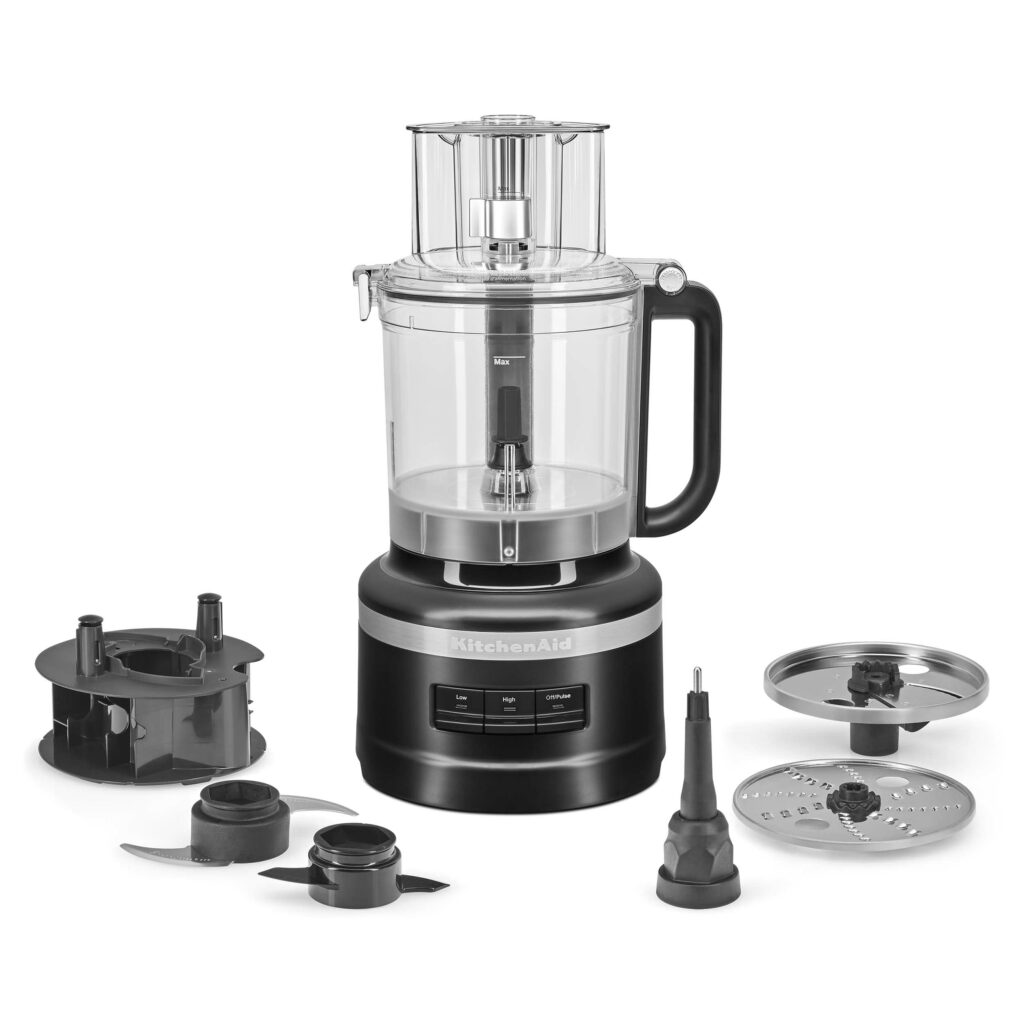 Or, if your family is more than 4, you can even go for a 13-cup food processor. Do we need to say that with a machine like that you are able to cook anything you like?
This processor includes a unique slicing disc that can be adjusted from slicing thin to thick. The dicing kit adds dicing ability to the 13-cup model. The exact slice disc slices from slivers to wedges, getting every detail right.
Once again, here is a short list of your cooking possibilities with this 13-cup processor:
Creating large batches to feed your whole family, to store for later, or to give as gifts.
Regular features like chopping, mixing and puréeing but with the added ability to slice, shred and knead.
You will be able to process the larger foods because there is a wider feed tube.
Making sweet and savory apple cheddar scones, lemon and strawberry jelly donuts, cheesy skillet hash brown nests, and other splendid recipes.
Family of 7 and more
Ok, in case you have a huge-huge family, you may want to look at the 14-16-cup food processors. They will fit the number of ingredients that you need to feed everyone. Some models of this size can also knead, julienne and dice.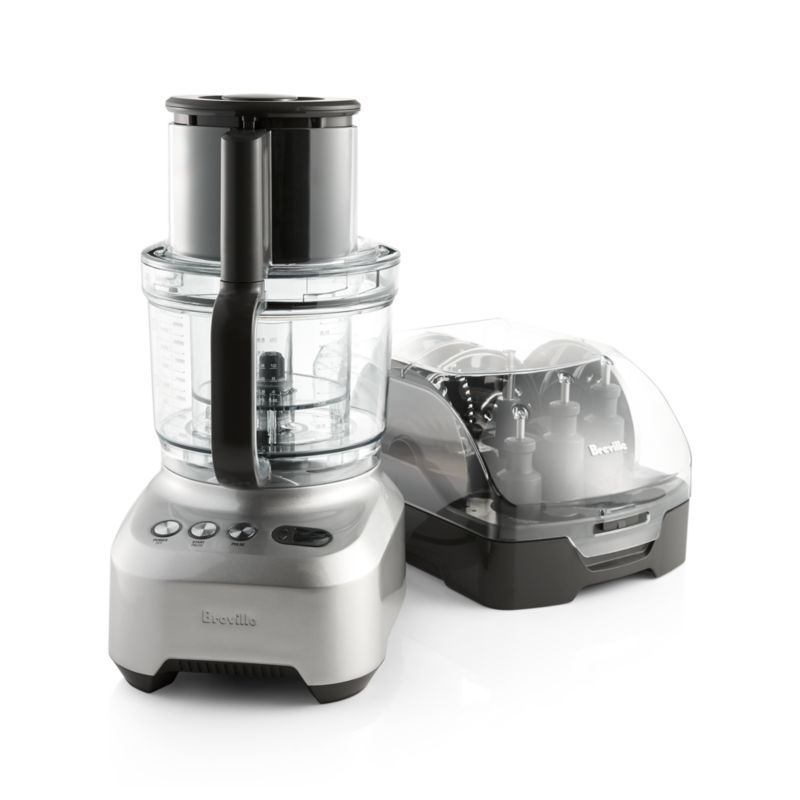 Here is a list of what you can do with this food processor:
Basically all the same tasks you can do with the smaller processors that we have already described.
Dicing produces, cheese, and more.
Processing a larger number of ingredients.
Creating large batches of recipes, including dips, sauces, soups, and fillings.
Making the flaky crust and filling for caramelized onion goat cheese tarts, fruit carpaccio with ricotta cream, coconut ginger cheesecake, and many more things.
However, keep in mind that those food processors are also most difficult to clean. They have a lot of parts in their kit and you will also have to store them all and find the space for them.
You may also like: 7 Best Juicers for Greens Reviews
To sum it all up, there are no strict rules on which food processor you should go for no matter your family size. It depends more on your lifestyle and the type of family.
If both parents in your family are working and you have very little time to cook everything, it doesn't make sense to buy a 9-cup plus-sized processor, because you're not going to fully use it anyway.
On the opposite, if you're a stay-at-home mom, and you like to cook exquisite dishes from various cuisines, it makes sense to buy a power powerful and versatile food processor since it will give you the space for creativity. And even if your family consists of 3 or 2, you're going to use your large food processor every day anyway!