There are a huge number of different cookware manufacturers on the market in different price ranges.
You can pick a set of cookware to match your kitchen style and choose even the most unusual color. But if you want to get a kitchen set that meets your preferences and still lasts for years, then you need to pay attention to more expensive and high-quality manufacturers.
Check out these top luxury cookware brands and their best offers. They have won the hearts of millions of customers around the world because of their advantages, which I have described in this review.
If you want to preserve all the useful properties of the dishes you cook in your kitchen, then pay attention to these healthy cookware sets on the market.
Brand
Best Offer

Le Creuset Toughened Nonstick PRO Cookware Set




Triple-Reinforced Surface

Textured Interior

Stay-Cool Ergonomic Handles

Check Current Price

Caraway Nonstick Ceramic Cookware Set




Non-Toxic Coating

Oven Safe

Stovetop Agnostic

Check Current Price

Made In Cookware - 10 Piece Stainless Steel Pot and Pan Set




Long Lasting Construction

Unlimited Versatility

Always Cool Handles

Check Current Price

Seasoned Cast Iron 5 Piece Bundle




Cast Iron Cover

Easy-Grip Handles

Great for Induction Cooktops

Check Current Price

HexClad 6 Piece Hybrid Stainless Steel Cookware




Tri-Ply Construction

Scratch-Resistant

Lifetime Warranty

Check Current Price

Our Place Home Cook Duo




Nontoxic, Nonstick Ceramic Coating 

Compatible with All Cooktops

Modular Lid

Check Current Price

Smithey The Hand-Forged Carbon Steel Set




Handles with a Texture Designed for Easy Gripping

Pre-Seasoned Interior Finish

Light Weight

Check Current Price
1. Le Creuset
In terms of quality and innovation, Le Creuset cookware is the high standard to which other manufacturers, claiming the "premium" category, are held. Speaking of Le Creuset cookware, it is worth noting that it is a handmade product.
The production employs specialists who are responsible for the processes of casting, enameling, quality control, and packaging. Thus, the absolute uniqueness and high quality of all kitchen utensils produced under the Le Creuset brand are ensured.
Throughout its existence, Le Creuset has been setting the trends in cookware manufacturing. It produced new models with famous designers' work and mastered new materials.
Current collections of Le Creuset have everything you need for the modern kitchen. There are pots, pans, grills, fondue, wok, kitchen and table accessories, and wine kits.
Le Creuset brand remains a guarantee of European quality, and its ergonomically thought-out shape makes cooking a real pleasure.
Le Creuset Toughened Nonstick PRO Cookware Set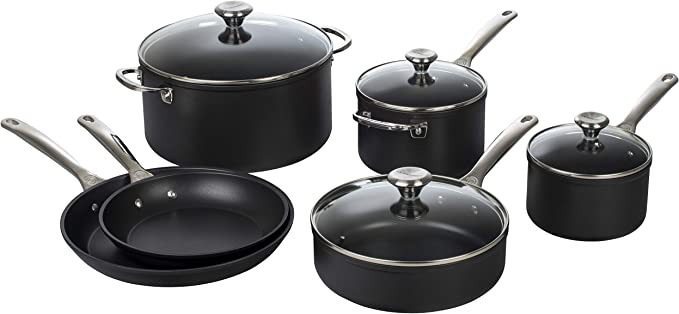 Spend time in the kitchen with pleasure with the Le Creuset Toughened Nonstick Pro. It's perfect for both everyday use and festive preparations.
Stylish design, durable material, and handy format. The set allows you to easily feed the largest company.
The set consists of 10 pieces, each of which can be used separately. The triple-coated inner surface avoids hot spots.
The heat is distributed evenly over the whole surface and the food does not burn. You don't need to use any special care products – simply put it in the dishwasher or wipe it with a cloth.
This set has a unique non-stick coating, which allows you to cook any type of dish. Forget about burnt or half-cooked food.
Handy handles allow you to safely take the finished dish out of the oven and put it on the table. You can safely use the set on all kinds of stoves. Dense aluminum withstands heat temperatures up to 500 degrees Fahrenheit.
The set includes 4 pots of different sizes, 4 lids, and 2 non-stick pans. Make yourself and your loved ones happy with a useful purchase.
You may also like: 5 Best Copper Cookware Sets Reviews
2. Caraway
Caraway offers its customers cookware that will help them cook healthy meals for years to come. All products of this brand are made without the use of toxic materials and various chemicals.
The smooth surface of the cookware allows you to minimize the usage of oil in cooking, which is good for the health of consumers. It also helps in cleaning the cookware. When you see the kitchen utensils from this brand, you realize how much attention has been paid to design.
In the catalogs of this manufacturer, you are sure to find exactly what will fit perfectly into your interior. The packaging of tableware is also worthy of separate attention. It does not contain plastic, all products will be delivered in cardboard packaging, which can be sent for recycling.
Caraway Nonstick Ceramic Cookware Set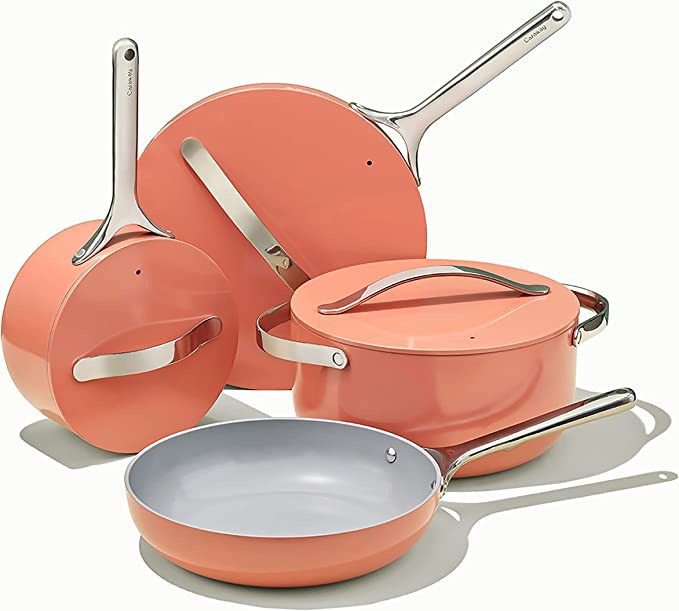 A bright kitchen set will be a great gift for you and your family. Different sizes of objects allow you to prepare any part of the food.
The high quality and non-stick coating will make cooking a real pleasure.
Caraway Nonstick Ceramic consists of 12 items: a non-stick pan, a convenient 3-liter saucepan, and liquid ingredients tray with a lid, a baking dish with a lid, a sauté pan with a lid, 4 magnetic supports, and a hook-shaped lid holder.
The modern non-stick coating allows you to cook delicious and healthy food with minimal addition of vegetable oil.
The pots made of durable aluminum are wear-resistant and allow heat to be distributed throughout the area without temperature peaks. The coating is absolutely safe and complies with all international standards. It withstands even high temperatures without any harm to your health.
The kitchen set is suitable for any kind of stove, including induction stoves. Cook your favorite dishes in the oven: the greatest temperature is 550 degrees Fahrenheit.
The set doesn't take up much space and will fit in any kitchen. Bake bread and cookies, prepare meat and vegetable dishes and delight your loved ones with new ideas.
3. Made In
Cookware from the manufacturer Made In meets the strict standards of the best chefs in the world. A distinctive feature of this company is the ability to get a trial period of 45 days of cookware. You also get a lifetime warranty on all your cookware bought in the Made In stores.
This cookware is used in leading restaurants around the world, which proves the high quality and low wear and tear of the products. You can also take advantage of the program for recycling your old cookware.
The cost of cookware from Made In will pleasantly surprise you as it is really affordable. You can check out the most popular items below or visit the manufacturer's catalog and find the cookware that will fit perfectly into your kitchen design.
Made In Cookware – 10 Piece Stainless Steel Pot and Pan Set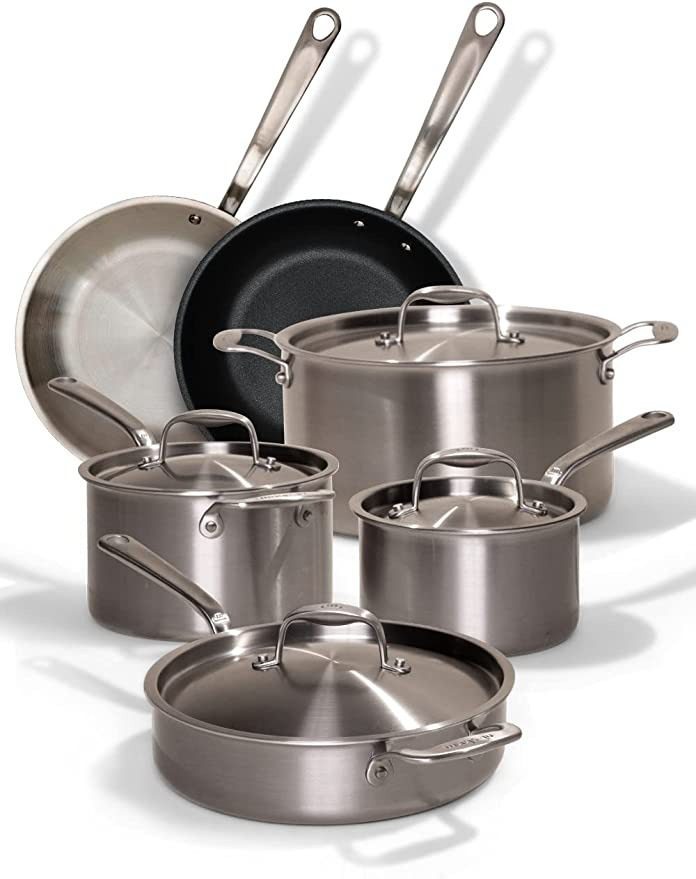 The 10-piece Cookware Set will help you easily learn new dishes and make familiar food tastier and healthier.
The non-stick coating prevents overheating of the food and helps to keep the cookware clean.
Even at very high temperatures, it does not release potentially harmful substances and ensures safe cooking.
You just need to put it in the dishwasher or put it under the stream of water to clean it.
Thanks to its universal design it will perfectly fit in any kitchen and will be an eye-catcher for your guests. The set will fully meet the needs of the novice housewife and the experienced cook. It is enough to prepare the most complicated dishes.
The set fits compactly in your kitchen and does not require much space. Each item in the set consists of an alloy of 4 durable metals. 5 layers provide professional cooking and durability. Handy handles are designed so that they won't get hot when exposed to high temperatures.
The set can be used for cooking on any stove: electric, gas, or induction. You can use the elements of the set for cooking in the oven. The largest temperature is 800 degrees Fahrenheit. By buying this set you will appreciate its quality and durability.
4. Lodge
For a long time, Lodge has been making cookware that is durable and versatile. This is made possible by a special blend of molten iron and steel. The Lodge brand cookware belongs to the medium-price segment and is available to every customer.
The brand is known for its sustainability. All the packaging is biodegradable, which is good for the environment. The design of the dishes can be called discreet, but you are sure to find something to suit your preferences.
Lodge Seasoned Cast Iron 5 Piece Bundle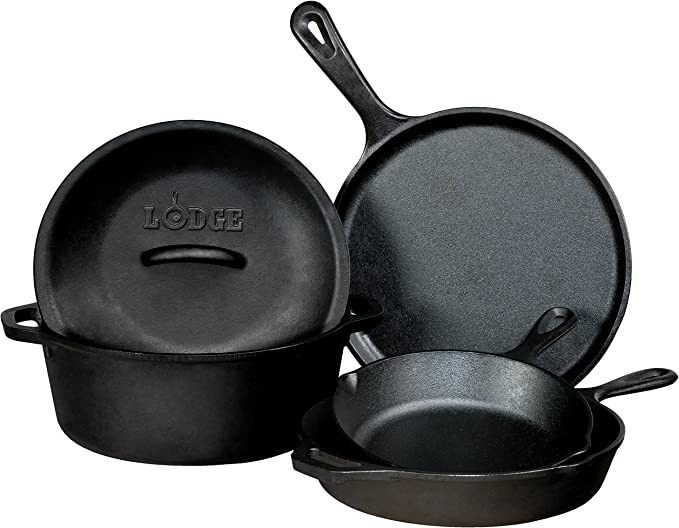 When you choose the Lodge Seasoned Cast Iron Kitchen Set, you will ensure that you cook comfortably and eat healthily.
The 5 elements of the set will ensure that you can create any culinary masterpiece. They easily fit in the kitchen cabinet.
Products are based on high-quality and durable cast iron, so you do not have to worry about external damage: this cookware will last for many years.
The lid is also made of cast iron. Comfortable handles help you hold the cookware even with wet hands.
Thanks to the One Lodge cast iron, cooked food stays warm longer. You won't have to reheat food for those who are late for dinner. The entire area of the skillet heats evenly, so your meal will be ready inside and out.
Use this cooking set wherever you need it. It is suitable for all types of stoves. You can safely use it for grilling and cooking on the campfire.
The set includes 3 pans of different diameters (10.5, 8, and 10.25 inches), a baking mold, and a 10.25-inch diameter iron lid. You should use regular dishwashing detergent to clean your dishes. Be sure to use vegetable oil before cooking.
You may also like: 7 Best Induction Cookware Sets On The Market
5. HexClad
Goods from the manufacturer HexClad harmoniously combine noble traditions and modern technology. Produced products are of high quality, of which there is no doubt. The manufacturer offers a fairly large selection.
The manufacturer uses stainless steel of high quality with the "right" ratio of chromium to nickel. The first eliminates the formation of rust, the second ensures the preservation of a given shape.
All items necessarily have a non-stick coating – so food can be cooked without oil. The brand cares very anxiously about the reputation earned over the years, so the dishes are always of high quality.
HexClad 6 Piece Hybrid Stainless Steel Cookware Pan Set with Lids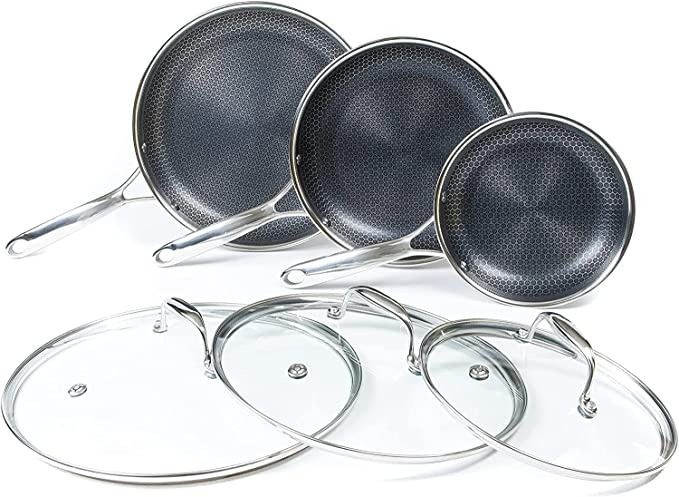 The HexClad set consists of 3 pans 8, 10, and 12 inches in diameter. Indispensable in any kitchen, it will help you cook meat, vegetables, eggs, and seafood quickly and deliciously.
This set is completely dishwasher-safe, which is a big advantage. The non-stick coating has a unique composition.
It consists of approved materials and is safe for the health of adults and children.
The coating helps to dramatically reduce the consumption of vegetable oil, speed up the cooking process and save time on cleaning the dishes. The unusual hexagonal shape is created by means of laser processing.
The pans consist of 3 layers. The inner and outer ones are made of stainless steel, and between them, there is an aluminum layer. Such a structure provides strength and durability.
Use the set for cooking on any stovetop. You can even put the pan in the oven: the largest temperature threshold reaches 500 degrees Fahrenheit.
You can put the pans in the dishwasher or clean them yourself. They won't get damaged even with steel sponges. You get a lifetime warranty on the entire set when you purchase.
6. Our Place
The company Our Place offers products made of different types of material: cast iron, stainless steel, ceramic, and various alloys. As for the visual design, everything is strict and corresponds to everyone's favorite style: laconic with thoughtful details.
The main material used by the manufacturer is stainless steel. It is characterized by high strength, is not susceptible to corrosion, and does not contain substances hazardous to humans.
Stainless steel is used for the manufacture of cookware, kitchen and tableware, knives, and various accessories. Used steel does not oxidize, so it does not change the taste of cooked food. Items have a multi-layer, heat-accumulating bottom, so cooking takes less time and it stays hot longer.
Home Cook Duo
This is a perfect duo for the experienced housewife. The kitchen set will replace most of the cookware.
You can cook any meal with just a frying pan and a saucepan. Their unique qualities allow you to combine many functions.
Planning on making lasagne tonight? Or want to bake a birthday cake? Take hold of one of the suggested items and get going.
With this set, you get more than just a frying pan and a pot. You get a sauté pan, steamer, roaster, roasting pan, and colander for your kitchen. You also get a spatula, a spoon, and a special stand.
The Home cook duo is coated with a non-toxic non-stick coating. It does not contain potentially hazardous elements such as lead and cadmium.
The sturdy aluminum base protects the cookware from external influences and high temperatures. Suitable for all types of stoves, from electric to induction.
Handy spouts for pouring liquids make cooking easier, and model lids with adjustable holes allow you to release steam without your involvement.
The double-sided cooking spoon is made of beechwood, so it won't damage the surface. Use the roasting grid to get the steam cooker function. With the Home cook duo, you don't have to buy other cookware to complete your kitchen.
You may also like: 9 Best Nonstick Cookware Reviews
7. Smithey
Smithey specializes in frying pans. The brand offers many different models. According to the purpose, the goods are divided into different groups. Among the proposals, there are classic options used for cooking a variety of dishes.
The cookware of this brand is of high quality, due to the careful control of all operations. First of all, the form is made of aluminum. At the same time, each product will be individual. Cast iron fills the mold, and then the material is allowed to solidify.
All kitchen utensils of this brand have a thick bottom, which ensures even distribution of heat, and is supplemented with non-heating handles. This eliminates the possibility of an accidental thermal injury. It can be washed in the dishwasher on a standard cycle, as well as used on all types of cooking surfaces.
The Hand-Forged Carbon Steel Set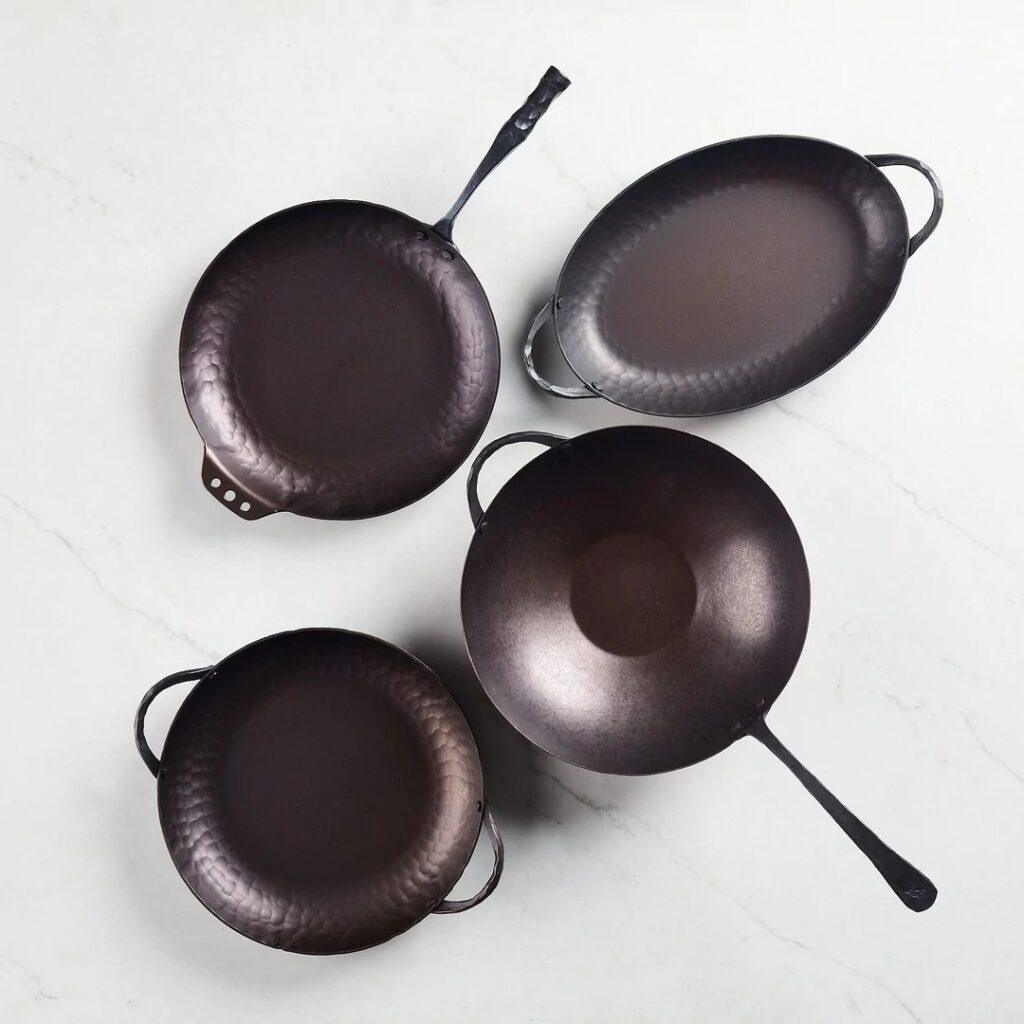 The Smithey Ironware kitchen set is guaranteed to be an ornament to your kitchen and will delight you with comfortable cooking.
The utensils are made of carbon steel, which indicates strength and durability.
Each piece is forged by hand and has no analogs. The exquisite pattern and forged handles give the utensils a special charm.
Compared with cast iron, carbon steel is much lighter, but not inferior in functionality. The cookware is suitable for all types of stoves. Cook on an open fire or grill. Take it with you on nature and camping trips.
It is resistant to external influences, including high temperatures. The set includes a 12″ diameter wrought iron skillet, oval and circle-shaped griddles, and a wok.
The cookware is ideal for all types of dishes. Meat, fish, vegetables, and seafood will acquire qualities you never thought possible. You can use it daily. Treat yourself to a unique set of cookware from Smithey Ironware.