It doesn't matter if you love cooking and spend most of your home time in the kitchen, or hate it and cook something only 1 time a year – for unknown reasons, the trash can in the kitchen is always full! And then you decide to get another one.
You may also like: 7 Best Pressure Canners Reviews
But which size will be more practical for you? In the following guide, we will see what size is a normal kitchen trash can.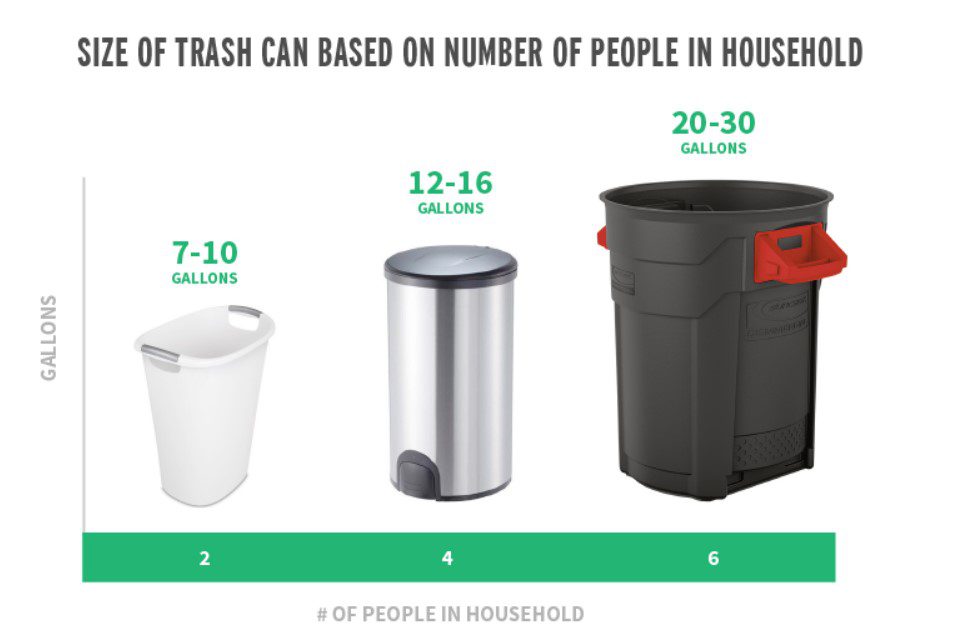 Before you start looking at the options and choosing the trash can we recommend you do a little examination of your kitchen habits and how much trash/garbage you usually have in your trash can?
If you're living alone and cook less than 1 time a day, then you would probably need a small size trash can.
You may also like: 7 Best Cotton Candy Maker Reviews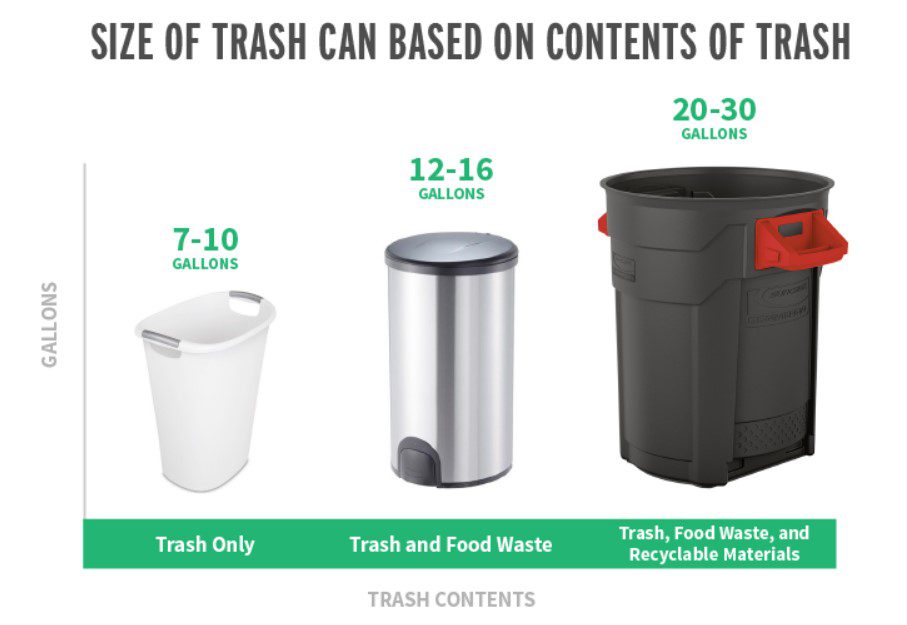 Of course, it is always more convenient to get a larger one, but here you need to remember that all the garbage that will be stored there will begin to decay and the smell will probably be horrible.
Thus, it's better to take out the trash at least once in 2-3 days, if you don't want your kitchen to smell like a dump station or, what is worse, to discover there are simple life forms occurring in your trash can.
In case you have a family of 2-3 the medium to the large trash can will be suitable. But again, pay attention to your kitchen habits. For larger families, sorting the trash into different trash cans is recommended.
So let's start with the sizes!
First of all, determine the room where you going to place your trash can. As we mentioned earlier, it's almost always the kitchen, but some people might want to choose a trash can for their bathroom, or even have a special room for that.
In case you are choosing a trash can for your bathroom, the normal size is 4 gallons. In the case of bedroom or office trash, the size can be between 5-7 gallons, and kitchen trash cans tend to be 12–16 gallons. When it comes to a large family, we talk about trash cans that have sizes of about 20-30 gallons.
How much space do you have?
An under-sink kitchen trash can be a nice option for collecting trash from the floor. What we want to say is that before you are going to buy a trash can, you should think of how much space you have and where you want to place it.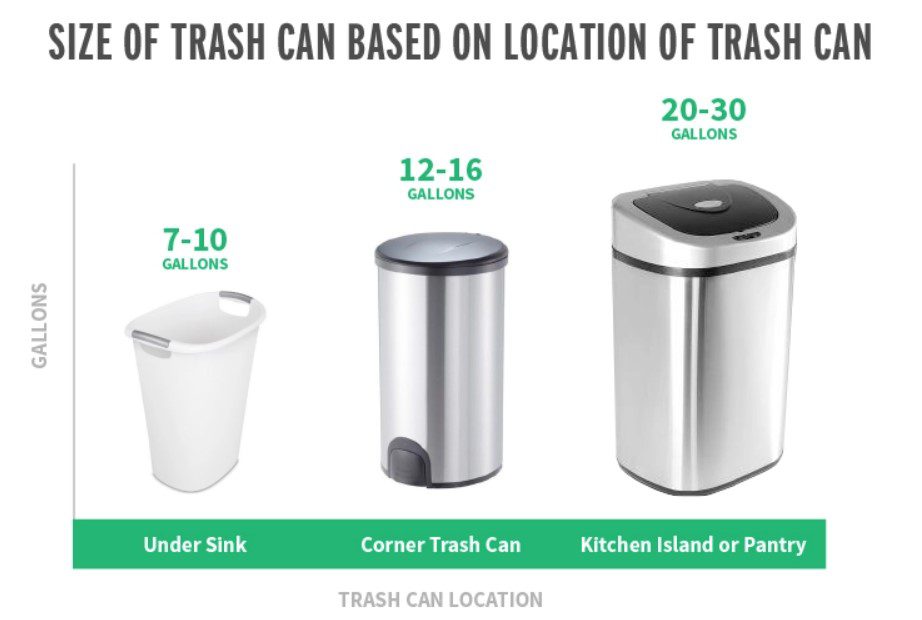 The majority of under-sink cabinets are 30 inches tall, so keep in mind that you cannot put huge pieces of garbage there. A 7–10 gallon trash can is usually what most people need but try to measure your under-sink space first.
You may also like: 7 Best Blenders for Smoothies with Ice Reviews
There are trash cans that are made of stainless steel and they add to a larger kitchen's decor and fit easily in a corner. Usually, their measurements are between 12 and 16 gallons. In case you have a spacious kitchen (lucky you), then a large 20–30 gallon trash will fit nicely next to a kitchen island.
What size of trash bag do you prefer?
This aspect is also crucial because the trash cannot be bigger than the bag – if it is, it will be creating lots of mess. An oversized bag is better, but still not desirable. If you usually stick to medium-sized trash bags, as a rule, you should look for a trash can of the same capacity.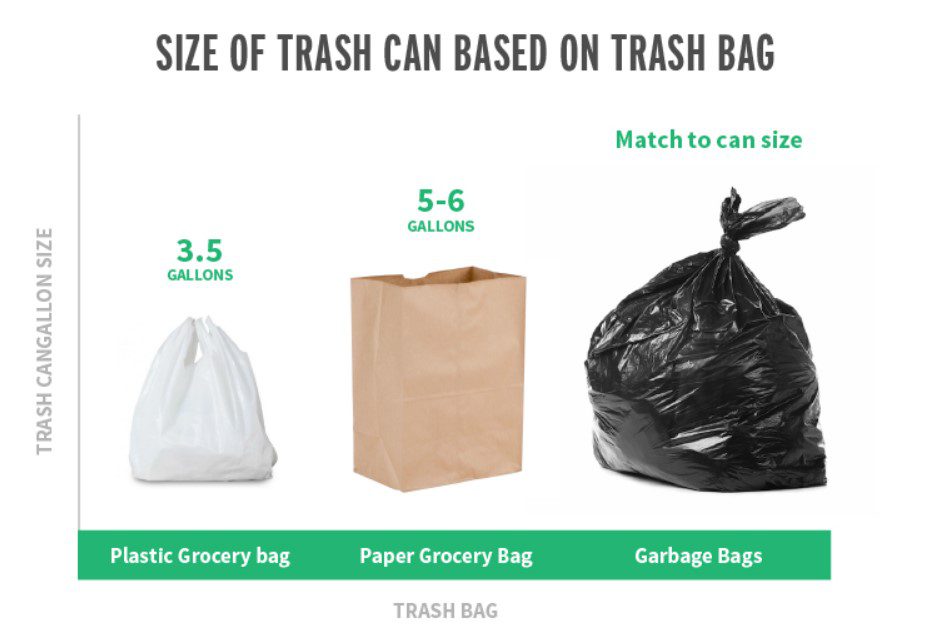 Don't waste your trash bag that doesn't fit your trash can.
What is ultimately right?
Basically, here we come back to what we were starting from. You need to think of how much trash you are producing and therefore choose the size of your trash can based on that data. Moreover, if you will decide to go for a huge trash can you will need to also think if you are able to carry it out later.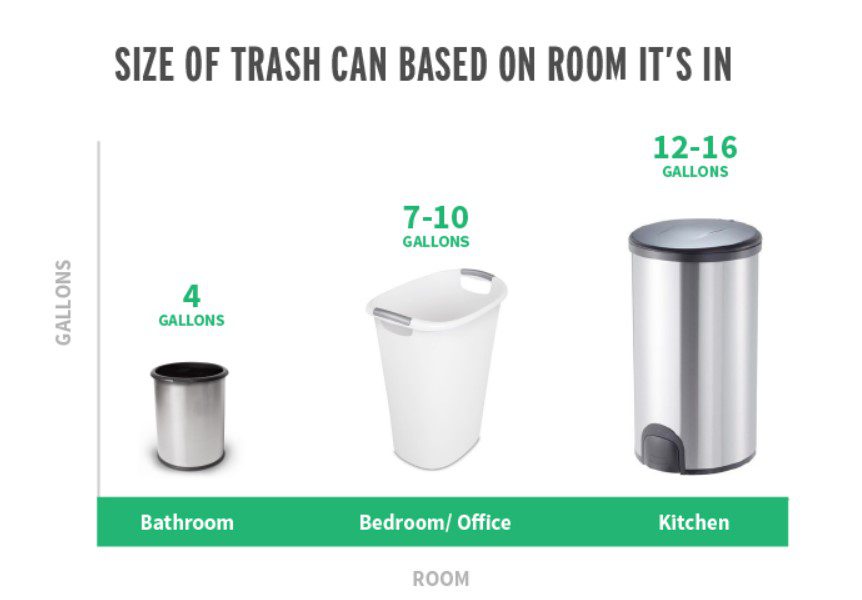 You may also like: 7 Best Vegetable Brushes Reviews
And look for the can wouldn't be too tall! Overall, the smaller the trash can, the better. It's not really cool to get a huge one and wait weeks until it gets full and gets stinky.
F.A.Q. about trash cans
How big is a 10-gallon trash can?
The approximate measurements would be around 16"L x 8"W x 30"H.
How big is a 2-gallon trash can?
We would say 8.5"L x 9"W x 11"H.
What material of a trash can is better?
Stainless steel is the most long-lasting and sturdiest one. However, these trash cans that are made of stainless steel are the most expensive. The models from various types of plastic are more fragile but much lower in price.
How often should I clean my trash can?
If we're not talking about taking the trash bags out, then we would advise you to wash the can itself maybe once in 6-8 months. The thing is it's getting dirty and greasy with time and starts smelling bad, especially in the case of plastic cans.