Originally crepes came from Brittany, a French region where they were used as everyday bread since the 12th century. Initially, they were made of buckwheat flour. Nowadays, you can find them basically everywhere, especially in France where they're considered some sort of street food. By the way, many people are still arguing what was first: crepes or pancakes?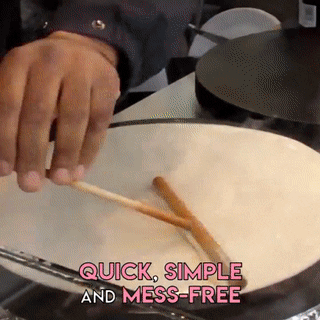 The recipe of crepes is extremely easy so it never takes long to cook them. Moreover, they are extremely versatile and no one eats them raw. Usually, there is some stuff inside, like ham and cheese or Nutella. Which flavor would you like to have in your crepes?
By the way, if you really like crepes and ready to invest in better appliances which were made specifically for the making of the latter then you should definitely check out the list down below. Make your ideal crepes and invite your friends and family to enjoy the meal together!
Our Top Pick
Proctor Silex 38400


The only professional crepe maker that comes at an affrodable price. The model has 8 heat level to get the optimized result, wide surface and has the spatula in the set. 

Check Current Price
Image
Product
Morning Star


Professional crepe maker
Heat control button
LED screen
Comes together with a spatula

Check Current Price
NutriChef Crepe Maker


Heat control button
Non-stick surface
Versatile

Check Current Price
Nordic Ware 03460


Non-stick surface
Light
Affordable

Check Current Price
Salton Cordless


Interesting design
Non-stick surface
Switch on/off button
Versatile

Check Current Price
Le Creuset L2036-2767


Beautiful design
Non-stick surface
Comes with the set with spatura and rateau
Oven-proof

Check Current Price
Health and Home Crepe Maker


Professional crepe maker
Heat control button
Has no edges

Check Current Price
1. Morning Star – Crepe Maker Pro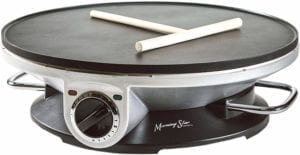 Today we're starting straight from the serious items – this is the real professional crepe maker that is normally used in commercial goals. But here, as you can see, you can buy one for your personal usage as well. This model features a sturdy stainless steel base, but when you hold it feels light enough to move it from place to place.
Moreover, there is a temperature dial for better precision of the heat for cooking the crepes. Maybe you like them rawer – then choose the lower temperature (the thing you're not able to do when you use a regular cooktop), or maybe you like a little crisp on its edges – then heat the plate up.
By the way, about the plate. It is a large 13-inch aluminum non-stick plate is also ideal for pancakes, eggs, and many more. This model comes in a set with a special crepes flattener, which will help you to spread the dough better across the plate and get a more symmetrical shape of the crepes.
It's equipped with handy LED indicators and a simple temperature dial with a range from 250 to 475 degrees Fahrenheit. But here pay attention that the coating is Teflon so it's not completely safe for your health.
The price of this item is a little bit less than $100 dollars so it makes sense to pay only if you're going to use it multiple times a month. However, this model promises to be reliable and durable and serve you a long life.
You may also like: 7 Best Pancake Maker Reviews
2. NutriChef Nonstick 12-Inch Electric Crepe Maker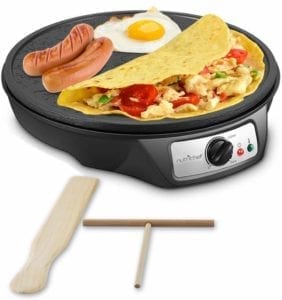 One of the most popular items on Amazon for making the crepes, this 12-inches plate will be a perfect and affordable choice for all the crepe loves out there. It also has the temperature control so you could make perfect crepes, but it can also be used as a griddle to make standard pancakes, fried eggs, bacon, or anything else you'd cook on a standard griddle.
Moreover, with this crepe maker, you can heat up tortillas and flatbreads. If you love tortillas, then you can use a tortilla maker. Unlike the previous item, here the surface is made of non-stick aluminum. It heats up quickly and evenly. A wooden batter spreader and wooden spatula for making and handling crepes are included in the set.
The cooking surface has a very slight lip that helps keep juices and fats from dripping off during cooking, but it's low enough so it doesn't interfere with sliding a spatula under the crepes. The plate works at the power of 1200 Watt which is pretty much the standard for any house.
It is safe for any countertop, kitchen top, and tabletop and comes with its 2.5 feet power cord. There is also a smaller version of it which works at the power of 1000 Watt. Overall, this crepe maker by NurtiChef has great reviews on Amazon and highly demanded.
3. Nordic Ware 03460 Traditional French Steel Crepe Pan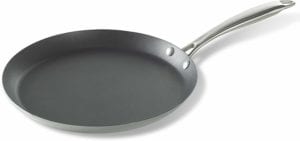 Now let's move on to more traditional crepes pan. Well, its thing, actually, lies in the fact that there is nothing too special about it. It simply does its job. The pan is made from aluminized steel and has a nonstick surface. Nonstick cookware makes the cooking process more comfortable. It gives you the chance to release the crepes easily.
Besides, the cleaning is simple here as well – just hand wash with a mild detergent.  The steel conducts heat well, so the super-thin crepes cook evenly. The size of this pan is standard 10-inches. It still allows making large crepes for different fillings.
It's made in America but has an imported handle. The sloped edge makes it easy for crepes to slide out of the pan without tearing, so you can make a large batch and stack them neatly. At the same time, the pan is still a pan and you can also use it for making the fried eggs, hash browns, standard pancakes, stews or sauces.
The price is affordable. The only possible drawback is that the non-stick coating may chip with time so there are some questions considering the durability of this item.
4. Salton Cordless Electric Crepe Maker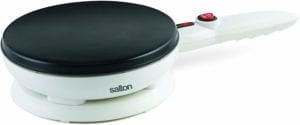 An interesting item that for sure will attract the attention of those choosing the prefect crepe maker. This crepe maker lets you dip the cooking surface into the batter. The battered tray is included here, so you can let the excess drip off to create the thinnest crepes possible. Set the crepe maker down to finish the cooking.
In this model, the cooking surface is 7 1/2 inches in diameter and has a nonstick surface so the crepes release easy. The cleaning is also simple, but don't immerse it in water. If you want to remove the crepes, just flip the cooker over, or use the included spatula.
Just like the previous item, it can have versatile usage, allowing you to cook eggs or fry tortillas. The cooker is cordless and gets its power from the base unit. The temperature control of the Salton Cordless crepe maker is not that advanced as in the previous models and ends with the switch on/off button.
It is not the most budget item, but it is a durable investment for sure. From its buyers, it has great reviews.
5. Le Creuset L2036-2767 Enameled Cast Iron 10.75″ Crepe Pan
This time you wouldn't say it's just a regular pan that can be used for making crepes because it comes in the set together with rateau and spatula in the set. Besides, this pan is extremely thin. It is made from enameled cast iron with a traditional shape that allows it to heat up quickly and evenly.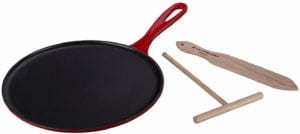 Moreover, it retains the heat to cook one crepe after another without pausing. The pan is painted in red and black colors. It has a non-stick surface so it doesn't need seasoning. It can be used on any stovetop and can also be used in the oven at any temperature.
The handle of this pan is easy to grip and you can swirl the batter with no effort. However, the main material, the cast iron, is quite heavy, so carrying it around maybe not the best thing to do. But you can always use a batter spreader while leaving the pan on the stove. Try the other cast iron skillets.
Considering other features of this item, except for cooking crepes, this Le Creuset pan is suitable for the oven temperature. Use it in the oven to cook your personal-sized pizzas, too. You can also use it to cook eggs, fries, stakes and so on. It measures approximately 10-2/3 by 15 by 2-1/2 inches.
And remember that this pan should be washed by hands. Light stains or metal marks caused by metal tools can be removed with a special cleanser. After you're done with cooking don't dump the hot pan into the cold water since it can damage its coating. After a while, put the pan into the warm water and let it soak for 15-20 minutes.
The only disadvantage of this product is not the pan itself, it's the quality of the spatula and rateau which come together in the set. Try to be careful when using them, because they are quite fragile and can break easily.
6. Health and Home No Edge Crepe Maker
Here we have another crepe maker with no edges just like we did in the beginning. You can see, that specialized crepe makers cost significantly more, but they are also more productive. Besides, this Heal and Home maker is really similar to the one by Morning Star. Which one is better?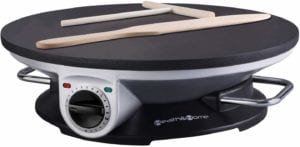 This one offers a whopping 1000-watt heating element for fast heating and it has a 13-inch diameter surface for cooking regular or large crepes – or make two or three mini crepes. As always, no one says you can't make here, for example, regular pancakes or heating tortillas or flatbreads.
It has the nonstick coating thanks to which you can release the crepes easily. And don't worry about the cleaning – it is quite simple as well. The Heal and Home crepe maker has the temperature control button which allows setting the specific temperature for anything you decide to cook- whether these are eggs or crepes.
A light indicates when the cooking surface has reached your desired temperature. Side handles make it easy to move or reposition. And just like the previous item, this one includes a wooden batter spreader and spatula for making and handling the crepes.
But because this crepe maker doesn't have edges it is not recommended to cook any kinds of food that can release liquids or fats during the cooking, since then it would drip off the edges.
The only thing that would make you think before buying this item is its price – it is quite expensive and, what is more, not very versatile. It depends on how often you are going to cook crepes.
You can also check this review: 7 Best Omelette Pan Reviews
7. Proctor Silex 38400 Electric Crepe Maker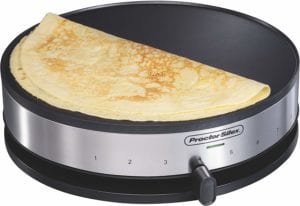 For those who don't want to spend that much money, but still want to have a specialized crepe maker this crepe maker by Proctor Silex will be a perfect decision. It is one of the popular items on the market which has several temperature levels for cooking.
The size of the surface is 13 inches and the coating is non-stick. 8 heat levels allow you to make your ideal crepe with more soft consistency or crispier edges, as well as to cook eggs, tortillas and all the stuff like this. The control you need to get a perfect golden finish.
A batter cup and spreader that comes in the set let you easily achieve that signature paper-thin consistency. The distinctive feature of its spatula is that it comes in the extra-large size, and it's designed to make flipping and folding your crepe practically foolproof.
The surface heats up pretty fast. The product comes with a 1-year warranty. Taking into consideration the affordable price, it is a really good offer by Proctor-Silex. The only thing is maybe it doesn't look as sophisticated as other crepe makers on this list, but if you're not chasing the design, it doesn't really matter.
FAQ for crepe makers buyers
1. What is better – a special crepe maker or a regular pan? 
The first option is better when it comes to making crepes, for obvious reasons. It is extremely convenient and easy to make crepes on the flat surface with no edges in front of you, especially, when there is an additional geat control. But the fact that it is better doesn't mean it's a necessity. You can make pretty awesome crepes on a pan. But the type of pan should always be specialized for making crepes.
2. What else can you make on a crepe maker?
You can also use it to make pancakes, eggs, grilled sandwiches, and a variety of other dishes that require a frying pan.
3. How hot does a crepe maker get?
The ideal temperature is 400˚F or 205˚C for a 1.5-minute crepe that is soft in the middle and crisp on the edges. You should have an oil spreader for both seasoning and oiling the griddle surface.
4. How do I clean the crepe maker afterward? 
To clean the crepe maker, use a cloth dampened slightly with soap and water to clean the stainless steel housing and plate. A common green nylon scrubbing pad may be used to remove any carbon deposits from the crepe plate. Clean the crepe maker thoroughly at the end of each day.