The food dehydrator is designed for the domestic drying of products with the preservation of nutrients and vitamins. The principle of operation is quite simple.
Hot air is circulating inside the dryer, thanks to which almost all moisture is evaporated from the products. This allows not only to significantly increase the shelf life of the product but also to preserve almost all vitamins and nutrients in them.
All you have to do is cut the fruit and put it on special pallets. An adjustable thermostat maintains the temperature set by the heating element.
The fan ensures that the hot air is constantly circulating throughout the entire drying chamber. By the way, aero grille, which can replace a microwave, fryer, toaster, hob, or frying pan, work on a similar principle.
In general, an electric dryer will be an indispensable device for those who lead a healthy life. Or just want to please their relatives with fragrant apple pie at any time.
Type and shape
By type of electric dryers are divided into convection and infrared. The convection dryers are based on a heating element with a fan. It moves the warm air inside the casing.
This is the most common option. Whereas infrared dryers work by heating the product surface, thus evaporating almost all moisture. Electric dryers come in both type and shape:
| | |
| --- | --- |
| Vertical | Typically, these are round or oval models (sometimes rectangular). Here, the pallets are arranged on top of each other and the heating element with the fan can be either bottom or top. |
| | These are square models, loading products into which occurs as in ovens - in front. In these models, pallets are independent of each other and can be freely removed one by one. A heating element with a fan is most often installed at the rear. |
Both have advantages. Vertical models take up little space, almost like a medium-sized pot. But sometimes it is necessary to change pans to achieve even drying.
In horizontal models, pallets do not need to be changed in places but simply turned periodically by the other side, the one near the door. This way, you will achieve even drying, and it will take very little time for such tricky actions.
This is undoubtedly convenient, but these models also have larger dimensions. So you need to think in advance about the place for a new assistant in the kitchen.
Productivity
Performance should include such characteristics as:
device capacity
thermostat availability
pallet size and number
The power of the dryer has a direct influence on the type of products that you can prepare in it, as well as their quantity. If you are planning to dry a large number of products, you need a model with power from 500 to 600 W.
If you do not need too many products, the 250-300 W model is enough. Powerful models can also be useful for those who are going to dry fish and meat. Another important parameter is the temperature range.
The simplest appliances can only have one on/off switch. This is not quite convenient. As different fruits and vegetables need different temperature ranges. It is better to have a smooth temperature change in the dryer, which can be between 30°C and 70°C.
At low temperatures dry greenery, tender berries, fruits. High temperatures are used for drying solid fruits, vegetables, meat, and fish. In the more functional models, the heating can be controlled to a degree by means of electronic control.
An important criterion affecting productivity is also the size and number of pallets. It depends on how many products you can dry at a time.
It should be noted that some models can be completed with extra pallets. This allows you to significantly increase the number of products to be dried.
In this interesting video you will learn how to dehydrate and store such food:
Convenience and features
Easy operation, easy assembly, and next cleaning are the main factors that affect usability. Then you should pay attention to the presence of a timer. It is not uncommon for the preparation of products to be stretched for a day or more.
Having set the switch-off time, you can safely go to work or go to bed without fear that the food will dry up and become too hard. Also, we advise you to choose models with pallets made of transparent plastic.
Through them, you can clearly see the degree of product readiness. This is especially true for vertical dryers. Here to check the readiness of products on the bottom trays, you need to remove all the previous ones, which is not very convenient.
In this review, we will look at the seven best electric dryer models and help you decide on the right one for you.
Our Top Pick

Gourmia GFD1680

This food dehydrator is distinguished by its well thought-out construction and quality workmanship. This model is suitable for drying fruits, vegetables, and other products.


Check Current Price
The other high-quality food dehydrators:
IMAGE
PRODUCT

Chefman Food Dehydrator Machine

Suitable for cooking berries, mushrooms, citrus fruits, root vegetables, various herbs. Besides, the developers have taken care of reliable pallets made of transparent plastic.

Check Current Price

Rosewill Electric Dehydrator Machine

This model is equipped with environmental dehydrogenation technology. Extra functions have been implemented.

Check Current Price

Aicok Food Dehydrator

A spacious model that allows you to create delicious treats in a short time without chemicals with minimal effort.

Check Current Price

Elechomes Food Dehydrator

The reliable food dehydrator allows simultaneous drying for several kilograms of different products.

Check Current Price

Magic Mill Commercial Food Dehydrator

This dehydrator is ideally suited for processing many types of products. The low noise level of the device allows processing products at night.

Check Current Price

COSORI Premium Food Dehydrator

This unit is equipped with six removable pallets. The containers are made of high quality metal and are located above each other.

Check Current Price
Gourmia GFD1680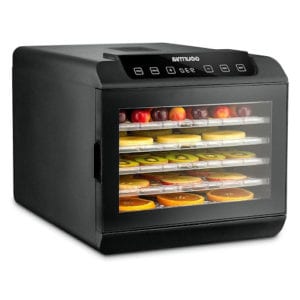 Consider the Gourmia fruit and vegetable dryer.
The model has a square body and is made of black plastic. And here the front door is made of transparent plastic that will allow observing products inside.
By the way, the front door means that the horizontal loading of food is used here. This method is most convenient because you can get any of the pallets at any time without touching the rest.
In particular, this is possible thanks to the rectangular housing. It is also more practical compactness.
The matter is that such drying you without problems can put in a corner. It will occupy all the useful space that was allocated to it.
On top of the case there is a control panel with the following buttons:
Start/Stop – turn the device on and off
Timer – setting the timer
Temp – setting the temperature
+ / – – set the desired value
There is also a display on the control panel, which will display the choice of temperature and time. Directly for drying the products themselves inside, there are five pallets.
They, like the door, are made of transparent plastic. Besides, there are small holes around the perimeter of the pallets. Thanks to them, the hot air will circulate better throughout the dryer.
Advantages:
Good volume in the working area
Silent work
High power
Perfectly distributes air flows
The power of the model is 420-500 W and in it, you can dry not only vegetables and fruits but also herbs with flowers.
What's more, you can even cure meat, dry fish, and make yogurt here, so this dryer is a good buy for that money. If you want to prepare delicious yogurt, you can try to make it with the yogurt maker. The temperature range is 35°C – 70°C for drying all kinds of food:
Greens and herbs – at about 40-45°C.
Bread – at about 40-50°C.
Vegetables – at about 40-55°C.
Fruit – at about 55-60°C.
Meat and fish – at about 55-70°C.
It should be noted that the set includes not only a separate grid for greenery but also a special tray. So now you can delight your family and friends not only with healthy fruits and vegetables but also with sweet desserts.
Despite such wide functionality, this dryer is very easy to use. You only need a couple of mouse clicks and the device is ready to go. But the most important convenience can rightfully be considered a timer auto-off.
It can be set with the "+" and "-" buttons for 30 minutes to 19 hours 30 minutes. So you can bravely set the right time and not be afraid that the food will be dried up and spoiled. Most dryers have one drawback.
The fan and the heating element are on one side, so the food can dry unevenly. As for this model, the fan is located at the back of the dryer. Thus, after half the time has elapsed, it is enough to change the sides of the pallets and continue drying the food.
As can be seen, this dryer model is quite capable of meeting the needs of almost every family. Thus, it can be safely advised to buy for all those who want to add healthy and healthy food to their daily diet.
We would like to point out that the display of the model is backlit. So that you can see the time until the end of the dryer, even in the dark.
You may also like: 7 Best Commercial Vacuum Sealers For Home Use
Chefman Food Dehydrator Machine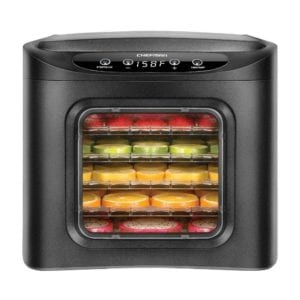 Chefman brand has long established itself as a manufacturer of quality and inexpensive equipment for home.
Thus, in this review, we have this model of the vertical dryer for fruits and vegetables. Appearance is the first thing that always catches the eye.
The lower and upper parts of the housing are made of durable black plastic. While in the center there are transparent product trays.
In fact, they form the rest of the case, lining up on top of each other. On the front panel is a regulator for temperature selection and next to it is an On/Off switch.
For food drying, there are six pallets, which have special holes around the perimeter. This allows the hot air to circulate much more efficiently throughout the entire dryer chamber.
One of the advantages of the vertical design is that you can not use all six pallets, but only supply, for example, three. This means that the inner chamber will be much smaller.
It means that the hot air will circulate better, reducing the drying time. This way you not only save your time but also reduce your electricity consumption.
Advantages:
The control is mechanical, very reliable
Temperature change is performed in the range from 15 to 60 degrees
Acceptable value
Good assembly quality
Long supply cord
Like most other dryers, this model will not only allow you to stockpile dried fruits and dried vegetables. Here you can dry products such as meat, fish, or mushrooms.
You can also completely dry different herbs or flowers. It is especially appreciated by herbal tea lovers. The temperature range is 35 ° C – 70 ° C, which is practically the standard in this kind of device. By choosing the right temperature range, you can dry the following products:
Greens and herbs – by about 40-45 ° C.
Bread – at about 40-50°C.
Vegetables – at about 40-55°C.
Fruit – at about 55-60°C.
Meat and fish – at about 55-70°C.
Naturally, the temperatures are approximate. Thus, you should first check the dried products at least once per hour for readiness.
It should be noted that the small power of 250 W allows you to use the device continuously for up to 70 hours. This can be very useful in some situations.
As for extra convenience, transparent food trays are a must. In this way, you can always check the degree of readiness of fruits and vegetables. Besides, the colorful fruits on the pallets also look delicious from the outside.
For convenience during use, you can use the switch. So once the food is ready, you don't have to unplug it every time – you can just press the button. Nice little things to note are also the rubberized legs. They ensure that the appliance is securely fixed even on smooth surfaces.
This dryer will be an excellent choice for those who do not dry products too often. But still want to get a beautiful, comfortable, and most importantly quality model.
Before drying any food, be it vegetables, fruit, fish, or meat – do not forget to wash them well under a jet of water.
Rosewill Electric Dehydrator Machine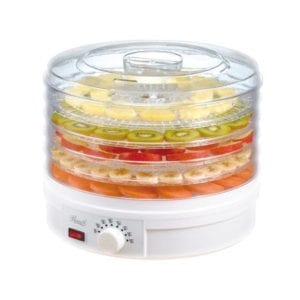 The appearance of this model is quite familiar, and the body is made of plastic and has a round shape.
As the electric dryer is of vertical type, the fan and the heating element are located at the bottom.
Above them are placed five pallets of transparent plastic, in which small holes are made. These holes allow hot air to flow from the bottom to the top.
This will allow the fruit and vegetables to be dried more evenly all around the pallet.
The space between the holes is so narrow that not only slices of vegetables but even cloves of garlic or berries can be dried there.
Returning to the vertical type of dryer, it should be noted that the pallets above each other are not the most convenient solution.
To look at the products in the bottom tray, you have to remove all the previous ones. On the front of the housing, there is only one regulator, which can be used to set the desired temperature level. There is also a separate on/off button.
Advantages:
Dries vegetables, berries, and fruits properly
The ergonomic shape takes up minimal free space
There are a start-up timer and an automatic shutdown
High level of device security
Using this model, you can stock up on dried tomatoes, prunes, and other products. You will also have a stock of dried tea herbs and personally prepared spices. But if this is not enough, you can surprise your guests with delicious dried fish or beef.
In addition to the fact that it will be useful and personally made by you from natural products, it will also be much cheaper than the shops. For each of the products, you need its own cooking temperature and the regulator can choose a value from 30 ° C to 70 ° C.
By the way, since the heating element is located at the bottom, the temperature at the bottom will be higher than at the top of the dryer. Thus, it is recommended to change the pallets periodically. In terms of power, the model has an impressive 600 W.
Thanks to this, it is able to provide high output and is generally designed for frequent use. But, the largest operating time is only 10 hours. After this, the dryer must be switched off and allowed to cool down.
In general, if you need the device for every day, high quality, and performance, then dare to buy the model from a domestic manufacturer.
Aicok Food Dehydrator
The Aicok Food Dehydrator is the most compact electric dryer in the overview. The model is made of plastic and has a very nice design.
The body is made in the form of a square and has a vertical type of loading. The fan and heating element of the dryer is located not at the bottom, as in most models, but on top.
This allows air to enter the openings better, reducing the load on the fan. There is also a dark plastic insert in the middle of the cover.
It dilutes the monochromatic color of the whole case. Of the controls, there's a temperature regulator, On/Off switch, and a light indicator – all located on the bottom.
Especially useful is an indicator that will signal each time the instrument is switched on and off. There are five pallets in this model, which are enough for drying small amounts of food.
Due to the small size of the dryer, it has enough capacity to prepare small amounts of dried fruits and vegetables. But if you're in no hurry or have a small family, you can easily dry some fruits and vegetables, which can then be stored in the fridge.
You can use a regulator to set the temperature from 35° to 70°C.
But, it is almost a standard temperature range that is used in all dryers. At low temperatures, for example, you can dry herbs, greens, and bread. High temperatures are more suitable for drying vegetables, fruits, meat, and fish.
The power of the model is not very high – only 240 W, due to this and the continuous operation time is quite long – up to 40 hours. In this way, you can supply two or three lots of products for drying. After almost two days you will have a good stock of delicious dried fruits.
Advantages:
Characterized by a large capacity
Temperature can be adjusted while the device is operating
Very convenient for product placement
It works absolutely silently
Modern appearance
Electronic control system
The special design of the pallets, or rather small notches for hands in each of them, is worth noting from the comfort. They allow you to securely grip the pallet at the sides and gently remove it from the dryer.
Besides, they are made of transparent plastic, which is very convenient. You can walk up to the dryer at any time and see by eye the degree of food availability.
For some people, the information about the cooking times of the foodstuffs in the instructions will be very useful. It is given in the form of a handy table, which lists the most frequently used products for drying.
In the center of each pallet, there is an opening which, when assembled, forms a pipe. This is done for better air circulation. Since it will not only pass through the openings of the pallets but also through the pipe into each of the three compartments.
Elechomes Food Dehydrator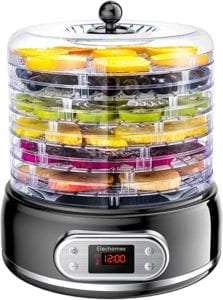 This model is made in the usual round plastic case and has a vertical loading. The heating element and fan are located at the bottom and provide an even airflow.
The only disadvantage is that the air temperature at the bottom will be higher. It means that you will have to periodically change the pallets in places. There are six of them and they are made of transparent plastic.
By the way, this model is one of the few that has pallets with rather small holes. Thanks to this, it is possible to dry very small products, such as small grapes or cereals.
Of the controls, there are regulators, which are located at the front of the body. In total, as indicated by the manufacturer, the model has a capacity of 20 liters.
So that at one time you can dry quite a lot of fruits and vegetables.
In this dryer, you can dry almost any product that is designed for this purpose. First of all, these are of course fruits and vegetables. In the summer you can easily make an impressive stock of all these products.
As for the summer period, you can always pamper yourself and your loved ones by serving snacks from dried fish or beef. But, there is no special tray for fat accumulation in the set, so it will need to be purchased separately.
Advantages:
Acceptable price
Beautiful appearance and reliable assembly
Comfortable and intelligent control that anyone can deal with
Almost silent
It doesn't emit any foreign smells
The timer is for two days
Reliable protection systems
The drying of different products requires its own temperature setting. Here, as in almost any dryer, the range is 30°C – 70°C.
The model has a power of 520 W, which is quite good considering the price of the device.
If we talk about convenience in use, it is worth noting the quiet operation of the device. As the reviews show, the fan runs almost silent. So at night, you will not exactly hear the loud work of the dryer from the kitchen.
This model will be an indispensable assistant in any kitchen. It will allow you to dry not only vegetables and fruits but also meat, fish, herbs, flowers, and much more.
Those who use this type of device for the first time should know how to properly spread the food on a pallet. Try not to place, for example, apple slices close to each other or overlapping.
There is a distance between the food. This way, hot air will blow them out more efficiently, resulting in fast and even drying.
Magic Mill Commercial Food Dehydrator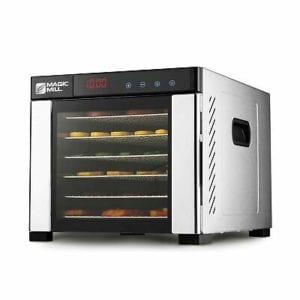 The main difference between this device and other similar devices is its compact dimensions. This quality will prove very useful for owners of small kitchens.
On the front side, you can find a touch-type control panel, next to which there is a digital liquid crystal display.
Up to five pallets that come complete with this dryer can be placed at the bottom. They are closed with a special lid.
All these elements are made of a special heat-resistant metal. It has a beautiful silver hue.
Behind the transparent door, you can keep the drying process of fruits and vegetables under complete control.
The height of the trays is 1.5 cm, but if necessary, this parameter can be increased up to 3 cm of the tray mounting on special ledges.
Advantages:
Very fast drying of all products
Long supply lead
It makes practically no extraneous sounds when working
Spacious cameras
Reliable assembly
All elements have been carefully processed – no chips or scratches have been seen on them. Trays fit together tightly, it is very easy to install them, no need to aim.
The base has a smooth surface and there is a slight recess to collect juice or other liquids. The panel is solid, with no holes. So the fan and the heating part are completely protected from moisture penetration.
There are four modes of operation – air blowing and three temperature modes – 40.50 and 75 degrees. The last mode can be used not only for drying but also for curing products.
The dimensions are small, so the device will fit perfectly even in a small kitchen. Another positive feature of the device is its two-year warranty and low weight. The pallets are made of food plastic.
COSORI Premium Food Dehydrator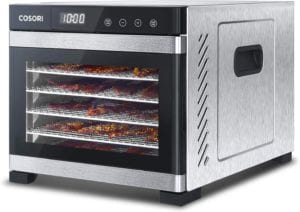 This device will prove to be the most suitable for people who prefer to make large quantities of blanks. Six stainless steel mesh lifts are supplied.
The fan distributes the heated air as evenly as possible throughout the chamber. The airflow is directed horizontally so that the aromas of the different products do not mix with each other.
The product has an electronic control panel. A digital liquid crystal display is also available. It will display the main operation parameters selected by the user.
The temperature of heating can vary from 35 to 70 degrees. The drying time is set with the help of a special timer – largest for 19.5 hours, the change step here is 30 minutes.
After the food is dried, a corresponding beep will sound.
Advantages:
A decent power level
Good capacity
Produced from quality materials
Mesh is made of stainless steel
Assembly is strong and of high quality
This product can be used for fruit preparation. A special tray with edges is supplied with the unit, especially for this purpose. Slices of different sizes are allowed.
This element can be placed absolutely at any free level. But, you should remember that the thicker the fruit, the longer it will take to prepare it.
In order for the dryer to last as long as possible, it should not exceed the manufacturer's recommended continuous operation time. It should not exceed 72 hours. If the machine overheats, it will switch off automatically.
This dryer has a reliable safety system. It includes protection against overheating, against use by children, and so on. The weight of the equipment is less than 3 kg.
The body is made of reliable and high-quality metal. Its assembly is reliable, there are no backlashes and creaks even after several years of continuous operation.
You may also like: 7 Best Sous Vide Precision Cookers Reviews
FAQ for food 

dehydrators

 buyers
Fruit and vegetable dryer: what are its advantages?
First of all, it's a fairly lucrative acquisition. Dried products at home pay for themselves more than in winter, when they are in demand and thus high price. Secondly, the very fact of cooking at home, and perhaps from our own (or proven) products. It makes such stocks also natural and healthy. So you and your family will be provided with the necessary vitamins all year round.
Why dry fruits and vegetables, and what are they useful?
During the drying process, up to 98% of the moisture is removed from products. It prevents further deterioration. Moreover, it also significantly reduces their size, so this process is also beneficial for compact storage. As for the benefits of dried food, vitamins and nutrients are almost as much in them as in the fresh.
Does the food need to be pre-treated before drying?
Drying, like all food preparation, requires pre-treatment. In addition to being well washed, particularly large fruits and vegetables need to be sliced evenly. Some of them may have to be pre-marinated or immersed in a citric acid solution. This can enhance the flavor of the resulting product and prevent bacteria from developing. It can cause rapid deterioration of fruits and vegetables.
How do I know if the product is ready?
The best way is to taste it. But don't forget: the food that has just been extracted from the dryer can be a little softer than completely finished. So they need to be allowed to cool down.
How and where should you store the dried food?
You have to separate each product from the other. Because each has its own moisture index and when stored together, wetter products can spoil the dryer ones. In general, moisture is the main adversary for dried food and should never be stored in the open. On average, 30% to 60% moisture in the room. The most reliable way is with vacuum bags or containers.