Despite all technological advances, gas ranges are still popular. Many people still prefer them when renovating or changing kitchen appliances, although we literally everywhere hear about the benefits of electric or induction models.
The gas range can be called a universal cooking appliance that is easy to learn to work with. It is easy to use and requires little maintenance, and can also help you save money.
Gas stoves allow you to instantly adjust temperature changes during cooking. This is especially important when cooking Indian, Asian and other dishes that require a quick and strong fire.
If you do not want to be limited in your culinary masterpieces, you should pay attention to gas ranges. We have found 5 budget gas ranges up to $1,000 for you to look at.
IMAGE
PRODUCT

Summit RG244WS



Special small size, ideal for small kitchens.
Check price

GE JGBS30DEKWW

Contains spills and make cleaning quick and easy.
.


Check price

Frigidaire FFGF3054TD

Easy and self-cleaning, high power burners.


Check price

GE JGBS30DEKBB

Stylish black version with perfectly adjustable oven.


Check price

Avanti GR2416CSS

Budget version of the narrow gas stove with automatic electronic ignition.


Check price
1. Summit RG244WS
If you own a compact kitchen, Summit RG244WS will be a great option for you. This gas range is only 24 inches wide, so it is suitable even for limited space. Despite its small width, the gas range has a spacious oven with built-in internal lighting.
The oven comes complete with 2 retractable baking racks. They allow you to use the oven not only when cooking, but also for storing dishes in the off position. On the hob, there are 4 gas burners – two with 9500 BTU and 2 different capacities – 12000 BTU and 5000 BTU.
In case you don't cook so often, you can use the backing above the burners. When it is open, it protects the back wall from splashes of oil or water that might come into contact with it during cooking, and when it is closed, it cuts off access to the burners themselves and prevents dust from getting on them. It is also worth noting that the ignition mechanism of Summit RG244WS is sparkling.
You may also like: 7 Best Gas Cooktops With Griddle
2. GE JGBS30DEKWW Freestanding Gas Range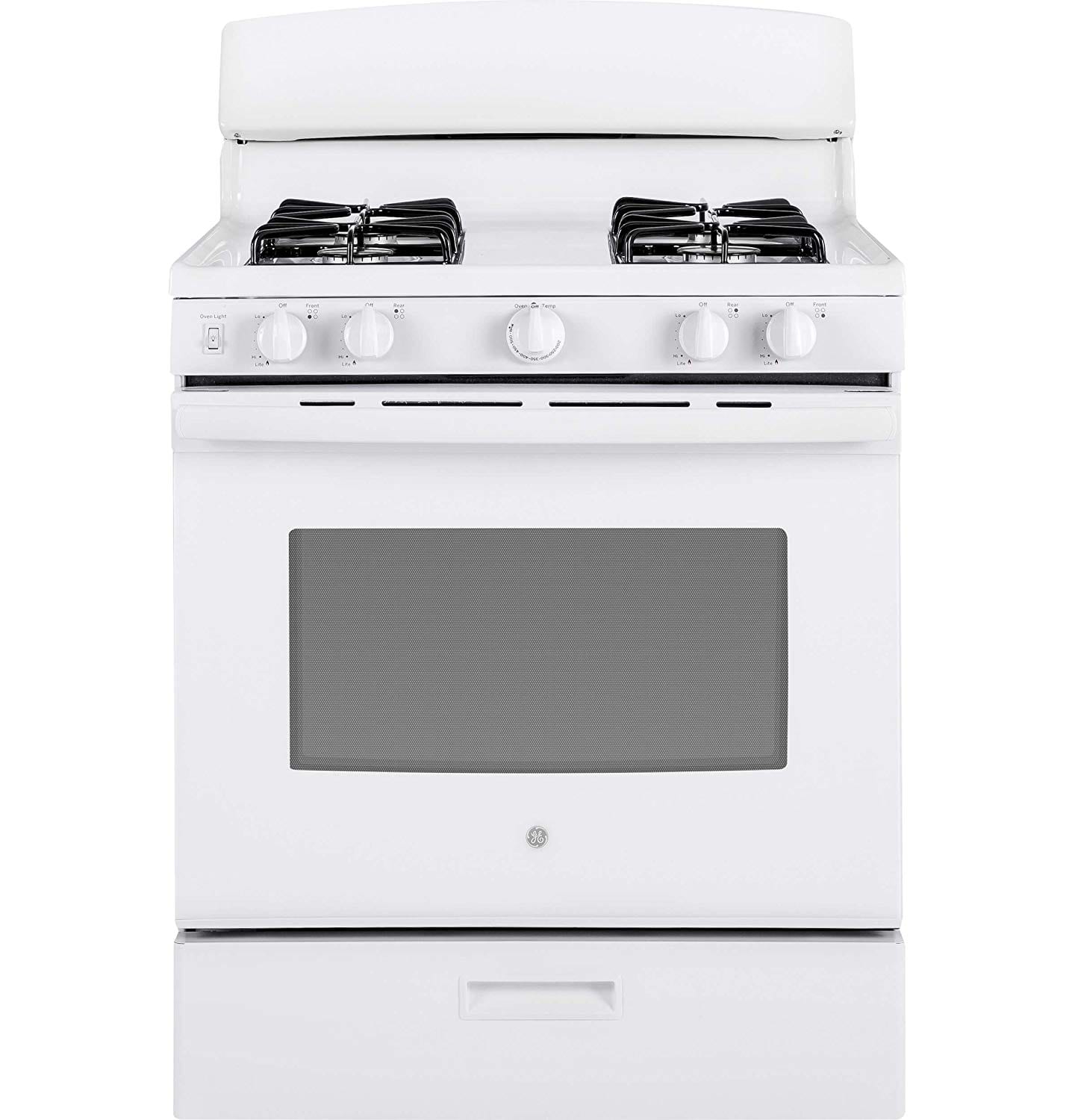 Despite the fact that the name of the plate is more like a mysterious cipher, its management is quite simple and clear. The most important thing is that care for this gas range is almost unnecessary, and any contamination can be easily and quickly removed with a cloth. The oven has a large enough viewing window, which allows you to monitor the cooking process without opening the oven itself.
Each burner has a power of 13000 BTU. This allows you to work in a wide thermal range, regulating and controlling the degree of heating. They can handle almost any food perfectly, making the cooking process easy and enjoyable for you.
You can even cook several dishes at once. The oven readings you set up are not always accurate, but their variations are not. It's also worth noting that the color of this model is also excellent. It is incredibly white and looks truly pure. By the way, everything in the GE JGBS30DEKWW works only with gas – the stove itself is not connected to electricity in any way.
3. Frigidaire FFGF3054TD 30 Inch Freestanding Gas Range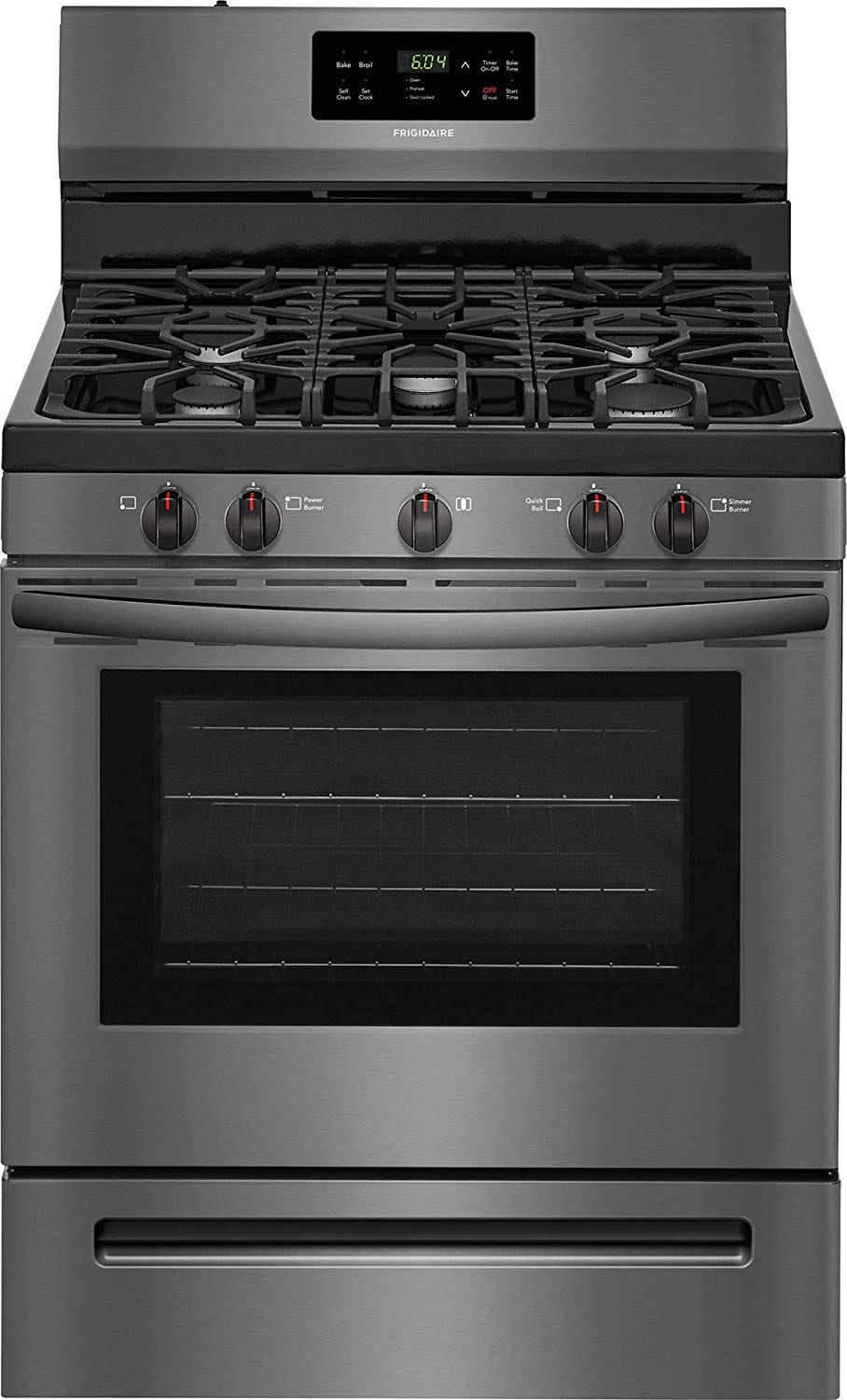 Have you ever thought that your stove can become clean on its own? If not, we are ready to surprise you. The Frigidaire FFGF3054TD has a self-cleaning function for the oven. It simply starts one of 3 self-cleaning cycles (from 2 to 4 hours) and after a while, you get a perfectly clean oven. You don't have to make any effort to clean yourself!
The Frigidaire FFGF3054TD has an output of 17000 BTU, which speeds up the boiling of water, brewing or even cooking. Your food will be on the table faster than you thought! There's also a low-temperature burner for stewing or keeping food warm.
It's also worth noting the other features of the oven. You can set the cooking process timer in advance and the Frigidaire FFGF3054TD will start working independently. The color of the panel, which displays all the time data, is customizable by the user. It is worth noting that you have to be careful with the burner handles as they are very easy to turn.
4. GE JGBS30DEKBB Freestanding Gas Range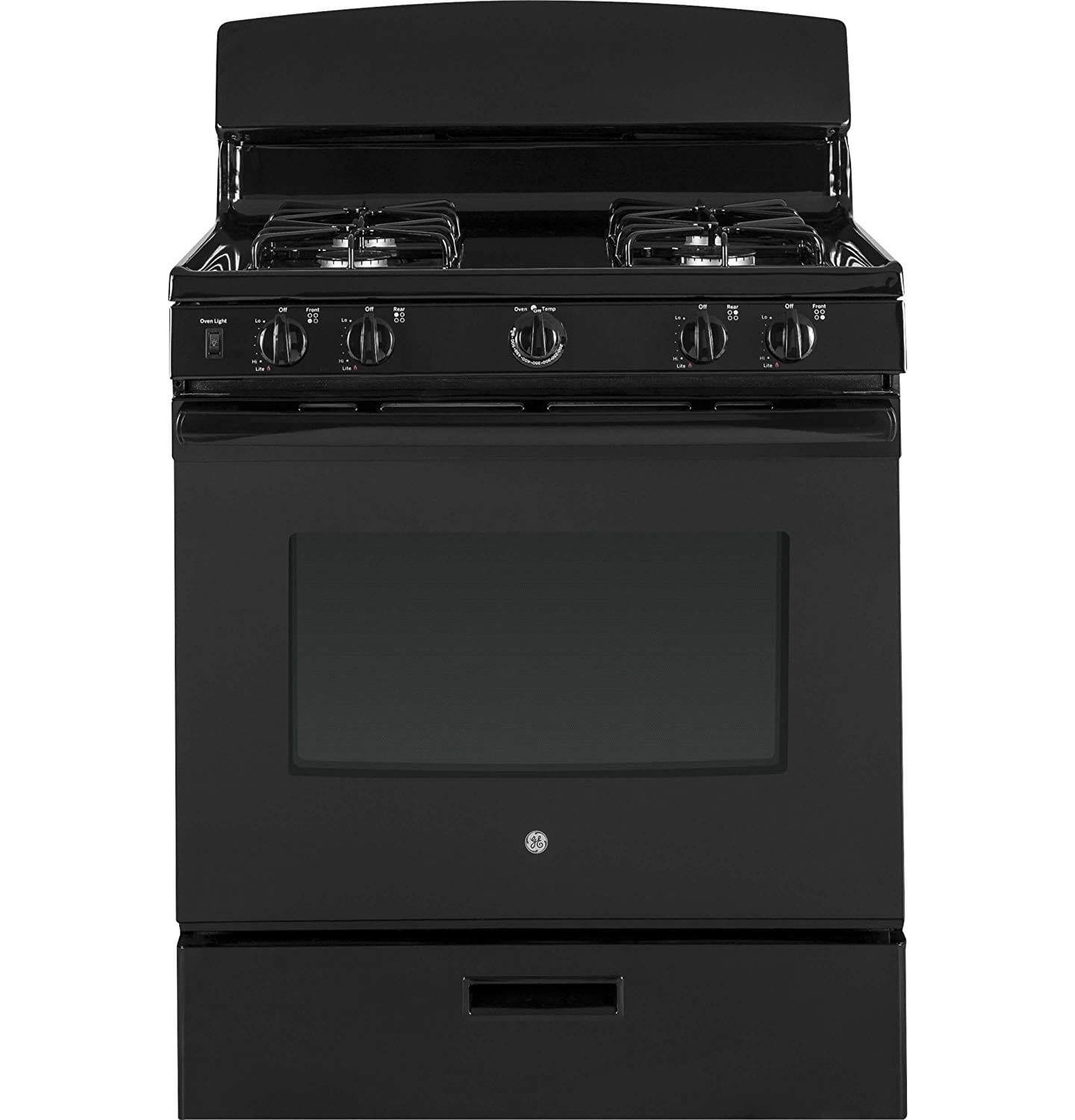 The GE JGBS30DEKBB is a stylish black gas range that can meet all your basic needs. The gas burners have a capacity of 12000 BTU and provide a wide range of thermal possibilities. Speaking of style, even the grilles on the cooker hob are made of glossy black steel – like the entire GE JGBS30DEKBB housing.
The burners heat the dishes evenly and gently, without creating a burn or overheating of ingredients during delicate cooking. Even if something has gone wrong during the cooking process and drops of water, oil or food particles have gotten onto the surface of the cooker, you can easily clean it.
For heavy soiling and spills, there are even special cavities that collect all the liquid in themselves. To save your kitchen from oil splashes you can also use a splatter guard. The oven is also easy to adjust and can hold almost all the food you need because it is spacious. The accuracy of the oven is sufficient for baking so that fans of cupcakes and biscuits will not be disappointed.
5. Avanti GR2416CSS 24″ Gas Range with Sealed Burners, in Stainless Steel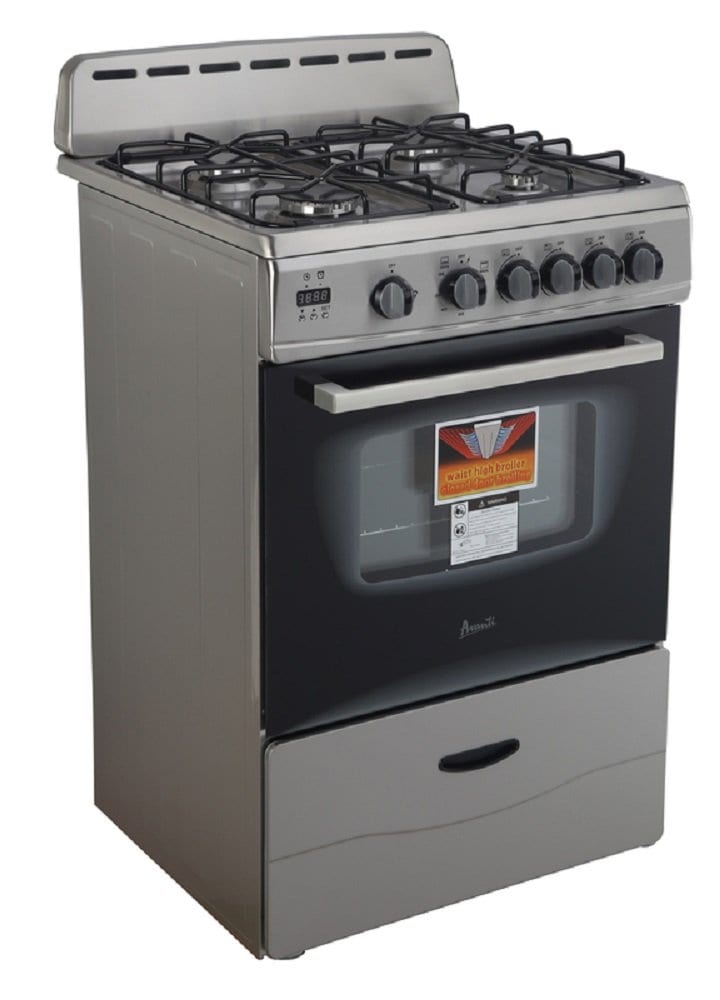 The Avanti GR2416CSS is another good variant of a small gas range. The stove looks good and the oven has a glass door that allows you to look at the food inside. So you can watch what's going on. You can turn on and off the light inside the oven as needed, as well as monitor the temperature range from 300 to 500 degrees Fahrenheit.
The cooking surface is made of stainless steel, similar to the grids that come with it. Stainless steel makes the appearance stylish and unusual, as well as allows you to properly care for the surface. It is also worth mentioning the possibility of using heavy dishes – this grid withstands heavyweight.
When it comes to cleaning the range, the glass oven door is easy to clean. In case you are used to cooking for a minimum amount of time, you can set the timer on the oven. The timer is limited to 62 minutes, which is enough time to cook a lot of food.
You can also check: 7 Best Range Hoods Reviews
FAQ for gas range buyers
1.
Is a gas cooker cheaper than an electric or induction cooker?
Gas stoves are much less expensive even at the purchase stage than their competitors. Of course, it is worth noting that the built-in models will cost a little more than the stand-alone ones, but this is a feature of all built-in appliances.
If you compare prices in percentage terms, full gas stoves are on average 30% cheaper, and their operation will cost you just a few cents. This is due to the fact that electric models will be the most energy-consuming device in your home and the electricity bill will be significantly higher than usual. Whereas gas is several times cheaper.
2.
Is the furniture that stands next to the stove heated?
Actually, about 10 years ago such a minus existed indeed. Now you can't say that the gas stove heats everything next to its body.
Slight heating can occur when the oven is active for a long time, but it is so slight that it does not affect either the materials or the objects around them. There is no such thing at all when the hob itself is operating.
3.
Which hob cover should I choose?
There are 3 types of the most popular gas cooker hob coatings – vitrified clay, enameled and stainless steel. Each of them has its own features that should be considered when purchasing.
For example, enameled surfaces are the hardest to clean from fat and soot, and stainless steel requires special care and special products.
The glass-ceramic coating is the most expensive and most functional, as well as perfectly fits into the interior of any kitchen. The only drawback that can be noted with vitrified clay is the cost.
You choose the most suitable cooking surface, thinking about the budget and the necessary functionality.
4.
Which oven is better to choose – gas or electric?
You can find both types of ovens in gas ranges. The difference starts even in the installation of appliances. Both types of ovens can be either the simplest with a minimum of functions or modern modificated.
If you are going to make baked goods in large quantities or on a permanent basis, you should give preference to electric ovens. If your use of the oven is to cook lasagna or pizza, the modes and functions of the gas oven are sufficient.
5.
Is it easier to cook food on gas burners?
Gas burners give users complete control over the cooking temperature. They do not need to be cooled down or evenly heated to a certain temperature, which is their essential advantage.
For example, cooking woks and other food that requires rapid roasting on a strong fire will be incredibly easy for you. But there's also a small nuance: each time you need to choose a burner of the right size for you – they usually have a different diameter and power.
You can argue for quite a long time, which stove is best for your kitchen. All your preferences depending on your budget and where you live. For example, not all homes can be equipped with gas and you will need to invest extra money into this.
However, the obvious advantages and benefits of gas stoves cannot be denied. The entire cooking process is under your personal control and you will be able to consider absolutely all the nuances of cooking. We recommend that you consider all options and pay attention to the one that suits you best.