Gas ranges are quite a popular option in kitchens around the world. It can be built-in or used as a stand-alone unit. Unlike stand-alone hobs, cooktops are much easier to add to an interior and also more practical to use. This option is particularly interesting for people who are not used to using an oven.
Gas hobs can be found in completely different materials and types. They differ from each other in terms of grate material, coating, number of burners and other indicators. When choosing the best option, it is easy to get confused by their variety.
It would seem that popular brands can certainly provide you with something worthy – but this is not always the case and you have to study this topic in more detail before choosing. We've decided to help you and found 7 of the best gas cooktops in the optimal size – from 30 to 36 inches.
IMAGE
PRODUCT
GASLAND Chef Professional Natural Gas Rangetop



A powerful hob that will not spoil even the most delicate dishes.




Check price

THOR KITCHEN Pro-Style Gas Rangetop

Gas cooktop with light indicators and several cast iron grids.

Check price

Empava 30"

Budget gas cooktop with medium power burners.

Check price

Frigidaire Professional 30

Professional technology with precise temperature and intensity regulation of fire.


Check price

GE JGP3030SLSS 30

Easy to install hob with non-standard layout of switches.


Check price

METAWELL 30"

Stylish black titanium plate with care features.


Check price

Cosmo 850SLTX-E 30"

Gas burners of various capacities provide delicate temperature control and allow doing everything from boiling to blanching.


Check price
1. GASLAND Chef Professional Natural Gas Rangetop

This is one of the most superior gas range tops and it's designed for professional cooking. Moreover, even taking into consideration all those facts, it still has quite a reasonable price.
This model has 6 gas burners, each of which has its own professional setting. Among them, there is one double burner for 15000 BTU, 3 single burners for 12000 BTU, and 2 for 18000 BTU. Above all the burners there is a single griddle, which makes your use of the stove more convenient. You can move objects on the stove without lifting them up.
The material from which the surface of the gas cooktop is made is very easy to clean. It is made of stainless steel and the grid is made of cast iron. Do we even need to say that this particular gas top range is extremely durable?
If you're worried that too intense a burner might spoil your delicate dishes, we're ready to convince you – that's not going to happen. They are easy to adjust and can work at both low and high temperatures. It's worth noting that for such an intense gas cooktop, you'd better turn on the cooker hood when cooking actively.
What is more, the item has an exclusive re-ignition system that ensures automatic ignition/re-ignition. The only thing is this company provides not the best customer service ever.
You may also like: 7 Best Range Hoods Reviews
2. THOR KITCHEN Pro-Style Gas Rangetop with 6 Sealed Burners 36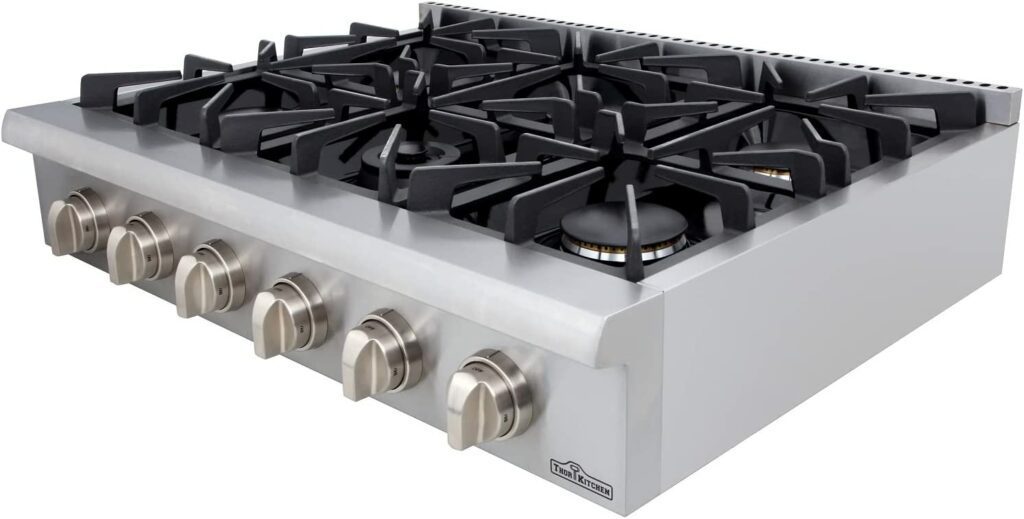 Thor is another popular company. In terms of power, this gas cooktop is quite comparable to Kitchen Academy Professional – here you will also find 3 burners for 12000 BTU, 2 for 18000 BTU, and one double burner for 15000 BTU.
Each burner has its own control handle, which is made of zinc alloy. The durability of the materials is also supported by the cast iron grate, which is divided into 3 different parts.
This allows you to wash it more comfortably. The edge-to-edge design here makes the cooking area seem larger than it actually is.
If you have long wanted to buy a professional gas stove in your kitchen, Thor Kitchen Pro-Style is a great option. All accessories are included and the panel is equipped with light indicators. They help you to know if any burner is on.
However, you won't be able to accidentally turn it on – Thor Kitchen Pro-Style has a safety feature that prevents you from simply lighting up the burner.
Each burner is located in its own recess, so you can easily clean the stove of dirt or food residue without having to remove all the installed grates. The gas top range comes with a 2-year warranty.
3. Empava 30″ Gas Stove Cooktop with 5 Sabaf Sealed Burners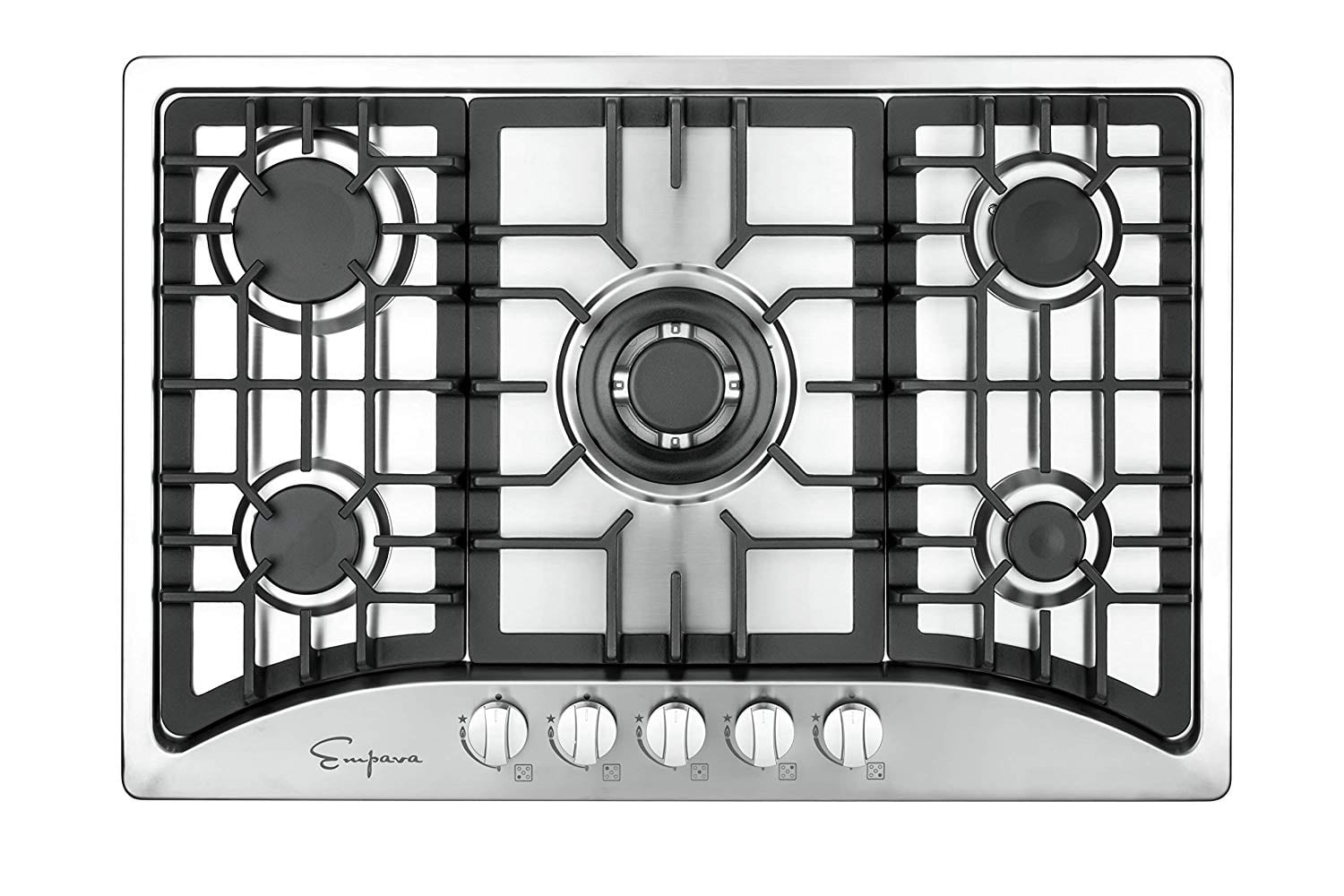 If you don't need high-power burners at all and are used to more standard versions, we are happy to tell you about Empava. There are 5 burners in this gas cooker hob that have different capacities – from 12000 BTU to 4000 BTU.
This variation allows you to prepare dishes that require several steps – such as boiling, frying, keeping warm or creating sauces. Each burner is safe, and when there is no flame, Empava automatically switches off the gas supply.
The Empava's appearance is a high-end technique. The hob is made of stainless steel, and the manufacturer promises that it will resist stains and discoloration. The cast-iron grids can be cleaned in the dishwasher for ease of use.
If you want to keep your cooker clean, you'll need to wipe it off dust and soot before almost every cooking session. A natural gas and propane kit is also included with Empava. So if you decide to replace the type of gas you want to use when cooking, you can do it.
4. Frigidaire Professional 30 Inch Gas, Stainless Steel 5-Burner with Liquid Propane Conversion Kit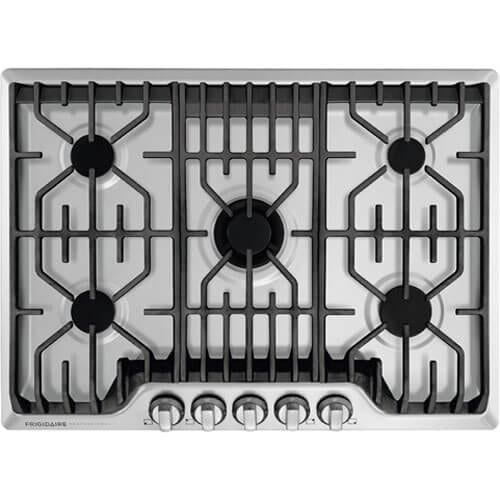 There is a reason why the name of the gas cooker hob model itself indicates "Professional". The company also has other models similar to this one, but they are not professional for several reasons. It is worth taking a closer look at Frigidaire and deciding what is better than a cooker similar to this one from the same product line of the company.
Frigidaire has 5 burners with capacities from 18200 to 9500 BTU. This is quite a high performance and allows you to cook several completely different dishes at the same time. The largest one is in the center, so you can concentrate on just one main course.
With professional controls, you will be able to control the power of fire more accurately. The hob is easy to clean and comes with a bottle of cleaner when you buy it.
Cast iron grids can also be cleaned individually – there are 3 in total. In order to realize the full power of the burners, you need to have a sufficiently high gas pressure.
5. GE JGP3030SLSS 30 Inch Gas Cooktop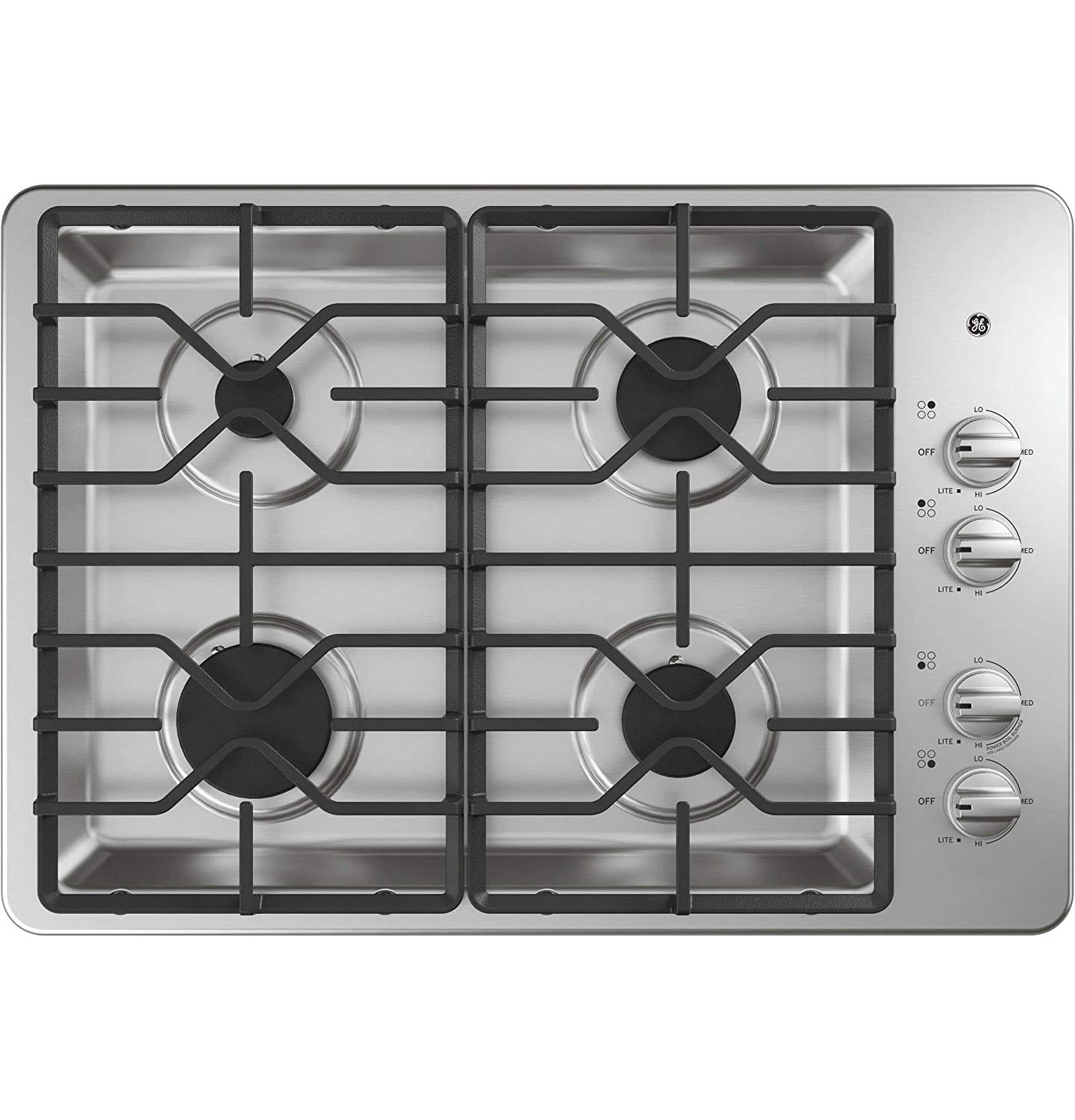 If you have previously used a hob from GE, it will not be the slightest problem to connect this model. GE JGP3030SLSS can be installed on the principle of "connect and work" and it really will work!
You can even prepare the worktop in advance, on which you will set the gas cooktop. But when installing GE JGP3030SLSS, you should consider several features of GE JGP30SLSS design – the gas inlet is fixed and you will need to adjust it to the cooktop.
The burners are large enough and are placed so that you can use the cooktop comfortably. The largest burner is closest to you, so you won't get in contact with other pots or pans when cooking. There is also a recess around each burner that collects some liquid – for example, if you have too much water boiling.
This makes it easy to wash the surface itself. By the way, the surface of GE JGP3030SLSS is almost impossible to damage – even the cast iron grid has special silicone feet. They prevent the grid from scratching or damaging the surface.
6. METAWELL 30″ Black Titanium Built-in 5 Burners Stoves Natural Gas Hob Cooktops Cooker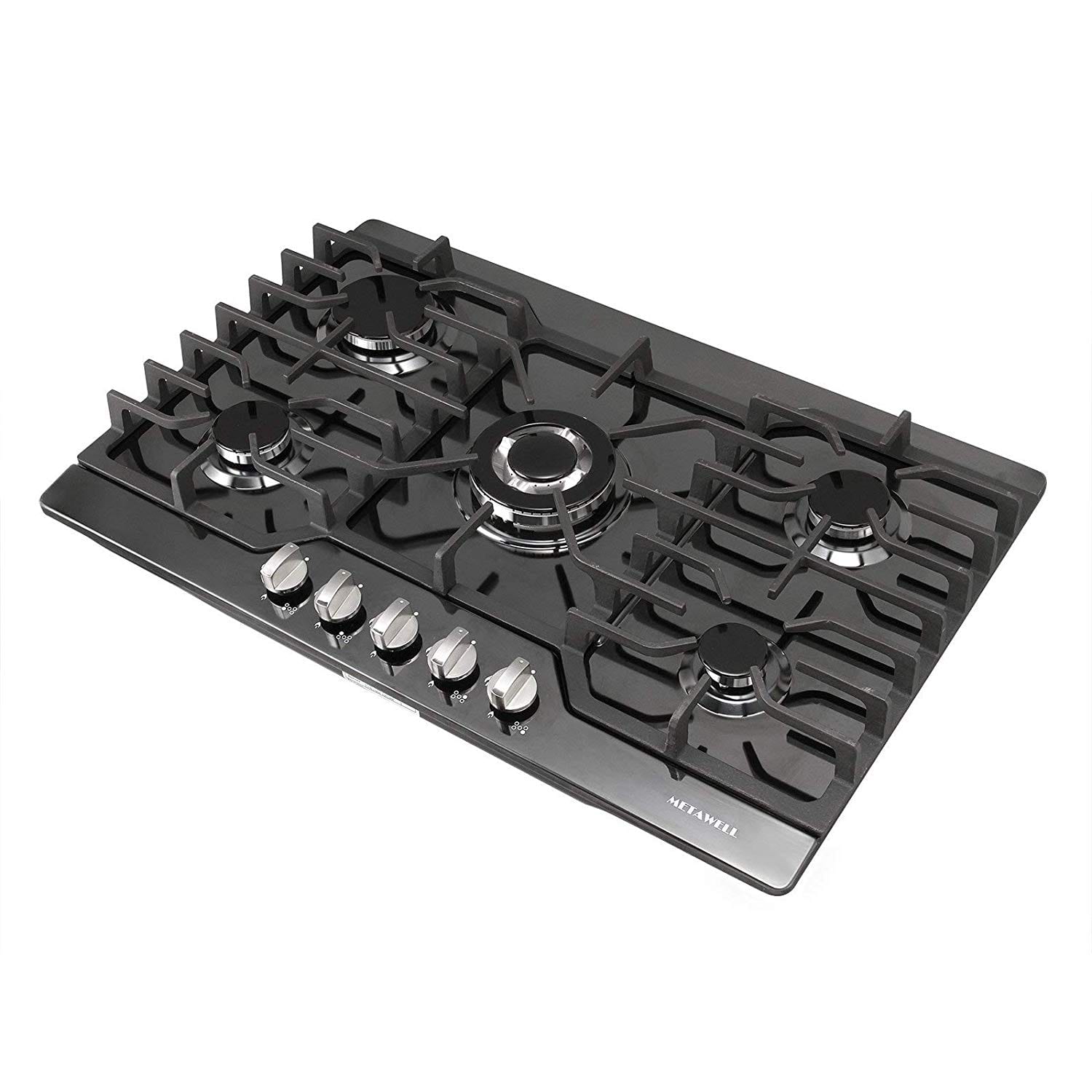 Some kitchens just need a black stove. They are easy to find on the market now, despite the abundance of stainless steel models. METAWELL is made of black titanium, which fits perfectly in the kitchen interior.
The grille mounted on top of the burners is made of cast iron and is easy to clean, while its hardness and density guarantee a long service life. The handles are made of stainless steel, so the design combines both black matt and shiny steel.
METAWELL's ignition is electronic, so you need to connect the cooktop to the electricity. The upper structure is easy to clean and requires no personal care, which is not the case with other gas cooktop elements.
Everything made of black titanium cannot be cleaned with chemicals that contain alkalis and acids. They can easily damage the surface itself and make it look terrible.
Abrasive materials and metal sponges are also prohibited – they scratch and destroy materials very easily. It should be noted that all gas adapters are not included in the METAWELL kit when purchased and you will need to purchase them separately if needed.
You can also check: 7 Best Gas Grills under $500
7. Cosmo 850SLTX-E 30″ Gas Cooktop with 5 Burners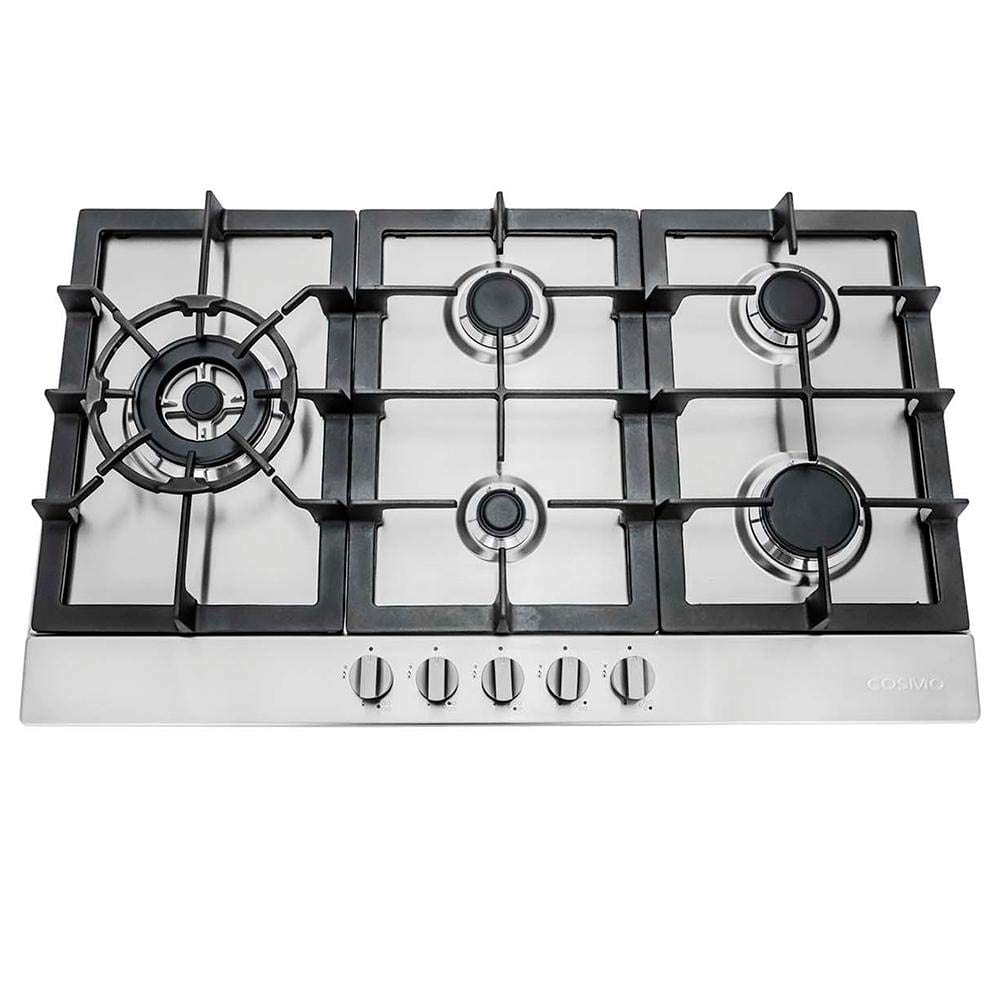 The first thing that immediately catches the eye when studying the Cosmo 850SLTX-E is the unusual location of the burners. In the more familiar versions, the largest burner is located in the center, here – on the left side of the cooktop.
This does not affect their power in any way – there is both a super-high-speed burner of 16000 BTU and an auxiliary burner of 5000 BTU. All burners are airtight and equipped with electronic ignition for safety.
The Cosmo 850SLTX-E looks great as it has a stainless steel surface and flat cast iron grids complement the surface. The handles are made of high-strength metal and do not break like plastic. With these handles, you can even feel yourself in a professional kitchen.
When taking care of the plate it is worth noting that the cast iron grids are very heavy. The surface itself is well-washed without special means. You should keep an eye on the aluminum burner ring. They can be slightly covered with dark spots, especially if something hot gets on them during use.
8. Fisher & Paykel – 48 in. Professtional 6 Burner Drop-In Gas Cooktop with Griddle

This is a totally professional gas range top. It powers up to 23,500 BTU and which means it can boil water extremely quickly. But it also allows you to switch on the extremely gentle flame for a medium heating process.
Overall, the gas range top gives you total control of burners with its leverages. A precise full-surface simmer is delivered across all burners. And just like in the first 2 top items on this list, it has an iron-cast surface that provides the easy mobility of pots and pans.
This range top is easy to clean because it's totally made of iron, thanks to the sealed burners and porcelain basepan. Another advantage of the Fisher & Paykel gas top range is that it includes a 3-year warranty which is super long compared to the other items on this list.
9. Samsung 36 in. Gas Cooktop in Stainless with 5 Burners including Dual Brass Power Burner with Wi-Fi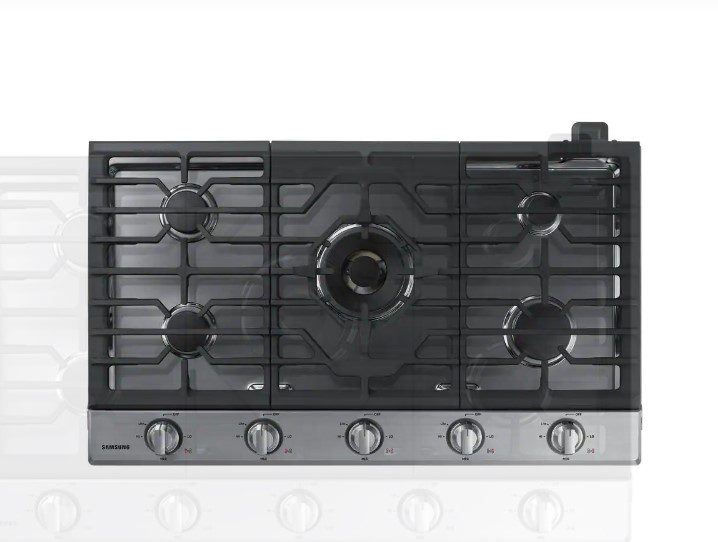 Samsung is a famous electronic brand on its own, and it makes decent gas top ranges as well. This one is particularly good because it's innovative and easy to use. Just like this previous model, this top range provides various types of heating, starting from high heat to light simmer.
The most interesting part is that this cooktop contains WiFi and Bluetooth technology. It means that the cooktop can sync to the hood so that you can automatically start the fans and lights when the burners turn on.
And the top range itself has 22,000 BTU which are inserted into 2 burners and they provide extreme heat allowing boiling of the water in literally a couple of minutes. In addition, this Samsung range has LED lights that will let you know from the distance that the top range is on.
And you can control it from the distance using Bluetooth technology! And, of course, we couldn't mention the exquisite and superior design of this gas top range. It will be a good fit on high-end kitchens.
Any choice you make is based on what you value. Perhaps you only need a gas cooker a couple of times a week and because of that you don't want to spend a lot of money on it – so you're looking at more budget models; perhaps you care about power and speed.
In any case, your choice is based on your idea of the product you want. Based on our experience, we have selected the best options for you to review. Pay attention to the number of burners, materials, as well as the way the cooker hob is installed. We hope that our article has helped you, and if there are any questions, we have collected some of the most popular questions about gas hobs below.
FAQ for gas cooktops buyers
1.
What's the difference between cooktop and range?
The difference between two seemingly similar products can be traced back to the names. The cooktop is exclusively the top part of a freestanding cooktop. It contains several burners (usually from 1 to 5), as well as gas switches, timer and so on.
The range also comes as a complete cooking device for both the burner and the oven. By the way, the oven of the gas range may not necessarily be gas: models with the electric oven are also popular.
2.
Which materials are best suited for gas cooktop coating?
There are three main types of coatings that you can find in the shop – enameled steel, stainless steel or vitrified/hardened glass. The most budget option would be an enameled surface, but it is not the most wear-resistant. This coating is easily damaged by abrasive materials.
Tempered glass and vitrified clay are very similar but care for them is a little more difficult – you will need to wipe them several times to remove grease.
Stainless steel will fit perfectly in interiors with chrome or metal parts, but there's one nuance: it's better to choose a matt finish, as you won't see any fingerprints or other marks on it.
3.
How to protect yourself from accidental gas opening?
People who have children or pets in the house are very worried about accidentally igniting the burner. It is easy to protect yourself from such a situation: there are switches with fuses that make it difficult to get fire or gas.
If the hob you have already selected does not include them in your design, you can easily buy and install them yourself. This way you don't get into a situation where there is a gas leak.
4.
What is the best material for the grid – enameled steel or cast iron?
Grilles mounted on gas stoves can have the 2 most popular materials – cast iron and enameled steel. Both materials do not deform under the weight of pots and pans, but the steel can be damaged over time. Such damage will make the material less stable and the grid may start bending.
The best option is smooth cast iron, which is easier to wash. It is also more convenient if the gas stove has its own grate for each burner – this makes the maintenance process even easier.