Cutting boards are a necessary element in every kitchen that should be given special attention. Nowadays there is a huge selection of any items that may come in handy in the kitchen, but you may not always be able to figure it out.
One of the types of chopping boards is Japanese boards, which differ among other products. You may not have even noticed them before, but we recommend that you read more about them.
There are many good Japanese boards, among which it will be difficult for you to choose one. Sometimes these boards are called end boards because the wood is prepared in a special way to make the board.
There are also rubber cutting boards, which consist of an inner wooden layer and the outer rubber finish. They are gentle to the cutting edge of the knife, as well as can be easily washed in the dishwasher. When buying, you should pay attention to some factors on which further use will depend.
The material.
We have already mentioned that there are rubber and wooden Japanese cutting boards. All Japanese cutting boards are based on wood, just like bread cutting boards. It can be either open or inside a shell of different materials.
Hinoki cypress or Magnolia is the most common source material. The appearance of the board is based on this. If you keep all your tools in view, we would recommend that you choose the material that best suits the style of your kitchen.
The size of the board.
The size of the board depends on what you are going to do with it and how to use it. Usually, boards for meat are larger than those designed for cutting fruits and vegetables. The board should not be too big, or you will feel uncomfortable using it.
It will also take up too much space in your kitchen, making it difficult to store tools. Cutting boards that are too small will have little or no use in your kitchen but will stay in different places and make a mess.
The weight of the board.
Chefs can be of different sexes, ages. Depending on the physical characteristics, it can be difficult to lift or pull out a board that is too heavy all the time. Cutting boards made of solid wood cannot be without weight, of course.
But even so, you should not choose a board that is too thick and massive. It will need to be stored directly on the worktop, without the possibility of removing it.
The type of knives you use.
Japanese knives and Japanese chopping boards are just for each other. The boards do not blunt the blade of the knife or spoil it. But if you are not using real Japanese knives in your kitchen, you should think about how the board and the knife will interact.
Great knives are collected in these reviews. Check them and choose the best knife:
7 Elegant butter knives for your kitchen

Butter knives can have the same shape and a double toothed fork at the end to carry slices of oil from the board to the plate. It has a straight blade to cut the slices off in one move from top to bottom.

Check the review

7 Best Ceramic Knives On The Market

The advantage of such knives is the highest hardness and, consequently, the sharpness of the blade, which also retains its sharpness long enough. It must be remembered, however, that the price for this is their fragility - they cannot cut frozen food and bones.

Check the review

7 Best Paring Knives Reviews

This versatile type of kitchen knives is used for a variety of cooking tasks: from peeling and grinding vegetables, fruits, cutting shrimp and slicing cheese plates.

Check the review

7 Best Pizza Cutters Reviews

This knife is designed for smooth, beautiful and precise cutting of pizzas and other similar dishes. The blade of this kind of kitchen knife is fixed on a rotating roller.

Check the review
If you have knives made of soft steel or ceramics, you should first try the board in your kitchen at work, so you will know if your knives are suitable for cutting on such a board.
Our Top Pick
Kiso Japanese Cypress Hinoki Cutting Board


Fine Japanese cypress
1 inch thick
Usable size

Check Current Price
Other great Japanese cutting boards:
IMAGE
PRODUCT

Yoshihiro Hi-Soft High Performance Japanese Sashimi Chef's Tool Professional Grade Cutting Board

Hi-Soft board for high quality knives.

Check current price

Shun DM0817 Hinoki Cutting Board

Thin light board in 3 possible sizes.

Check current price

Miyabi 34535-300 Chopping Board Hinoki Wood

Hinoku solid board with wide grain.


Check current price

Synthetic rubber cutting board Asahi Cookin cut

Synthetic Japanese board temperature resistant.


Check current price
1. Kiso Japanese Cypress Hinoki Cutting Board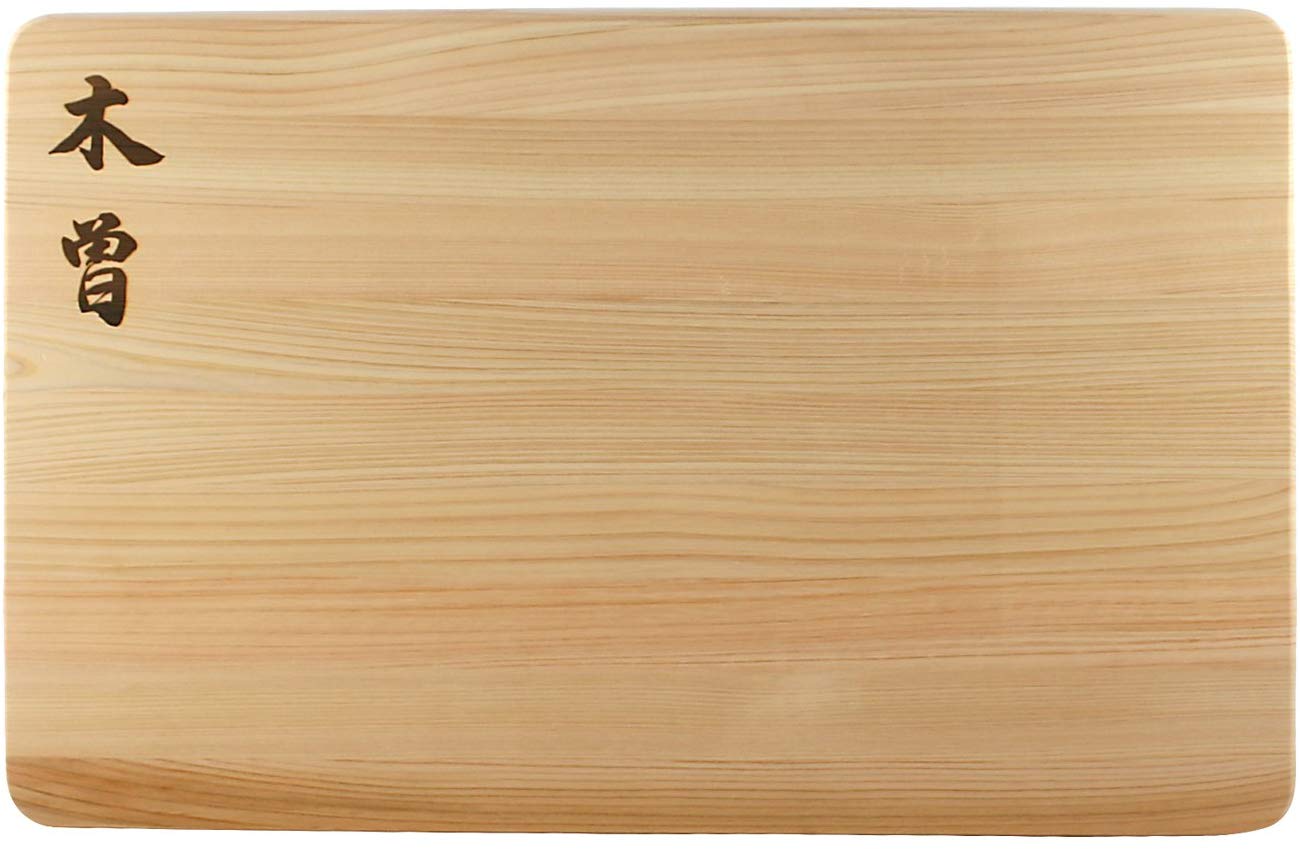 If you need to handle knives with care – for example, only ceramic knives in your kitchen – the Kiso Japanese Cypress Hinoki Cutting Board is the ideal choice. The board is made of real Japanese cypress, which is known for its qualities.
Such wood is incredibly gentle with Japanese knives, as well as knives of high quality and ceramic. The famous material immediately gives the buyer a feeling of reliability and quality.
Kiso Japanese Cypress Hinoki Cutting Board is 1 inch thick, which is not too much for cutting board. Smooth beveled edges also give a certain beauty, and small rounded edges will not hurt your hands with sharp corners.
Since the Hinoki (Japanese acacia) tree is very soft in texture, you'll literally feel the knife pressed a bit. With proper care and careful use, this board will last you a long time, and you can always clean the surface easily.
You may also like: 7 Best Cutting Boards For Raw Meat
2. Yoshihiro Hi-Soft High Performance Japanese Sashimi Chef's Tool Professional Grade Cutting Board
Hi-Soft boards are made so that knives made of high carbon steel do not blunt when cutting continuously or regularly. As you know, the board directly affects how long your knife will last.
To preserve it, we can recommend using Yoshihiro Hi-Soft High-Performance Japanese Sashimi Chef's Tool Professional Grade Cutting Board. The synthetic material used to produce it extends the life of both your board and the knife itself.
The soft surface reduces the load on your hand, keeping it from getting tired. The load is also reduced on the knife blade, keeping the edges of the blade in one position. You can clean the surface of the board without special means, and the surface will not absorb odors and germs.
It is worth using high-quality knives with such a good board – you should not be afraid that it will deteriorate its quality. You can also use knives with jagged edges – for example, knives for bread – they will leave small uneven cuts, which will not accumulate food remains.
3. Shun DM0817 Hinoki Cutting Board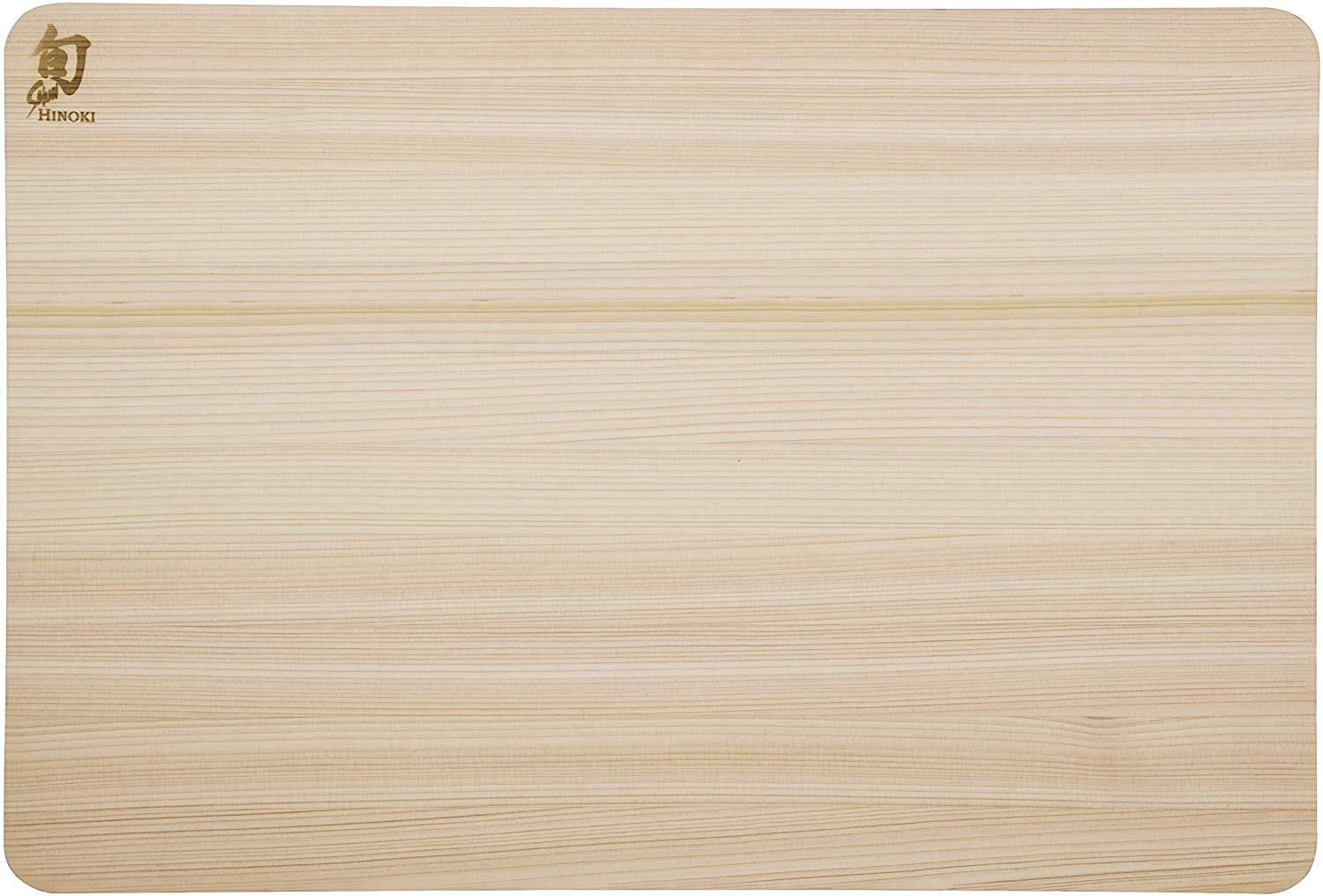 Shun DM0817 Hinoki Cutting Board is another excellent Japanese cypress cutting board. This model is medium-soft, which prevents the knife from going too deep into the board, but does not deform the blade.
This board is thin enough, so its weight is much less than other models. Shun DM0817 Hinoki Cutting Board is also available in 3 sizes – you can buy them all so you can use all 3 models for different purposes.
The care is minimal: just wash it before each use with a mild detergent. You will need to dry Shun DM0817 Hinoki Cutting Board with a dry towel after washing and then let it dry completely with air.
If you notice slight deformations in the surface, just turn the board over. Shun DM0817 Hinoki Cutting Board is reversible, so both sides are suitable for use. You get an excellent Japanese cutting board of high quality for a low price, and you can get a complete set.
4. Miyabi 34535-300 Hinoki Wood Chopping Board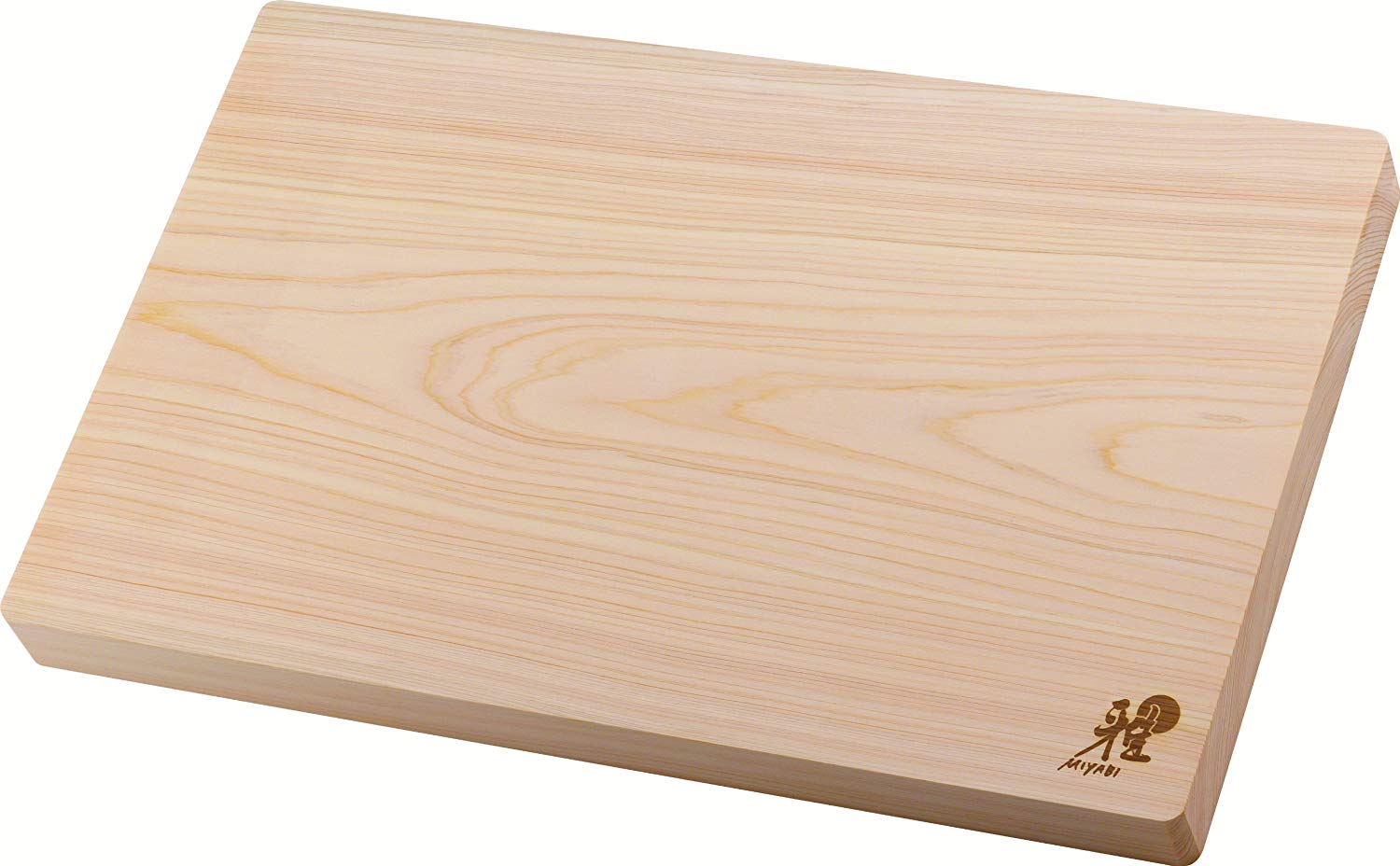 The Japanese acacia boards are particularly beautiful, while the Miyabi 34535-300 Chopping Board Hinoki Wood is no exception. The board looks perfect, with its clear grain and perfect wooden structure. The finish is not a simple sticker, it is solid wood.
If you have previously used cherry or oak wood boards, you will be surprised how much softer the Miyabi 34535-300 Hinoki Wood Chopping Board is in terms of structure and requires special cutting techniques. Knives with this technique will always be sharp. But, you can also sharpen your knives with a special stone.
The lightweight of the board is ideal for constant use in the kitchen. Housewives should definitely not use heavy planks, so the Miyabi 34535-300 Hinoki Wood Chopping Board will be comfortable.
A nice bonus is a smell that comes from the chopping board when it gets wet. Just bring the board under a jet of water, and the smell of Acacia will immediately begin to fill the room.
The Miyabi 34535-300 Chopping Board Hinoki Wood is large enough to cut fish on one surface, but not suitable for all salad ingredients at once.
You can also check this: All excicting 19 types of knives
5. Synthetic rubber cutting board Asahi Cookin cut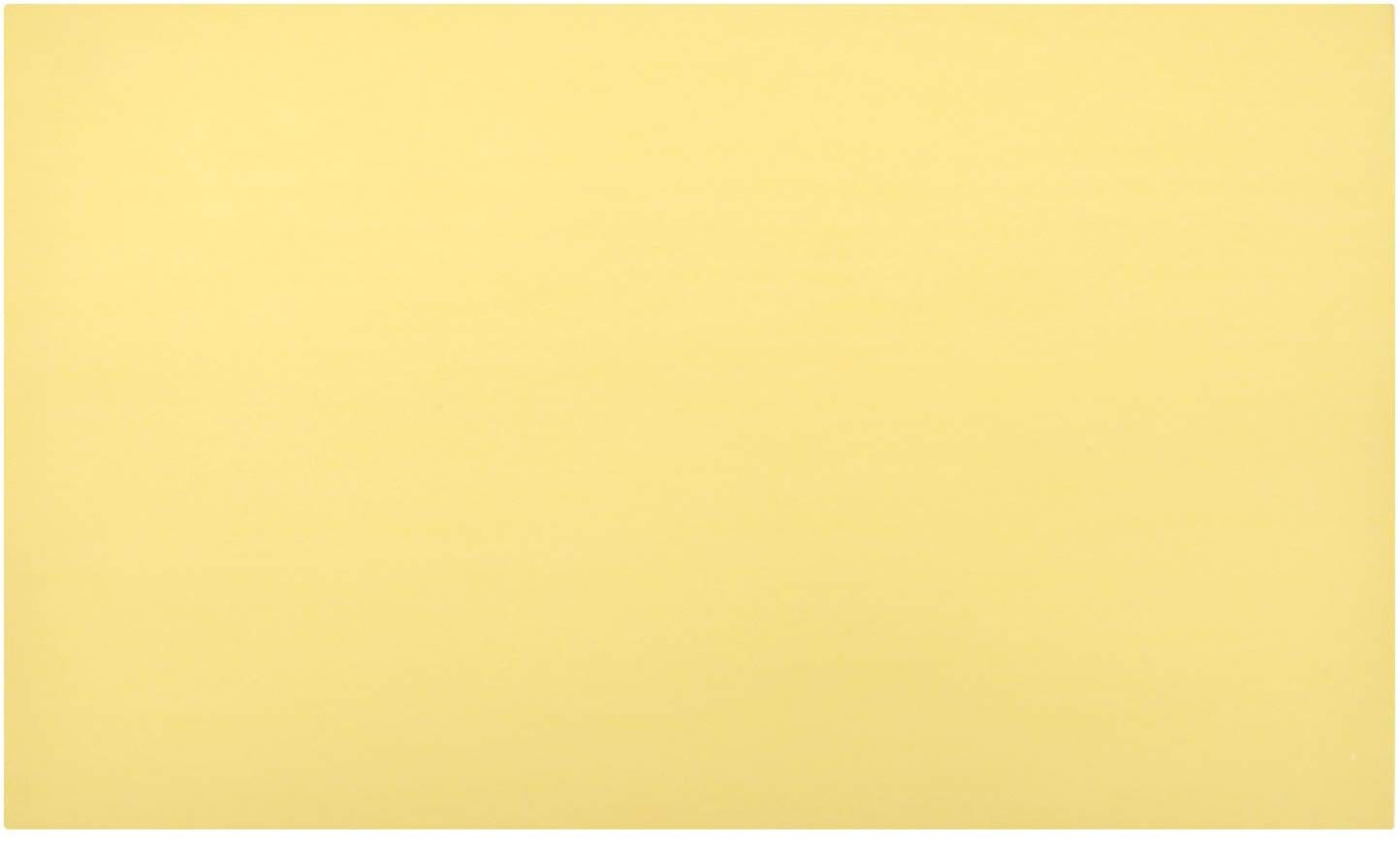 Japanese boards can be made not only of wood. Synthetic rubber cutting board Asahi Cooking cut is a great example of this, which is also easy to use. The board is incredibly easy to clean – almost as well as standard plastic boards.
The material of the board is very dense and soft at the same time, and the price is more affordable compared to Hinoki. It is worth noting immediately that this model also dulls the blade knife, as well as standard Japanese cutting boards.
The length of the board is nearly standard. It is a little more than the usual rectangular shape of the boards. Of course, this material is a bit worse than the Japanese acacia carving boards, but is inferior to it at least.
You don't even have to wash the Synthetic rubber cutting board Asahi Cooking cut too often or put it in the dishwasher.
Care for this model of the board can only consist of constant cleaning with a wet cloth and a dry towel.
In this way, the board will remain clean, will not store any germs on its surface, and you can use it with different products.
Japanese cutting boards can be widely used around the world and in all kitchens. Whether you're cooking as a professional or just a little passionate about cooking delicious meals, you need good tools.
We wouldn't recommend you to forget about high-quality cutting boards – they won't harm your knives, and they won't cause any inconvenience when used. You just need to choose the model that is affordable for you.
FAQ for Japanese cutting board buyers
1.
What other features do Japanese chopping boards have?
If you have several other chopping boards in your kitchen, you know exactly what it should look like. For example, special bread or barbecue boards have special grooves that are designed to collect juice or breadcrumbs.
Japanese chopping boards do not have this feature, so you may feel uncomfortable slicing juicy vegetables or meat. Their absence may be inconvenient for you.
2.
Do Japanese chopping boards hurt the blades of knives?
If you use a good knife with a strong and sharp blade, it is definitely safe. The cutting surface of such boards is friendly to any knife and cannot affect them much.
If you think that your knife may dull from cutting on a board, you may have a low-quality knife. If you use Japanese knives with Japanese boards, the result will be excellent even with the softest ingredients and products.
3.
How are Hinoki boards different from others?
It's worth noting that Hinoki is a strong material, also known as acacia. These boards are durable and will last you more than 10 years, even if you don't care for them too much.
You can also remove the top layer from the surface with sandpaper, updating the appearance of the Japanese board time after time. Since boards made of this material are usually very thick, you can be sure that there will be no bacteria on the surface. All microbes are absorbed into the tree, dying there.
4.
Are such boards safe for use with different products?
Any boards that you use in your kitchen should have a purpose. For example, we would not recommend using the same cutting board for meat and fruit.
If you're worried about using the board in terms of antibacterial, then we're ready to convince you. These boards do not leave any bacteria or microbes on their surface.