Finding a kitchen range hood that can handle even the most challenging air purification tasks is becoming easier and easier.
A modernized extractor hood meets the most important requirements but can vary in terms of its structure and work. Let's find out which types of extractor hoods are available to us today. If you are tired of constantly ventilating your kitchen, you need a powerful extractor hood of the right type.
In addition to the specifics of the operation, types of cooker hoods can also be classified according to form, size, installation principles in the kitchen, functionality, and many other criteria.
It is thus advisable to ensure that you have taken into account all the necessary requirements for extraction technology. From practicality and performance to decorative features, before purchasing a hood.
To understand how to choose a cooker hood by type of hood, we recommend you to study the characteristics of the most common options.
The main types of cooker hoods
Let's start with an overview of the main types of kitchen hoods by classifying the appliances according to their enclosure structure.
Depending on how much space the cooker hood takes and how it is installed in the kitchen work area, three types can be distinguished:
Flat extractor hood
This variant has the most compact shape and cleans the air without extra connections. Flat extract units are attractive because they save space in a small kitchen and visually extend your interior.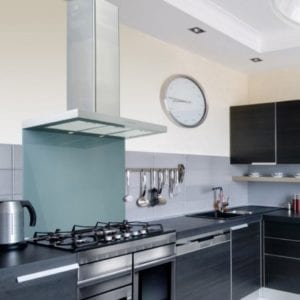 The flat casing has filters that let in dirty air. They have a short service life and need to be replaced periodically: this is the main drawback of such devices.
Dome extractor hood
This is a more attractive option in terms of performance, as this technique is often connected to the ventilation duct. It provides a sufficiently powerful outflow of air from the room.
Fans installed in such extractor hoods are larger than small fans for flat models. This is why dome-type hoods are most often installed in spacious kitchens. Where it is important to clean even the most remote areas from unpleasant odors.
Integrated cooker hood for kitchens
These models have the same air purification principle as the first two variants. But differ in the possibility of installation in furniture, the niche in the wall, countertop, or ceiling. Thanks to the easy disguise of all foreign elements in the extractor hood, embedded hoods are gaining in popularity today.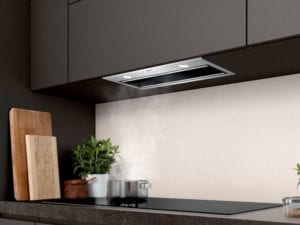 If you do not want to adjust the size of furniture and equipment, stop at a stand-alone hood for the kitchen. Such hoods are the majority on the market. Moreover, high-performance today is typical not only for large dome hoods but also for compact ergonomic models.
Exhaust hoods in terms of layout
When deciding on the types of cooker hoods, think about how to install them. When placing the cooking zone along one or more walls, a wall-mounted cooker hood for the kitchen is the best option. It is fixed under the range with screws that are pre-mounted on the wall at the right level.
For the island area of the kitchen, choose the hood, which is fixed to the ceiling, and lowered to the desired height from the cooker hob.
Modern island hoods come in a wide variety of shapes and sizes, so kitchens will not be perceived as an unnecessary element in the design.
Corner hoods are no less diverse, both in terms of shape and parameters. They will be an excellent solution for those planning to optimize their space in the kitchen interior.
Variations in the way they work
The difference between modern extraction units can be traced back to the very principle of their operation. Despite their multifunctionality, the hoods are used for strictly defined purposes.
For example, a snail extractor hood is an excellent option for cleaning rooms in summer houses with no ventilation system. Such models are also used for industrial purposes for cleaning huge areas with a high degree of contamination.
In the kitchen, it is better to use a forced extractor hood. But here it is important to understand that the best way to clean is determined by the nature of the equipment used.
Standard kitchen hoods include three models, depending on how the air is cleaned:
recirculated extractor hood
flow type extractor hood
mixed extractor model
The first option is suitable for those who do not need a high power cooker hood. Cleaning with this technique is achieved by passing air through external and internal filters mounted in the hood.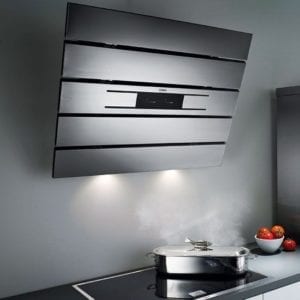 The external filter is designed to clean the air from fat elements. As a rule, grease trapping filters are made of strong metals so that you can clean their surface from impurities yourself.
Internal filters may have different compositions. But most commonly they have a charcoal structure. This helps not only to thoroughly clean the air but also to cut foreign odors in the room. For this reason, circulation hoods are often called coal hoods for kitchens.
Flow hoods cannot clean the air themselves: they are designed to effectively remove dirt from the room. For this purpose, the extractor hood is connected to the ventilation shaft using a sturdy exhaust air pipe.
Specialists recommend installing extra anti-return valves to prevent dirt from returning.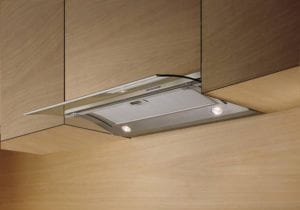 It is important to remember that connecting any system to the general ventilation requires a preliminary study. Flow type extractors can only be connected in this way if an individual ventilation duct is connected to your apartment. Otherwise, ensure that the polluted air escapes directly to the street.
Mixed models are the most powerful and highly efficient, but they can take up large areas. But, this is the most popular and affordable option for exhaust units.
Shapes of modern exhaust units
To save the largest space and emphasize the harmonious design of the room, it is useful to know what kind of kitchen hoods are shaped:
| | |
| --- | --- |
| Dome models | Dome models are most often shaped like a pyramid or hemisphere. This option is one of the most spacious, but it is suitable for any cooker hob, as it will fully cover its area. |
| Cylindrical and flat shaped hoods | Cylindrical and flat shaped hoods are suitable for the design of island work areas in the kitchen. For convenience, the height of some cylindrical models can be changed depending on the cooking process. |
| Rectangle | The rectangle of different sizes is a stylish variant of the hood for both wall and ceiling mounting. |
| Modern design | Reflection of the modern design will be underlined by an inclined hood of small dimensions. It is a flat panel placed at a certain angle to the cooking surface. |
| Non-standard shapes | The more non-standard shapes of the hoods are suitable for fans of extravagant designs. This technique is the most expensive (e.g. cone or round cooker hood for the kitchen). |
Extra amenities
Exhaust hoods can also vary in terms of control features. The standard version is a cooker hood with a push-button panel. More modern models include slide switches. Touch-screen hood technology with electronic display is more convenient to use. It has the added advantage of cleaning the housing from dirt.
The hood control type can also be remote. Switching the unit on and off as well as changing modes during operation can be done either by remote control or by voice commands.
Both manual and automatic control processes are convenient if you have chosen a sliding hood for the kitchen with a sliding panel.
Both horizontal and vertical hoods feature a variety of design options. In addition to the base material, chrome steel, glass, or wood can be used.
In addition to the decorative properties, pay attention to the size of the equipment itself. Some stylized interiors will look more harmonious when using a large hood, while others need more concise and compact hoods.
The next difference between hoods is its functionality. Modern hoods are equipped with an auxiliary timer, automatic shutdown mode. They also have a sensor to signal filter contamination, dimming the backlighting, and many other extra functions.
This range hood has the best price and quality:
Our Top Pick
Hauslane | Chef Series Range Hood 30" PS38 PRO

This range hood effectively cleans grease, smoke, fumes and cooking odors from the air in your kitchen. 

Check Current Price
Other great range hoods:
IMAGE
PRODUCT

Broan-NuTone 413023

This model improves ventilation and lighting over your stove with the non-ducted filtration system that effectively removes smoke and odors.

Check Current Price

Broan-NuTone BCSEK130WW

This device improves air quality with effective ventilation with quiet operation at normal speed. 

Check Current Price

Winflo New 30" Convertible Stainless Steel Wall Mount Range Hood

This high-quality range hood comes with all parts and accessories up to the ceiling and with a plug.

Check Current Price

Cosmo QS75

This tool quickly ventilate your kitchen without the noise. It is both elegant and powerful adding sophistication to your kitchen.

Check Current Price

Winflo 30" Kitchen Range Hood

This range hood is constructed of premium stainless steel and clear tempered glass. It comes with powerful suction.

Check Current Price

AKDY 30 in. Kitchen Range Hood

This range hood has a powerful motor that will suck any steam from cooking. It comes with has mesh filters that is dishwasher safe.


Check Current Price
Hauslane | Chef Series Range Hood 30″ PS38 PRO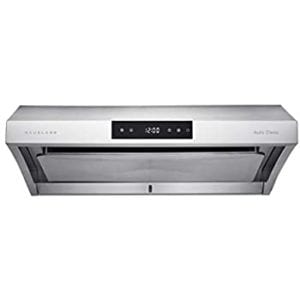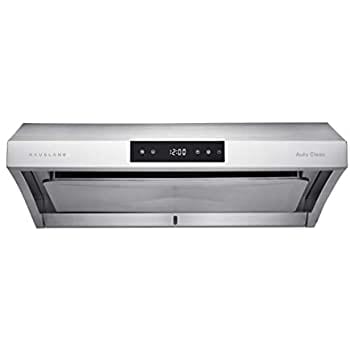 This cooker hood successfully combines modern functionality, high performance, reliability, and durability. This rightly makes it one of the best kitchen hoods available today.
It is mounted directly on the wall above the hob. The control is pushbutton.
This cooker hood can be operated in ventilation or recirculation mode. In the second case, you will need to buy a replaceable carbon filter.
The largest performance of this cooker hood model is 620 cubic meters per hour.
Thanks to this, it will cope with the removal of combustion products and unpleasant odors emitted during cooking from the kitchen.
Efficient air purification is made possible by a powerful fan. It can operate at three speeds as well as an aluminum grease filter.
Two 35 W halogen lamps each are responsible for illuminating the work area. This light source is enough for comfortable cooking on a standard-sized cooktop.
Advantages:
Beautiful color
Three speeds
Good assembly
Powerful fan
Can be operated in both circulating and diverting modes
This device is a real work of art, made as if by design. Stylish and laconic, the flat hanging technique with an inclined surface makes a lasting impression at a glance.
Besides, its design has been thought through to the smallest detail. Thus, an aluminum removable filter, which takes the main blow and retains most of the fat, soot, burns, hidden behind tinted black glass.
This solution allows you to keep an attractive appearance of the kitchen hood for many years. In terms of size, this facade will fit in a standard size kitchen. In terms of design, this cooker hood will look better in any modern interior.
Besides, the attractiveness of the cooker hood is combined with its quiet operation. The hood is made of high-quality materials. Besides, the extraction of unpleasant odors, gas, and fumes takes place without the engine running hard. Thus, the hood is not very noisy (54 dB) and does not consume too much electricity.
You may also like: 7 Best Induction Ranges Reviews 2020
Broan-NuTone 413023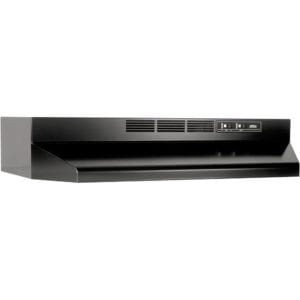 This cooker hood is the optimal solution for any kitchen. This model is a built-in hood that can be easily attached to a hanging cupboard above your stove.
The installation features, small size, and strict design make it almost invisible. The most important thing is that the device saves precious free space, which is important for owners.
This extractor hood works in two modes: air venting and recirculation.
For the second option, you need to buy a replaceable charcoal filter. A considerable power of 200 Watt allows it to cope quickly with the task at hand.
The control of the device is extremely simple. A cooker hood is activated by simply pulling out the panel. On the side of the front panel, there are two fan speed keys. Only 2 speeds are available. You can also switch on/off the backlight, for which two incandescent bulbs are responsible.
The aluminum grease trap filter traps and reliably retains the grease and soot released during cooking. The low noise level of 55 dB will not disturb the inhabitants of the apartment.
Advantages:
Compact
Looks very attractive
Many speeds of operation
Built-in filters are made of aluminum, making them easy to care for
This kitchen hood has one important characteristic – its "heart" is the new advanced engine. It was developed by Italian engineers from the famous BEST group.
This innovation has made it possible to significantly reduce the power consumption of the device. This has not affected the quality of air purification from fumes, impurities, and all kinds of unpleasant odors.
Another pleasant feature is that the extractor hood extends the smoke suction area above the hob significantly. This further increases the efficiency of the removal of garbage air.
All this is complemented by a low price, which makes this cooker hood one of the market leaders in this category today.
Broan-NuTone BCSEK130WW
If you are looking for an efficient, compact, and inexpensive cooker hood, then this model is the right one for you.
Wall-mounted hood effectively cleans the air in your kitchen from unwanted flavors, soot, and fat. It can be operated according to the flowing principle (air extraction) and is recirculated.
In the first case, the main blow is the metal grease filter. It traps the bulk of the combustion products, and the fan blows the contaminated air into the ventilation system.
The grease filter is reusable and consists of cells that must be cleaned regularly.
In the second case, the air with evaporations is passed through a removable carbon filter. It is purchased separately. The air is then returned to the kitchen already cleaned.
This is a single-engine extractor hood with good performance and a relatively low noise level (49 dB at the smallest speed and 76 dB at the largest). A total of three fan speeds are available. Given the level of air pollution in your kitchen, select the required suction speed.
The control of this extractor hood is mechanical, simple. A 28 W halogen lamp handles lighting the cooker hob.
Advantages:
Excellent assembly quality
Quickly and reliably removes foreign unpleasant odors and combustion products
Doesn't make too much noise
Looks almost invisible
Easy access to filters
Everyone wants the air in the apartment to be always clean and the smells to be only pleasant. That's why the cooker hood has long been considered an essential kitchen appliance.
Wall-mounted canopy hoods, like this model, are in great demand today. Why have they won the love of consumers so much? And their popularity is associated with easy installation, small size, like built-in models, but not so low price.
This visor hood is a budget and efficient way to clean the air in a compact kitchen. It is really a worthy alternative to similar, but more expensive models.
It can be installed either under a hinged cabinet or mounted on the wall. Thanks to its small size, the extractor hood will not take up much space.
Winflo New 30″ Convertible Stainless Steel Wall Mount Range Hood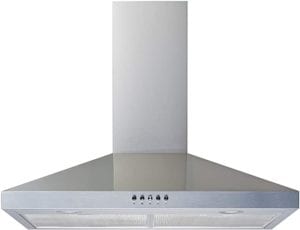 For owners of spacious kitchens with induction cooktops, we recommend this dome hood. It combines high quality, functionality, and elegant appearance and will be a great addition to the interior of your kitchen.
This model is made in the form of a perfectly shaped stainless steel dome. This hood will undoubtedly fit into the design of both classic and loft-style kitchens.
The width of the extractor hood is standard. The height of the hood is adjustable. Choose the smallest level if you plan to install this cooker hood in a kitchen with low ceilings, and vice versa.
At the same time, do not forget to leave the required distance above the hob so that there is enough margin of height to install the duct. The fasteners are included.
This extractor hood can work in the mode of exhausting dirty air into the ventilation shaft as well as in the recirculation mode. In this way, it purifies the air with a charcoal filter and returns it back to the kitchen.
The control of this extractor hood is mechanical, simple, and easy to understand. The largest output is 500 cubic meters per hour. The fan can operate at three speeds. And the device's low noise level (50dB) will not bother you too much.
There are two incandescent lamps on the bottom of the cooker hood that evenly illuminate the work surface with soft light. They are also an auxiliary light source in the room.
Advantages:
Highly cheap
When properly assembled, it makes almost no extraneous noise
Stylish appearance
Good power level
This cooker hood has two metal grease filters at once. They not only provide more efficient and quicker cleaning of the air from harmful impurities. They also boast a long service life.
The filters have a multilayer mesh design, are easy to remove for cleaning, and are just as easy to install back in. Most importantly, be sure to let them dry completely before reinstalling.
Fat filters are the main tools when the hood is in venting mode. The only drawback to this mode is that you may feel a cold winter when the heat will leave the room along with unpleasant odors. But in the case of this hood, you always have the alternative of installing a charcoal filter.
Cosmo QS75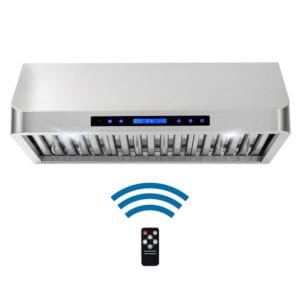 This extractor hood will help you with the problem of cleaning the air from unpleasant odors and combustion products.
It will create a comfortable microclimate in the kitchen of up to 10 sq.m. The cooker hood has a built-in design (installed in a hanging cabinet) and a flat design.
This prevents it from disrupting the interior design of your kitchen. It is worth saying that this hood is not in vain is a constant sales leader in its category, because its advantages are undeniable.
Two synchronized motors are responsible for this hood, which has doubled its efficiency. As a result, the largest output of 550 cubic meters per hour has been achieved.
At the same time, both motors are characterized by very quiet operation – only 46 dB, which can be compared with normal human speech.
This model is mechanically controlled with only 2 switches on the side of the front panel. One of them sets the fan speed (only 3 available), and the second one adjusts the backlighting. By the way, this extractor hood has a memory function. Next time it will switch on at the same speed as it was at the last session of its work.
As far as backlighting is concerned, it comes from two 28 W halogen bulbs each. The hood lamps are designed to illuminate the cooker hob's work surface.
But they are not designed to be switched on for long periods of time to illuminate the entire kitchen. Otherwise, they will break down quickly. This will have a negative impact on the performance of the cooker hood.
Advantages:
Virtually no noise
Attractive color
Stylish appearance
Easy to set up
Easy to care for
Like all modern cooker hoods, this cooker hood can operate in two modes – air extraction and recirculation.
We hurry to please those who feel that some of the dirt will return to the kitchen from the ventilation shaft when the air is drained. This will not happen – the manufacturer has added a special anti-return valve to his product.
As for the recirculation mode, it is worth noting that it is more environmentally friendly. And the extractor hood is not overloaded with pipes that block the ventilation system when it is switched off.
Because of this, the natural ventilation in the room is disturbed and the temperature inevitably changes. Besides, you do not have to bother with regular cleaning of the metal grease filters.
Winflo 30″ Kitchen Range Hood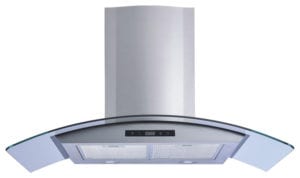 As a rule, dome hoods need a lot of free space. But, this is one of the best hood models that not only takes up the smallest of space but also offers excellent performance.
It can reach around 700 cubic meters per hour. Such a design can be easily used in spacious kitchens. It will cope well with all unpleasant odors.
It is easy to operate with four buttons, three of which are responsible for selecting the operating mode. The remaining button switches the lights on/off. The grease trap filter is based on an aluminum grid. It is quite frequent, but it can be quickly cleaned from accumulated grease.
The lighting system consists of two halogen bulbs, each with a power of 20 W.
Advantages:
Perfectly handles the functions assigned to it
Easy to operate and maintain
Filters may be washed in the dishwasher
The enclosure resists the accumulation of dirt well
Interesting and beautiful appearance
The noise load is insignificant – even if the most powerful mode of operation is selected, the amount of noise will not exceed 56 dB. The dome is made of durable, carefully tempered glass. It is able to withstand even heavy loads, while not accumulating fat, dust, and other contaminants.
A special non-return valve is supplied with this extractor hood. It protects the air in the kitchen from foreign smells from the ventilation system. A charcoal filter is also available, so this model can be used as a circulation hood.
You can also check: 7 Best Portable Induction Cooktop Reviews
AKDY 30 in. Kitchen Range Hood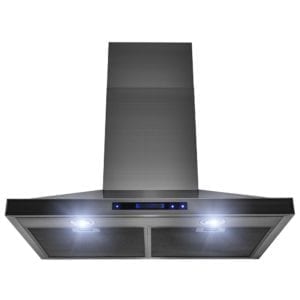 This is a fairly simple design, which is quite affordable. It is perfect for a small kitchen, will fit well in the interior of a private or country house, cottage.
It can be used as a built-in technique, and the width of embedding is only about 50 cm. This saves a lot of useful space in the kitchen. The model casting is made of high-quality steel.
As a result, it is robust and reliable, with no gaps or backlashes. Throughout its entire life, the structure will keep its original characteristics.
It does not need frequent or complicated maintenance – it is enough to wash the grease trap once every six months.
Advantages:
Ideal for small kitchen sizes
Many speeds of operation
It is possible to install a charcoal filter
Simple management
High-quality assembly
Quiet at work
The control here is mechanical, button-type. The buttons are quite soft, you can switch between three modes of operation. The largest output is 420 cubic meters per hour. Thus, the equipment will be suitable for rooms with an area not exceeding 15 square meters.
There is a special carbon filter socket in the construction. It is located directly above the fan. If such a filter is additionally purchased, the extractor hood can also be used in circulation mode.
FAQ for range hoods buyers:
How often should the grease filter be cleaned?
Metal grease trap filters should be cleaned once every 1.5-2 months. Some models are equipped with a contamination indicator to state that cleaning is necessary. In other cases, you will need to check this yourself.
Why do I need to change the carbon filter and how often?
This type of filter continuously attracts harmful particles from the air, which causes them to clog. It is necessary to buy a new charcoal filter about every 2, the largest 4 months.
At what height in relation to the cooker hood must be hanged?
In the case of an electric cooker hood, the smallest distance between it and the cooker hood must be 70 cm. And if you have a gas cooker hood, it should be at least 80-85 cm.
How do I calculate the correct hood performance for my kitchen?
The largest extractor hood performance is calculated using the following formula. The kitchen cubage multiplied by 12-15. Remember, cubage is the area of a room multiplied by the height of its ceiling. And don't forget that the higher the performance, the greater the energy consumption of the hood.