Finding the right appliances for your home is not an easy task, especially when it comes to the kitchen. The kitchen is the place in the house where you collect a huge amount of appliances that you use daily.
It can be a toaster, stove, multi cooker, and even a TV. TVs are a way of having fun or watching a series of your favorite TV shows while you're busy making a difficult dinner, for example. But there are a few nuances that should be considered when choosing a TV in the kitchen. Now we'll tell you what you should really pay attention to.
The TV size.
While choosing a device in the living room you try to choose a model with a big screen, with the kitchen, such criteria play a completely different role.
Depending on how big your kitchen is, you can choose as a large screen or a very tiny device. The rule "the bigger the better" will not work here – first of all, you need to assess the size of the TV that will fit in the room.
The functionality of the device.
If you want to watch cable TV or download movies, you should look for TVs with this functionality. Some models support DVD, some are more advanced and can work with Smart TV technology or connect to Wi-Fi.
This option depends on how you are used to watching TV and what you are watching – movies, news, or Netflix shows.
Mounting and fixing.
Kitchen TVs can be installed in 3 ways: swivel bracket, built-in model, or standard stable mechanism. This criterion also depends on how much free space you have.
Large kitchens can easily have a standard TV on its feet, which has its place. For smaller spaces, it is better to choose a model that is either built-in or can be mounted on a bracket.
Price.
Probably one of the main criteria. When buying, determine for yourself the maximum price of the TV that you can afford. So you will immediately remove from the search too expensive models.
After we have sorted out the main criteria for choosing a TV when buying, we would like to show you the 7 best Small TVs for Kitchen in our opinion.
Our Top Pick
LG 22MK430H-B


Perfect sound quality
USB and HDMI Connectors
Full HD quality and vivid color rendering

Check Current Price
Other great Small TVs:
IMAGE
PRODUCT

Eyoyo 12" Inch TFT LCD Monitor

Universal small screen for kitchen, security, and other purposes.

Check current price

SuperSonic SC-1512 LED Widescreen HDTV

Built-in DVD player for disc lovers.

Check current price

LG Electronics 24LJ4540-WU

LED backlighting and good screen quality for kitchen TV.


Check current price

Digital LED Wall Mountable Stereo Speaker Axess

TV with the ability to connect an antenna or cable.


Check current price

SuperSonic SC-1312 LED Widescreen HDTV & Monitor 13.3

Tiny model for the smallest rooms.


Check current price

Lesown 7-inch Small HDMI Monitor

Huge number of interfaces for input devices.


Check current price
1. LG 22MK430H-B 21.5-Inch Full HD Monitor with AMD FreeSync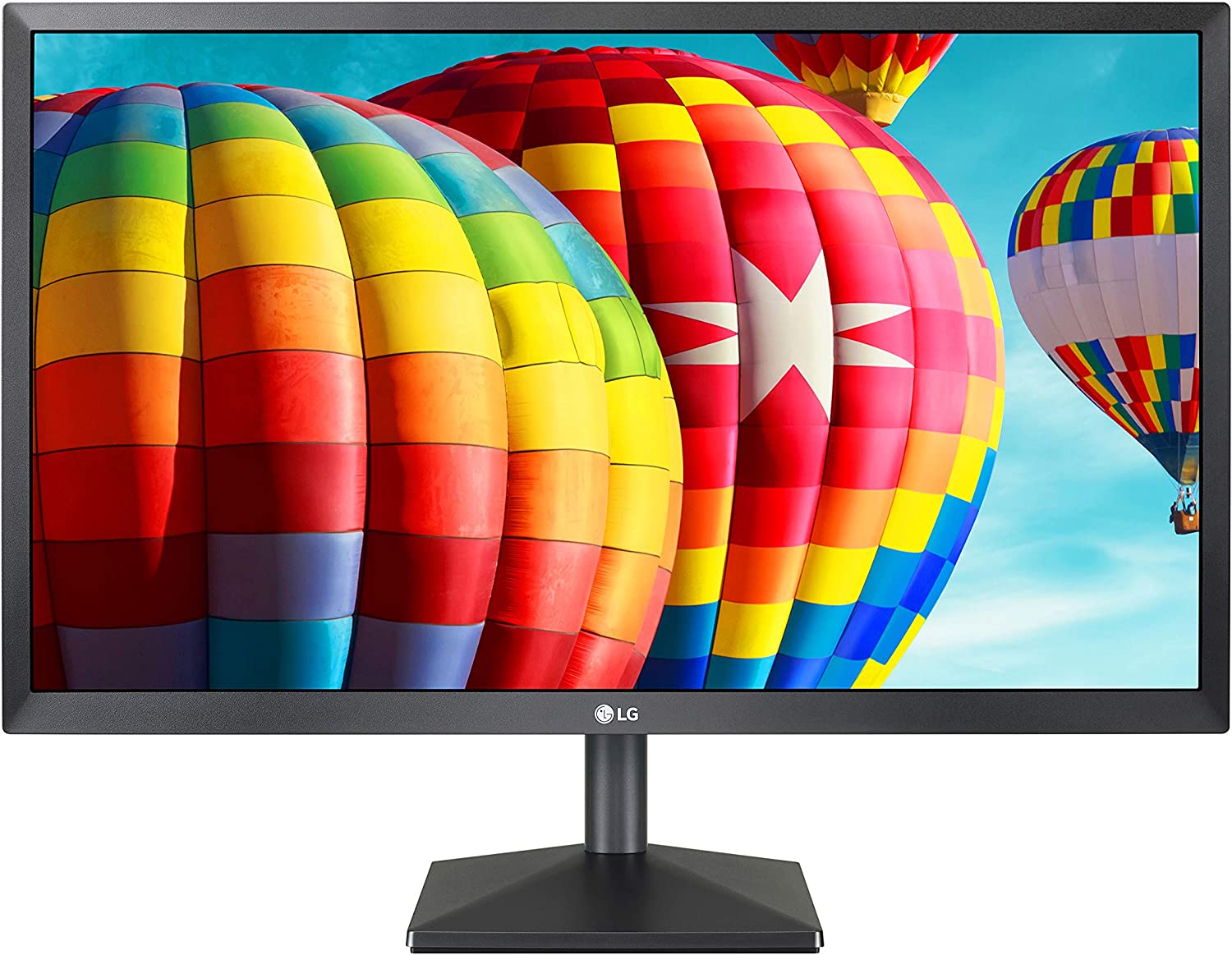 This compact TV is a great option for a small kitchen or a medium-sized kitchen. It has a screen oversized of 21 inches and an LCD display.
On the instructions from the manufacturer, you can see the claims that it has a full HD IPS display. It means you're going to watch TV in perfect quality.
Another advantage of this model is that it reproduces color quite accurately and is amplifiable in comparison to other models.
Here are the images processed with the Triple XD technology that makes the overall picture looks realistic with all the necessary aspects and proportions. And if you like watching your videos from the computer this model also has an HDMI input.
And you can even connect a game console to it just in case you decide to play in the kitchen. The sound quality is not the best but it is more than decent.
Actually, it's quite surprising for such a small TV. This model receives sound from a cable TV and particularly, and the quality of the sound depends on the quality of the overall signal.
You can place this item on a table or on any surface because it has a stand, or you can mount it onto the wall it is up to you.
You may also like: 7 Best Range Hood Reviews
2. Eyoyo 12″ Inch TFT LCD Monitor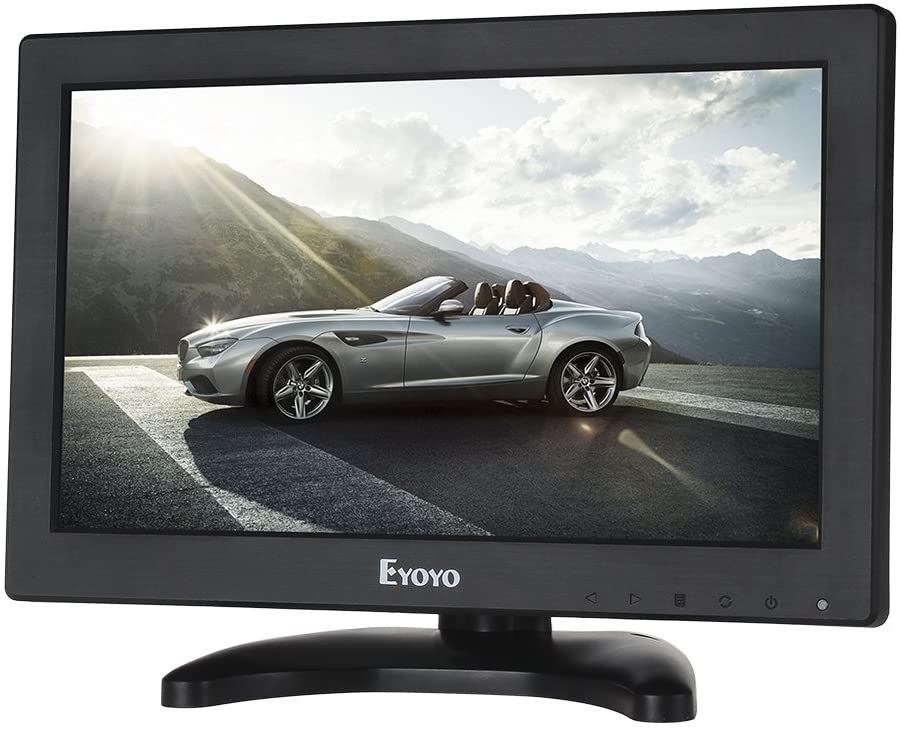 Sometimes a really small monitor is needed, which can be installed on the tabletop or on the fridge. In this case, the Eyoyo 12″ Inch TFT LCD Monitor, which is a versatile monitor, may suit you.
You can use it in your kitchen as a source of entertainment or as a home security monitor. The portable TV can be carried around in the kitchen by simply changing the sockets and power supplies.
The Eyoyo 12″ Inch TFT LCD Monitor also has an HDMI connector that can be used to connect other devices. There is also a VGA port, and BNC port that can be used for security systems.
It is worth noting that the monitor does not have the ideal quality of video recording – you get the quality in 720p or 1080p resolution. The sound is regulated with a toggle switch, which is enough for the kitchen. If you want to adjust it with the remote control, you will need to buy 2 batteries yourself.
3. SuperSonic SC-1512 LED Widescreen HDTV
SuperSonic is one of the companies that has been producing quality equipment for a long time. Their TV provides high-resolution images as well as perfect image detail.
If your kitchen used to have a simple little TV, you will immediately notice the difference in the brightness of colors. So that you can easily view anything, the TV has several connectors for different playback techniques.
SuperSonic also has a built-in DVD player, which allows you to watch photos or videos from discs right in the kitchen. You can simply turn on your favorite movie and enjoy the cooking.
It can be mounted on brackets in the kitchen corner. Since the monitor is LED, you will need to consider the viewing angle when mounting. It's best to tilt the SuperSonic a little bit at an angle, so the picture will be perfectly visible.
It is worth noting that the TV also consumes very little power while providing you with almost constantly watching your favorite shows or movies.
You may also like: 7 Best Refrigerators Brands
4. LG Electronics 24LJ4540-WU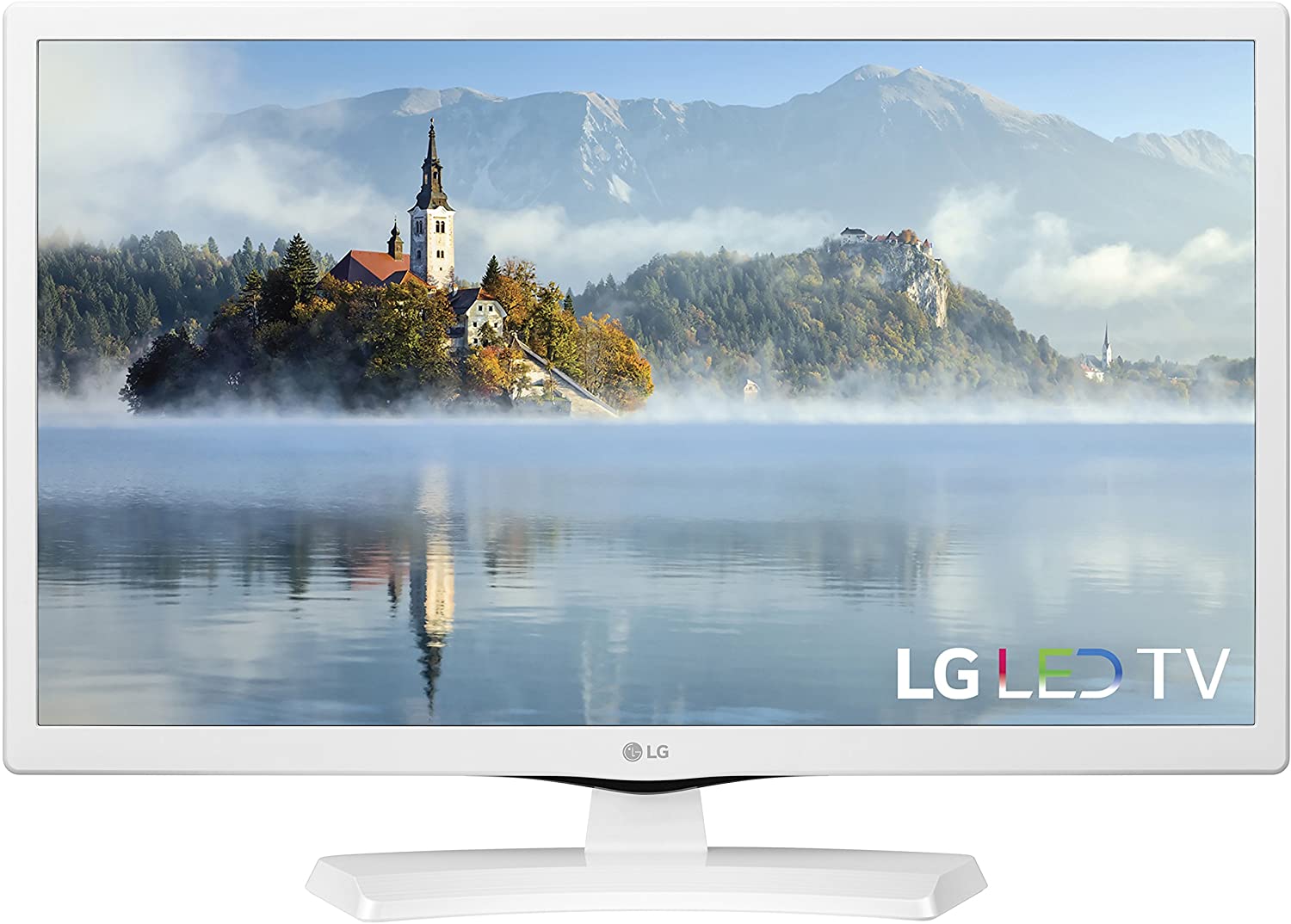 We already told you about one model of LG TV. Now we present you the LED model with excellent picture quality and 60 Hz refresh rate. This will allow you to enjoy your favorite videos in good quality even at a long distance.
As with the previous LG model, the video is processed with Triple XD Engine technology, which results in natural colors and realism of the screen images.
Many users use this TV as an additional monitor to their computer or laptop. In fact, the model has mounts designed for kitchen brackets for TVs. So LG Electronics will be a great purchase for your kitchen, as it will significantly transform the interior.
The price is low enough for this quality – you get a screen with a 22-inch screen while paying a small amount. LG Electronics can process video up to 1080p quality. To further improve the quality, you will have to install additional drivers yourself.
5. Digital LED Wall Mountable Stereo Speaker Axess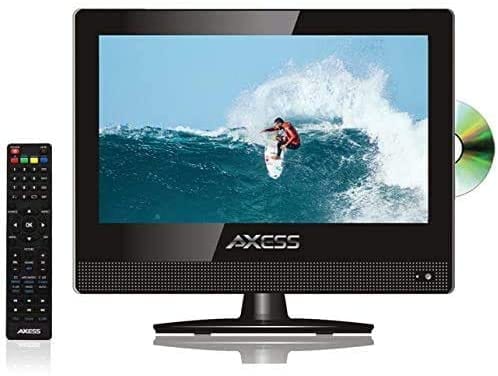 Another compact model for solutions in small kitchens. With a 15-inch diagonal at Axess TV, you can watch shows or serials in the kitchen without having to distract from everyday activities.
This size is big enough for small or medium-sized kitchens, as it doesn't take up much space but has a clear enough picture. By the way, the resolution of this model is 1366 x 768. It's enough for good-quality viewing without loss of sight.
In the future, the Axess can be installed in its mobile van – you just need to take it off the wall in the kitchen and move it to another place convenient for you. With the HDMI connector, you can even use the Chromecast function to broadcast from other devices.
Also worth noting is the sound – Axess has good performance for such a small size. To amplify individual parts of the sound (such as bass), you'll need to go into the settings separately.
6. SuperSonic SC-1312 LED Widescreen HDTV & Monitor 13.3″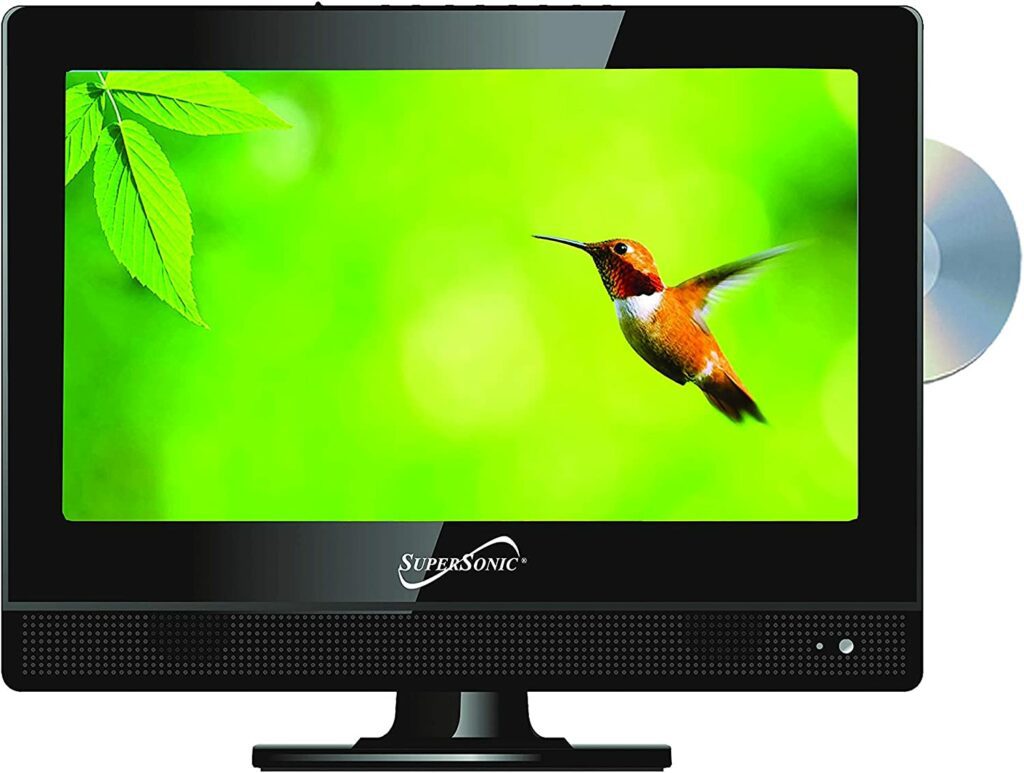 This supersonic TV has a screen of size 13.3 in so it will be perfect for any type of kitchen. It is the perfect ball for watching TV shows or just watching online movies since it is so easy to connect to Wi-Fi or other devices.
What is more, this model will fit the preferences of those who are on the budget. The TV can connect to the network using an antenna or wire and you can get the same channels as the main tv.
Additionally, this model even has an inbuilt DVD player. It has a stand so you can place it on any surface. What is more, this item is compatible with Amazon Firestick and many others such as video game consoles.
The item has an external antenna that will allow you to take most of the channels. The high definition of the image will impress you with its quality the colors are transmitted brightly and for those who like this type of TV, it will be a perfect option.
Apart from that, the TV is so easy to move around the kitchen so you can place it anywhere.
You may also like: Best Dishwashers that Safe Pots & Pans
7. Lesown 7-inch Small HDMI Monitor Raspberry Pi Display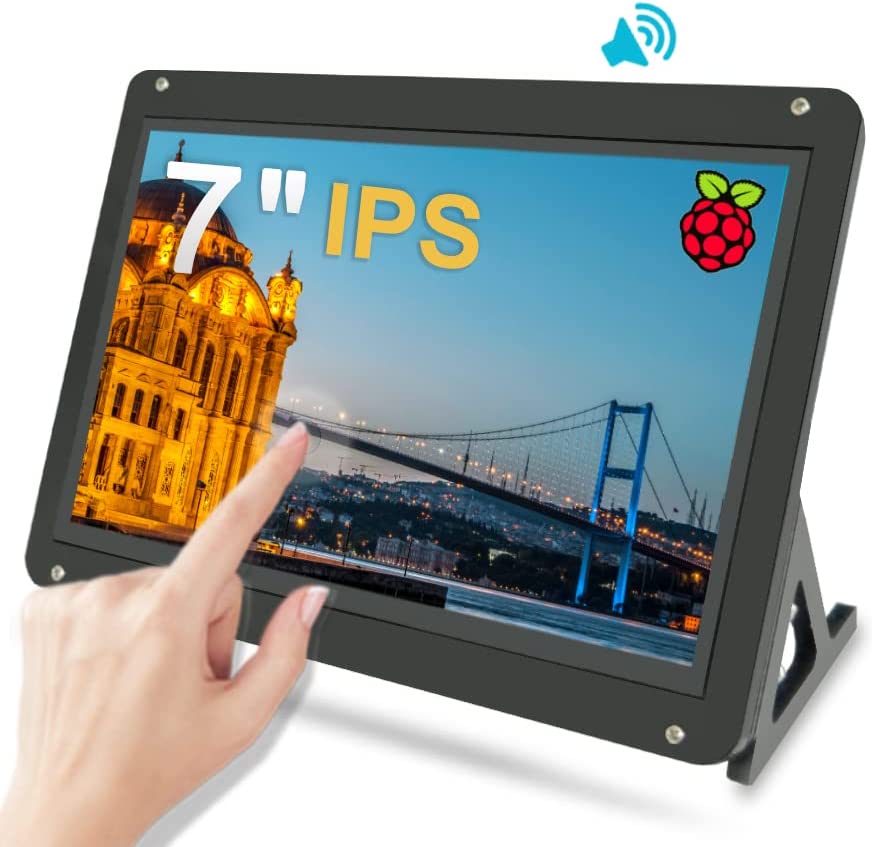 This small portable TV has a sizing screen of 7 in and it will be the perfect option for a small kitchen or for those who like to move their TV stand around the house. The item has a viewing angle of almost 180°.
This Factor will allow you to watch videos from any spot in the room without losing on quality. What is more, the screen includes eye protection and it means that your reason won't be harmed while watching it.
And since it is this small it has a number of different connectors for plugging various devices into it. Therefore, you can use this monitor for playing games, watching movies, and other things. You can just place it on any surface or mount it onto the wall it's up to you.
The item can be rotated by 360° and it has quite a sturdy sand which is quite decent for an item of this price. The brand is not that famous but it's already gained an excellent reputation on the market.
8. VIZIO 24″ Class Full HD LED SmartCast Smart TV D-Series D24f4-J01
If you consider this TV as an option for a kitchen this is one of the best items to go for. It has image high pixel HD and it also has built-in speakers with top-level sound.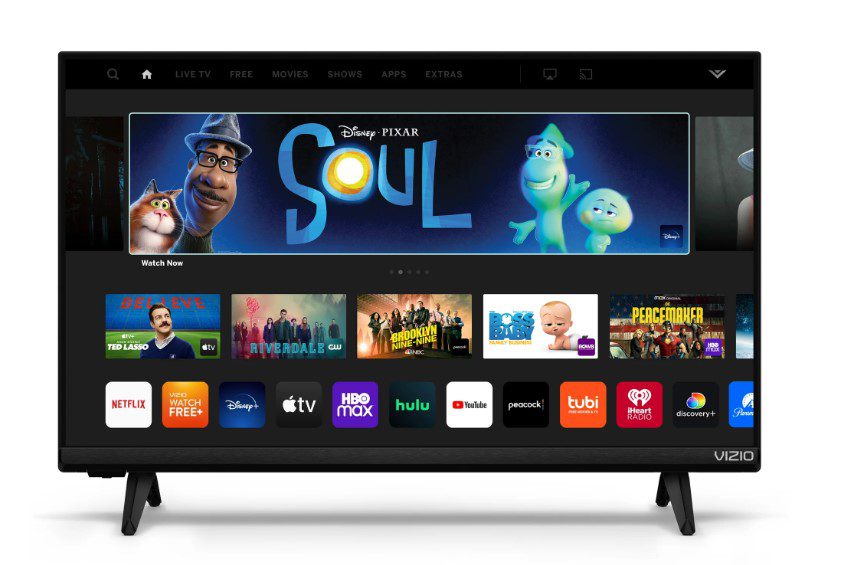 The TV is already preloaded with streaming services so it's really convenient just to go for your favorite shows. There's also a feature of screen mirroring for AirPlay and Chromecast. It's one of the most popular items on Amazon with more than 3,000 people buying it.
And the best part about this TV is that it has a very reasonable price. Besides, the item has great brightness and color situation. Among its streaming services, you can find such as Google Play Movies and tv, Hulu, Netflix, Prime Video, Showtime, Spotify, and YouTube.
There's also a screen mirror and Technology so you can use it with apple AirPlay and Chromecast, as we have already mentioned.
Another advantage of this TV is its design it is sleek and doesn't have bulky surroundings. It will be easy to talk it away nicely for the most unobtrusive addition to the kitchen. It also has a stable stand that gives you an opportunity to just place it on the counter. And you can also mount it on the wall.
9. Insignia NS-24DF310NA21 24-Inch Class F20 Series LED HD Smart Fire TV
In case you are looking for more affordable, it's still qualitative options then this insignia TV is your first choice. It includes integrated streaming services and built-in speakers.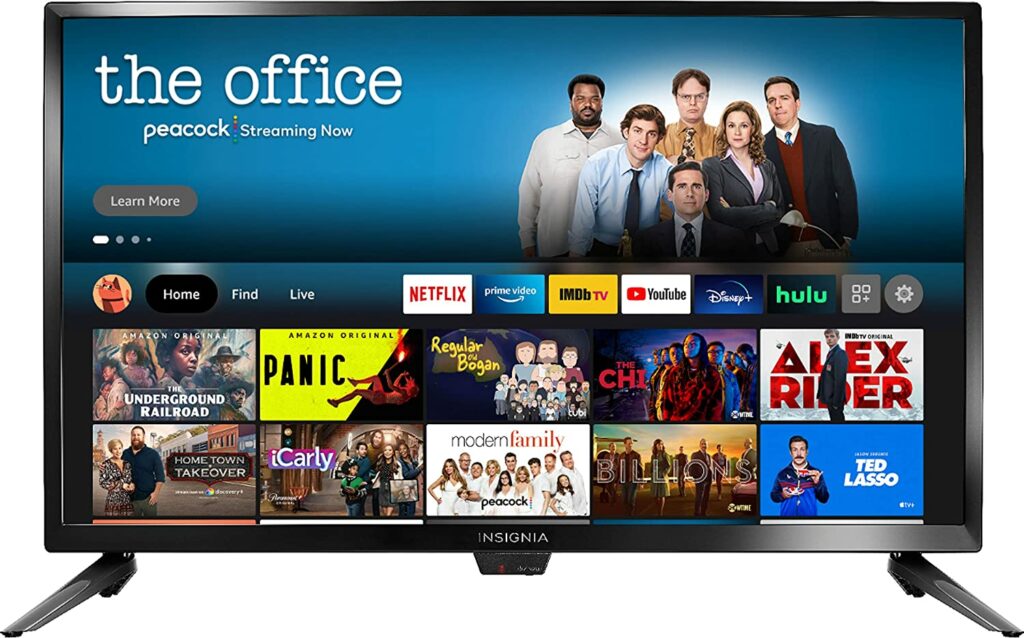 Another extremely curious aspect of this item is that it has a voice assistant that can be controlled via the remote control. It has a screen of the 24-inch size and it also has an HD screen that has a 720-pixel resolution for vivid colors and clarity.
One more great point of this TV is that it has a 60-hertz refresh rate which means the image is refreshed 60 times per second on the screen and therefore the picture is more realistic. The item has inbuilt Wi-Fi that provides a connection to streaming services.
All the popular swimming services such as Apple tv, Disney plus, Hulu, Netflix, Prime Video, Sling TV, and YouTube are included. And as we already mentioned before the TV can be controlled using voice commands via the Alexa remote.
The TV in your kitchen should fit in perfectly with your interior and surroundings. Kitchen TVs have many differences from standard models, which is why we decided to devote a separate article to them.
Small kitchens can also have their own monitor – you just need to find a place for it! With it, you can entertain yourself while cooking dinner or dishes every night. Use the TV not just for beauty, but also for a pleasant time even in the smallest kitchen.
FAQ for small TV buyers
1.
Which color TV is preferred for the kitchen?
As we mentioned before, the TV should be combined with the rest of your kitchen or studio interior. But even if all the furniture in your home is in white tones, it's not a good idea to buy a TV in light colors.
Kitchen grease during cooking, steam, dust – all this will settle down on the body and will be firmly established – so you just can not clean the TV! It's best to pay attention to darker models in different colors.
2.
Do you need extra speakers for your TV?
It should be noted that most of the TV shows in the kitchen are simply listened to – you are unlikely to look closely at the screen when slicing cucumbers.
For this reason, it is better to choose TV models with good speakers and stereo system at once. If this option is not possible, it is better to consider installing or buying additional sound amplifiers.
3.
Which TV screen size is considered optimal?
Every kitchen has its own size and free space, on which the permitted size of TVs depends. When it comes to a clear picture and the ability to look at the screen sometimes, a screen diagonal of about 20 inches will suit medium-sized kitchens.
This way you can watch programs without losing sight. If you are going to listen exclusively to what is happening on the TV, the size does not matter.
4.
Where should I put the TV in the kitchen?
In order to avoid having to remove oil from the screen, later on, it is better to avoid the closest proximity to the stove.
It's also not a good idea to place it on the kitchen table. In other cases, you can mount the TV anywhere or on any wall – the main thing is to get the screen in your sight.