We try to lead a healthy lifestyle and carefully watch what products we consume. We avoid eating animals and foods that are poor in nutrients. And all this is great.
But do we often wonder what kind of dishes we use to make these delicious and healthy dishes? Can we wash these or those dishes with chemical detergents? And what are the healthiest dishes?
The dishes are made from a range of modern, safe and not-so-so-materials, each of which has its pros and cons. Added to the confusion is enough of brands that exist in the market, as well as advertising.
Today, most of the cookware sets are made of environmentally friendly materials. Thus, you can check these reviews that contain the best items and detailed information about different types of cookware:
5 Best Copper Cookware Sets Reviews

Cooks of copper tableware are highly acclaimed not only for its unrivalled appearance, but also for the specific properties of the metal. Many professional cooks highly appreciate copper cookware for its uniformity of heating and speed of cooking.

Check the review

7 Best Induction Cookware Sets On The Market

Cookware for induction plates must be made of cast iron or stainless steel. Also today in kitchen shops you can find more modern granite and marble coating, which is not inferior in its qualities and in many ways superior to cast iron frying pans.

Check the review

7 Best Ceramic Cookware Sets Reviews 2020

Ceramic cookware is odourless and chemically neutral, which has a positive effect on the quality of food cooked on it. The only limitation for this type of cookware is the ban on using induction surfaces.

Check the review

7 Best Titanium Cookware Reviews 2020

This type of coating provides the frying pan with greater strength and has essential non-stick properties. The material is dominated by the same polytetrafluoroethylene, with the addition of the finest titanium microparticles responsible for ultra-hardness.

Check the review

5 Best Stainless Steel Cookware On The Market

Universal stainless steel tableware is often loved by professional chefs for its qualities. The composition has chrome and nickel in it, and it is important to know the correct ratio. High-quality stainless steel has the mark: 18/10.

Check the review
This variety will help you understand this article. It gathered the best manufacturers and sets of healthy kitchen utensils.
Our Top Pick
GreenPan CC000675-001



Will never warp, wobble or scratch over time for even cooking, browning, searing and sautéing without the loss of energy or heat.

Check Current Price
Other high-quality healthy cookware:
IMAGE
PRODUCT

GreenLife Soft Grip 16pc

This cookware is made of Thermolon ceramic non-stick, manufactured free of PFOA, PFAS, lead or cadmium.

Check Current Price

GreenPan Lima Ceramic Non-Stick Cookware Set

This cookware doesn't contain any toxic chemicals or persistent pollutants and is easy to use.

Check Current Price

T-fal G919SE64

Ceramic nonstick interior resists scratching and staining. Exceptionally durable dishwasher safe cookware for easy clean up.

 

Check Current Price

HOMI CHEF 10-Piece

This mirror polished copper band set is noble and elegant. It offers fast and even heat conductivity.

Check Current Price

OrGREENiC Diamond Granite 10 Piece

This elegant 10pc Diamond Granite cookware can turn any kitchen into a culinary masterpiece.


Check Current Price

HOMI CHEF 14-Piece 

Crafted from lustrous, brushed stainless steel and featuring clean lines and curvaceous silhouettes.


Check Current Price
GreenPan CC000675-001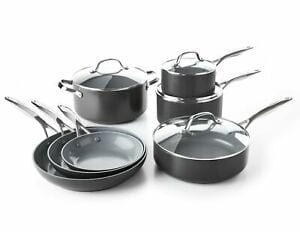 Cookware GreenPan CC000675-001 combines elegant design and transparency with excellent resistance to high temperatures and chemicals.
Besides, this cookware is made of environmentally friendly material, without harmful impurities.
In the production of these dishes, the three-layered bottom is stamped and then soldered to the walls. This technology prevents the formation of air cavities.
It allows the heat to be distributed evenly, speeding up the cooking process and preserving the natural taste of all products.
The dishes in this set are equipped with heat-resistant glass lids with holes for draining the liquid. All handles are covered with non-heating pads made of soft silicone that is pleasant to the touch. Inside there are scales for volume measurement.
It means that you will always cook extremely healthy dishes for your family and friends.
This cookware set is made of silver-colored stainless steel. It has a temperature-resistant glass lid. The special feature of this set is that it has folding handles.
This allows for more cheap use of space in the kitchen cabinet and storing them one inside another. The bottom thickness of the products is increased to 5.2 mm.
This allows not only to cook food with high quality but also to extinguish it for a long time on slow fire.
You may also like: Top 7 Healthy Cookware Sets On The Market
GreenLife Soft Grip 16pc
The second option is the cookware GreenLife Soft Grip 16pc. In the assortment of this brand are different sets of dishes.
Products of the given manufacturer also have excellent characteristics and are in demand among buyers.
The thickness of steel from which the case is made, is 0.8mm, the smallest thickness of the heat distribution layer of the bottom – 5mm.
This is quite enough to cook with the smallest amount of water and oil. The ratio of chromium to nickel in the steel is 18/8.
The products have metal covers, which can be installed vertically on the board of the pot.
This set of dishes is a combination of excellent quality and stylish design. The stainless steel kitchen utensils are robust, durable and versatile.
You can prepare dishes from any product without fear of negative chemical reactions or oxidation. Besides, it is suitable for all types of cookers, including induction cooktops.
The handles on all containers and lids are made of heat-resistant plastic, Bakelite. Their advantage is that they do not heat up during cooking, so you can do without tackles.
They also have stainless steel handles with welded fixing.
There are other lines in the range of this manufacturer. They have identical characteristics but differ in design.
GreenPan Lima Ceramic Non-Stick Cookware Set
The third option – tableware brand GreenPan Lima.
This tableware is made of steel 0.6mm, the thickness of distribution layer – 3.8mm. Steel grade – AISI 304.
This cookware set is suitable for use on all sources of heating, including induction sources. The manufacturer uses quality stainless steel to make two pots of different sizes and a bucket.
The material retains its original appearance for a decade. The dishes are resistant to mechanical damage and deformation even under high temperatures.
They are not subject to cracks and chips. The bottom is reinforced with a disc, so it remains smooth and smooth throughout its entire life.
Products included in this set have stainless steel handles on a welded fastener. The range includes pots with both metal and glass lids.
The multi-layer encapsulated bottom is not deformed during operation. This ensures that food is prepared as quickly as possible and preserves the flavor and health properties of the ingredients.
The transparent pan lid made of strong glass allows you to follow the process visually. All items in this dishwasher set can be cleaned of grease and leftovers from the dishwasher.
When removing impurities by hand, it is recommended that you pour water over them for a while without using abrasive agents.
The set is made of stainless steel with high anti-corrosion properties. The smooth surface of the pots is stain-resistant and easy to clean.
The lids are made of tempered glass and have a metal rim that gives them extra strength. The steam outlet allows cooking with the lid closed without boiling.
The set is suitable for all types of cookers, including induction cookers.
T-fal G919SE64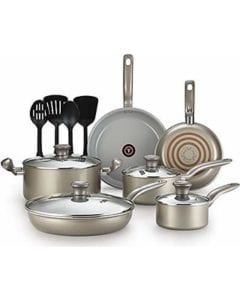 The fourth set included in our review is the T-fal G919SE64.
The set of dishes is cleaned from food residue using warm water and a special product or in a dishwasher.
There is a graduation on the inside of each container to help you measure the right amount of water, ingredients or part of the dish.
The glass lids have a valve designed to release steam. The thermally insulated handles do not heat up during the cooking process. So you can take the pot off the stove without tacking it.
These are stainless steel dishes with color coating. The product meets the smallest requirements in terms of its declared characteristics.
The thickness of the walls is 0.6mm, the total thickness of the bottom is 4.1mm.
The alloy of stainless steel from which objects are made has chrome for extra resistance to corrosion. In the pot, it is convenient to cook both soups and a variety of second courses and in the ladle – vegetables, sauces, as well as boiling milk.
Covers made of transparent heat-resistant glass. They are supplemented with valves for steam removal and allow visual control of the cooking process.
The thick base prevents the food from getting burned. It also ensures that the heat is evenly distributed to preserve its natural flavor and beneficial properties.
The calculated thickness of the heat distribution layer is 3 mm. The ratio of chromium to nickel in steel is 18/8.
Products included in the set have glass lids, stainless steel handles with mounting on rivets. This set can be washed both manually and in the dishwasher.
The manufacturer does not recommend the use of alkaline and abrasive detergents.
HOMI CHEF 10-Piece
Another variant of the set of dishes, distinguished by safety for health, can be found in the range of brand HOMI CHEF 10-Piece.
These are professional cookware with the appropriate design. It is relatively affordable and has good characteristics.
This cookware is made of 0.6mm thick steel. The smallest thickness of the heat distribution layer is 3.1mm. The ratio of chromium to nickel in steel is 18/9.
Among the advantages of this cookware are the following factors. Use of tempered glass for most products. Hardened glass can withstand temperature differences up to 135°C.
Whereas conventional glass can only withstand 70°C.
Special glassware is 5 times stronger than conventional glassware.
Hygienic dishes. All products of this brand are made of glass. This material is completely hygienic. It eliminates the possibility of bacterial growth and preservation on the surface of the cookware. No extra treatment is required other than washing with normal detergent.
Resistant to scratches and chips. The company that produces the dishes gives a 5-year warranty against scratches and chips on the products.
Ergonomics and functionality of the dishes. Most of the dishes are designed so that they can be folded into compact stacks. This feature of the products allows you to save space for storing tableware. You can easily move large quantities of tableware from place to place.
OrGREENiC Diamond Granite 10 Piece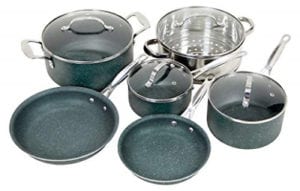 The other item we will talk about is a set of stainless steel tableware. This is a democratic Portuguese brand, well-proven in many European countries.
This cookware makes a good impression with its technical characteristics. They meet all the requirements.
The wall thickness of the tableware is 0.6 mm and the smallest thickness of the bottom is 3 mm. The ratio of chrome to nickel in steel is 18/8.
This is an excellent indicator of healthy dishes. Besides, the whole set has an affordable price and it is easy to buy.
Thanks to the non-stick coating, your food will not stick to the walls of the dishes during cooking and you will be able to easily clean the worktop. Suitable for washing in the dishwasher.
This set of dishes is durable even when used intensively. Chromium in the stainless alloy provides special resistance to corrosion. Nickel provides increased strength.
In order not to get burned, for example, when cooking pasta, there are special spouts for draining the liquid. There are markings on the inner surface of the cookware for accurate measurement of the contents.
The set is compatible with all types of cooktops, including electric and induction cooktops.
These appliances are made of aluminum, which makes them lightweight and easy to use. The tempered glass lids are not afraid of scratches or other physical damage and also keep their original appearance for a long time.
The pots of this brand are quite practical. Handles and lids are made of stainless steel, fixing fittings are welded. This facilitates the care of dishes and guarantees against unpleasant surprises when washing in the dishwasher.
You can also check this: 5 Best Bialetti Cookware Sets Reviews
HOMI CHEF 14-Piece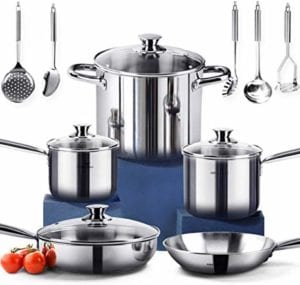 This practical set of dishes is made of high quality shiny stainless steel. This material is durable, stain-resistant, corrosion-resistant and temperature-resistant.
The smooth surface is easy to clean from dirt. The securely fastened handles do not heat up during cooking.
Uniform distribution of heat promotes the slow cooling of food. The ergonomic metal-rimmed lids are made of tempered glass. They also have holes for the steam outlet.
The capsule design of the three-layered bottom consists of an aluminum plate. It is pressed between two stainless steel layers.
Aluminum promotes the accumulation of heat. It ensures that it is evenly distributed on the surface of the pot.
Stainless steel ensures long and reliable service and polishing gives an elegant look.
The dishes are made of high-quality stainless steel. It is not subject to corrosion and perfectly conducts heat. High-quality polishing gives pans an elegant and professional look – just like a real chef.
The aluminum disc integrated into the bottom prevents it from being deformed even during intensive and prolonged use. This versatile cookware set can also be used to prepare dishes in the oven, such as loose porridge or vegetable stew.
An internal measuring scale helps you to dose the right ingredients with the utmost precision. We recommend the use of non-abrasive agents and a sponge to clean the pot and bucket from leftovers. They can also be loaded into the dishwasher, which greatly simplifies care and saves time.
The thick bottom that is not deformed even after a long time and guarantees even distribution of heat to produce tasty dishes. Handles with rivet attachment for safe and secure use.
The non-lid pan is suitable for use in ovens up to 260°C – you don't have to worry about anything during cooking. The cookware can be used on all types of cooktops: gas, electric, and induction.
The food heats up faster and prevents it from sticking. It also retains heat for a long time, allowing food to continue cooking even after the burners are turned off.
FAQ for healthy cookware buyers
How long does the cookware last?
The lifespan and use of cookware depend on the material it is made of.
What is the healthy cookware made of?
A variety of materials are used to make this cookware. The most popular material is steel.
How do I take care of the healthy cookware?
Since most cookware is made of metal, care is no different from conventional cookware.
How is the healthy cookware different from conventional cookware?
This cookware contains the smallest of chemical elements that are harmful to the body.