Are you planning on making your kitchen look airy and spacious or maybe you continuously struggle to keep it neat and tidy? Or maybe you are about to start creating your future kitchen room anew from empty space?
It doesn't matter which situation you have, because this article will bring some light onto this issue and will give you a new perspective on how to save space in your kitchen and make it clean and comfortable at the same time.
The 11 tips below will bring you closer to that perfect kitchen you were picturing to yourself and will help you enjoy its functionality to the fullest.
1. It's all about colors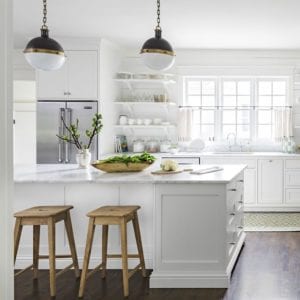 Bright colors tend to visually expand the space, so it might be a good idea to use light-colored furniture and counters if you are the owner of a small-sized kitchen. For example, you can buy a light pedestal table, that will also make your kitchen more beautiful and luxurious.
Give preference to white and light colors of pale shades, since it will not only give more visual space to the place but will also have a calming effect on you and anyone who enters this room. Another trick here is that we subconsciously perceive white colors as neat and clean, so it's a win-win choice.
2. There's no room for it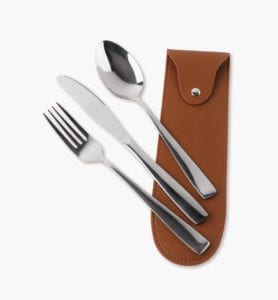 If you want to save space in your kitchen, then you ought to use it wisely and avoid cluttering. Loads of unnecessary belongings lower the functionality of your kitchen and this, in its turn, costs you hours of your time, that you could spend on something much more fulfilling than rummaging through kitchen drawers for needed items.
If this feels relatable, consider adhering to minimalistic style. Restrain yourself from buying anything that's not a real necessity and let go of things that you no longer need by giving or selling them to those, who can still benefit from them.
Being minimalistic will not only save you money and time but will also make your home look much more spacious, clean and comfortable.
3. Open shelves are the answer
Every corner, as well as every empty part of walls, can be used wisely. Consider hanging open shelves on a wall near the space where you cook meals, this will make the whole meal preparing process much easier as you will have the necessary things right above or ahead of you.
You can use these shelves to store bowls and plates, mugs, spices, and even snacks. Besides the obvious convenience, open shelves will make your kitchen look pretty much up-to-date, saving you plenty of space along with it.
By the way, check 21 more tips to save space on your kitchen!
4. Find the right place for everything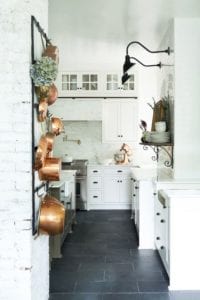 If you want everything to be more organized in your kitchen try to find the right place for things you use regularly. Luckily, today we have plenty of cool ideas on how to better keep the stuff in the kitchen.
For example, you can use separate cabinet shelves to make better use of the space by keeping more tools and foods inside of the cabinets. For the cookware, you can try special organizers designed to store pans and lids. Choose those made of stainless steel to avoid the corrosion of the material and to prolong the service life of the organizers.
And, probably the most frequently used item for organizing kitchen space is a mug holder. You will certainly love it. They come in different shapes and sizes, so it will be quite easy to find the most suitable for your interior and the number of mugs you and your family members use.
5. Minimize the number of kitchen tools
We all have the tendency to keep far more forks and spoons, mugs, and plates than we actually get to use. It is pretty common and we usually don't pay any attention to how many tools are left without the exploit. They can take up plenty of space in your kitchen, making all the necessary tools harder to get to and giving quite a messy look to space.
But don't hurry to get rid of these extra spoons and plates, they might be needed in case you have guests at your place. The thing is, it is better to put them separately from all the tools you and your family use every day, this will spare some space and again will make everything look more ordered.
6. Dirty dishes in the sink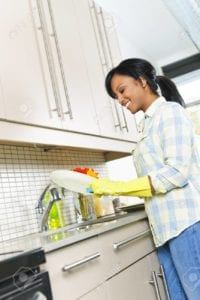 We all love it when the place we live in looks and feels tidy and cozy. When everything is in its place, meals are prepared and the dishes are washed.
How to clean induction cooktop
And what only a few of us like, if not none, is doing housework, especially if you have to repeatedly do it day by day all by yourself. In this case, sharing housework among your family members will also be a good idea.
Make sure that you wash and put away the tools you use at the kitchen straight after using them, it will save the space from being cluttered. For many reasons, whether it's tiredness or lack of time, we all sometimes leave dirty dishes in the sink. It's not a big problem if it doesn't happen too often.
But don't make it a habit, a pile of dirty dishes worsens the mood and make us feel less organized, draining the energy and making us delay the washing until the last moment. No matter how unpleasant the idea of washing the dishes might seem to you, you simply can't avoid it. Don't forget to choose safety kitchen degreasers.
7. Reusables instead of disposables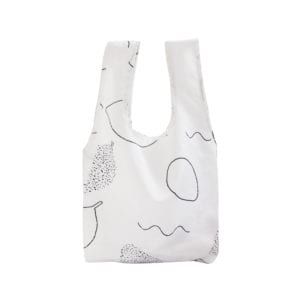 In our era of awakening when humanity finally realizes all the damages it brings to the planet, you've probably already heard about all the advantages, which reusable items have over disposables. They will save both your finances and your kitchen space!
So instead of bringing home dozens of plastic bags each week and letting them preoccupy your tables and drawers, switch to reusable bags for shopping, and those for fruit, vegetables, etc. You can easily order them online or even make them yourself. Moreover, nowadays there are lots of stores producing exclusive and stylish shopping bags.
Speaking about other reusable items, consider using coffee cups, steel or glass water bottles, and lunch boxes. Give reusables a try and you won't ever go back to disposable ones. They are more convenient, environmentally friendly, durable and better looking.
8. Light issue
The significance of light is often neglected when it comes to choosing the type of illumination in a room. However, having the right lighting can noticeably change the way your kitchen looks.
It is essential to ensure that your kitchen has just enough light to meet its size, neither too bright, nor too dark. If you have tall ceilings, make use of them by setting hanging torches, it will make the room look more spacious.
And another tip here is that you don't set large weighty torches, they will make any room look smaller than it actually is, so it's better to preference to something more compact.
9. Say no to bulky furniture
Large furniture pieces are certainly not the right option for a small-sized kitchen. If this sounds possible for you, try to save your kitchen space by choosing a less bulky kitchen unit, smaller fridge and more compact stools instead of chairs.
With the help of earlier introduced tips, you won't have problems with organizing your kitchen tools even in a smaller kitchen set. You can also choose an extendable table, which is a great solution for freeing the space. Along with that, choose compact stools, which can be put beneath the table whenever is needed.
10. Window blinds vs curtains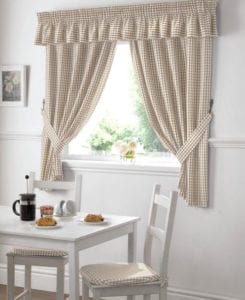 Finding the right way to cover a window can also be tricky. As we already said earlier, it is better to choose something light-colored if you want to visually expand the space. So going for light soft curtains with calm patterns will definitely be a good idea.
Besides, you have the possibility to choose window blinds over traditional curtains. There are plenty of modern variants. They are also a cool easy-to-use option which surely won't take up extra space in your kitchen and will give it a completely new fresh look.
11. Reduce waste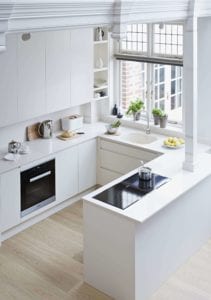 According to an estimate, nearly one-third of the food produced is wasted. This problem is much bigger than we used to think. Our Planet is in an emergency situation. And speaking in terms of saving your kitchen space, this issue also seems to be relatable. Wasted food, cooked or raw takes up a lot of space and adds up work for you.
Thus, it may sound justifiable to consider your meal preparation and grocery shopping style. Try to cook just as much as will be eaten, though it's not an easy task to predict in advance, especially when you cook something brand new.
You will see in no time that sticking to this simple tip will also add to the coziness of your kitchen and will make the question of freeing the space a little easier.