Not so long ago, making tortillas was a task that only a few could crack. But now this handy tool considered the "modern way of making tortillas," has made it easy for anyone to make consistently natural, flat, and delicious tortillas of uniform thickness, without breaking a sweat.
And in the following article, we found ways how to make your tortillas even better! See cool tortilla press hacks and learn!
You may also like: 7 Best Tortilla Presses Reviews
Use your tortilla press as the garlic press
Just peel off the garlic and put it into the tortilla press. Close the press and voix-la! – you have a pressed garlic!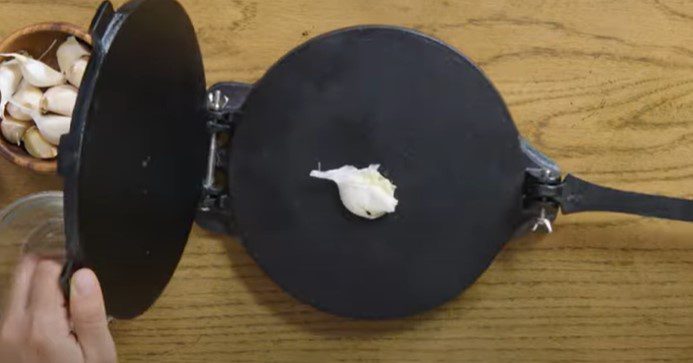 By the way, you can even not peel the garlic, but just put it there in its cover – because the tortilla press will make it squished, it will be so much easier to peel it off.
You may also like: 5 Best Electric Tortilla Maker Reviews
Crushing walnuts
You've probably never thought of this, but crashing walnuts with your tortilla press is way more fun! Moreover, this way you don't have to break out your food processor.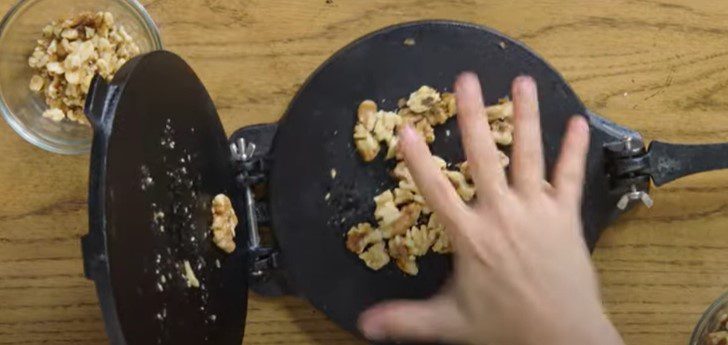 Put a small handful of walnut halves in there, fresh and there you have them! In no time at all you have easy garnish for your oatmeal.
You may also like: 7 Best Panini Presses Reviews
Making homemade dumpling wrappers
You need to make some dumpling wrappers dough (it's super easy, the secret is to use more flour than you think you'll need because this flour is going to dry out all stickiness that is left in the dough).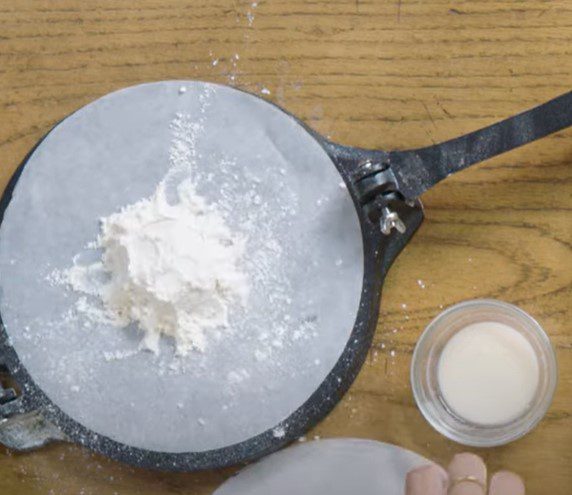 First, you take one parchment and place it onto the tortilla. So you take one ball, making it about a pinball size, place it onto the tortilla, place more flour on it, then place another parchment on top.
Then you need to press as hard as you can because it's a very elastic dough with lots of gluten. When you will open it you will find a nicely pressed sticky dough. Add some filling to the dumplings and there you go!
You may also like: 7 Best Two Slice Toasters Reviews
Super thin sausage patties
With the usage of your tortilla, you can make the perfect breakfast thin sausage patties.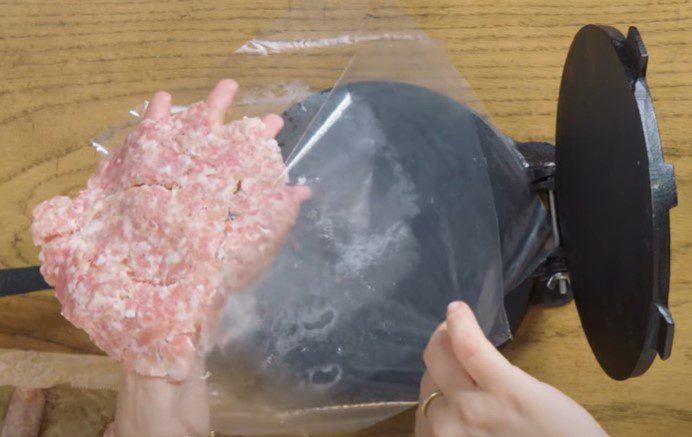 Take some breakfast sausage slices, make 2 of these – just squish the meat out of the casing. Then you'll need a plastic bag that you have snipped the zip top off so that you have 2 sheets like that.
Then take your sausage and place it on top, plop it on top of the second sheet, make a little seal, and then press down.
Then place it onto the hot pan and it will shrink very nicely.
Lifehack with parchment paper
Take a piece of parchment paper and place it onto the tortilla. Then measure the angles and cut out the paper. Then, next time, when you will be cooking your corn dough for your tortillas, place the parchment paper onto the tortilla first and then place the dough itself on it.
Then place another layer of paper on it. This way, you won't have to clean your tortilla press from dough later.
F.A.Q. about the tortilla press
Can I adjust the thickness of the tortilla?
You actually can't, because it's impossible to modify the initial form of the tortilla press.
Can a tortilla be used on a glass-top stove?
Yes, it is safe to use on a glass-top stove.
How much does a tortilla press weigh?
Usually, its weight is just as the regular skillet. It weighs on average 5 pounds, depending on the weight.