Eternal advertising, discounts, and promotions are forcing us to buy more and more kitchen items simply because they cost less, but it often turns out to be broken and uncomfortable when working with them, especially after a long time of use.
Cheese grinders are no exception we have gathered for you eight models that may become unnecessary in your kitchen.
You may also like: 5 Best Parmesan Cheese Grater Reviews
Hand Cheese Slicer Cutter Tools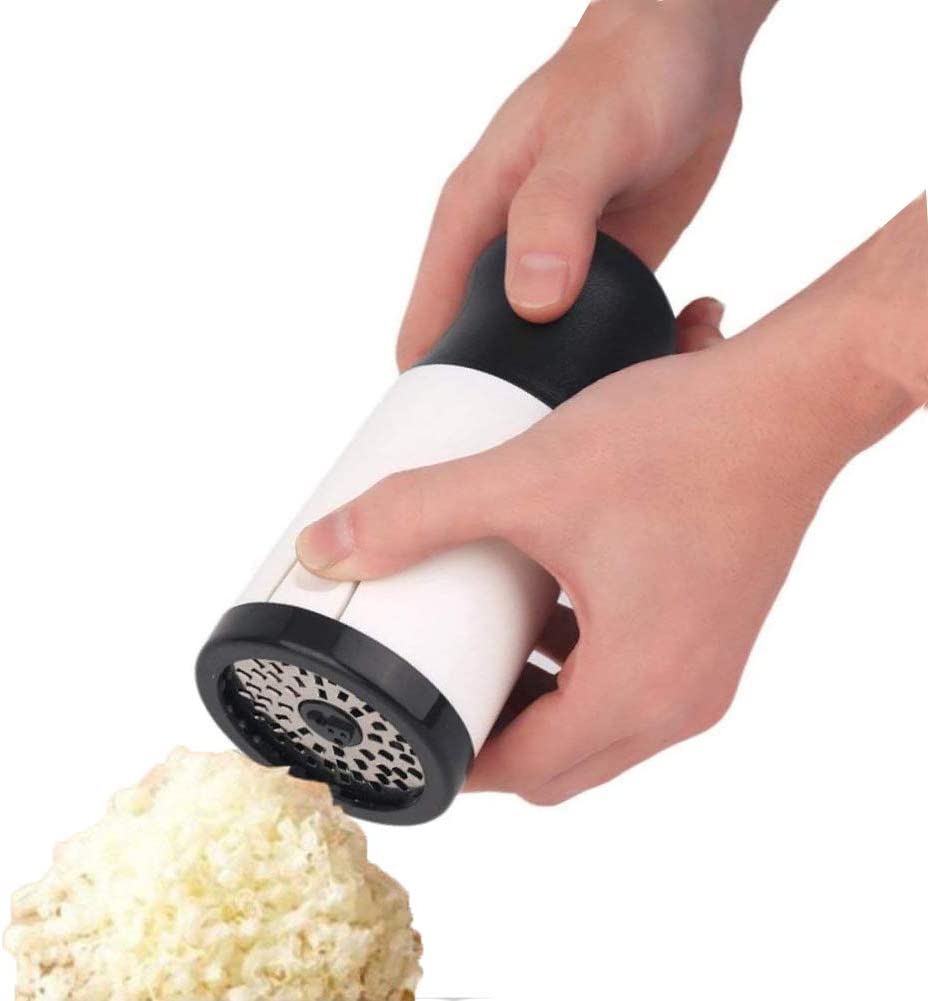 This little grater looks useful, but it's not all that simple. Every time you stick a small piece of cheese in it, grate it, open the grater and continue the procedure again, long and tedious, isn't it?
Separate attention should be paid to the operation of this grater, even the dishwasher can not always cope with the washing of cheese from the inside of the body. Customers often complain about the dull blade and the crackling in the case over time.
But the manufacturer makes a point of stressing that the grater is safe, and it is a safe grater, despite its short-lived.
You may also like: 7 Best Cheese Slicer Reviews
'Forma' cheese grater
If this were not a selection but a top, this rubric would be its leader. It is certainly stylish, but a little useless in its purpose.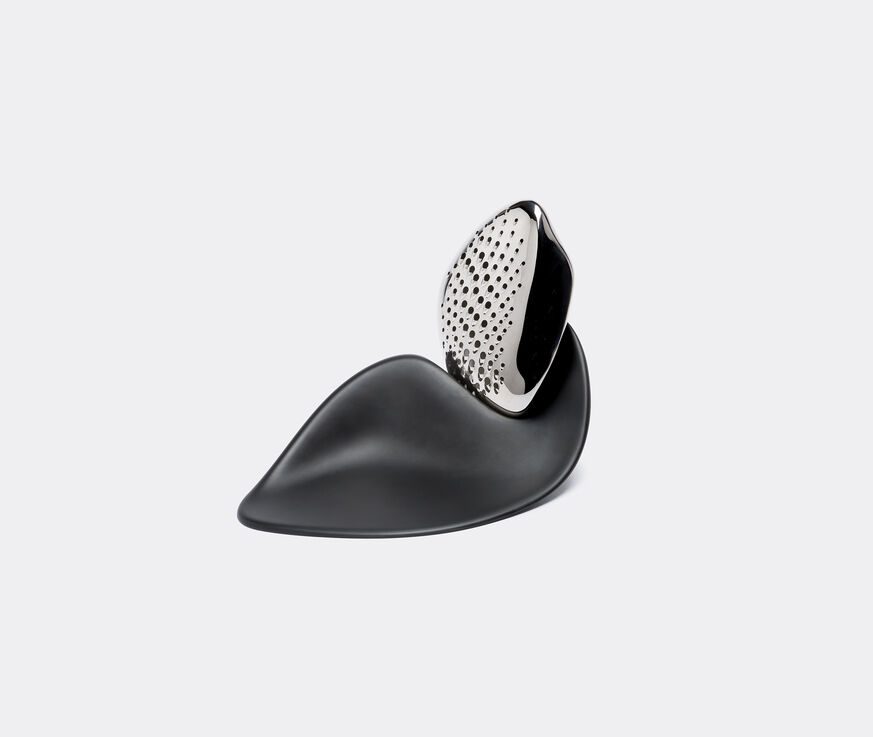 Its cheese grating area is small, but it also reduces it with its shape: thanks to the black wave-like protrusion, the lower part of the grater cannot be engaged, which is frustrating, especially for such money.
Washing it is an ordeal. A dishwasher will refuse it at once. While you grate cheese on it, there is a high probability that the cheese will be not only on the grater but also everywhere around it. This will be especially frustrating if you have a special delicacy on your hands
Dexam Rotary Cheese Grater Set
This grater is from the category of those who buy at a discount but forget. To begin with, it is made from very cheap material, so there is a high probability that the handle of one of these grates may break, or if you do not pick it up.
Some of the attachments in this set you probably won't use, especially if you have a regular grater. Users complain that this grater can grate not all kinds of cheeses, especially hard cheeses like Parmesan.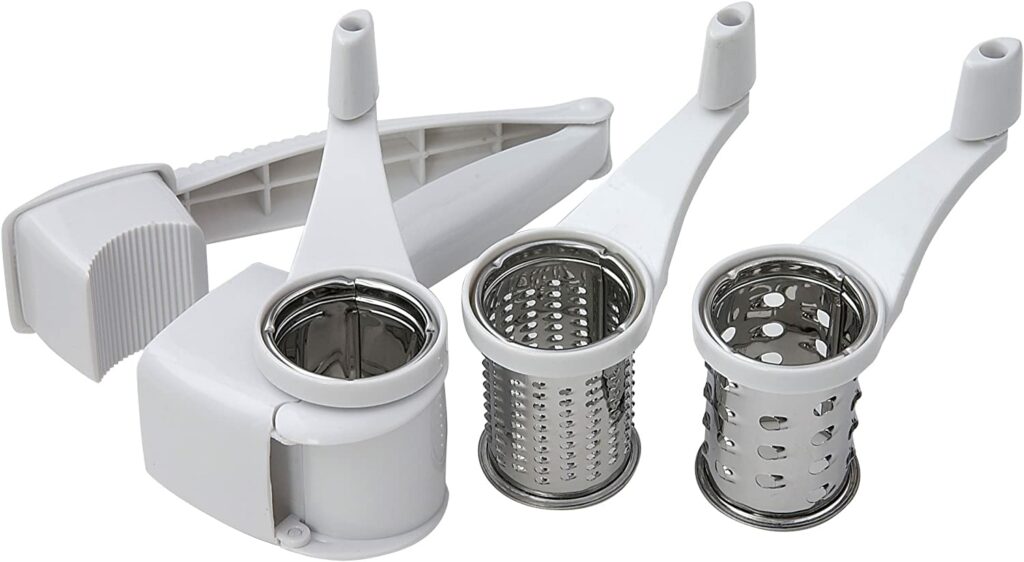 And the main reason why you might not need this grater is the small size of the grater itself, which means you can't comfortably slice a piece of cheese. You'll have to grate it until it fits in this grater. You have to agree, it's uncomfortable.
Zyliss E900011 All Cheese Rotary Grater With Handle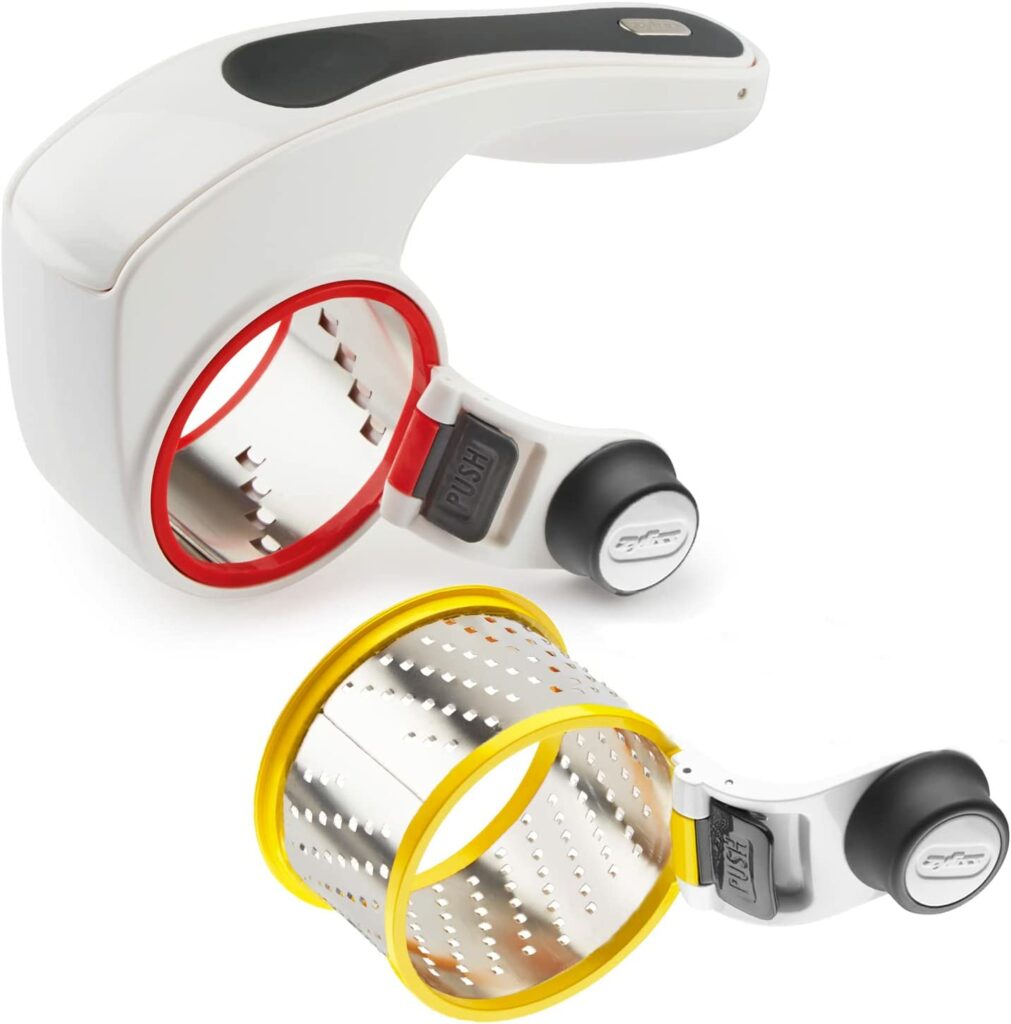 Another grater with an interesting design, but cheap materials that make it rather short-lived, but relatively cheap, which makes it break after some time of use and go to the trash.
This grater is easy to use and very easy to clean, it consists of two parts that fit freely in the dishwasher. Two nozzles are included with this grater, the yellow one has quite a few holes, which takes time to grind, although it can be arranged differently.
Here, too, you can crush the cheese only in large pieces, which is not a disadvantage, but very inconvenient. The body is white and made of plastic, so over time it gets cloudy and stains due to contact with food, which does not always wash off.
You may also like: 7 Best Potato Chip Slicer Reviews
D L D Multifunctional
In general, a universal model that is suitable not only for cheese but also for any other product, although we do not advise grating on it hard products, because then this grater wears out much faster and not the fact that you have it in this case for a long time in the kitchen.
Because the shape blades are quite difficult to wash, it's almost impossible to wash them by hand so as not to scratch, and if you forget it for a couple of hours with the rest, only a miracle will help you to clean it completely.
It is greatly inferior to the universal iron grater in terms of both durability and usefulness, so it can only be an additional attribute in your kitchen, but by no means a universal.
Fullstar All-in-1 Vegetable Chopper, Mandoline Slicer & Cheese Grater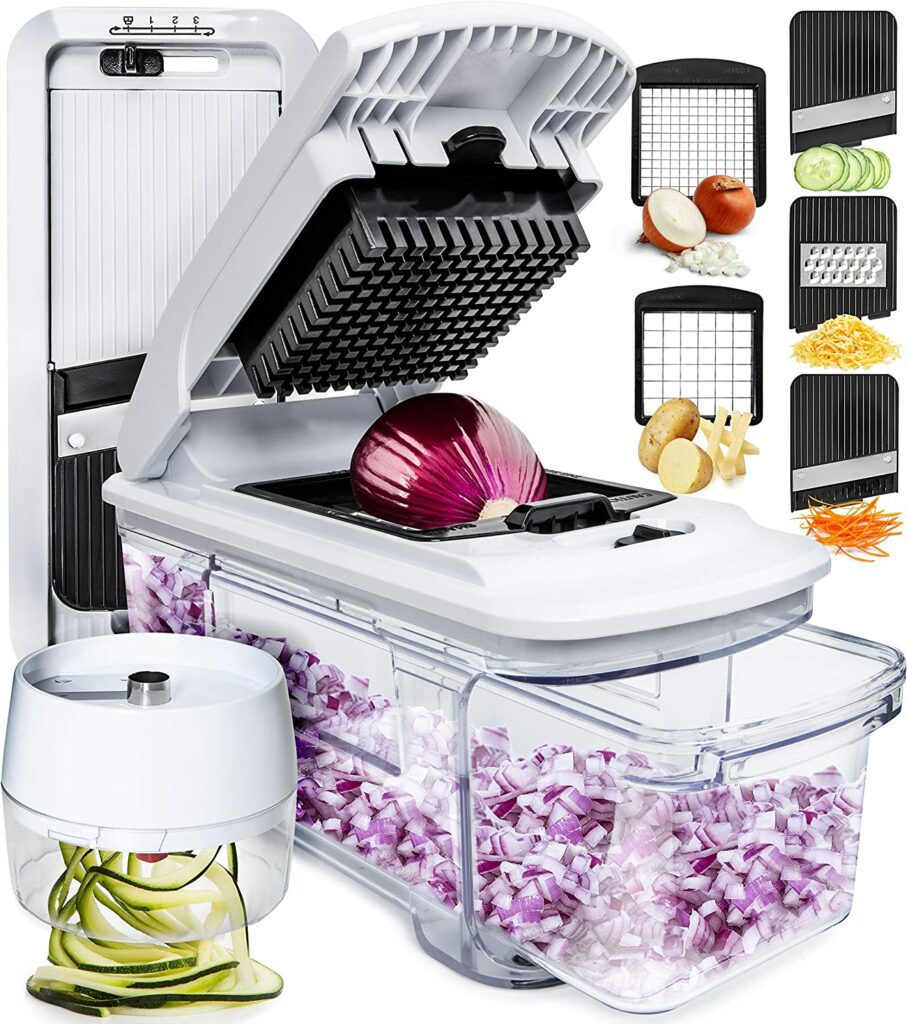 This all-purpose grater is by far the best seller on Amazon's rankings and indeed its package is astounding. If you use all the attachments, it can slice almost anything you have in your kitchen.
But now we're looking at it in terms of a cheese grater. There's a separate attachment for the cheese grater in this appliance, and the first problem with that attachment is that it has a really small footprint: just three rows of steel teeth. The second problem is that because of the sides or the size, the cheese gets scattered everywhere, and not everything fits into the tray under the grater.
Prepara Cactus Cheese Grater
You don't even have to comment on the usefulness of this rubric. We like its design and this grater can be a really fun addition to your kitchen and especially a very cute part of the interior.
But as a grater, this thing is not quite suitable because it is quite small and you can grate very little cheese at a time.
In the process of use, the coating comes off a bit and the cactus becomes not so green, which is quite sad. We do not think that it is suitable for an adult for full-fledged cooking, but children will appreciate the use of such a kitchen accouterment.
You may also like: 7 Best Meat Slicers Reviews
Prepworks by Progressive Flip Cheese Grater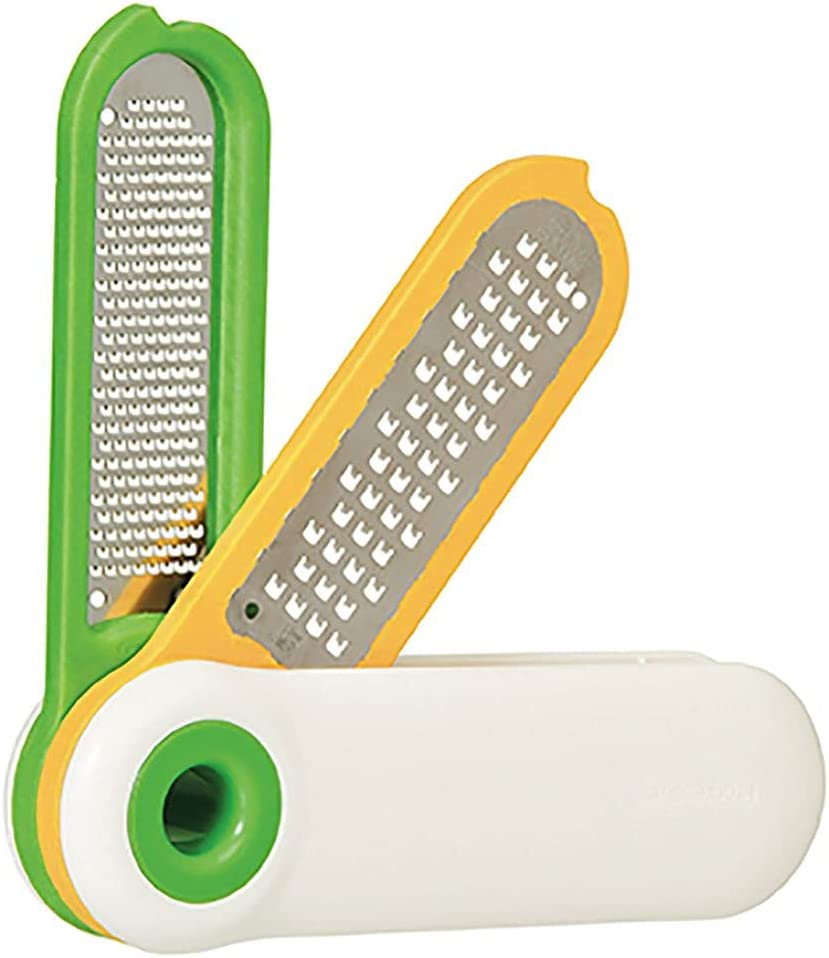 These narrow but rather long grates can fulfill their role not only for cheese but also for grating other products. But the rather convenient design of the two types of grates makes the grating process rather inconvenient.
The piece of cheese you can take for this grater is limited to two inches wide, and all the time you have to grate it you have to keep it weighted, lilo against the walls of the bowl, which is quite inconvenient, considering modern innovations.
The grater itself can grate either small strips or very small ones because of the position of the teeth and size, which is not always necessary.