A bamboo steamer is a rather rare and exotic kitchen appliance. But it is more the positive side since this way you can always surprise your guests by cooking with something they have never seen before. Discover all the benefits that this traditional Asian steamer can bring to your meal.
Bamboo steamers are great because they have a feature to absorb extra moisture, keeping condensation from pooling up under the lid and dripping all over your food. Moreover, it is environmentally friendly, so following the latest trends with an appliance like this will be easy.
Of you want your bamboo steamer to be durable, it must be thick, high-quality reeds and woven together tightly to ensure that they don't unravel. And even though this product is rare, there are some decent items on Amazon that you will find in the article down below.
Image
Product
Helen Chen's Asian Kitchen 4-Inch Bamboo Steamers
A compact classic bamboo steamer, made of of top-quality materials. Perfect for small portions.
Check Price
VonShef Premium 2 Tier Bamboo Steamer with Stainless Steel Banding
One of the most popular items on the market, with steel edges and the set of two pieces
Check Price
HUANGYIFU 7-12Inch Natural 2-Tier Handicraft Food Bamboo Steamer
Large-size bamboo steamer, made from Japanese red-cedar wood, great for bigger portions or cooking 2 dishes at the same time
Check Price
KitchenCraft World of Flavours Bamboo Steamer Basket
2-tier natural woven food steamer, allows to layer up the food, has the 1-year warranty
Check Price
HAPPi STUDIO Bamboo Steamer
A product designed by a famous chef, of the top-quality materials and extra durability
Check Price
1. Helen Chen's Asian Kitchen 4-Inch Bamboo Steamers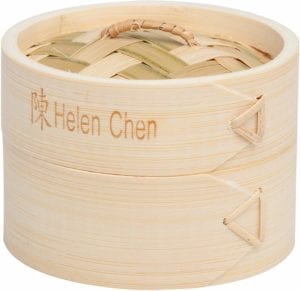 In classic Asian traditions, this is a compact steamer for smaller portions of food. It is a high-quality product, so it promises to serve you a long life. It features sleek, hand-crafted slats of bamboo that are strong and beautifully woven together with wooden pegs (which means there are no metal components that could rust or wear down).
When you close the lid, it fits snugly on top, creating a tight seal to lock in the steam. A standard package of this product includes two items, so they can be stacked together if you want to cook two dishes at once. 2-tiers offer ample room for making a single or multiple servings.
By the way, remember this important thing about the bamboo steamers: they can be washed only by hand, don't put them into the dishwasher.
With this cute and compact steamer, you will be able to cook such meals as vegetables, dumplings, eggs, meat, poultry, etc. Just give it a try and you will see how delicious the food can be when it is cooked ina bamboo steamer.
You may also like: 7 Best Food Steamers Reviews
2. VonShef Premium 2 Tier Bamboo Steamer with Stainless Steel Banding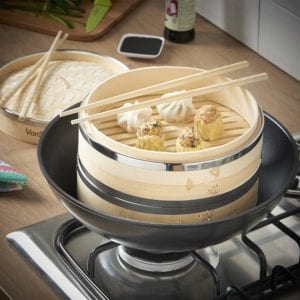 This item is a little more pricy than a previous one, but for sure it's worth the money. If you check it out on Amazon, you can see that it has more than 600 reviews and the main part of them are positive. It has a beautiful design, versatile and durable appliance.
The delicately woven bamboo is both water-resistant and quick-drying, so it won't get soggy or develop any weird smells. The main feature that distinguishes this steamer from the previous one is that this one has the metal rings. But despite some opinions, this feature only makes it stronger and none complained of any rust or wear.
Another advantage worth highlighting in this product is its lid that fits the top perfectly and seals tightly. The separate compartments allow you to cook two different dishes at once. If you decide to order this product you will receive a pleasant bonus of a pair of chopsticks and 50 wax liners.
Just one aspect you should remember about while using this bamboo steamer is that it is quite a fragile construction. Also, the material itself is not that sturdy, so it's possible it is disintegrating over time.
Also, take into consideration that the height of this item is lower than the regular one – think if you're willing to pay that sum of money for a product like this. There are cheaper and higher versions on the market.
3. HUANGYIFU 7-12Inch Natural 2-Tier Handicraft Food Bamboo Steamer
Unlike the previous item, this one is quite a large steamer which will allow you to steam big portions of meals or several dishes at once. This is the three-tier food steamer that offers plenty of space. Moreover, it is made of high-quality material that guarantees its durability and reliability.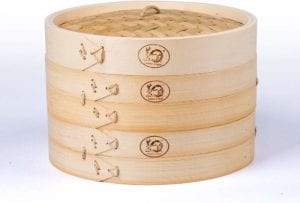 A curious fact about this product is that this one is made from Japanese red-cedar wood. But don't rush to turn it down, because this material is not worse than the original bamboo. Moreover, they have similar characteristics, in terms of being absorbent and preventing moisture from dripping onto your food.
The three tiers are each almost two inches deep, and the cedar puts out a sweet aroma while you cook. And even though this item is bigger in size than the previous two, it is still quite lightweight.
If you go to check out this item on the Amazon, you will see that it has customizable sizes. There are more than 10 variations of sizes and depths of this steamer. Another funny aspect you will find there is that the seller says it is actually made of bamboo.
Not that it is a critical point since as it has already been mentioned before, red-cedar wood and bamboo have similar properties. But in case you are looking for a steamer made exactly of bamboo, then you should go for another item.
A pleasant bonus is when you buy this steamer it comes together in a package with an inspirational oriental recipe to get you started.
4. KitchenCraft World of Flavours Bamboo Steamer Basket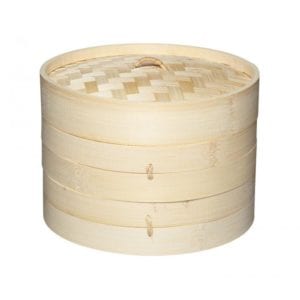 World of Flavours is the brand that specializes specifically in the Asian cuisine and the cookware for that. This steamer is another high-quality product by this company. This 2-tier natural woven food steamer cooks food gently, helping to retain nutrients and flavor.
With this steamer, you can always easily layer up your food in two tiers, then place in a wok over simmering water. An interesting fact about this item is that it actually comes with a 1-year warranty. So in case, you notice that the materials are disintegrating or there is some weird smell, you will get a refund by the manufacturer.
It is an ideal tool for cooking vegetables, fish, rice (just like in the rice cooker), couscous, and dim sim. For a truly authentic feel the bamboo steamer is made from natural, woven bamboo and comes complete with a matching removable lid.
When you hold this steamer you can feel that its construction is robust enough to last at least for one year. By the way, the true high-quality bamboo only hardens its shape when exposed to the steam.
All you need to do is to be careful when you wash it. Don't scrub too strong otherwise, the components might fall apart.
5. HAPPi STUDIO Bamboo Steamer
The most prominent feature of this bamboo steamer is its high-quality materials and durability. Here you will be able to stream your favorite foods in this premium steaming basket that includes the food-grade 304 stainless steel steamer ring.
An interesting part here is that with this item you also will get a bonus which is a reusable bamboo steamer liner. And it's adapter ring prevents the bond steamer from scorching.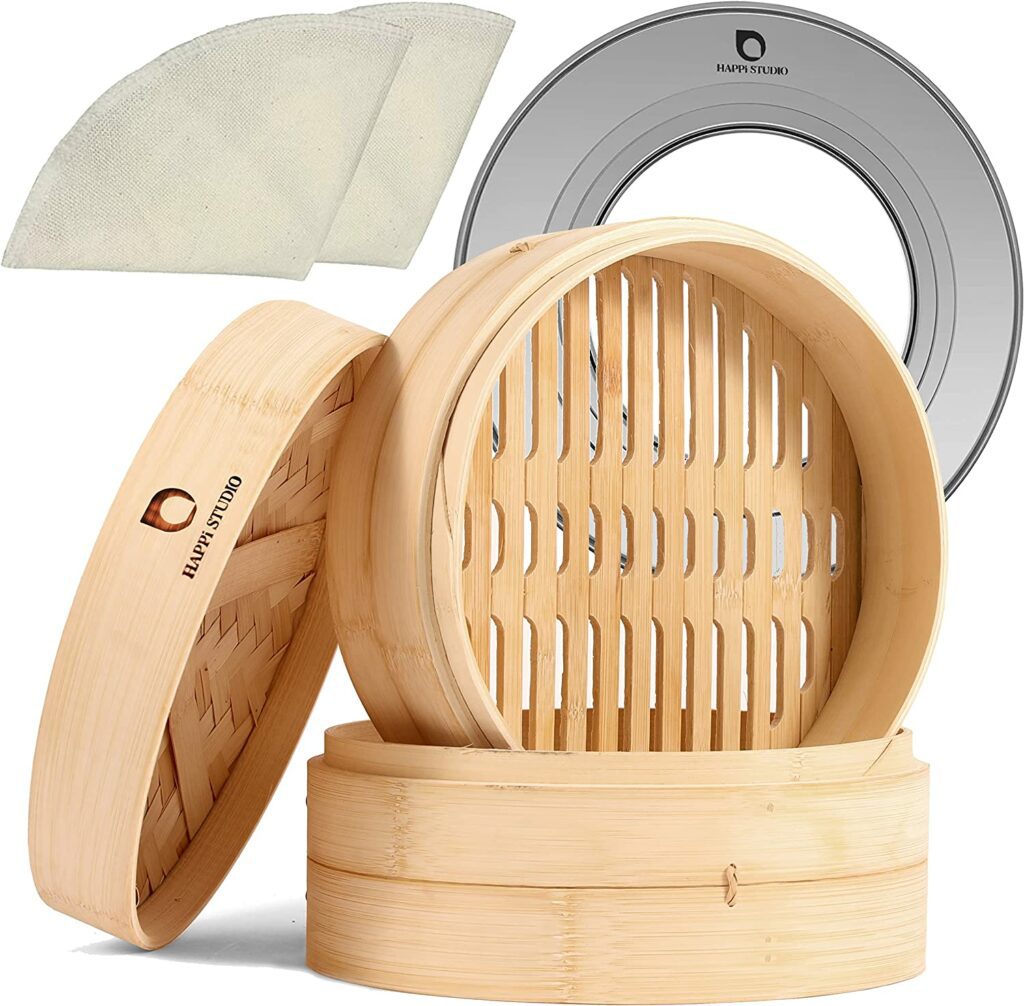 Another prominent feature of this bamboo steamer is its extra depth so you could see more food, starting from vegetables and ending with sticky rice. You can place this adapter ring and dim sum steamer on the pens and parts of any size from 8 inches to 11 inches.
With this item, you will be able to cook one of the healthiest food you ever had. All you have to do is just to feel it with boiling water until it almost reaches the level of the lower shelf and then you will need to place the food into the steamer baskets on a plate or piece of пrease-proof baking paper and then pop the lead on.
By the way, remember that this bamboo steamer is not dishwasher friendly. It's just a perfect option for steaming vegetables like broccoli and other leafy greens. The item comes with a 30-day guarantee.
The Happi Studio bamboo steamer is totally inspired by Japanese and Asian cultures and it's made with respect to the natural environment.
With this item, you will be able to cook the healthiest and most natural foods. The kid also includes the reusable parchment cloth so no food gets stuck in the basket. Therefore this item is so easy to clean.
6. Sur La Table 6" Bamboo Steamer
This bamboo steamer is comparatively small but it will be ideal for preparing small-sized vegetables or predinner dumplings for two. This pint-size version will be a perfect pick for apartment dwellers.
While even standard versions of bamboo steamers can be bulky and overwhelming this one item is so tiny and so easy to handle because it's much smaller in size. It will shoot any typical pan of 10 inches.
The steamer will be suitable for all foods because it's quite sturdy even though it's quite small in size. What is more, it features too tires and it offers you extra vertical space. This feature will make it ideal for ripping up a simple meal for one or small appetizers for two.
This is not the most affordable item in terms of price but the Simplicity of usage of the steamer and its elegant size will beat up that drawback. It's really durable and well-constructed and it can double as a creative serving vessel. Moreover, it is easy to store.
7. Hcooker 3-tier Bamboo Steamer
This bamboo steamer will be a nice option if you need to cook for a large company. It includes three tires, sizes up to 12.12 in and it includes the deeper steamer basket options to fit larger foods. In other words, this is a perfect option for a family or a large group of friends.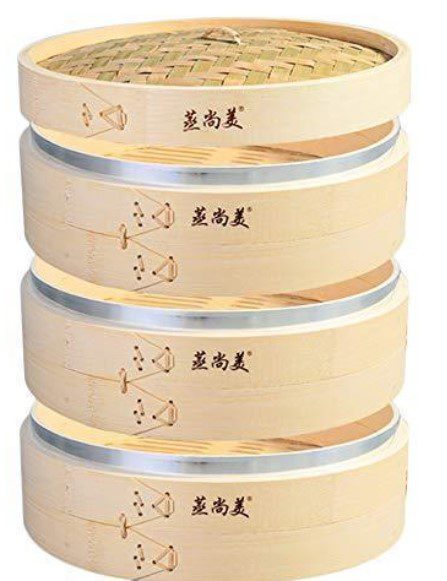 The item offers ample space for big batches of gyoza or fish vegetables. Here you can cook even bread or a dessert bun. It's available in diameters up to 12 in and inversions that include the extra depth so they could fit larger things like Bunches of bok Choy.
The last top layer will be suitable for things dad requires rather light cooking because it's far from the heat source. One of the best advantages of this bamboo steamer is that it is exceptionally durable because it has a seal bending around each tire.
Even though the bamboo steamers are not really handy in case they have the steel banding because this way you cannot hit them up in the microwave, the case of this bamboo steamer only adds extra stability because it's quite large in size.
It also requires more thorough cleaning since sneaky bits of food can get caught in the steel banding. But overall, all the materials used in this bamboo steamer are top quality and it's a great choice for cooking overall.
You can also check: 7 Best Multi Cookers Reviews
FAQ for bamboo steamer buyers
1. Is it necessary to have a bamboo steamer in the kitchen?
No, it is not. But it is a very nice addition to the main set of cookware that you have. Moreover, cooking with a bamboo steamer is one of the healthiest ways to cook the food.
2. Are the bamboo steamers expensive?
As you can see from this article, they're not. So it is another point to buy one for your kitchen.
3. What is the difference between a metal, plastic and bamboo steamer?
There is no big difference in terms of the ending result, it's just about the different techniques that are needed to be applied while cooking with those different types of steamers.
There is a lot of discussion about the differences (if any) between a stainless steel steamer (used with a lid and saucepan) and a bamboo steamer (often used with a wok or other wide-type pan).
There are also electric steamers on the market, but a bamboo steamer is a better choice for those who would rather stay away from plastic, and instead want to opt for natural, environmentally-friendly materials.
4. What should I do if my steamer has disintegrated while washing?
First of all, the first rule of washing the bamboo steamers is that they need to be washed with warm soapy water and in no other way.
And if you feel like the construction is getting weaker while you are scrubbing the steamer, then try to apply less pressure until it is too late. In cases the steamer has already fallen apart, there is pretty much nothing that you can do.
Warning: don't try to stick back the steamer with a glue. It will have the negative effect of the meal you are going to cook in the streamer next time.