When it comes to buying your own cookware it turns out that the materials of which it is made are truly essential. There are several kinds of those materials and they all possess different properties. Moreover, some of them bring the benefit to our health and some, on the contrary, can cause serious damage to it.
If your choice is the carbon steel you have nothing to fear – it's completely safe for humans health. Carbon is similar to aluminum in terms of thermal conductivity. However, unlike aluminum, it poses no health threat to your cooking. It is a very long-lasting material, and, what is more important, comes at an affordable price.
One of the great features of carbon steel pans is that if it is seasoned well, it will develop a naturally non-stick interior. The food won't stick to it and the following cleaning is easy.
One more aspect that makes carbon stand out from other materials is that it is a little heavier. Some people might say it is a disadvantage but in most cases, it just adds solidity to your set of cookware. Besides, it is compatible with all types of cooktops, including induction ones.
This review will be dedicated to the cookware made of carbon steel, or, being more precise to the pans of this type. Check out which brands are now making the best ones on the market today.
Image
Product
Price
De Buyer 5610.32


Classic carbon steel pan
Contains bee wax element in coverage
Variety of sizes

Check Price
Mauviel 35365124


Has 5 various sizes
Compatible with all cooktops
Long handle

Check Price
Matfer


Affordable
Compatible with all cooktops
Long handle

Check Price

Lodge Pre-Seasoned Cast Iron Round Frying Pan




Comes in 3 sizes
Unusual shape
Pre-seasoned coverage

Check Price

World Cuisine A4171424




Long pre-heat
Oven-compatible
Compatible with all cooktops

Check Price

Garcima La Ideal




Has two handles
Large single size
Compatible with all cooktops, ovens and grills

Check Price
Lodge 12 Inch Seasoned Carbon Steel Skillet


Comes in 3 different sizes
Pre-Seasoned
Compatible with all cooktops, ovens and grills

Check Price
1. De Buyer 5610.32 Mineral B Element Round Frying Pan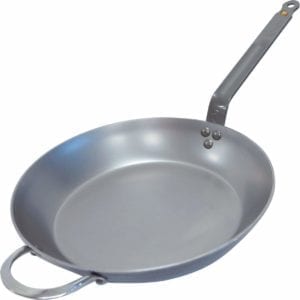 Even from the name of this pan, you can understand that it is made of the 100 percent iron. Actually, this pan is sold in 6 different sizes which is very convenient since everyone can pick up one that suits their specific needs.
One distinctive feature of this item that you can notice immediately is that it has a long handle. It is triple riveted in place for safety (so you won't get burned). Even during the cooking, the handle stays cool. For the pans which come in larger sizes, the brand also provides helpers for better comfort.
This carbon steel pan is PTFE and PFOA free. Apart from that, it contains such element in its coverage as Bee Wax. This natural chemical-free component is used to treat the De Buyer pans to make them oxidation resistant. Also assisting in seasoning, you can be sure that this pan has nothing but the best to offer you.
The price for this pan varies depending on size and the smallest one costs twice less than the biggest one.
You may also like: 7 Best Ceramic Frying Pans Reviews
2. Mauviel 35365124 M'Steel Black Steel Frypan

The pan that we have here is similar to the previous one. It also comes in 5 different sizes and it has a long ergonomic handle as well. The handle is triple-riveted in place for durability. Moreover, it is a break-proof handle since it is made of heavy gauge iron.
The pan is compatible with all types of cooktops. Moreover, it is an oven-safe pan. Another cool feature here is that it has a non-stick top which tends only to become stronger over time. This one will not rust or oxidize, because of being treated with beeswax.
It has a relatively high price but it is worth it. This is that kind of a rare product that has all positive reviews on Amazon. It would serve great as the main cooking pan for your household. The only difference to the previous model is that it doesn't have the helper for the handle in bigger models.
3.
Matfer – Pan Round Restaurant 300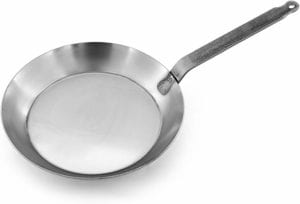 A great affordable option for those who don't want to spend lots of money on a frying pan but still want to get a decent quality. Focused on ergonomics and function, this pan is bound to meet your every need. Even better, to make for a very precise fit, it is sold in nine sizes.
Besides, it is compatible with all the cookstoves. Even on induction, the flat, magnetic base will make proper contact for efficient cooking. This pan isn't really non-stick cookware, but it requires a very slight seasoning. Just like in the previous case, its surface is pre-seasoned from the factory with non-stick elements to improve this feature.
What is more, this pan is manufactured with thick gauge carbon steel and this fact guarantees its durability. The ergonomic handle is also of a thick gauge to make it durable and safe to use.
By the way, this brand, Matfer, concentrates specifically on the professional cookware and produces only high-quality products that are safe for the health and matches the requirements of the best world's restaurants.
4. Lodge 30.48 cm/12 inch Pre-Seasoned Cast Iron Round Skillet/Frying Pan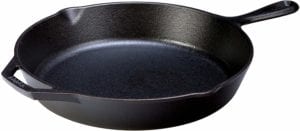 You can see from the first sight that this pan differs from the previous ones, at least with its unusual shape. In fact, it is one of the best items on Amazon, and it is even marked as "Amazon's choice". It comes at a relatively high price, but let's see what does it have to offer to us in terms of quality.
This carbon steel pan is manufactured with 12 gauge carbon steel. This thick gauge makes it very resistant and is excellent for use in either a commercial or home kitchen. It is compatible with all the cooktops, including induction ones (since it is also manufactured for professional use).
It has a pre-seasoned coverage. The seasoning consists of the natural soybean oil. Thus, you can use your Lodge pan as soon as you take it out of the box (just don't forget to rinse it with water before).
This item comes in 3 different sizes. It also has two subtle side lips which enable simple and mess-free pouring. It is more or less dishwasher safe but hand washing is definitely better. And before you wash it, let the pan cool down naturally. After each washing, rub a small amount of veggie oil into the surface so it won't lose the moisture.
The only moments that some people may not like is that the bottom of this pan is not flat, it's convex. And the interior surface is slightly rough.
5. World Cuisine A4171424 Heavy Duty Carbon Steel Frying Pan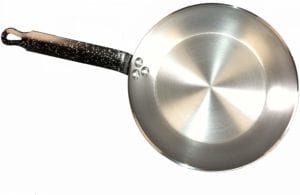 The next pan on our list looks totally different, but it doesn't lose on thickness compared to other products. Just like it is stated in its name, the Paderno pan features heavy-duty carbon steel. This gauge makes it very durable, while not compromising on excellent heat conduction.
By the way, the last fact you should keep in mind since it takes a long time this pan to pre-heat. It is convenient when you are cooking any dishes that require the blending of several layers of ingredients. The thickness makes it warp-resistant even when exposed to very high temperatures.
Moreover, this carbon steel pan is versatile and it is compatible with the oven, as well as with any kind of the cooktop. This is probably our winner in the category of the diversity of sizes – it comes in 10 different sizes so you will definitely find something suitable for your kitchen.
Each one of these has tri-riveted handles for your safety. And better still, the handle remains ever cool for your convenience at all times. The price is another advantage of this product. For its quality, it is very affordable. Clean with hot water and apply a light coat of oil and it is ready to go again. You can also clean it in the dishwasher.
Unfortunately, with the larger models of this pan no helpers for the handles are provided.
6. Garcima La Ideal Polished Steel Paella Pan

For those who like flatter pans with two handles and who usually cook for a big family – this is a good choice. This item can be used in a variety of ways and it stands out from others on our list because of its unusual design. This 15-inch pan is large enough to hold a lot while also being able to cook smaller quantities as well.
With this pan, you can cook up to 8 portions at a time. No matter which cookstove you have at your house – it's compatible with all of them. Structured to be the best paella pan, you can use this to cook anything you like.
A distinctive feature of this pan is that it can be placed onto a grill to make your chicken, fish, or other culinary delights. And as you have already guessed, it is totally oven safe as well.
This pan is a little thinner than all the previous models which makes it more comfortable in usage. And don't worry that the handles are short and therefore can heat up during the cooking process – in fact, they stay cool all the time because of their material.
What is more, the design of this item allows it to be used as the part of the table serving, like a plate that you place on the table. Its durability is, however, one of its strongest points, is its commercial-grade carbon steel construction.
A pleasant bonus that you will get if decide to order this pan – a free recipe book. By the way, the pan comes at a great price. Another aspect that distinguishes this pan from others – it comes only in one size. You can call it a disadvantage, but it is quite a specific kind of a pan, made mostly for family use.
You can also check: 7 Best Splatter Guards Reviews
7. Lodge 12 Inch Seasoned Carbon Steel Skillet
At the end of our list, we have another cool product by Lodge. This brand actually does make the top-quality cookware – if you check it out on Amazon you see that they all have mainly positive reviews. This pan is similar that we have already observed, but it has a little bit of different design and shape.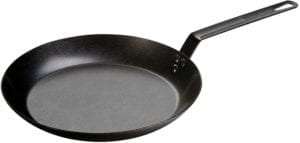 It comes in 3 different sizes. Like all cast irons by Lodge, this skillet comes pre-seasoned, so you can start cooking with it right away, but of course, more seasoning will make it more nonstick and more rust-resistant.
It is a broiler-safe pan and it requires a high level of heat for the best browning or searing. It is made of 12 gauge carbon steel which is a high-density metal with excellent heating properties allowing the pan to heat up quickly but also retains the heat needed for even cooking.
And like the most of carbon still, it will be getting more and more non-stick over time. This one can be used on all cooktops, including induction, as well as on a barbecue grill or campfire. The surface is safe to use with metal objects, such as knives, forks, and spatulas.
Moreover, it promises to be durable easy to care for. Just remember that it is not suitable for the dishwasher – it requires the hand wash with immediate drying after. If maintained correctly, it will last a lifetime. Of course, items by Lodge are not the most affordable ones, so be ready to invest money if you decide to buy it.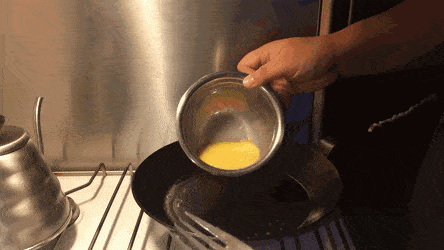 FAQ for carbon steel pans buyers
1. Can a carbon steel pan used over the open campfire? 
Yes, it can. You just need to check it in the description of the pan's properties if it can be used over the grill. Two items on our list, such as Lodge and World Cuisine are compatible with grill and oven.
2. Is the bottom of these pans flat? 
Not always. You should pay attention to that before buying the skillet. For example, on our list, Lodge and Garcima skillets don't have the flat bottom, but other highlighted brands do.
3. Can I place this pan to the oven at high temperatures? 
In most cases yes. But it is always better to read the description in advance. Thinner items may have some restrictions.
4. Why is my carbon steel pan sticky?
Make sure you wash it properly. It is always better to wash there pans by hands, with the soapy water and dry with a towel afterward. Another reason for your pan is sticky may be the quality and type of the oil that you apply after washing. Or try to apply oil to the surface regularly, so the layer is thick and constant, maybe its loss makes the surface sticky.
5. How do I cook with carbon steel? 
Carbon steel pans don't require any special treatment while cooking. The only rule that you should follow is to wash manually this pan before the first use then dry it with a towel. Repeat this procedure after each usage. With the first usages apply some seasoning on the surface. Over time, the pan will gain non-stick properties and you won't need seasoning anymore.