Do you use a hand mixer in your kitchen? Most probably you do. Even if it happens quite rarely, you still need it from time to time. Moreover, if cooking is your hobby – you probably use mixers more frequently than others. And, probably, you know that the way how the consistency is going to be mixed almost fully determines how the dish eventually is going to look and taste.
There are many bad hand mixers on the market. Most people underappreciate their significance and then have a bad time while cooking. It is complete torture when you cannot mix, let's say the mass for the pancakes right, and you have to spend so much time just to more or less blend the consistency.
Luckily, the modern market offers fine options, energy-saving and effective. With the items, demonstrated below, you can throw your old hand mixer and get the tool that will serve you a long time.
Image
Product
Breville Handy Mix Scraper Hand Mixer


One of the most luxurious (and most expensive) mixers on the market;
Medium weight; 
Materials: steel
Has a digital screen and timer

Check the price
Braun HM5100 MultiMix Hand Mixer


One of the most popular items on the market
Average price
Weight: light
Materials: plastic

Check the price
Hamilton Beach 6-Speed Electric Hand Mixer with Snap-On Storage Case


Budget mixer

All the attachments can be placed into the storage case
Weight: light
Materials: plastic

Check the price
KitchenAid KHM512ER 5-Speed Ultra Power Hand Mixer


Powerful engine
Average price
Weight: light
Materials: plastic

Check the price
KitchenAid KHM926CA 9-Speed Digital Hand Mixer


Multi-usage, lots of attachements
Average price
Weight: light
Matreials: plastic with steel sttachements

Check the price
KRUPS GN492851 Hand Mixer


Extremely quiet
Average price
Multi-functional
Weight: heavy
Materials: steel

Check the price
Cuisinart HM-90BCS Power Advantage Plus 9-Speed Handheld Mixer with Storage Case


Higher price
Powerful, with sensor speed controller
Fast
Weight: average
Materials: steel
Has a storage case




Check the price
1. Breville Handy Mix Scraper Hand Mixer
If you check this product on Amazon you will see that it's marked as "Amazon's choice". This is proof that this item is chosen and loved by numerous consumers and you definitely have a reason to trust the manufacturer. From the outside, it reminds of a flattening iron a little bit, but this association won't do anything with the way it works.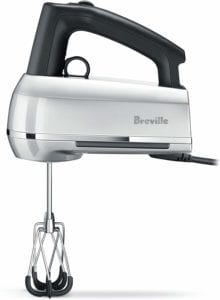 When you hold it in your hand, it is quite heavy – 2 pounds and 8 ounces, but its because the overall construction and design are top-level quality. It comes in the set together with the attachments: two balloon whisks, two dough whisks, and two rubberized beaters.
This item is especially perfect for mixing if you want to make a dessert. One cool feature here is that this hand mixer actually has the light on the bottom (who knows, maybe you need to see what you are mixing in details). But overall, all these features will contribute to the effectiveness of the process.
Another cool feature here that you don't expect to find in the budget mixers is the count-up timer on the digital pad. Remember how many times you had to switch on the timer on your phone while mixing something and how hard it was to turn it down when your hands are all covered on cooking dough? With this mixer, it's not a problem anymore.
This digital pad is also indicating the speed level. It has a separate scrolling dial for adjusting it between the nine different speeds. To eject the beaters, simply pull the trigger under the handle. The storing of this hand mixer is also a whole no-worries story.
It comes together with a detachable storage case to hold all of the attachments together as one unit until the next usage of the mixer. Besides, it beats are rubberized, which makes the whole mixing process fell more smooth and quiet. A pleasant bonus here is a multi-functional mixer.
All in all, if you are a person who loves to cook, and you are using a hand mixer very often, you won't regret buying this item. It's a serious investment into the kitchen appliance, but for all the comfort and productivity it brings, it's worth the money.
You may also like: 7 Best Food Processors Reviews
2. Braun HM5100 MultiMix Hand Mixer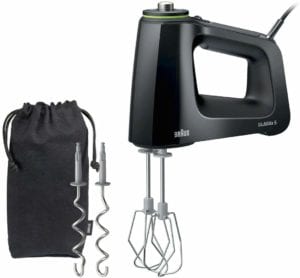 This item that we got here is not already as expensive as the previous one, but still, it is also one of the best in its category.
The first impression you will get if you compare these two products is that Braun HM5100 is much lighter than Breville (see above), and it weighs a little over 2 pounds.
The weight is distributed in a way that doesn't feel too heavy during use. Its handle is also rubberized, which will prevent spilling.
Besides, Braun HM5100 has a smart speed control dial, using which you will be able to choose between 9 different speeds. You can speed the mixer up or slow it down at any moment.
You can understand from the name of this product that it is possible to be used in various situations. In the set coming together with this mixer, you will find two dough hooks, two beaters, and an accessory bag. And despite the fact that the weight of the article is rather light – its construction feels heavy and sturdy.
Another distinctive feature of it will probably be appreciated by people who don't like to bother about their electronic's safety that much – its the sliding cover that protects the holes where the attachments are inserted. This protects the engine from moisture and dust, making this a mixer that's made to last.
Braun HM5100 is perfect to use when you need to whip cream since it's incredibly effective in gradually going from the lower to higher speeds. When you need to gently mix any gentle ingredients and you don't want to make the mess, then the lower speeds of this appliance are perfect.
This device works at a power of 350 watts. It's one of the first advantages of this product since it means it consumes 50 percent less energy than other mixers.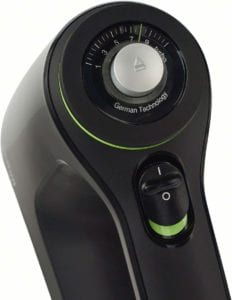 One essential feature of it which is highlighted by the manufacturer is called "Half the mixing effort". Those people who previously struggled with holding a mixer in their hand for too long periods of time, it's the thing for you.
Here we have a smart mix technology and it delivers an in-line vertical motor design that shifts the weight of the mixer out of your hand and into the bowl.
That's why you won't feel any physical tension while using it. And don't worry that you need to be extra careful when washing this mixer.
Actually, the washing of it takes the minimum time because it has a completely sealed system. This way, nothing will get inside the housing. Moreover, all its components can be safely placed into a dishwasher machine.
Switching between the speeds is also easy – you are able to do it with the hand that you are using this appliance. All you need is to touch the button on the handle.
Concerning the practical usage, you can mix pretty much everything with it. For example, if you want to make homemade bread or pizza you can use the sturdy dough hooks. Its dual-action design creates volume for light, airy mixtures.
By the way, if you browse on the Internet looking for the best hand mixers reviews you will probably be constantly coming back to this one. It really has a reliable reputation among its users.
3. Hamilton Beach 6-Speed Electric Hand Mixer with Snap-On Storage Case
In case you are planning to spend as little money as possible on a hand mixer and still get a decent product you should check out this item. Hamilton Beach is the brand famous for its high-quality products and this mixer proves its status once again.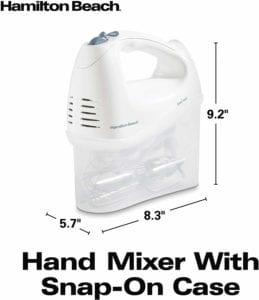 Hamilton Beach Mixer works at 250 watts of peak power. And even when it is meant to be a low budget product, it is still suitable for mixing almost all the substances, making competition to the most expensive items on the market.
When you grab this mixer it has a moderate weight for a hand, with its 2 pounds and 3 ounces. As for the packaging, it comes in the set together with a storage case to hold the following attachments included with the mixer: two twisted wire beaters, a milkshake mixer, two dough hooks, and a whisk.
Hamilton Beach Mixer has 6 speeds (which is quite decent for a budget mixer as well), along with the "burst" function which provides the boost of power at any speed. The "burst" button is placed next to the main speed controller.
Under the handle you will find the trigger, using which you can release the attachments. Apart from that, it has a built-in groove. It lets you rest the hand mixer over the bowl, so drips go where they belong and not all over your countertop. A great engineering decision.
And even if you think that this description sounds too good for a budget mixer, well, here is the pinch of salt that you've been looking for. First of all, the handle is made of plastic here so it is not that comfortable in usage like previous mixers and you will certainly feel more vibration with this one.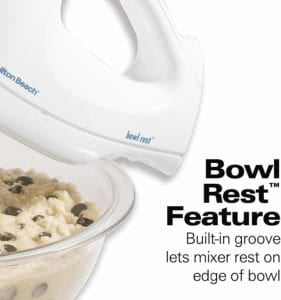 Another thing is this mixer's manufacturing holes are not protected. Be careful when you are mixing watery substances because if the liquid sinks inside the appliance can simply stop working.
However, let's get back to the advantages. Another big positive feature of Hamilton Beach Mixer is that it has a super-convenient snap-on case, where you can keep all its attachments.
A great solution for people who don't like spends time on organizing all those things because here you can just wash the attachment and throw it back in the case.
And, lastly, another pinch of salt (remember, this is still a budget product). The overall coverage of the mixer is plastic. It means you should pay extra attention to all its particles and especially attachments to see if there are no scratches or disintegration.
The latter may be especially dangerous if the pieces end up in your meal. So before and after mixing hard substances remember to always check the wholeness of this mixer. 
But, luckily, situations like these are rather rare.
4. KitchenAid KHM512ER 5-Speed Ultra Power Hand Mixer
This item belongs rather to a middle-price category, nevertheless, you can find it on Amazon at a great sale. This appliance is like a compromise for those who don't want to invest much money into a single mixer but still want to get a qualitative product.
The reputation of this brand is decent and its products are known for their ability to perform the tasks at full capacity.
To start with, this is probably the lightest mixer on our list with only 1 pound and 13 ounces weight. This means you can hold it in your hand while mixing for longer periods of time without feeling any tiredness. This is a great option if you're looking for a straight-forward, no-frills mixer.
Both advantages and disadvantages (depending on the taste) of this mixer by KitchenAid is that its set of attachments includes only two beaters.
This can actually be a positive aspect for those who don't use the hand mixer too often. Seriously, do you need all those specific attachments when in reality you're not going to use anything but classic beaters? Then why pay more, right?

KitchenAid KHM512ER has only 5 speeds, but what is interesting here, there are multiple speed strengths for various kinds of mixing. For example, it is capable to whip the creme in a little bit longer period of time compared to those mixers, which come with whisk attachments.
Another pleasant bonus of this mixer is that it comes in a great variety of colors so you can choose whatever you like. Apart from that,  here you can lock the cord into either the left or right side of the mixer so you can approach ingredients from any angle.
The button for removing the attachments is placed on the handle. The beaters of this mixer are totally safe to be placed into the dishwasher.
Pay attention to how conveniently the speed button is placed on the handle. You can easily choose the speed and, using another button, set the level of power for it.
By the way, one more curious fact about this mixer is that unlike al the previous models this one is produced in the US. The power consumption here is lower than in other models, but take that into considerations, because it may be then not enough to whip some hard products.
5. KitchenAid KHM926CA 9-Speed Digital Hand Mixer
This mixer would be the winner in the category "the best multi-usage". This is a digital mixer that includes 9 speeds. It's one of the most expensive items on this list, though its price still less than $100.
Just like the previous mixer, this one is also quite lightweight – around 2 pounds. Its handle is still made of plastic, but this time it has a specific shape, making it easy and safe to grip this mixer. There are also two rubberized buttons on the handle for controlling the speeds.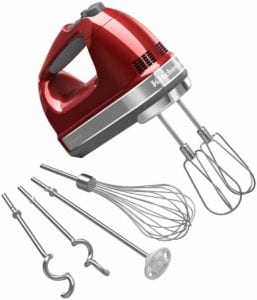 Each time you increase the speed, the light indicator which is placed on the handle changes the color letting you know how fast it is.
KitchenAid KHM926CA has a sleek design and stainless steel attachments which include, two dough hooks, one whisk, two beaters, one blending rod, and an accessory bag to hold them all together. Moreover, it is one of the fastest mixers on our list – the creme will be whipped in only 90 seconds.
The lower speeds of this appliance have also no drawbacks – you can safely mix flour without making a total mess around. Although this mixer is a significant price jump from its 5-speed counterpart, its added levels of speed and accessories make for nice additions if you're looking for a multi-functional mixer.
Because the set of attachments of this mixer is rather wide, you can always find something suitable for the substance you are going to mix.
It is important to note, that KitchenAid KHM926CA is recommended for those who like to cook and who frequently use mixers. Otherwise, it's dubious that you need to spend that much money on a mixer you are using just a couple of times a month.
The only drawback of this mixer is that its buttons are placed not very comfortable on the handle. Being more precise, they are too close to each other thus there is always a risk to miss and switch the wrong button. It's not the end of the world, however, over time this imperfection can get really annoying.
6. KRUPS GN492851 Hand Mixer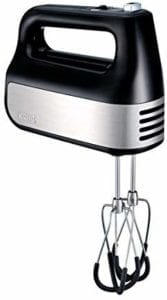 In case you are a person who hates the noise and loud sounds you need something quieter. And if you think that hand mixer cannot be like that, you're wrong! This is the KRUPS GN492851 Hand Mixer and it will be the perfect solution for those who have newborn children at home or just want to cook in a calm atmosphere.
This item weighs around 2 pounds and 9 ounces – that means you can hold it in your hand for a moderate period of time. Moreover, it has an incredible price for all the possibilities that it brings. This mixer has 10 speeds, and this is the fastest-working item on the whole list.
What is more, it has the turbo boost option which will help to increase an already high speed. But what really sets this machine apart is the silicon-beaters, which help to eliminate noise and avoid scratches on your cookware. In addition to the beaters, this mixer includes two dough hooks and one whisk.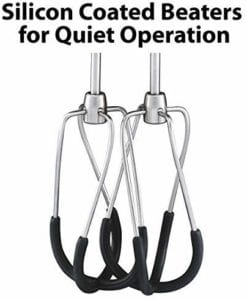 And just like the first product that we had on our list (Breville Handy Mix Scraper Hand Mixer), this one also has a digital screen on the handle. It indicates the current speed level, it has the time, so you don't need any extra appliances to count the exact amount of seconds or minutes that you must be spent mixing the substance.
The only small aspect which is even hard to be called a drawback is that the mixer doesn't switch from speed to speed as fast as other items on this list. It still provides all the basic characteristics of a top-level hand mixer costing twice less.
Because this mixer is so quiet, it is a great option if you like to cook when your friends come over. It will give you the possibility to talk with other people and mix something at the same time.
The main material of this mixer is stainless steel, which gives KRUPS GN492851 a luxurious feeling. All the attachments can be placed into a dishwasher machine.
7. Cuisinart HM-90BCS Power Advantage Plus 9-Speed Handheld Mixer with Storage Case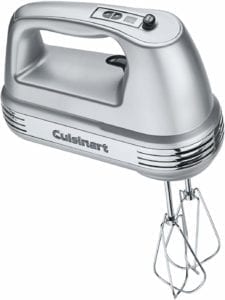 Maybe you hear about this brand for the first time, but here you got all the reasons to trust. It is a company with a good reputation which is known for its top-quality hand mixers. You can understand it even from the price category – it is not the cheapest item around (and at the same time, not the most expensive one).
This hand mixer is a classic Cuisinart style with a brushed chrome exterior and a powerful motor of a 220-watt. As a bonus, it's BPA free. Moreover, the price is justified here by the wide set of attachments which come together in a package: two dough hooks, two batter beaters, a whisk, and a rubber spatula.
We already had a mixer with a case on your list, but Hamilton Beach was a budget option. Here you have a decent high-quality product which is a serious investment for those who love cooking.
One innovative design feature here is that it has a sensor speed controller on the handle. The mixer also feels lightweight in the hand and, what is more, it is extremely easy for maneuvring.
And just like a previous item, this one also comes with a digital screen, where the speed level is indicated. The higher settings are very powerful and great for whipping cream, however, the lower settings could be more manageable. A lower speed setting would help in preventing food splatters.
This mixer is also an optimal solution for the people who always lose something because here it is possible to quickly put all the attachments in a case and fix the case to a mixer. Here you go, all the parts are in one place. The mixer is made of high-quality steel materials.
However, there is a disadvantage that this mixer may have. If you decide to buy it, pay attention to the warranty and try to get the full coverage. There are too many complaints from its users that sometimes this mixer suddenly stops working or works too slow after a certain period of time.
You can also check: 50 Must-have kitchen gadgets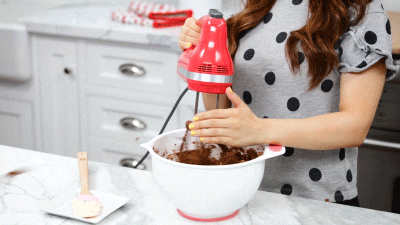 FAQ for hand mixers buyers
1. How can I find out, which functionality of a mixer do I need? 
Mostly, it depends on the frequency of your usage of the hand mixer. If you are using it once in a month or even more seldom, mixing some soft substances, like eggs or creme, then you don't need a super-powerful mixer.
If you are cooking basically every day following complex recipes, then you buying a power-consuming mixer is a positive investment. However, before buying a powerful mixer, check out the voltage of your socket. You don't want to burn the engine of the mixer just because you didn't have enough electricity supply, do you?
2. Which beaters are better – steel ones or silicone ones? 
Probably, steel beaters are the best ones – simply because they are harder. Thus, they can whip and mix effectively any consistency and do that quite fast. Beaters covered in silicone are good for mixing cremes, but that's pretty much it. Moreover, when dipped in the hot substances they can make toxic emissions.
3. Does the brand matter? 
It depends on your personal preparations. But in the industry of hand mixers, it is rather yes, than no. It is always better to look for some reliable and famous brands, since they appreciate their reputation and try to make higher-quality products plus their client service usually works better. Apart from that, cheap mixer are always made of plastic which is not the most durable material.
4. Which speed should I start mixing something?
That is a very important aspect to know – never start mixing with middle or, worse, high, speeds. This you are risking to break the beaters or the mixer itself, make tons of splashes or lose control of your appliance. Always start with a lower speed in order to see how the process is going and increase the speed gradually.