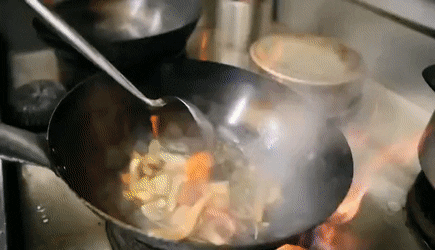 A carbon steel wok might be not the most popular kitchen tool in the world, but it is 100 percent underrated. Having it in your kitchen actually gives you lots of advantages. Whether stir-frying, steaming, smoking, deep-frying, or even baking, a carbon steel pan will help you add fun to your cooking while adding flavor to your food at the same time.
The distinctive feature of this tool is that it has a deeper bottom and looks like a half-pan that allows the food not to fall over. Moreover, frying usually required hight temperatures and carbon is the perfect material to sustain these conditions.
In addition to wok burners, you can also use the other types of pans, that are collected in these reviews:
7 Best Granite Rock Pan Reviews

Ware with granite coating is characterized by increased wear resistance. It is based on polytetrafluoroethylene, which is responsible for non-stick properties, in combination with micro-particles of marble or granite. The latter provide the product with additional hardness and durability.

Check the review

7 Best Carbon Steel Pans Reviews

Tableware made of carbon steel is only slightly inferior to cast iron in terms of functional properties, slightly worse absorbing and distributing heat. But it weighs less and is cheaper. This practical kitchen utensil has been undeservedly left out just because it requires gentle care.

Check the review

7 Best Omelette Pan Reviews

These pans allow you to cook with little or no fat. So, you can enjoy healthy cooking, as well as being a well-balanced pan and without causing your food to burn and that horrible burning smell.

Check the review

5 Best Cast Iron Skillets 2020

Pans of this type have the ability to warm up much better than other types of dishes, spread over the whole area and keep warm for a long time. This promotes better roasting of food that is "languishing" in this pan.

Check the review

7 Best Ceramic Frying Pans Reviews

The non-stick properties of this ceramic frying pan are so high that it can be cooked without oil or with a minimum amount of it. And a quality product serves a very long time if it is properly cared for. The non-stick properties will last up to five years.

Check the review
Carbon steel wok is a great kind of tool to cook food for your whole family. Because of its size, you can just combine all the ingredients together in a pan and the whole cooking process will take you around 20 minutes. That's what the Asian cuisine is known for – the easiness and swiftness to make.
Our Top Pick Carbon Steel Wok
| Helen Chen's | | |
| --- | --- | --- |
| | This is a versatile and affordable wok, that comes in several variants with a lightweight bamboo handle | Check Current Price |
Other great carbon steel woks: 
Image
Product
Joyce Chen J22-0060
A professional wok with ergonomic properties
Check Current Price
14 Inches Carbon Steel Wok
A top-quality won pan with the round bottom and the helper handle
Check Current Price
731W87 by Craft Wok
Traditional Chinese heavy-duty wok pan
Check Current Price
Sur La Table 21-9969
A won that is easy to maneuver and that is perfect for high-heat cooking
Check Current Price
Red Elm
A round-bottom wok perfect for grills or open fire cooking
Check Current Price
Origins 91-0021
Affordable and easy-to-maintain wok perfect for everyday use
Check Current Price
1. Joyce Chen J22-0060 Flat Bottom Wok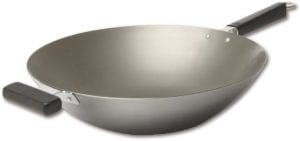 And this is the wok of a size that surely will allow you to cook for your whole family and more. This is a flat-bottomed type of wok. Along with that, here you will find an ergonomic phenolic handle that stays cool and fits well in your hands allowing you to toss your food and take control of your pan.
It is extremely useful to have the helper with the handle because this way you can provide the stability for your pan. And because there is a loop on the handle itself, this flat-bottom wok will be easy to store.
The material itself is very ergonomic, so you don't have to use large quantities of electricity or gas each time you cook with it, because the pan maintains the heat thus requiring less energy.
The only thing you should keep in mind that like any other kitchen tool made of carbon this one requires constant seasoning before using for an optimal cooking experience.
Another cool point of having this pan is its easy cleaning. The protective coating on your wok must be removed before the first use. For that, fill your pan 1/2 to 2/3 full with water. Boil for 5-7 minutes. Pour the water out of the wok. Be sure to immediately scrub with hot soapy water and a scouring pad. Scrub vigorously inside and out, rinse and wipe dry.
You may also like: 7 Best Wok Burners On The Market
2. 14 Inches Carbon Steel Wok with Helper Handle
For those who are new to carbon steel woks, note that this is a different kind  – with the round bottom. This will be more suitable for electric or gas cooktop.
Apart from that, it is made using unseasoned heavy carbon steel which allows for speedy, even distribution of heat when preparing your meals. The pan is available in two variants – 14 and 16 inches.
The handle itself is made of the wood, as well and the helper. There is also a negligible small spot in the middle which prevents the pan from completely sitting on a flat surface making it more stable. The flattened diameter approximates to 6 inches. Moreover, if you want to use this pan on the induction range, that's possible.
In addition to that, this pan provides not only the even distribution of the heat but also equal and slow cooling. And just like in the previous item, the seasoning before the first session os usage is required here. Also, take into consideration that this is a not budget item.
3. Big 16 Inch Heavy Canton Style Hand Hammered Carbon Steel Wok (Round Bottom) / 731W87 by Craft Wok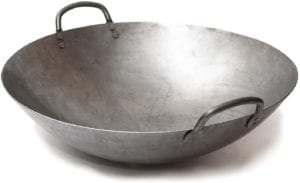 For those who are looking for the best hand-hammered carbon steel wok, then this pan from CraftWok could be a good choice. You can see that its design differs from all the previous items, featuring a traditional canton style with a small diameter rounded bottom.
Originally, this pan is meant to be used on the open fire. Obviously, it's a perfect tool for cooking Chinese dishes, deep-fries, steam, smoke, as well as preparing different types of soups. It is a heavy and big pan so you can cook for all your friends and family.
It has a smaller diameter and a round bottom. By the way, because of the second feature, it won't work on the electric cooktops. Also, when in use, remember that the handles of it are made of carbon steel as well, so they will get hot – don't forget to wear baking gloves.
Among all the variants presented this one is probably the closest to the traditional wok pan.
4. Helen Chen's Asian Kitchen 14-inch Carbon Steel Wok Stir Fry Pan with Bamboo Handles

This is a pan by famous cookware brand Helen Chen's. If you check this item on Amazon you will see that it is available in several versions, including one with the lid. Moreover, there are different sizes and even designs of this pan. Everyone can choose their specific product. In addition, this is quite an affordable item.
Chen's Wok is made using heavy-duty carbon steel to give you years of stress-free cooking. This pan is made of the materials traditional for making wok cookware. Another significant feature of it is its handle. As you can see it is made of bamboo, it is lightweight and sturdy at the same time, making the transportation of the pan easier.
Its handles are made of heat-resistant natural wood. Also, take a note that this wok pan is made of the 16 mm gauge carbon that guarantees the even heat distribution. Because this pan is so huge, it will be easy for you to cook the meal for a big group of people – in case you have a party or family dinner.
Storage of the pan is easy thanks to the loop on the handle, which allows you to hang it when not in use. Aside from having a lid, the pan also comes along with stir-fry spatula, and a recipe booklet, making it stand out. Moreover, unlike the previous item, this one is recommended for usage with electric and gas stoves.
The Concentric grooves provide fast, consistent heat distribution and speedy heat recovery for better cooking. Moreover, the maintenance of this pan is easy as well. As always – seasoning before using, simple washing with a sponge of a damp cloth.
5. Sur La Table Professional Carbon Steel Wok 21-9969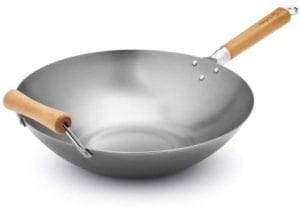 This time we have a wok pan that was designed for the high-heat cooking. From the outside, it has a very classic look, being 14 inches in size and made of carbon steel. The materials used allow the even distribution of the heat for better frying results.
Unlike the previous items, this one is lightweight and easy to manipulate. For optimal results on different cooking surfaces, the pan maple handle allows you to stir, and flip easily adding fun to your cooking. This feature makes this pan for preparing such meals as deep-frying tempura, stir-frying meat or veggies or steaming with bamboo inserts.
Along with the traditional aspects of cooking, this pan combines modern technologies what means it is compatible with all kinds of cooktops – electric, gas, induction. Ad unlike most of the carbon steel wok pans, this one you can utilize with metal utensils.
The handle is made of maple wood. The only issue with that is that it doesn't have a helper. By the way, don't forget to season it before each usage thus preventing the rusting.
6. Pre-Seasoned Carbon Steel Pow Wok Red Elm Traditional Hand Hammered Stir-Fry Pan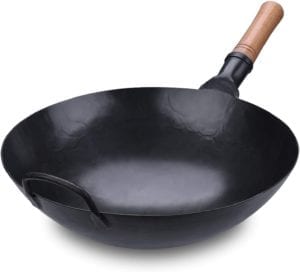 As you could notice, seasoning is a big thing in the case of the carbon steel pans. But with this item, you will forget about this headache. It already comes pre-seasoned. Moreover, this wok pan is extremely easy to maneuver. However, one remarkable thing is that it has the round bottom which means it's not suitable for electric cooktops.
The pan is designed using superior carbon which gives you optimal cooking experience. The handle is heat resistant with a wooden helper which provides users with safe stirring and minimizes any chances of flipping. This is more of a traditional version of a Chinese pan that will make the atmosphere to your cooking process.
It's ideal for the open fire or a grill. Apart from that, you should put some effort into maintenance. After each use remember to dry the water droplets with a cotton cloth or dry it with a small fire to improve the service life and no rust. Moreover, this pan is marked as "Amazon's choice".
You can also check: 7 Best Splatter Guards Reviews
7. Origins 91-0021 Natural Caron-Steel 14-Inch Wok
One prominent feature of this carbon steel wok pan is its design in the form of a bowl with a still flat bottom. The last feature makes this item extremely convenient and compatible with all kinds of cooktops. Another feature that distinguishes this pan from others (and not in a very good way) is its plastic handle.
Moreover, this wok pan has a hanging ring for easy storage. For better cooking experience, the carbon steel material offers a rapid, even conduction and excellent temperature retentiveness. So feel free to cook any Asian dishes which require the usage of the high heat.
The carbon steel material, that this pan is made of, has non-stick properties and doesn't require high maintenance. Moreover, it's a great pan for everyday use. Here, however, the seasoning is also required before the first use.
FAQ for carbon steel wok buyers:
1. So, how do you season a non-stick carbon steel wok?
To season your non-stick carbon wok:
Wash your non-stick pan with soapy water.
Once your wok is dry, lightly rub vegetable or canola oil onto the non-stick surface.
Heat the oiled frying pan over medium heat on a burner for about 1-2 minutes.
Once the pan cools down, wipe any excess oil from the wok with a paper towel and you're good to go.
Afterward, the non-stick surfaces of the carbon steel wok require just a quick sponge out to rid them of residue. However, you can repeat this seasoning process every once in a while as desired.
2. Is carbon steel cookware safe? 
Carbon steel cookware is safe to use for cooking or baking since the material of construction is iron and carbon. Iron is a safe material for cookware and carbon has the same characteristics as Iron. This is a natural material without added harmful and toxic coatings.
3. How do you cook with a carbon steel wok? 
First, take a napkin, dip it into the oil, or pour the oil onto the surface of the pan and rub it all across the surface with the napkin. Rub thoroughly, so the oil is covering literally all the frying surface. Then but your pan on fire and wait until it is heated up and the oil starts vaporizing. This cycle is recommended to do around 3 times.
After that, you will see that your wok is turning brown. It means it has some impurities on the surface. Well, in most cases it's not critical, just make sure you clean it better the next time. Then, when the wok is heated up. put what you want to cook into it. Don't forget to add even some more oil during the frying process.
4. What happens if you don't season a wok?
Because most new woks are an untreated metal surface, if you did not season it before using it, any food you cooked on it would probably stick like crazy, even if you used lots of oil. That's why you need to pre-season the wok before usage with the oil. Even if the higher parts are scraped off by a spatula, the pores are still filled with this coating and food will not stick.
5. What can I cook in my carbon steel wok? 
Basically, anything that requires a deep-fry: potatoes, chicken, shrimps, vegetables, risotto, and even Asian soups.