Tomato juice is the most common basis for sauces, soups and much more. At the moment in any supermarket, you can find grated tomatoes of different quality and price.
But if you are committed to good nutrition and natural food, we think it would be ideal for you to produce tomato juice yourself. You should agree that those tomatoes that are already in the packaging can be stored for too long – this indicates the addition of preservatives or other elements.
In search of the perfect tomato strainer, you may have many questions – how do you use it? How do you choose the best model? How do they differ from each other? We will try to answer all these questions in our article.
It can be difficult to find information from various open sources – the data either differ or are too unclear. So, what criteria do you need to consider when thinking about buying a tomato strainer?
The price.
Even if you are a fan of natural tomato soup, you should not buy the most expensive model on the market. Of course, the price may vary due to the quality of materials and ease of use, but medium price tools are just as good.
If you do not plan to produce tomato puree on a huge scale and buy tomato strainer at home, it will be quite an inexpensive device with manual control.
Material.
The best choice in this category is stainless steel. Such a tomato strainer is less susceptible to rust and damage, as well as will last you a long time.
You can also find cheaper models made of plastic, which are slightly inferior to metal counterparts. But it should be noted that for regular use, it is better to use steel.
Versatility.
Perhaps you think it is silly to buy strainers exclusively for tomatoes. In theory, you can use such a strainer for many other products, fruits, and vegetables – all you have to do is pick more juicy fruits.
You have to remember that strainers are designed for mash consistency – for example, if you want to make mashed potatoes, you can easily use them.
Size.
One important parameter for storage and use is the size of the tomato strainer. If you have a small kitchen, it is better to look at compact appliances or those that can be easily disassembled after use. Larger models – such as juicers – are better bought for constant use or multi-purpose use.
Our Top Pick
OXO Good Grips Food Mill


Three disks for different textures
Compact folding legs
Perfectly peels

Check Current Price
Other great tomato strainers
IMAGE
PRODUCT

Ball freshTECH HarvestPro Sauce and Salsa Maker

Juicer and strainer in one for better handling of vegetables.

Check current price

Roots & Branches 811957010154 VKP250 Johnny Apple Sauce Maker Model 250 Food Strainer

Simple device made of plastic and stainless steel.

Check current price

Tomato Mill Squeezer Masher Press by O.M.A.C.

Simple metal device with rubber mounts.


Check current price

Mirro 50024 Foley Stainless Steel Healthy Food Mill Cookware

Pot with sauce preparation tools.


Check current price

RSVP International Endurance (FDML) Food Mill

Device for manual use with 3 nozzles.


Check current price

Weston Stainless Steel Food Mill (61-0101-W)

A food mill that can hold all seeds of tomatoes.


Check current price
1. OXO Good Grips Food Mill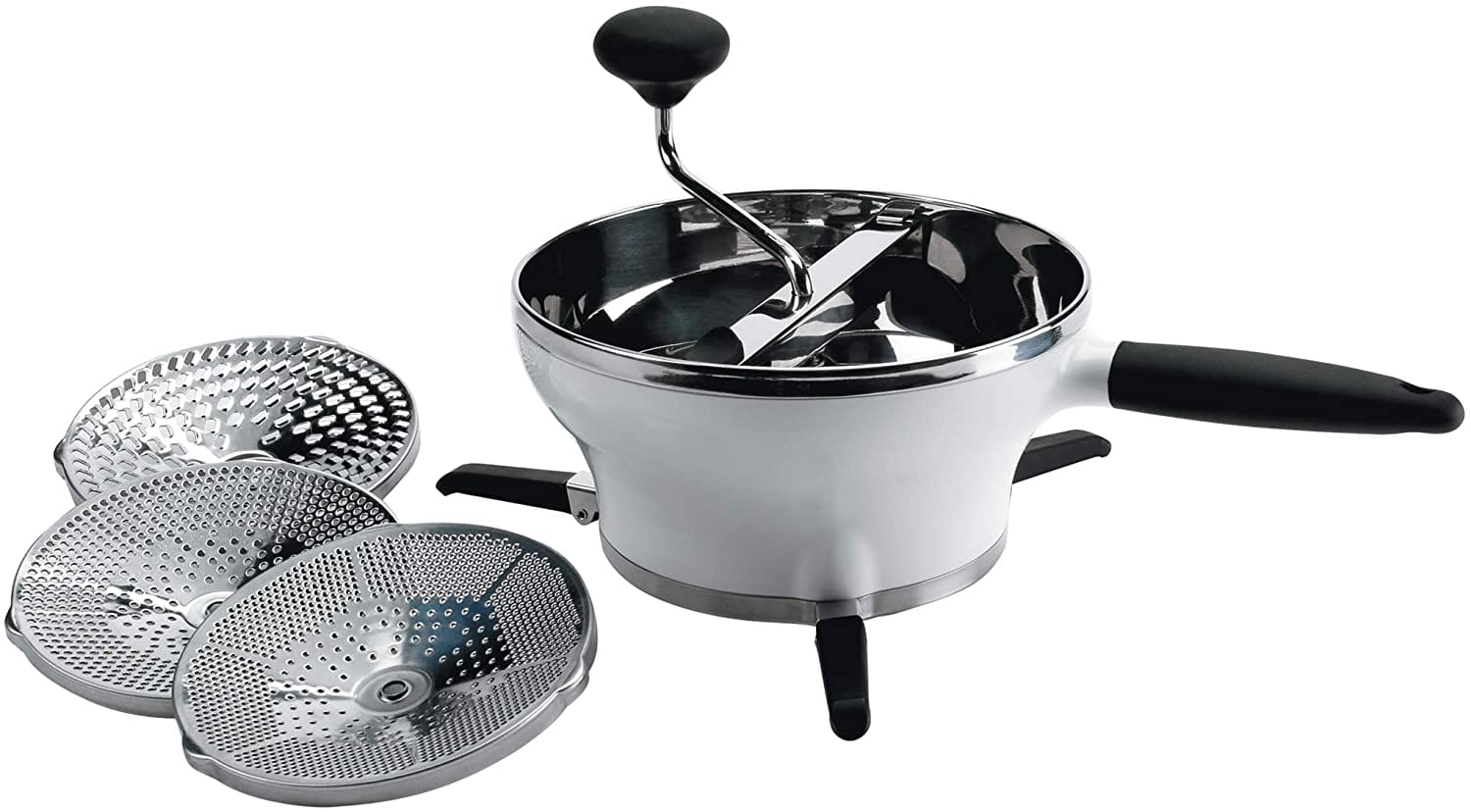 After analyzing the market and all the parameters that a high-end tomato strainer should have, we realized that OXO Good Grips Food Mill has all the necessary features.
It's a great stainless steel tool that you can store on even the busiest shelf in your kitchen. The lightweight unit has folding legs that make storage even more compact, with a capacity of approximately 2.3-quart.
With the OXO Good Grips Food Mill, you can get almost all your tomato pulp without leaving anything on the surface.
The blade fits close to the sieve, which allows people to get the most out of tomatoes. In total there are 3 different sieves in different sizes – with large, medium and small holes. Changing them allows you to control the texture of the resulting mash.
There is a special spring-loaded lever so that you can easily change the disc. All peel and most of the seeds remain on the surface, and as a result, you will get a smooth and clean mash.
Cleaning is done in the easiest way and is necessary after each use – all you have to do is take out the disc and wash it.
You may also like: 7 Best Vegetable Dicer For Quick Cooking Reviews
2. Ball freshTECH HarvestPro Sauce and Salsa Maker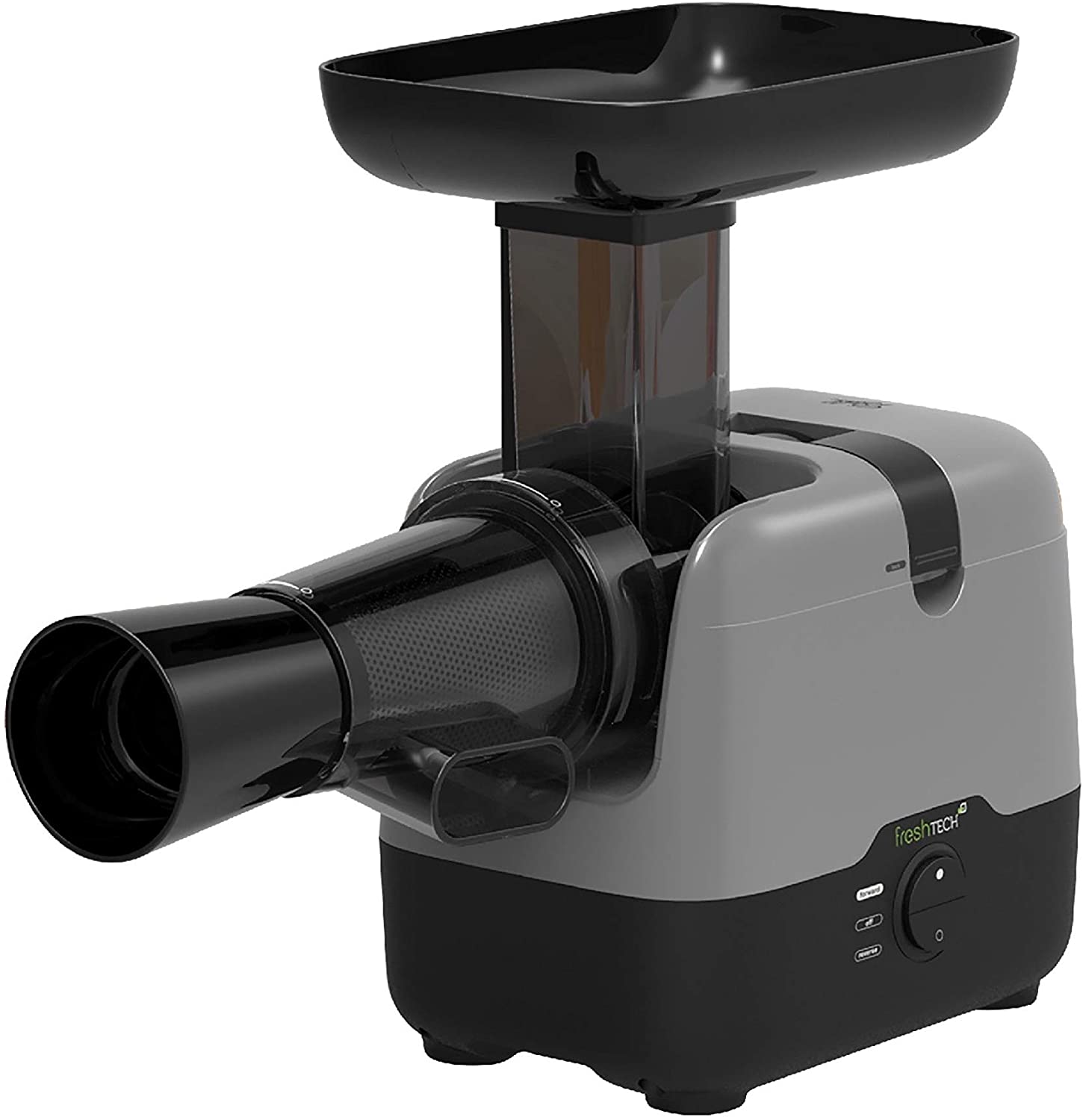 The Ball freshTECH HarvestPro Sauce and Salsa Maker looks like a professional juicer – so if you've used such units before, you'll easily learn how to work with it. The auger, which is responsible for creating the mash, gives you an even product texture.
Nothing inside the strainer can get stuck because there is a special silicone blade inside. It removes all product residue by rotating automatically – thus increasing the volume of the final product.
You are most likely concerned about the cleaning process. It's worth noting that you can wash Ball freshTECH HarvestPro Sauce and Salsa Maker even in the dishwasher, separating the mesh from the main part of the device.
The intuitive operation also reminds you of a juicer – all you need to do is start the machine up with one button. With experience with juicers, you're likely to be aware of possible splashes during mash production.
Ball freshTECH HarvestPro Sauce and Salsa Maker has a special closed system that prevents splashes and any clutter that might occur. With this tomato strainer, you will reduce the time required to prepare sauces and soups several times by simply automating the mash process.
3. Roots & Branches 811957010154 VKP250 Johnny Apple Sauce Maker Model 250 Food Strainer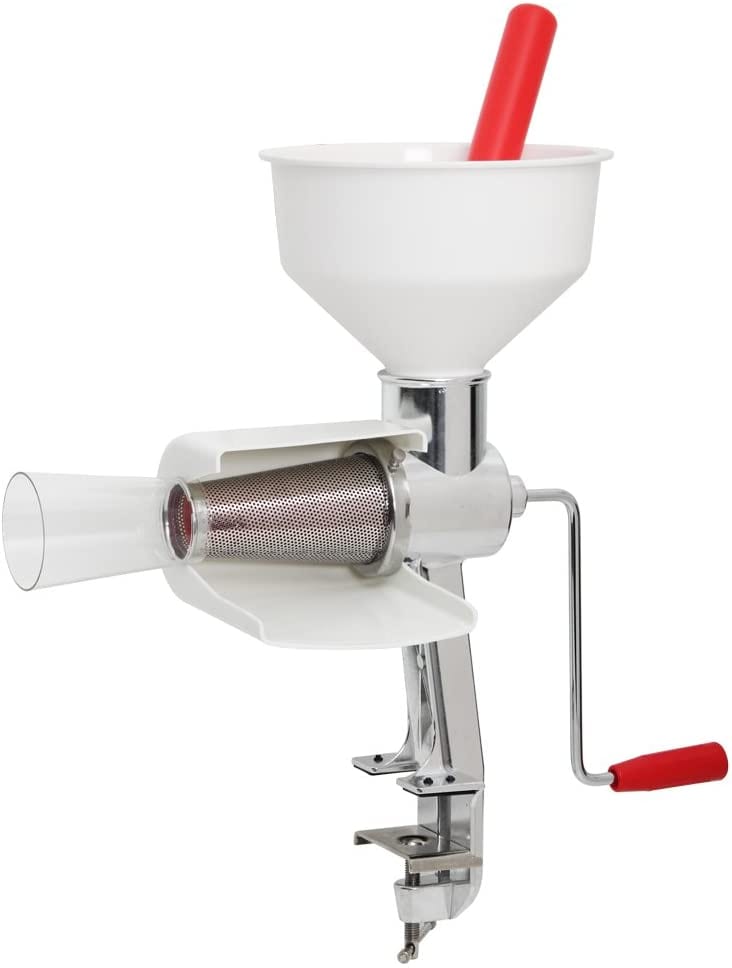 Roots & Branches Food Strainer combines 2 basic materials – plastic and stainless steel. This combination provides ease of use and operation, as well as prevents juice spraying and much more.
The screens that are installed inside Roots & Branches Food Strainer are made of stainless steel so that they are not damaged or deformed during operation.
You just need to install the screw and spring inside, and then the mash production process will go incredibly fast.
For convenient work we recommend you to fix the device to the edge of the table or tabletop. All use is clear and intuitive – you load slightly chopped tomatoes into a bowl and push them further with a special tool.
Then you have to rotate the handle until you have shredded all the tomatoes. You'll agree that this simple use makes the whole process easier.
In order to load the tomatoes inside, you'll simply have to cut out the middle and remove the bad or rotten parts. In addition to tomatoes, you can also load a boiled pumpkin into a bowl, for example, so you can get a large portion of soup mash in a few minutes.
4. Tomato Mill Squeezer Masher Press by O.M.A.C.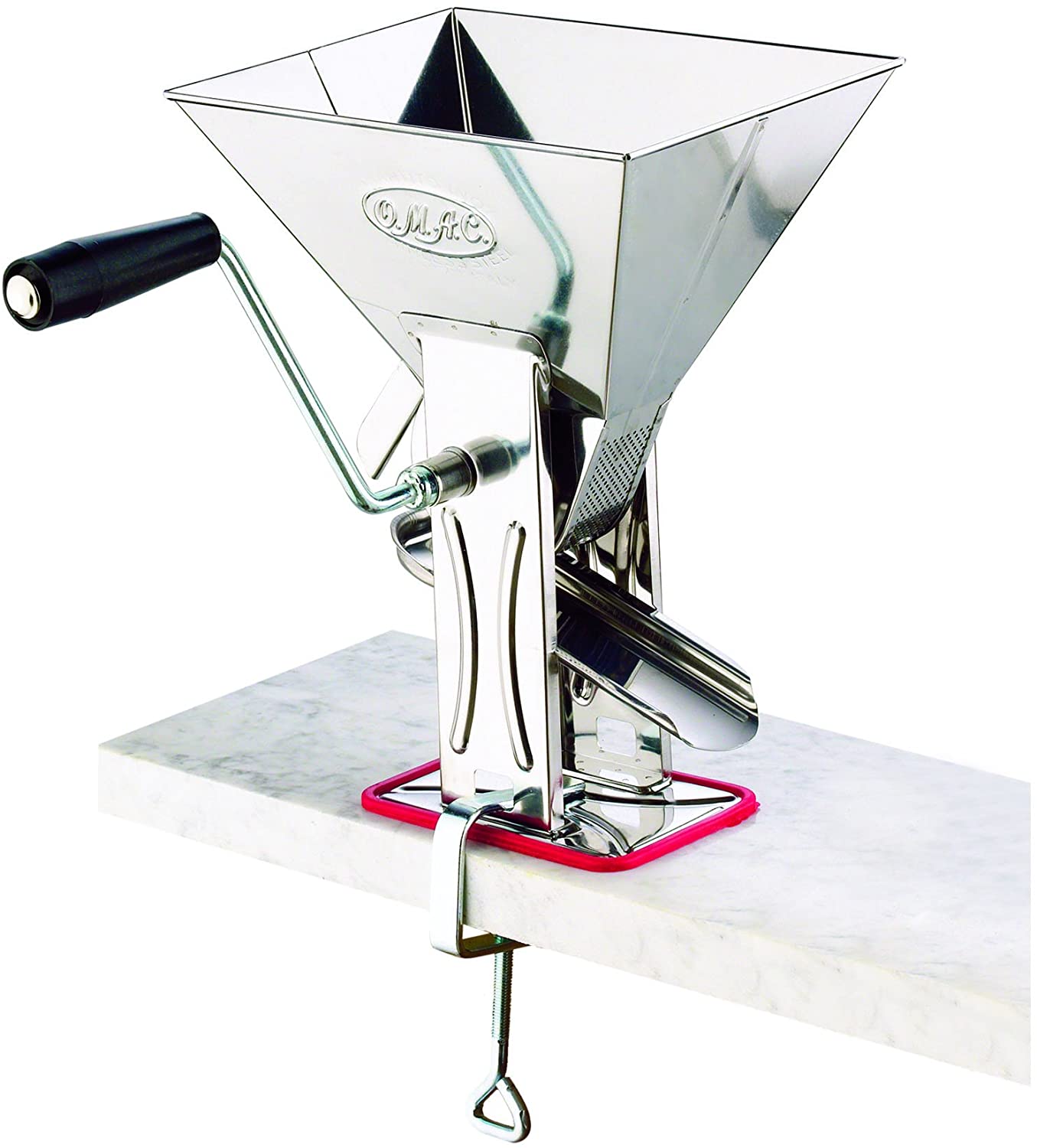 We want to tell you about another device that has a convenient attachment for tables and countertops. Tomato Mill Squeezer Masher Press by O.M.A.C. no longer has any plastic parts and is mainly made of stainless steel.
A few other parts such as the one for holding the unit are made of rubber and help you secure it to the surface. The device is very compact, so you can only take it out if necessary, and store the rest of the time in a drawer.
Tomato Mill Squeezer Masher Press by O.M.A.C. perfectly separates peel and seeds from the main flesh of tomatoes by squeezing the juice completely out. It is ideal for preparing vegetable cream or juice.
It helps you quickly process large quantities of tomatoes in a short period of time – without manually separating the rind.
To ensure that you get the most out of your product, we recommend that you re-run the Tomato Mill Squeezer Masher Press with product remnants such as rind and part of the pulp and seeds. Use it to make the perfect gazpacho or make a delicious pasta sauce.
5. Mirro 50024 Foley Stainless Steel Healthy Food Mill Cookware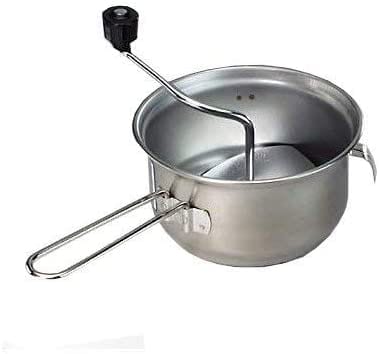 If you thought at first that the Mirro 50024 Foley Stainless Steel Healthy Food Mill Cookware was too much like a standard saucepan or a small pot, then you're right. It does look like standard cookware.
Stainless steel looks chic in your kitchen as if you've specifically selected all the dishes in the same style. If you are passionate about cooking and like to make your own sauce, this purchase will not be useless for you.
The Mirro 50024 Foley Stainless Steel Healthy Food Mill Cookware is suitable for cooking healthy and natural food. You can grind food, mix it and even glaze something in minutes. For example, if you want to wipe tomatoes and make a sauce with oregano and basil, you can use it.
Chefs also use these devices for perfect wiping of béchamel sauce – so that there's not a single lump when cooking.
The Mirro 50024 Foley Stainless Steel Healthy Food Mill Cookware is as easy to clean as it is to wash the pot. We recommend this product for those people who consider the naturalness of sauces to be the main criterion of their quality.
6. RSVP International Endurance (FDML) Food Mill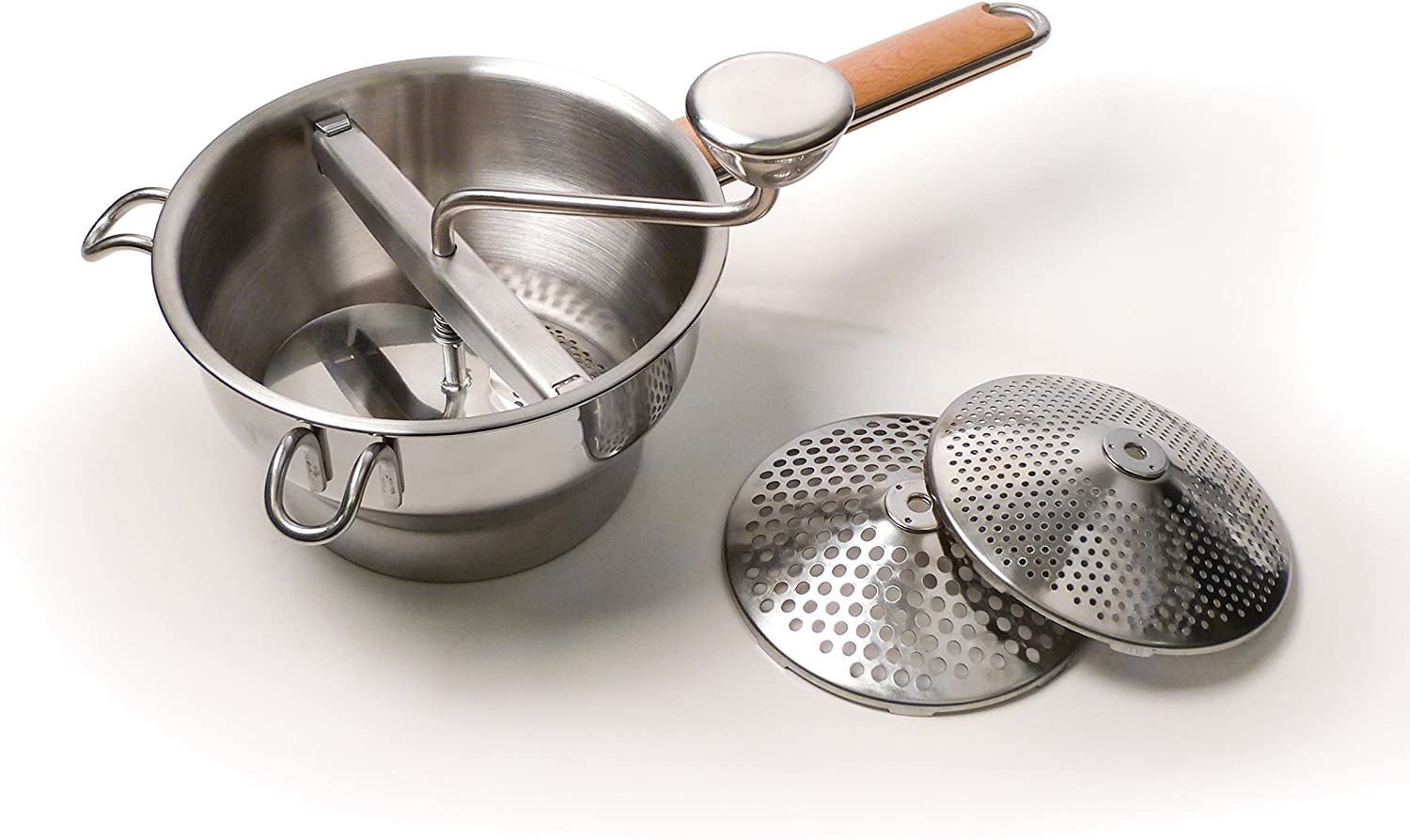 RSVP International Endurance (FDML) Food Mill also looks like a special saucepan, which is designed to prepare a small amount of natural sauce for several servings. Apple and tomato sauce, mashed potatoes and pumpkin, creams and jams – this is not the end of the list of your options.
You can prepare anything here – those dishes that require purging or grinding of fruits and vegetables. Tomatoes are also on the list – if you are cooking salsa or tomato soups.
In order for you to control the smoothness of the mashed potatoes, the RSVP International Endurance (FDML) Food Mill comes with 3 different discs. They differ in frequency and size of holes, through which the mash is pushed.
The larger the hole, the more likely it is that a bone or piece of pulp may get into your sauce. If you think you can use RSVP International Endurance (FDML) Food Mill right on the stove burner, you are wrong.
The sieve acts as a bottom, so you can use the device in a larger bowl or pot. The wooden handle is, of course, easy to use, but you won't be able to support it on weight all the time.
7. Weston Stainless Steel Food Mill (61-0101-W)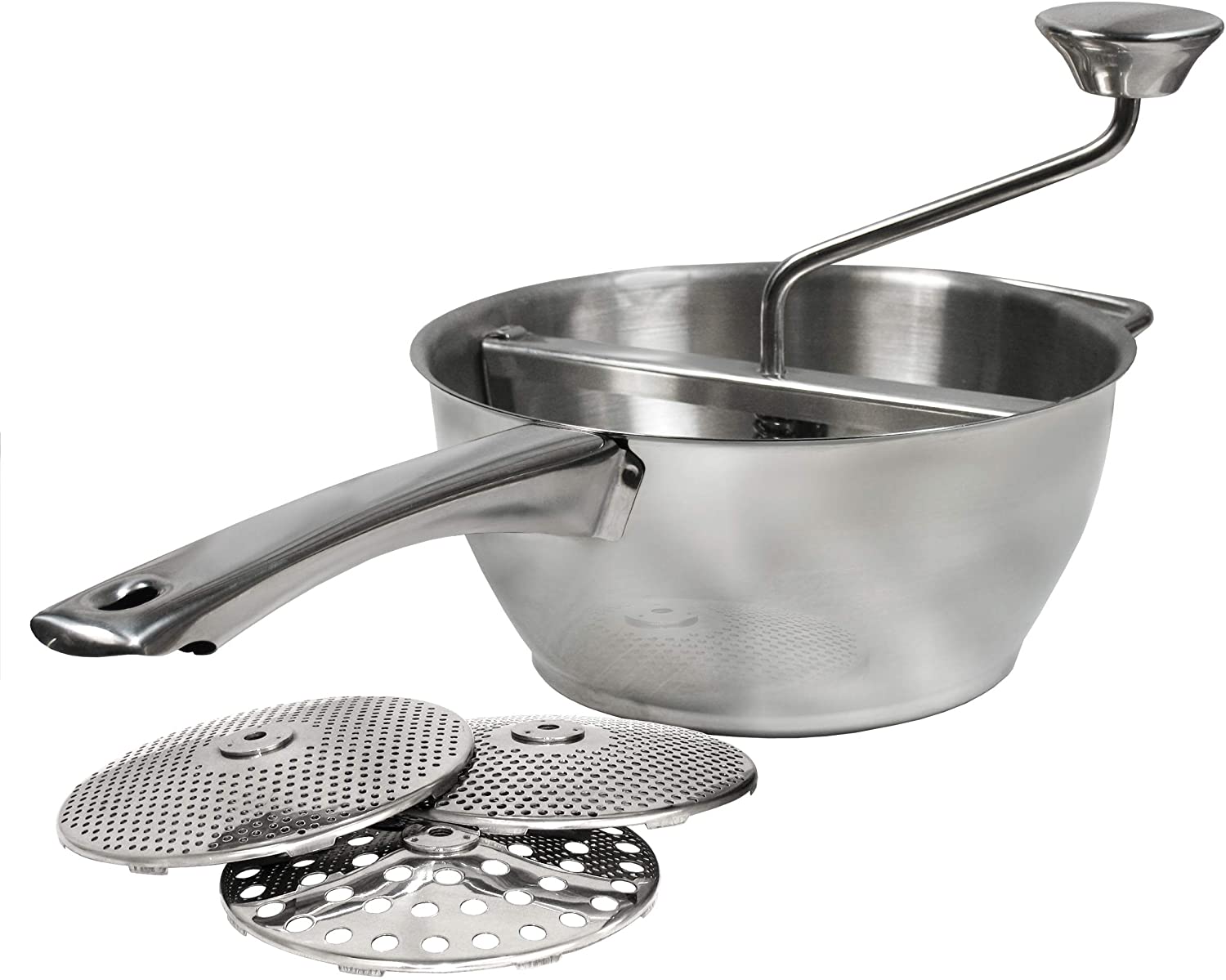 For those who want the consistency of a dish that is a mixture of mashed potatoes and sieved product, the Weston Stainless Steel Food Mill is a great option. It comes with 3 cutting discs for wiping tomatoes and other fruits and vegetables.
The smallest disk prevents slipping of cellulose and even the smallest particles of tomato skin. You can put almost 2 liters of food in the device at a time. After using the Weston Stainless Steel Food Mill, you should rinse thoroughly using a hand-washer or dishwasher.
The sturdy construction will not break even when you use it for a long time without interruption. We do not recommend that you load more product into the machine than it can hold – you will simply have a hard time holding it and rotating the blade at the same time.
In order for the sieve to fit perfectly into the Weston Stainless Steel Food Mill, you'll need to hold it securely in its special opening and fixture. Once you've replaced the disc at least several times yourself, you'll learn how to manage it in no time.
8. VEVORbrand 110V Electric Tomato Strainer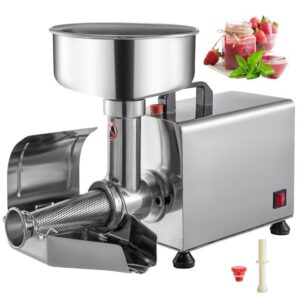 The tomato cutter will be a reliable helper in the cottage season. The basis of construction is stainless steel. It is tolerant of environmental influences and has a long service life.
The combine can be easily dismantled for cleaning. The engine is made of copper and also packed in stainless steel.
The hopper for vegetables is wide enough, and at the outlet, the obtained product flows smoothly into the container. The angle of inclination of the tray is optimal. There is a mechanism against foreign splashes.
The combine is universal and is used for the preparation of tomato sauce, ketchup, and jam from berries, and fruits. There is no need to limit your culinary imagination.
You can also check: 7 Best Citrus Juicers Reviews
9. CucinaPro Tomato Strainer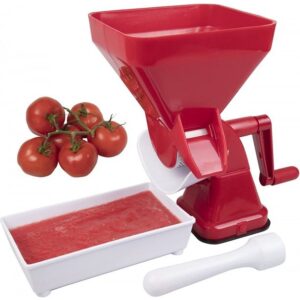 This tomato sauce combiner will be an indispensable kitchen appliance. Unnecessary elements such as seeds, and peels are automatically eliminated from production, and the pulp is collected in a plate.
No need to waste time separating them by hand. It is convenient to quickly prepare a sauce that can be stored for a long time and please the family.
The main material of the blade and mesh is stainless steel. It is tolerant to the external environment and wears and tear.
The body is made of plastic. All necessary parts can be easily separated for cleaning after use. All for healthy eating and cooking your favorite dishes in one device!
Pizza or gazpacho lovers can say for sure that tomato juice or puree is a necessary component of a dish. If you plan to surprise your family or guests with a delicious tomato-based dish, a tomato strainer is a must.
For example, a great tomato sauce for pizza can only be obtained from quality tomatoes, as well as gazpacho soup. With the help of home preparation of tomato puree, you will know that in addition to tomatoes there is nothing else in the product, and you will also be able to adjust it to your taste and preferences.
We hope that our article and the choice of devices have helped you understand the topic of tomato strainers and now you can safely make a purchase!
FAQ for tomato strainer buyers
1.
Why use a tomato strainer when you can buy a finished product at any store?
We mentioned at the beginning that in supermarkets you can come across worn tomatoes or tomato juice with various additives and additional ingredients. The home appliance allows you to store all the nutrients of tomatoes, leaving only what you need.
When you buy a finished product, you may lose a lot of nutrients, vitamins, and enzymes, unlike with home cooking. Fresh tomato juice or mashed potatoes will be an excellent basis for making fresh soups or sauces.
2.
Can the prepared homemade juice be stored in the same way as bought at the store?
Since the tomatoes you buy have additives – such as preservatives – they have a longer shelf life. For example, rubbed tomatoes in a jar can stand in your closet for about a year and do not spoil at all – as in their manufacture were made some modifications.
Fresh tomato juice, which you make yourself, has a short shelf life. We would recommend that you use them immediately after cooking and produce exactly the amount of mashed potatoes that you need for the recipe. Such a natural product can be stored only 1-2 days in your fridge.
3.
What kind of care does a tomato strainer need?
Since tomato strainers are mostly made of metal, they need to be taken care of. Each time you use the device, we would recommend that you wash the sieve and all other parts of the device completely.
This way, you will not risk the quality of the product you will make next time. If you don't clean the device in time, you risk seeing mold or other unpleasant things formed on tomato residues after a while.
4.
Can I replace my juicer with a tomato strainer?
If you are going to make tomato sauce and you need to make some tomato puree, the tomato strainer is a great option. If you are going to make juices and mash from other fruits and vegetables, it is better to use a juicer.
Tomato strainer gives good results when working with soft juicy tomatoes and other fruits that have a lot of juice and pulp. For example, it will be difficult to make apple juice with the Tomato strainer.