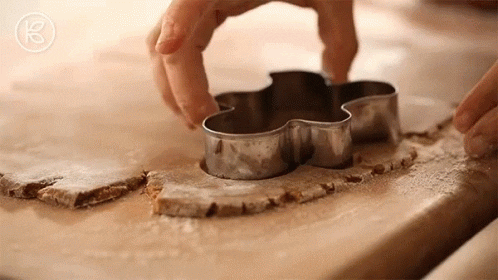 There are thousands of kinds of cookies of any shape and taste. Nowadays you can find any flavor on the market (and some of them really weird). People even use cookies to make other treats and so on. And, of course, the most popular brands like Oreo, Pepperidge, Keebler E.L. – we all know and love them.
But nothing compares with the freshly homemade cookies, especially at Christmas time. Chocolate chip cookies, snickerdoodles, oatmeal raising cookies…mmmm. Already feel like hungry? Then why not bake those yummies as soon as possible? Luckily, it's not hard.
The hardest part is probably to shape the cookies. Actually, one of the key features of the cookies is their shape. On the one side, you can cut it with a pastry cutter, but it's rare when someone likes to eat shapeless pieces of dough. And there are so many elaborate shapes to go for! But how do you do that?
There is a solution – a cookie cutter! It's true that some people neglecting to buy it saying it's not useful, but you will never regret those possibilities that this tool will bring to you. Moreover, cookie cutters are never expensive. Once you'll buy one you'll be able to make your own special cookies that you can show off to your friends and family.
There are tons of options on the market, but very few brands are worth going for – because of another essential aspect here is the cookie cutters to be safe for human health. We picked up the best items for you in the article down below – check them out.
The Coolest Cookie Cutter
| ULee 3D Christmas Cookie Cutters | | |
| --- | --- | --- |
| | 3D shapes are versatile, allowing you to make both regular and 3D cookies. The set is made of top-quality stainless steel which means it's going to be extra durable. | Check Current Price |
Other cool cookie cutters:
1. Ann Clark Cookie Cutters 11-Piece Every Season Cookie Cutter Set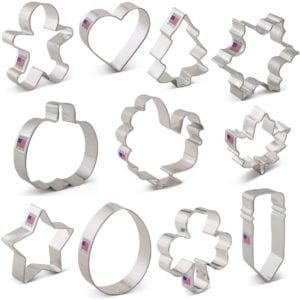 This is the very classic cookie cutter set that has been on the market for 30 years. Along with that, it is the largest company in the market and they really make a good product. These Vermont-made baking tools are crafted out of tin-plated steel, so they maintain a smooth, polished exterior that allows for easy release of dough.
And you can use those cutters not only for their original purpose but also as pancake molds, bread or cheese cutters, and more. But they work best for making Christmas cookies. The sturdy materials and sharp cutting edges allow making the precise cutting out of the dough.
In this set of cutters, you will find a gingerbread man, a pine tree, a mitten, a snowman, a snowflake, and many more classic holiday shapes. With a set like this, you can be sure that your Christmas sweets will come in any imaginable shape.
Apart from being effective, these cookie cutters are also durable because of the top-class materials. If you take care of them properly (which means you just need to wash them after each usage), they will serve you more then several years. However, remember that they're not dishwasher safe.
They are a little bit more expensive than cookie cutters from other brands, but it can be explained by the brand. Moreover, you purchase these cutters for the rest of your life so probably you can invest not so much money into something reliable.
You may also like: 7 Best Pastry Cutters Reviews
2. Winblo Vegetable Cutter Shapes Set 40 Pcs, Cookie Cutter Set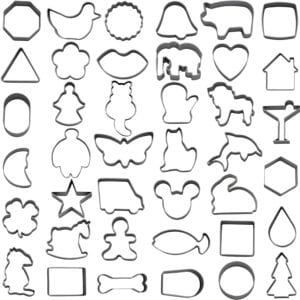 For those who want to have as many cookie cutter shapes as possible and pay as little as possible, this is a good option. But their small price shouldn't be the reason to worry – each item of the set is made of stainless steel. Whether you want to make your cookie look like a cat, chicken or square – you can just find the right piece here.
Those shapes are suitable for making the cookies for various occasions – Valentine's day, Saint Partick's Day, Easter and so on. Adults will love the set's unique and clever inclusions like a martini glass and the outline of a house, while kids will get a kick out of the many animal shapes — such as a dolphin, butterfly, and cat.
For those who prefer the more casual shapes – there are squares, triangles, and circles. Even in case, you decide to make cookies for your dog, there is a shape of a dog bone. The average size of a piece measures 2.05 inches. Because of the decent quality materials, the shapes will serve you a long life.
The only aspect you should keep in mind is that these shapes are pretty small, as you could see from the average measurement. If you want to make bigger cookies you should better go for another option.
3. Rite Lite LTD KWC-16165 Chanukah Cookie Cutters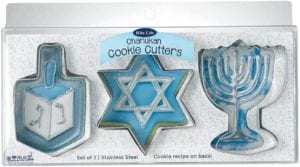 Chanukah is a glorious holiday celebrated by millions of people all around the world. The well-made cooking will be a perfect addition to that festival of light. These three cookie cutters of an elaborate shape are made of stainless steel. These are classic Chanukah-themed shapes: the dreidel, the menorah, and the Star of David.
Each of the cookie cutters measures about three inches in height and between two and three inches across, allowing you to make cookies that are just the right size for having two or maybe three at a time. Everything depends on the thickness of the dough that you use.
The super affordable price of this set is a good excuse to buy it. Moreover, because these are rather non-typical cookie cutters, it would be a good gift for someone. The only disadvantage here is that the metal is too flimsy and flexible.
4. ULee 3D Christmas Cookie Cutters Set
Yes, everyone is making the Christmas cookies but not everyone came across the idea to make them 3D. Don't you believe that you can make 3D cookies? These cookie cutters will prove you're wrong.
The set includes all the best traditional Christmas decorations. Each cookie cutter in this set is, in fact, part of a two-piece package. When used in tandem, these two-piece sets create a snowman, a Christmas tree, a sled, and a reindeer.
What you need to do is to slot the two notched cookie halves together, and they stand up on their own. The set is perfect if you want to bake a mini-town of Christmas creatures and thus decorate the table and surprise your friends and family.
On the other hand, building objects from these cookies might be a little challenging for yours. To make the figures correctly, you should possess some skills in spatial thinking.
All you need is a little bit of practice and then you learn to make truly unusual Christmas cookies. All the items are made of stainless steel. They're easy to clean – rinse them under the tap water or wipe with a damp cloth – but don't but into the dishwashing machine. After washing dry them up with a towel.
The only problem with 3D cookies is that not all the types of dough are suitable for such construction. Before baking, make additional research.
5. Wilton Cookie Cutters Set, 101-Piece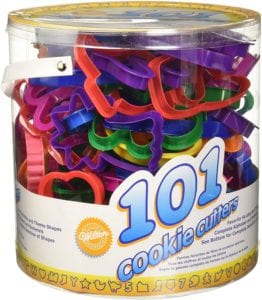 Now, who do you think likes to bake cookies in various shapes? Of course, it's children! This set will be a marvelous gift for your kids. This set is suitable for the children of around 6 years old and allows them to combine two evolving activities together – learning how to cook and learning the alphabet.
Of course, the stainless steel cookie cutters are the best ones in terms of durability and effectiveness. But the thing is they're unsuitable for tender children's hands – they can accidentally cut themselves. That's why here the cookie cutters are made of plastic – so your kids could also take part in the cutting process without being left out.
Another great point here is that the material makes this set cost for around $15 for 101 pieces. There you will find not only letters shapes, but also animals, and of course, holiday motifs.
So while this set may get the most use between November and December, you could just as easily pull out these cutters for a wide range of occasions throughout the year. For better convenience, the types of shapes are divided by the color so you will be able to immediately say if you're holding an animal shape or, for instance, a letter.
You can organize baking of cookies as the alphabet learning for a group of children. Everyone can get their own separate letter and you will bake them together. Kids will probably be very excited about a game like this.
Another cool idea is to bake the name with these shapes of those who have birthdays. Moreover, you can make fun cookies for Halloween. The only thing, try not to use harsh or frozen dough with this set because plastic is not the most sturdy material ever.
Besides, for added safety, these cutters aren't particularly deep, so you'll want to make sure that your dough is rolled fairly thin before trying to implement any designs. In other aspects, this is a great cookie cutter set for cooking with kids.
6. Ateco 4845 Plain Edge Geometric Shapes Cutters in Graduated Sizes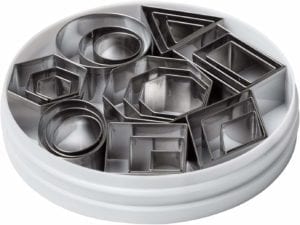 If you started thinking that all the cookie cutters only have the shape of animals, holiday creatures, letters, and trees, you're wrong. For those who enjoy geometric shapes and would like to bake cookies like that, there is the coolest set by Ateco.
This range of sizes and shapes here is wide enough allowing you to choose from 24 items. All of those are made of stainless steel. Each shape comes in 3 different sizes. The price for this set is a little bit higher than for all the previous ones, but that's because of the high-end materials.
Moreover, you can be sure that these cutters will stay with you, literally, forever. In addition to that, using these rectangular shapes you can create bigger objects of ever 3D cookies. Combining the two pieces of the same shape but different sizes allow making the cookies suitable for construction.
Ateco itself is a well-known brand that has been on the market since 1905 and has a reputation for the manufacturer the top-quality cookie cutters. Customers note that one of the best features of this set are different variants of sizes – if it seems to you, that the cookie is going to be too small, you can easily switch to another size.
You cam also check: 7 Best Ice Cream Scoops Reviews
7. FUBARBAR 26-Piece 3" Large Alphabet Cookie Cutters Set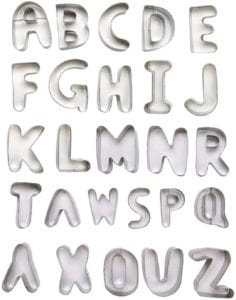 Not only children want to have the cookie cutters in the form of letters, but the adults as well! Barking the cookies as a letter and then making the words and names out of them would be a fun idea at any age. This is exactly what this set provides. If in the previous package by Wilton all the shapes were made of plastic, here it is the stainless steel.
There are two versions of this set – the one with letters and the one with numbers. Of course, the latter is going to be cheaper, since there are not so many numbers as letters. Apart from that, it is truly a useful set allowing to add decorations to any dishes, not an only bakery.
There are lots of situations in life when you need, for instance, t0 make an authentic gift to your boss at work. Writing something with food would be a fun and outstanding idea. These shapes are great as a pancake mold, or for cutting cookie dough, fondant, soft fruits, bread, sandwiches, cheese, slime mold or craft clay.
Remember that like all the previous sets made from stainless steel, the pieces of this one are also not dishwasher safe and you must clean them only manually. You can cook something for children with them, but involving the kids into the process is not recommended because the edges are too sharp.
Another good trait of this company is that it has reliable customer service. In case one of your shapes is broken, you can contact them and ask for a reimbursement. No significant flaws are identified here. The only aspect is the price – it is one of the most expensive sets on the list.
FAQ for cookie cutters buyers:
1. Can I was my cookie cutters in the dishwashing machine? 
If they are made fo stainless steel, you can't. However, if you're dealing with the kids' cookie cutters made of plastic, then you can clean them in the dishwasher.
2. Do cookie cutters have the warranty? 
In most cases, they don't because the price is not that huge. But some high-end sets might have something like that – you should pay attention to the quality of service if you want to have any backup plan.
3. Can cookie cutters be made out of aluminum?  
Yes, cutters can be made from aluminum but you can have problems. Most of the aluminum you have available is very lightweight (soda can weight) and very pliable. You could bend it easily into the shape you want but as you are trying to cut out the cookies, the thin aluminum will buckle and give you a distorted cutout.
Probably somewhere in your town, you could find a heavier weight aluminum but it could be very costly to purchase the stock and have it cut into ribbons for you. THen you need to know a specific measurement of the weight that you need to buy. You will need to talk to the vendor you buy the aluminum from.
4. Why after baking in shapes my cookies are hard as concrete and if you bite them they crash?
It most cases it happens because you need more moisture in your dough. Remember that recipes are suggestions as to the quantities. It's a known fact that the recipes might be different, depending on the area where you live. It also depends on whether you have a dry or humid climate.
Also quite often the flour will be dryer in the winter because it is stored in a heated (read that as dry air) house. If your skin needs a moisturizer then your cookies and cakes will probably need a little more moisture when you prepare the batter or dough.
5. How do I get the dried gum paste out of the molds? Is it dangerous if it stuck in there? 
Gum paste is edible in the sense that you can eat it without poisoning yourself but the other side of it is that when you let it thoroughly dry it gets as hard as a rock and the flavor and texture, it is unpleasant.
Hopefully, the molds you have were the type that you can twist a little bit like you can twist an ice cube tray and the cubes pop out. If not, if the mold is hard to clear plastic, you just might need to let the little shapes dry thoroughly. When Gum paste dries, it shrinks the tiniest bit so they should release and pop out. Don't be surprised if it takes 3 days for the shapes to dry.
6. What happens when you overmix cookie dough?
Mixing flour with liquids activates the gluten proteins that give baked goods their structure. Over-mixing, therefore, can lead to cookies, cakes, muffins, pancakes, and bread that are tough, gummy, or unpleasantly chewy.