We often meet people who think that all the cutting boards are the same. Yes, they may vary in materials, sizes, and ease of use, but in one way or another, they are only for cutting products.
If you are one of these people, we have to disappoint you and change your mind – all cutting boards are different. They have completely different functionality, the scope of use, and are designed for cutting strictly defined products.
Cutting boards for raw meat also have their own specifications and features. It is worth considering that raw meat is more vulnerable to bacteria before heat treatment.
When you buy all the equipment and tools for the kitchen, you need to understand what you need, as well as take into account the peculiarities of your food. You can buy cooked cut meat in the shop and not even touch it!
If you are used to buying farm pork, chicken and beef, the cutting and cooking process is entirely up to you. In this case, a special board is just a must. The cutting boards depend on several indicators and we will now tell you which ones.
The material.
For cutting boards use a huge number of materials that can be both pure and mixed with each other. The most popular are composite materials, wood and plastic, you can also find glass, bamboo, and others.
For raw meat, we would recommend you use boards made of plastic, wood or composite material. All three materials are well suited for meat and are also easily disinfected. Plastic and composite materials can also be washed in the dishwasher.
Size.
The size of your cutting board depends on how much you cook. If you are chopping huge pig legs or turkey, you need a big board made of the right material.
But if your work with raw meat is only to season the steak with spices or chops, it is better to buy a medium-sized board or limit yourself to a small one.
For convenience, there are complete sets of several boards on sale. You can choose the one that will be convenient for you.
Manufacturer.
Despite the fact that the chopping boards are not kitchen appliances, there are still popular brands among them. You can highlight, for example, OXO, which are major manufacturers of all kitchen equipment.
We would not recommend you to pay much attention to the brand or manufacturer – it does not play a serious role in the choice of cutting boards for meat.
Disinfection possibility.
The best disinfection is the boards, which are made of composite material or plastic. Wooden chopping boards require more attention and processing.
We would recommend that you limit yourself to only 3 of these materials – you can treat them with sanitizing solutions without problems. The other materials can either get worse under the influence of disinfection or resist disinfection at all.
We suggest you find out what cutting boards you can buy right now. We have selected for you 9 best options for purchase.
Our Top Pick
IMEKO Kitchen Ergonomic Design TPU Cutting Board


Soft design for easy food handling
Heat-resistant material
Flexible and sturdy cutting board

Check Current Price
Other great cutting boards
IMAGE
PRODUCT

Large Walnut Wood Cutting Board by Virginia Boys Kitchens

Coffee-coloured solid wood cutting board.

Check current price

Commercial Plastic Cutting Board NSF

Budget plastic board in a variety of colors.

Check current price

Personalized Walnut Cutting Board

Convenient set of lightweight boards for all occasions.


Check current price

Bamboo Cutting Board with Juice Groove by Indigo True

Mess-proof Quality Bamboo Cutting Board.


Check current price

Organic Extra Large Bamboo Cutting Board

Non-toxic set of plastic cutting boards stylized to stone.


Check current price

Extra Thick Flexible Plastic Cutting Board Mats with Food Icons

Plastic textured board in 4 different colors.


Check current price
1. IMEKO Kitchen Ergonomic Design TPU Cutting Board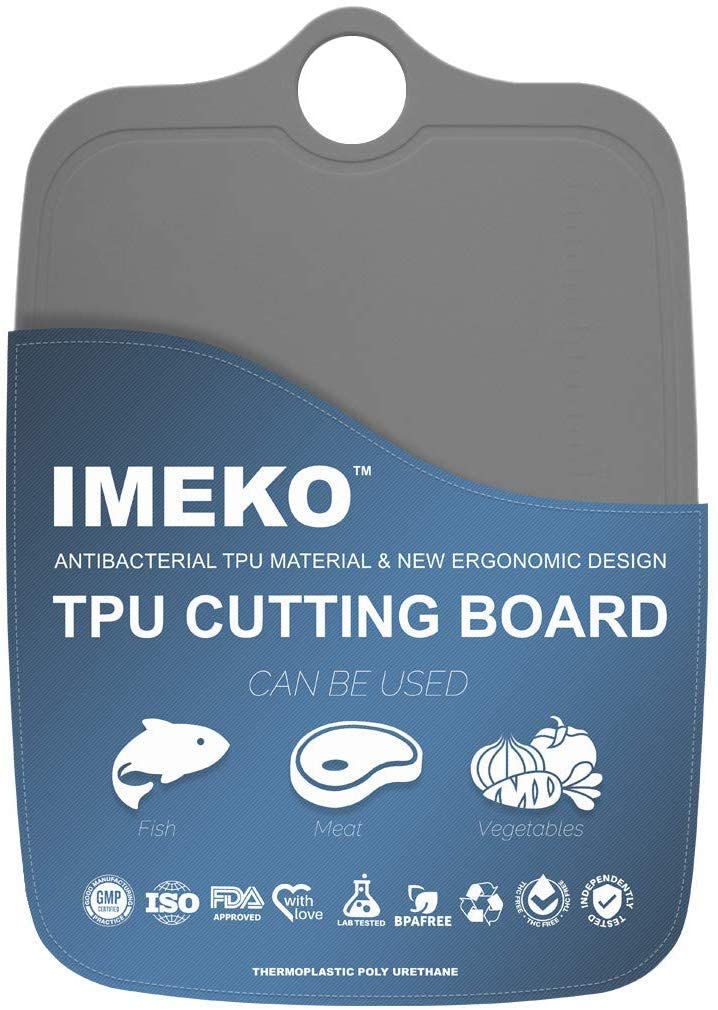 How often did you move ingredients from the board to the frying pan and lose a few pieces? With a straight solid board, it's hard enough to move all the ingredients correctly at once and it's not an easy task to do without mistakes.
That's why new cutting boards – flexible – are appearing on the market at the moment. They are made of TPU material. It is odorless or tasteless, does not leave its particles on products, and is completely hygienic and safe.
The most important thing is that IMEKO Kitchen Ergonomic Design TPU Cutting Board is very friendly to knives and does not blunt them when used.
You can also disinfect the IMEKO Kitchen Ergonomic Design TPU Cutting Board either manually or in the dishwasher. Because the surface of the cutting board is soft, it does not damage the blade of the knife and the ingredients you cut.
Flexibility is also due to the fact that the board is thin and light enough. This allows you to store the IMEKO Kitchen Ergonomic Design TPU Cutting Board anywhere, even leaving it always on hand.
Precise shredding and precise hitting in the pot every time – just roll the board the way you want it. If you care about design, this model is available in 5 different colors from grey to blue.
You may also like: 5 Best Japanese Cutting Boards
2. Large Walnut Wood Cutting Board by Virginia Boys Kitchens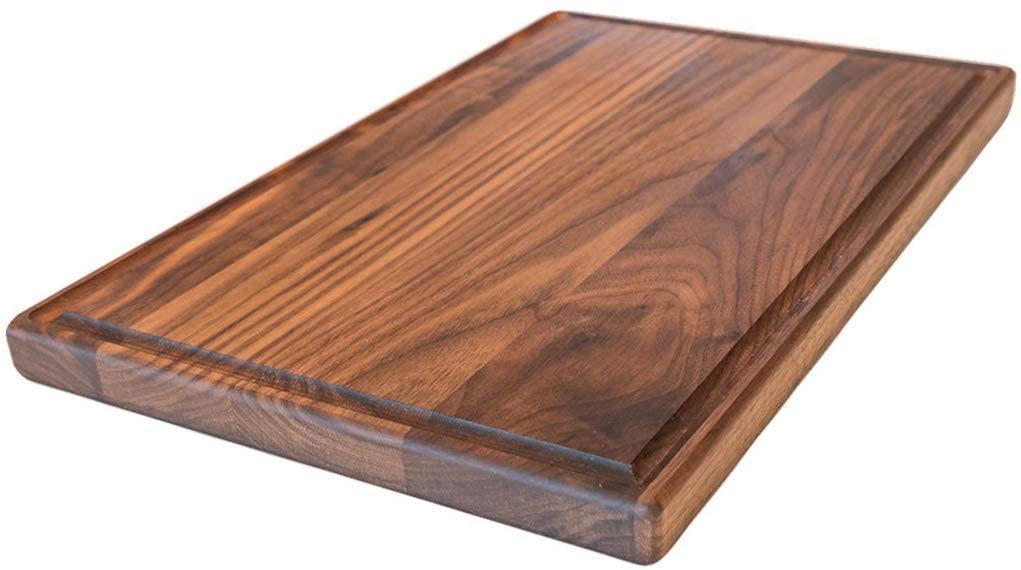 If you are used to using solid boards for cutting food, then we think that wooden boards are perfect. The Large Walnut Wood Cutting Board by Virginia Boys Kitchens is an excellent dark chocolate cutting board, so it fits into beautiful interiors of different kitchens.
High-quality wood cutting boards can be not only your favorite tool in the kitchen but also a gift for a small holiday – mother's day, Christmas or engagement.
Some wooden boards can dull a knife, but this does not apply to this model. The material is porous and has straight fibers, and such wood does not dull the knives.
If you've already cut meat, you know that meat can produce juice. In order to collect it, there is a groove all around the perimeter of the walnut board that has been cut out precisely to collect liquids.
The beauty of the Large Walnut Wood Cutting Board by Virginia Boys Kitchens has no influence on its functionality. The board will be delivered to you raw after purchase. To get a rich nut color, you will need to process it beforehand. The thick and strong material ensures a long service life of the cutting board.
3. Commercial Plastic Cutting Board NSF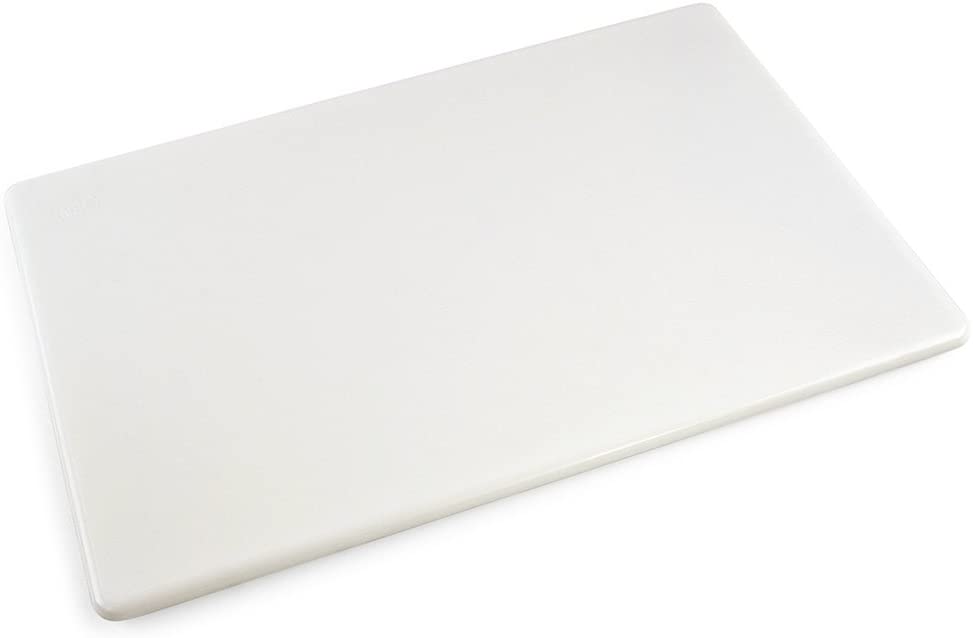 Any professional chef will tell you that cutting boards are consumables. They need to be replaced all the time and they also need to be of good quality – so they don't break down before they need to.
NSF Commercial Plastic Cutting Board is harder cutting boards than the simpler and more affordable models. To ensure that your products and the board itself do not slide when cutting, the board has anti-slip texture.
Manufacturers claim that the board is designed for the professional food industry – for example, cafes or restaurants.
Since the NSF Commercial Plastic Cutting Board can be considered a professional tool, they mark their cutting boards according to international standards. For raw meat, for example, red boards are used – so that the team of cooks knows which board they are using for a particular product.
The board is absolutely safe for use and disinfection, and can also be washed in the dishwasher. Other plastic whiteboards are usually a little thinner and less durable respectively. The size of the NSF Commercial Plastic Cutting Board is large enough that you can easily place several large steaks or pieces of meat on it.
4.
Personalized Walnut Cutting Board with Coasters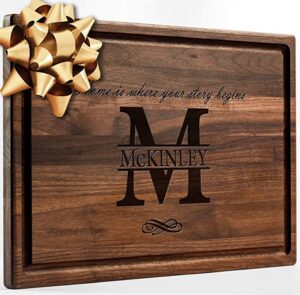 Cutting boards are a must-have item for all kitchen owners. Even professional cooks will be happy to receive such a gift.
The occasion does not matter New Year, Birthday, or Mother's Day. It is possible to decorate it with personalized engraving. It will be symbolic, and its true meaning will be understood only by the author.
There is also the possibility to use templates. The laconic design of the board will be a calling card of any kitchen. Not for nothing, it can be used as a decoration at will.
The board is made of wood and hazelnut. Its quality ensures a thorough check at each stage of production. This allows you to use the board for a long time and not worry about its damage.
5. Bamboo Cutting Board with Juice Groove by Indigo True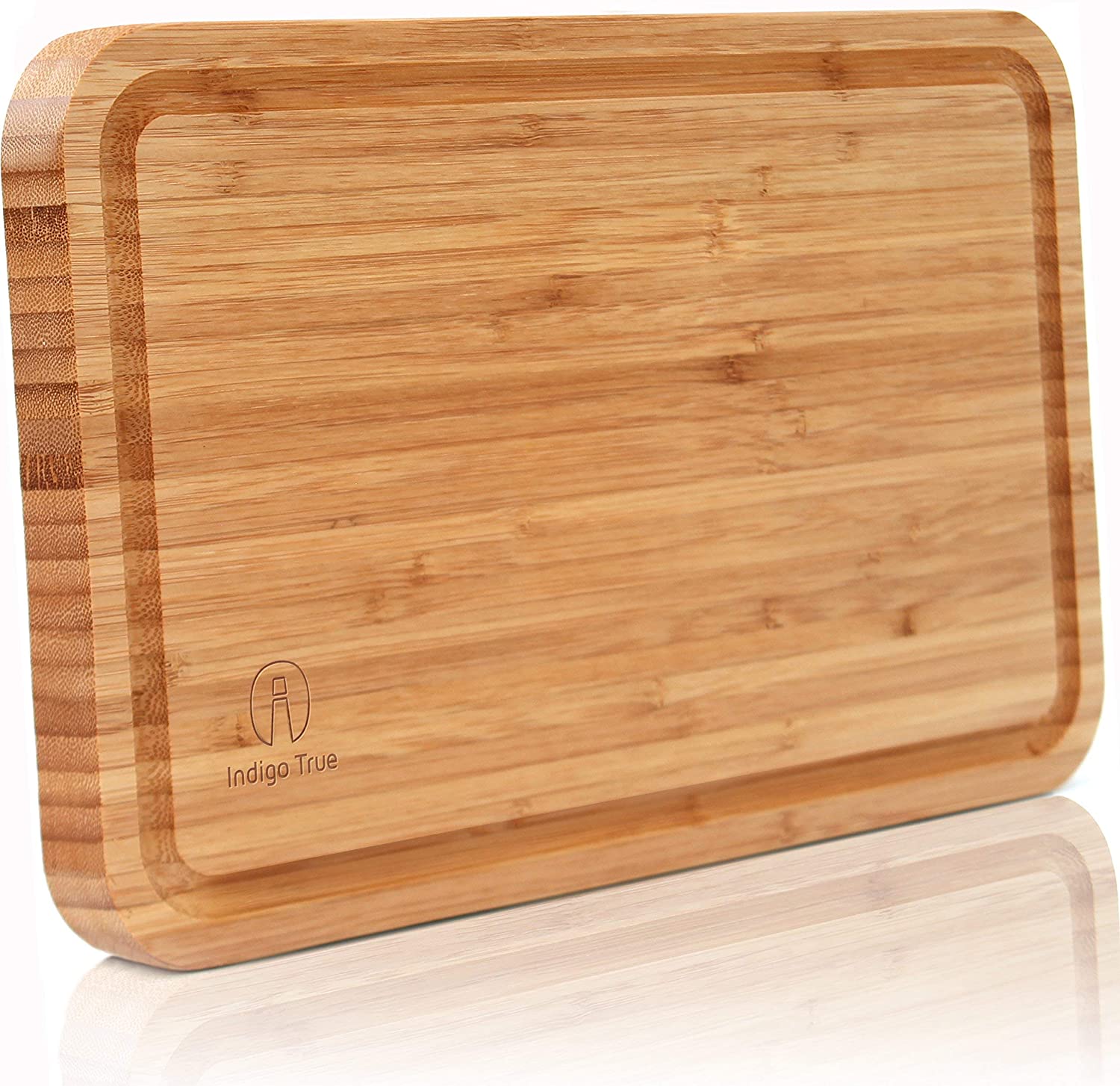 Although many people prefer to use bamboo boards for serving and setting meals, we want to say that they are great for basic kitchen work. For example, Bamboo Cutting Board with Juice Groove by Indigo True is convenient for working with raw meat and will not leave you indifferent.
The stylish design and shape of the cutting board look good on the worktop as well as in the open space in the kitchen. It is worth noting that this board is double-sided – so when working you can quickly turn it over and go to the next ingredient.
Bamboo Cutting Board with Juice Groove by Indigo True is not the biggest board for raw meat, but if you are not cutting on a large scale, this size is enough. The juice groove is handy when juice or water is immediately released from your meat.
For people who are worried about safety and bacteria on the surface, we can immediately say: this material has natural antibacterial properties. You can really be sure that there will be no germs or other microorganisms left on the surface of the Bamboo Cutting Board after washing it.
6.
Organic Extra Large Bamboo Cutting Board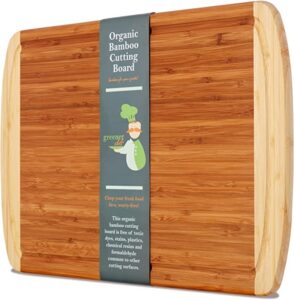 The larger the perimeter of the cutting board, the less time it will take to prepare food. The bamboo cutting board meets all expectations and will turn the cooking process into creativity.
On the periphery, you can see the recesses where the excess juice will run off. This will ensure order in the workplace.
The knives move well on the board and make dicing and slicing. It can be used as a serving dish for bread, vegetables, and cheese.
The board is cleaned quickly and without problems. It needs to be lubricated with a special oil, washed with warm water and detergent, and dried.
It is resistant to moisture and does not peel or crack. With proper care, the cutting board can be used indefinitely.
You can also check: 5 Best Bread Cutting Board
7. Extra Thick Flexible Plastic Cutting Board Mats with Food Icons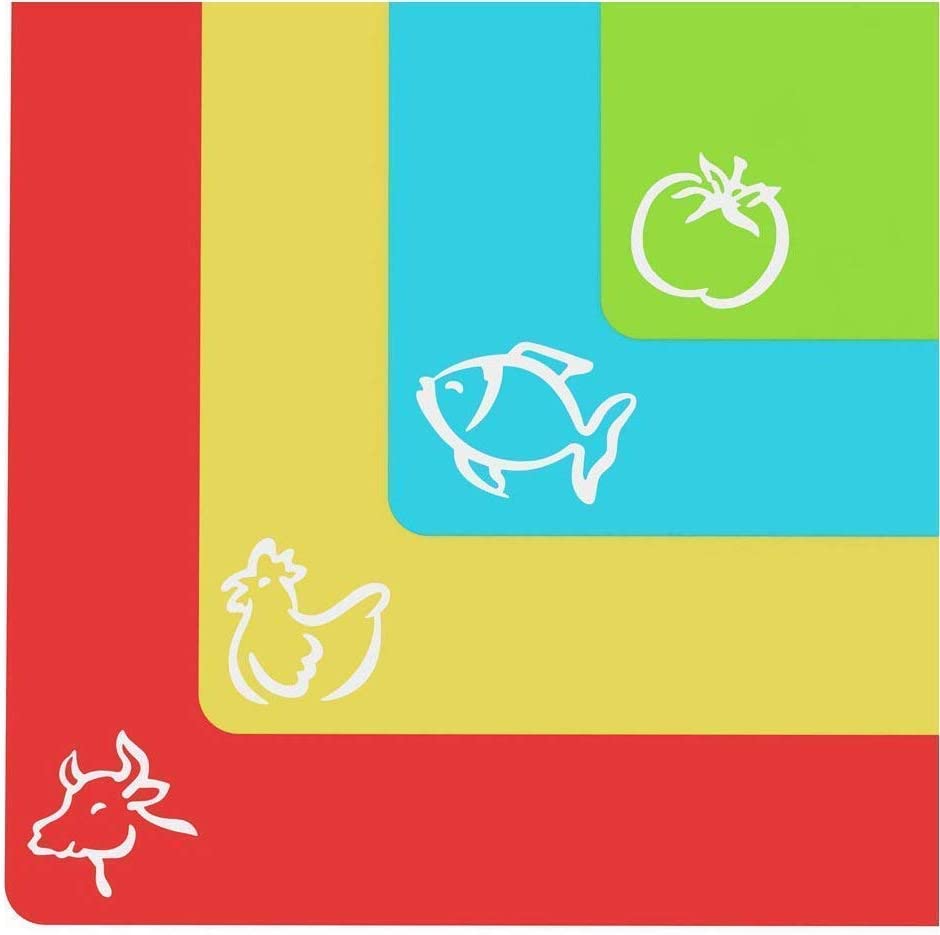 If you are not a chef and are not familiar with the colors of the boards, which have their own purpose, you will need other distinctive signs.
For example, Extra Thick Flexible Plastic Cutting Board Mats with Food Icons have special markings in the corners of the boards – so you can quickly understand why you should use this cutting board.
In fact, these are cutting mats that you can't damage or cut through while working. They are much stronger than other similar products and also have a special anti-slip mesh on the bottom side.
The mats are easy to bend and roll up, and you can carry the ingredients on them directly into the cookware. If you're worried that this material might somehow harm you or your family – be cool, as Extra Thick Flexible Plastic Cutting Board Mats with Food Icons contains no harmful substances.
The boards are made of hypoallergenic materials and can even be cleaned with a damp cloth. Extra Thick Flexible Plastic Cutting Board Mats with Food Icons is thick enough to make you realize that you're not just using rubberized paper, but real flexible cutting boards.
8. XL Cutting Board
Let even the cutting board complements the interior of the kitchen. During cooking, it is important for us to know that all hygiene standards are met.
The board will help keep food and knives clean. It is reversible and has comfortable handles on the sides.
Its large size allows you to use it as a tray to serve fruit, bread, or slices.
The body is carved from bamboo wood, so knives won't dull on this surface even with regular use. On the periphery, there are grooves where liquids will drip down. It won't leak even if the surface is tilted.
The board is resistant to chips, cracks, and temperatures. It's easy to wash by hand after use. It would make a great gift for the New Year, Birthday, or any other holiday. The warranty is one year.
9. Frederica Premium Bamboo Wooden Pizza Peel Paddle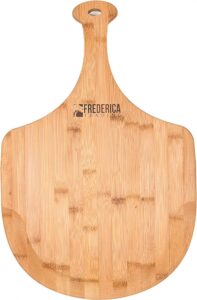 The pizza spatula is made for spectacular serving. It is made of quality bamboo wood. Not only can it be used to cut and serve pizza, but also fresh fruit, vegetables, and any kind of slices.
You no longer have to look for a separate dish to serve – you can do it on the aesthetically pleasing spatula.
After use, it's easy to wash off the dirt with warm water and soap. The spatula can be a great wall decoration.
Immediately after the oven, you can place the pizza on the spatula so you don't burn your hands. Is the pizza not ready? Placing it back in the oven is just as easy.
Always keep in mind that cutting boards always need to be replaced. After a while, you will have to buy new boards – because the old ones will be too cut and torn.
It is recommended to replace them at least once a year – especially if you cook at home often. Also, keep in mind that each chopping board should have its own application – otherwise you risk getting poisoned or ruining a fresh dish.
FAQ for cutting board for raw meat buyers
1.
How can I disinfect a plastic cutting board for meat?
Disinfection is an important process that is necessary when working with raw products. You must agree that you will not process the meat itself with disinfectant solutions – this is just silly.
On the other hand, raw meat can leave microscopic particles of fibers and bacteria on the surface of the cutting board. Plastic boards should be processed either in special disinfection machines or manually. You can buy a special solution in a supermarket, using it to process the plastic board.
2.
How can I disinfect a wooden chopping board for meat?
It is believed that wooden chopping boards themselves are antibacterial surfaces. Actually, they're not. There are special types of hardwood, such as Japanese acacia or maple, that can "lock" bacteria inside themselves.
This is due to the thickness of the board – the bacteria simply get in and stay there without affecting the products. However, we recommend that you treat wooden boards with a simple solution.
Mix vinegar and water in 1:3 proportions and apply this solution to the board surface. After a few minutes, you can simply wash the board with running water.
3.
Which material is best suited for cutting raw meat?
Plastic is traditionally thought to be the most suitable material for chopping boards for raw meat. This is because once the meat juice has hit the surface, you can easily send such a board to a dishwasher.
There it will be disinfected and decontaminated, so you don't have to do it yourself. But you can choose your own board material by disinfecting the chopping board if necessary.
4.
Do I need a meat board if I don't cut it, but just spice it up on the board?
Any surface that comes into contact with raw meat can soak up blood or juice. These residues will then begin to rot or ferment, which is quite natural. If you are not cutting meat, do not use the same board that you use for cutting vegetables.
We would then recommend using a tray or plate, a dish that you can then wash and leave no traces of raw meat on it.