We are used to thinking that kitchen knives in a professional kitchen must be large in size and necessarily have a massive blade. What if we told you that miniature knives can also be found in the kitchens of Michelin-star restaurants? Indeed, you need a sharp paring knife to work quickly with small products. These knives are particularly appreciated among carving masters – the art of creating figures and patterns from fruits and vegetables.
Sharp paring knives are more maneuverable, precise and lighter. Usually, their size varies from 3 to 4 inches – this is the length that is considered the best for small work. Because of the size, the price can start at $5-6 per piece, but this is far from being limited.
You can find professional models for 50, 100 or even 150 dollars. We have spent enough time studying this topic and the kitchen tools market to say – Rada Cutlery Everyday Paring Knife is the best option you can find for everyday and professional use. Of course, in addition to it, we found some good knives, but he is the favorite.
1. Rada Cutlery Everyday Paring Knife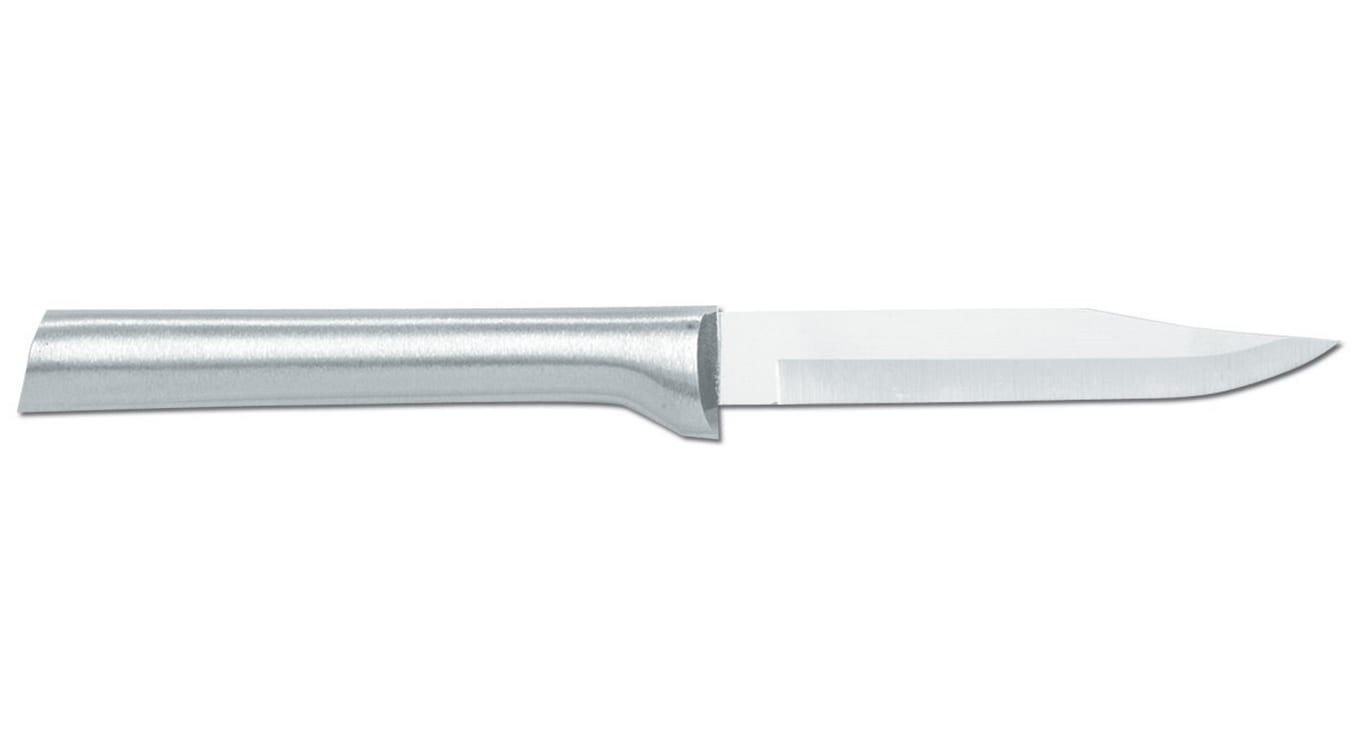 We have already told you that we consider Rada Cutlery Everyday Paring Knife the best option among compact knives. It is only 3.25 inches long, making it ideal for fine and tidy work. Its appearance is as beautiful as the result of its work. The blade is made of high carbon stainless steel and the handle is made of cast aluminum with the satin-finish finish. So the whole body looks like one.
If you use the Rada Cutlery Everyday Paring Knife in your kitchen for a long time, you'll probably need to resharpen it. You can do it yourself at home, as you can manually sharpen the knife to the factory's sharpness.
The handle is dishwasher safe, but we would recommend that you wash the Rada Cutlery Everyday Paring Knife manually. By the way, if you find a factory defect or if the knife breaks immediately after purchase, the company will fully compensate you for it or exchange it for a new model.
You may also like: 7 Elegant butter knives for your kitchen
2. J.A. HENCKELS INTERNATIONAL 31160-101 CLASSIC Paring/Utility Knife

HENCKELS INTERNATIONAL is a type of production of the company HENCKELS, and this specification makes the tools of their production a little cheaper. This knife J.A. HENCKELS INTERNATIONAL 31160-101 CLASSIC is produced in Spain and imported to various countries around the world. It can really be called international because the blade materials are supplied from Germany.
The blade is made of stainless steel with a satin finish. It is finely honed for longer periods of sharpness. The blade is incredibly sharp and has a sharpened tip at the end for fine and tidy work. The handle looks like a standard knife, no different from many other sets – black material with a triple rivet.
This makes the knife easy to hold even when cleaning vegetables and gives extra control when the knife is wet or slippery. The lower cost compared to the classic HENCKELS range is due to the blade material – the classic tools are made of high carbon steel.
3. DALSTRONG Paring Knife – Gladiator Series Paring Knife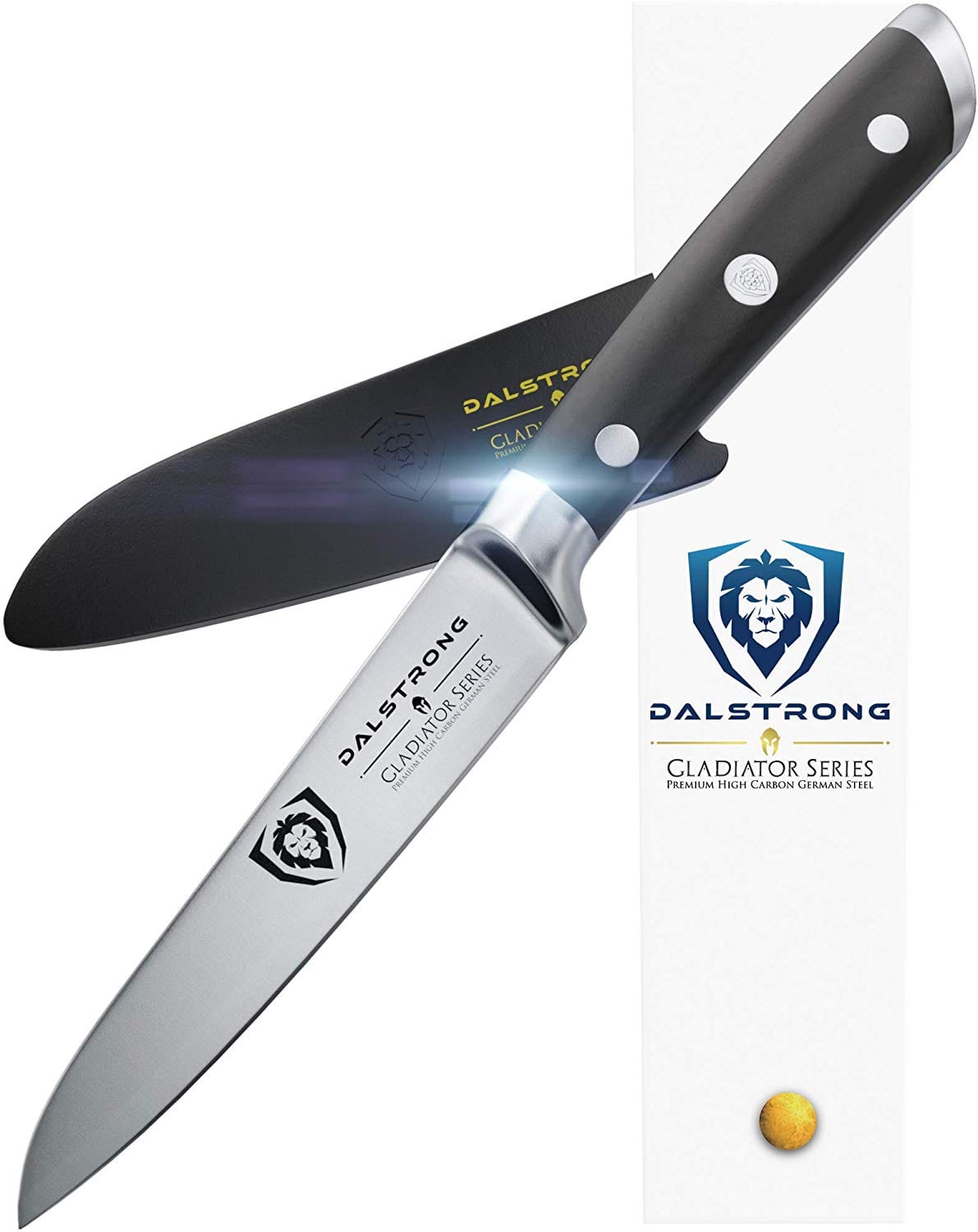 DALSTRONG Paring Knife – Gladiator Series is a small knife made of German high carbon steel. The size of this particular paring knife series can vary from 2.75 to 3.75 inches – depending on your wishes. The blade is hardened and stain-resistant, as well as easy to sharpen at home with a sharpening stone. After purchase, you won't need to do any preparatory work – use it as soon as you get it!
Since Dalstrong is a premium company, the cost of blades is appropriate. We can point out that part of the price refers exactly to the brand name, not just the quality and functionality of the knife.
DALSTRONG Paring Knife – Gladiator Series is used by chefs even in professional kitchens. The blade has a hardness of more than 56 Rockwell points and its sharpness minimizes the resistance of the products. For small details and precise slicing, you can use the sharpened tip.
4. DALSTRONG Paring Knife – Shogun Series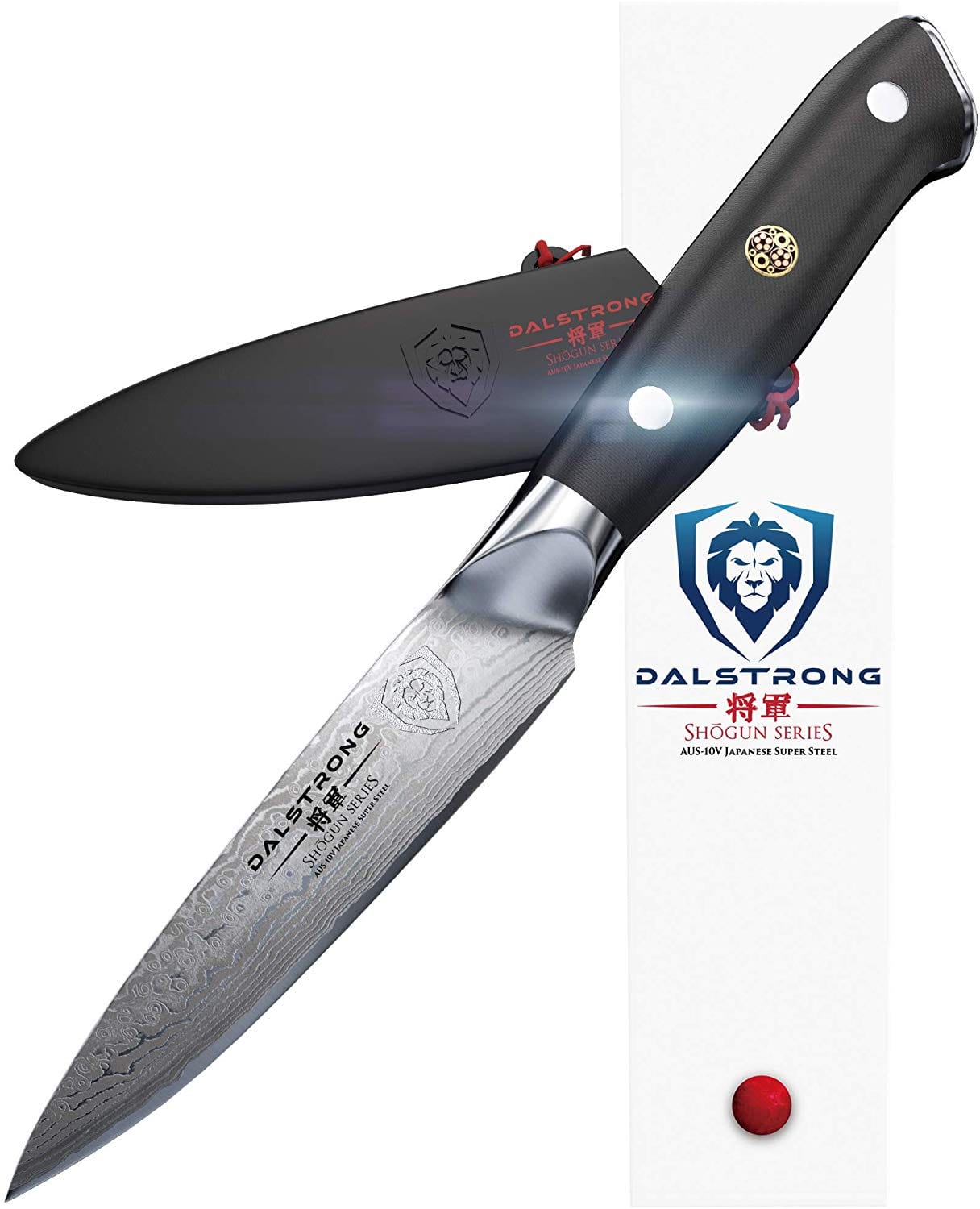 Another knife from Dalstrong, only this time from the Shogun series. The cost of it is even higher (almost 2 or more times!), but the appearance is also different. The blade of the knife is similar to the design work, and its appearance will perfectly decorate your magnetic tape for knives. This pattern is obtained by sharpening 66 layers of high carbon steel, which is responsible for the sharpness and hardness of the blade. The blade has a hardness of over 62 Rockwell points – even harder than other models in the Dalstrong range.
The company provides you with a lifetime warranty against any blade defects. So even if you have been using the DALSTRONG Paring Knife – Shogun Series for 3-4 years, the manufacturer will still change your knife.
This knife is ideal for those who want to do all the work accurately and carefully and is also suitable for cleaning vegetables (e.g. potato peels or avocado and mango slices).
5. ZYLISS Paring Knife with Sheath Cover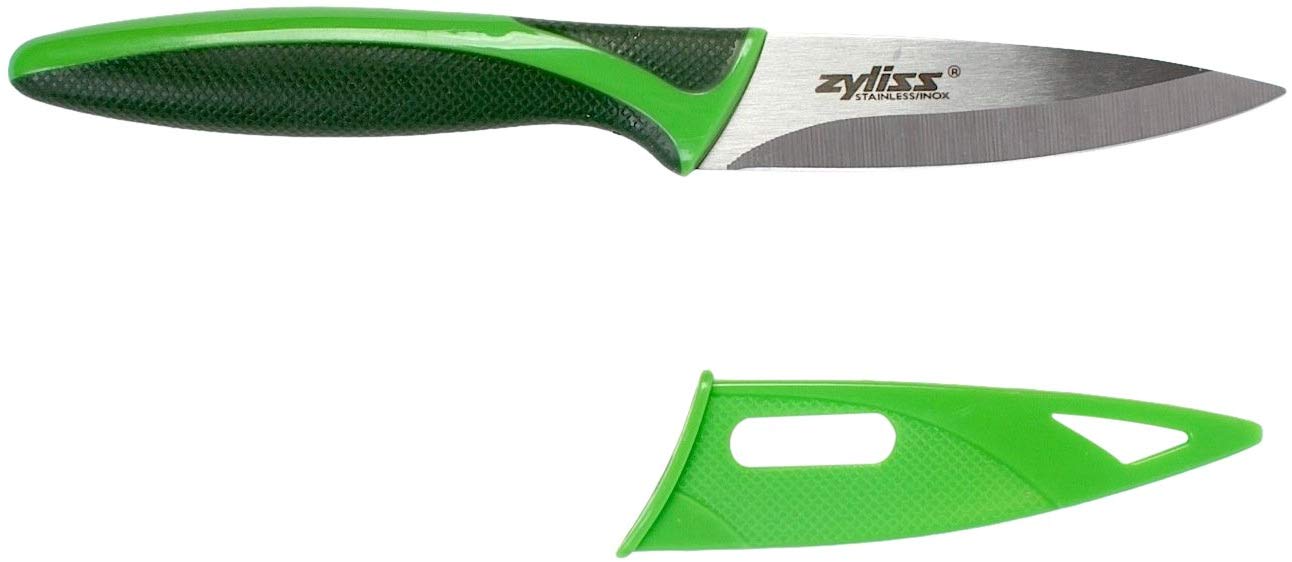 If you are not ready to spend 30-60 dollars on a vegetable cutting knife, ZYLISS Paring Knife will be a great purchase. Especially this option will please those people who have children at home – the blade is protected by a cover and prevents cutting. The blade cover also protects the blade during transport and storage. The handle of the knife is made of rubber, which reduces the load on your hand while working.
Do not pay attention to the low price of the tool – it is really good. You can take ZYLISS Paring Knife with you to a picnic without thinking about whether it will let you down or cut the fabric of your bag.
It won't slide even when wet and won't accidentally fall out of your hands. The high carbon steel blade will retain its sharpness for a long time, but you can sharpen it yourself. Use ZYLISS Paring Knife to cut small products and vegetables and it will never let you down.
6. Victorinox Swiss Classic Paring Knife with Straight Edge

Shredding, peeling, slicing and much more is what you can do after purchasing this knife. It is ideal for artistic processing and cleaning of fruit, and the sharp tip is suitable even for carving. Precision and precision are a priority in the production of such knives, and the manufacturer will not disappoint you.
Victorinox Swiss Classic Paring Knife is manufactured in Switzerland and is positioned as a professional knife for fine work. The blade is slightly curved for comfortable work, and the sharpened tip allows you to check dishes for readiness.
Despite their great age, they produce knives with modern, comfortable handles, and their lightweight makes them look like an extension of your hand. To ensure that the knife always stays in working condition, we recommend that you only wash it manually and periodically sharpen the blade.
You can check this: 7 Best Ceramic Knives On The Market
7. J.A. Henckels Twin Four Star High Carbon Stainless-Steel Paring Knife

We want to tell you about another knife from Henckels. Its cost is higher because it belongs to a classic line of instruments. The blade is forged from a solid piece of strong and high carbon steel and hardened with ice for greater strength. Even if its sharpness seems insufficient, you can make it even sharper and it will remain so for a long time. Henckels knives, particularly the Twin Four Star High Carbon Stainless-Steel Paring Knife, will serve you for a long time – 20 years or more.
The handle is made of 2 parts of polypropylene, which are seamlessly connected without gaps. The blade has a hardness of 57 Rockwell points and the handle does not slide in your hand. You can barely care for the knife and it will still be in great condition, with no rust or tarnish even after washing in the dishwasher. When you buy a Twin Four Star High Carbon Stainless-Steel Paring Knife, you're making an investment in the future as you won't need to replace your knives anymore.
If you want to do a great job with precision, paring knives are a great option. Standard large size knives are an ideal working tool, but miniature knives will be your constant helpers. Cutting salad of vegetables and fruits, small and fast cutting of greens and more will be more maneuverable and faster.
Most importantly, the choice should take into account the material of the handle and its size – then the knife will be comfortable to hold in your hand. We have selected for you 7 options that will find a place in your kitchen and will help you in the daily routine of cooking.
FAQ for paring knives buyers
1.
Which one is better to choose – a big chef knife or small paring knife?
Quite an expected question that you can even ask yourself when shopping. You should understand that two types of these knives are absolutely different and are designed for different purposes.
Paring knives are often called vegetable knives, as they work perfectly with fruits and vegetables, cutting them quickly and accurately. A large chef's knife is also a "workhorse" which is in the hand of the cook most of the time. There is no answer to this question as it is best to have both good quality knives in the kitchen.
2.
What is the most acceptable price for a paring knife? The more expensive, the better?
Another popular misconception that we have to disprove and dispel. Of course, most often the cost of a knife is due to some factors – known manufacturer, expensive materials and many others.
The most optimal price for a paring knife is 6-10 dollars. For such an amount you will get a good enough knife, which, if necessary, you can sharpen on your own to the factory sharpness. Usually, the handles of such knives are convenient for holding in your hand. More expensive models are designed either for professional use or for collecting.
3.
Is it worth paying attention to the thickness of the blade? Do I need a thicker blade?
Vegetable knives are characterized by a thin and sharp blade that is not too long. The products you are going to cut with it usually do not have a dense structure, so a thick blade is not necessary. It will only increase the weight of the tool and make it less convenient to use.
Pay attention to the size of the blade – it should not exceed 4.5 inches in total length, otherwise, it will be harder for you to cut fruits and vegetables with it.
4.
Which blade material is better – stainless steel or high carbon steel?
Any professional will immediately tell you that high carbon steel is the ideal blade material for any blade. Of course, stainless steel also has the advantages of being free of rust and stains, but these tools require regular sharpening. It's no problem if you know how to sharpen knives but it still takes some time.
High carbon steel is particularly sharp and hard, but its cost is higher than similar products made from other materials. You can also find Damascus steel, but such knives can be safely attributed to the premium class.