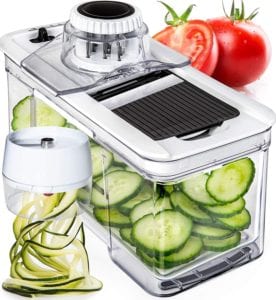 Have you ever wished that you'd be living in the Harry Potter world so all your home appliances could do all the work for you? Most probably, you have. The broom is mopping the floors, the sponge is washing the dishes, and the knife… is cutting the vegetables.
Will you be surprised if you find out that the last one actually could be possible in our world as well? And no magic required! Just get yourself vegetable dicer.
So if you're tired of all those slicing, dicing, and chopping all the time and having a bunch of large appliances that occupy all the space on the countertop, this will be your release. Vegetable dicer allows you to do all the actions mentioned above in one place and in a few seconds.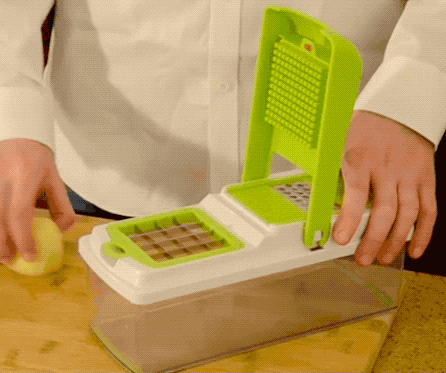 Decent vegetable dicer looks like a compact box (the size can vary according to your needs) with several removable lids with blades. Each lid has a different shape for a different kind of vegetable/fruit/mushroom.
Are you a busy student and you need to quickly make a snack for the school/university? No problem – just cut an apple with vegetable dicer. Do you hate cutting onions and garlic because afterward, you look like you just had a nervous breakdown? Now you can cut them in a second with no tears in the eyes.
There are manual and electric dicers. Some have more blades, some less. Check out the list down below and you will see the best and the most effective vegetable dicers on the market and will choose the one you need according to your needs.
Our Top Pick Vegetable Dicer for Quick Cooking
| Sedhoom Direct Vegetable Chopper | | |
| --- | --- | --- |
| | The most versatile and capacious veggie dicer, will chop, slice and dice any vegetable! Has more than 11 blades in the set. | Check Current Price |
Other vegetable dicers which will speed up your cooking
Image
Product
The Original Vidalia Chop Wizard
Standard vegetable dicer, easy to use and maintain; affordable
Check Current Price
SNIFITAR
Super-versatile vegetable dicer with a large container. Cut vegetables in 8 different styles
Check Current Price
Brieftons
Round veggie dicer with a cord and large container. Convenient for making salads.
Check Current Price
Chef'n VeggiChop
Round dicer with a cord and a container that has an extra lid for storing vegetables
Check Current Price
Cuisinart CTG-00-SCHP Chopper
Extra compact dicer that provides effortless chopping
Check Current Price
RüK Vegetable Chopper
Compact and perfectly engineered versatile vegetable slicer
Check Current Price
1. The Original Vidalia Chop Wizard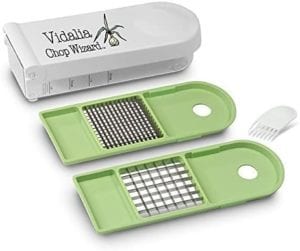 If you google "vegetable dicer" the most common reference will probably be this model. And that happens for some reason – first of all, it's super easy in usage. Secondly, it has a cool sleek exterior that won't occupy much space in your kitchen.
Single, swift chopping thus helps in saving time and energy. Here you don't really need to apply any pressure to cut even the hardest products. Just remember to take care of the blades.
Another great bonus of this vegetable dicer is the fact that it's dishwasher compatible.
It doesn't provide a superior versatility when it comes to cutting styles, but it's for sure enough to speed up your cooking process and chop all the vegetables for you.
The item itself is made of ABS plastic that is known to be extra robust. The blades are made of stainless steel which means they won't rust over time. You can also try the stainless steel cookware.
Moreover, in the set coming with this dicer, you will find the measuring tray for chopped veggies, and, of course, the set of interchangeable blades.
The simple design of the chopper also makes it an aesthetic addition to your kitchen interior.
Another bonus of this vegetable dicer is it comes with a cleaning tool so you don't have to put it into a dishwasher any time a small particle is stuck between the blades.
What is more, the container has a measuring marker so for those who want to know precisely each time what amount of product they are going to get – this is your choice.
The chopped vegetables won't get mashed as it sometimes happens in some cheap dicers. In general, this is a great model that will give you a chance to cut anything – from onions to potatoes and, what is more, it comes at a great affordable price.
You may also like: 7 Best Salad Choppers Reviews
2. SNIFITAR Vegetable Chopper, Pro Onion Chopper, 14 in 1Multifunctional Food Chopper
Another leader in the market has a larger capacity. It has blades and dicing plates that allow you to cut vegetables in 8 different styles. It has two grating plates using which you can grate food items like cheese or ginger into fine or coarse pieces depending on your preference.
Another blade of this product allows you to julienne your food, like such things as carrots or cucumbers.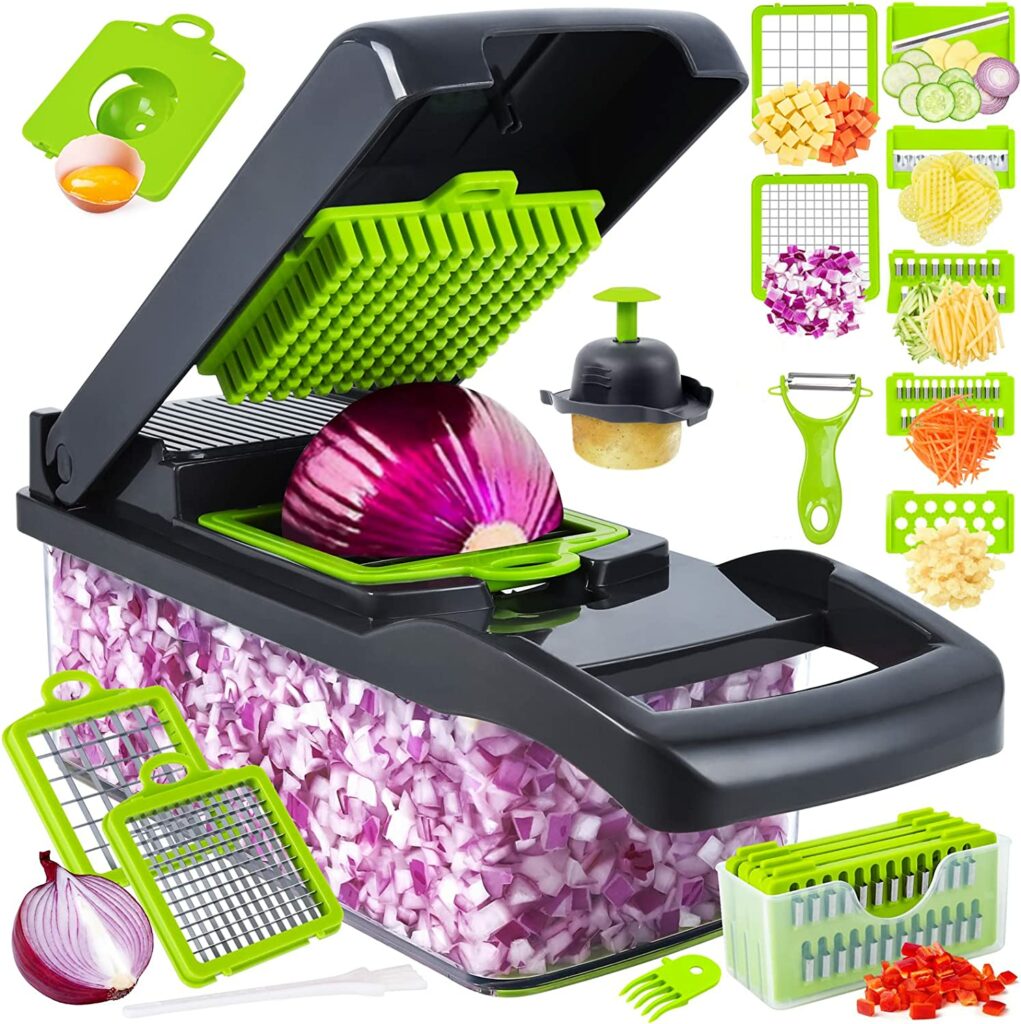 With this tool, you will get perfectly shaped thin strips, that you can use for a salad.
The other 3 blades allow to cut the vegetables into different size, so you can always customize it.
Basically, these 3 sizes are medium, short sticks, and small. The other blade is for slicing your vegetables, which is probably the most popular of all the blades, as slices of vegetables can be used in many different dishes such as salads or homemade crisps.
Another great bonus here is that this chopper even has a plate with a cone for juicing lemons. It's a very smart engineering decision of a manufacturer since we all know that many dishes are requiring lemon extract for a better taste.
It can serve as a salad dressing or you can even make a home lemonade. Another cool addition that you will find enclosed with this dicer is the cleaning tool. It will take out the bits of food that might be stuck in between the blades and the chopper's lid.
It's quite a rare feature that will allow you to keep your dicer always clean and fresh. It also comes with a vegetable holder that will be especially useful for clumsy people because it helps to protect your fingers from being cut when you're using this vegetable dicer.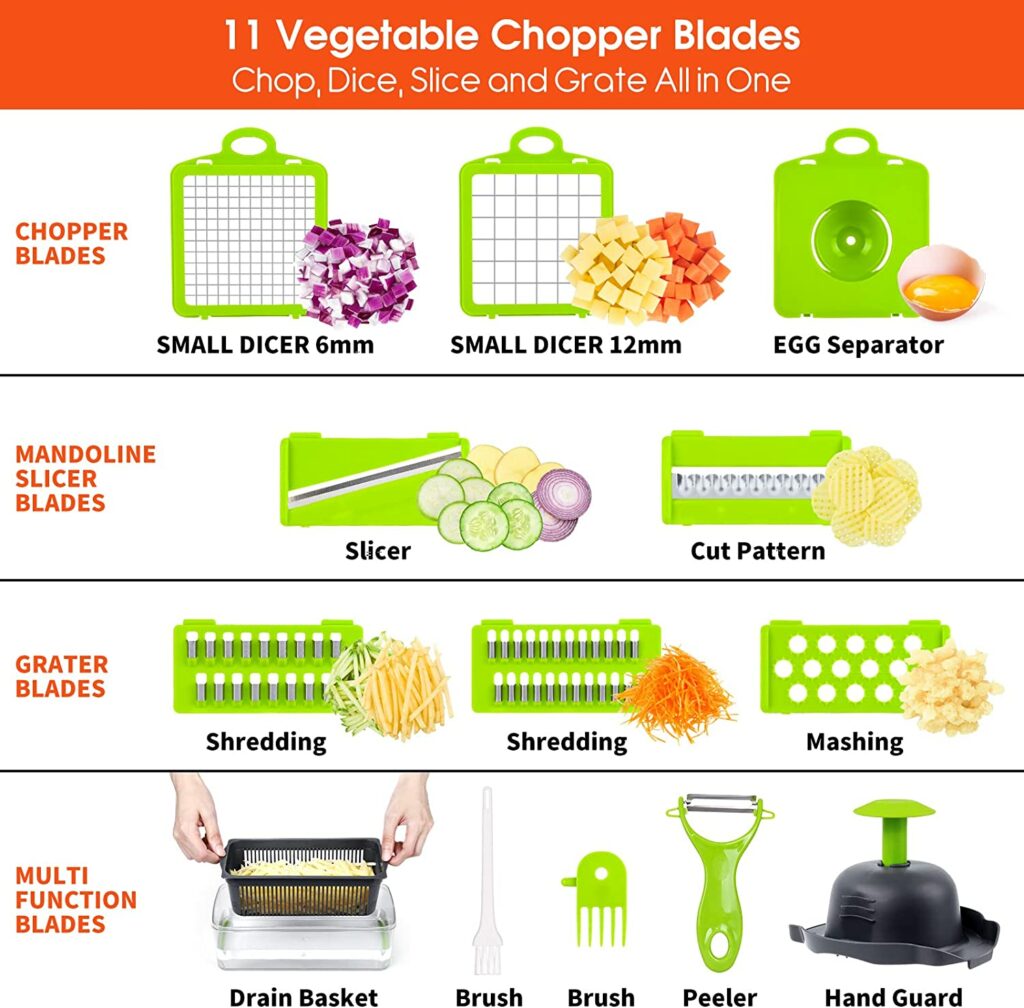 In addition to that, the chopper has a compartment where you can store the cut veggies until the whole process is done. This compartment has a capacity for holding 6.25 cups of vegetables and keeps your countertop free of mess.
If you're not tired yet, here is another useful feature – a holder for all 4 blades. It helps to organize the storage of this appliance and keep your kitchen neater in general.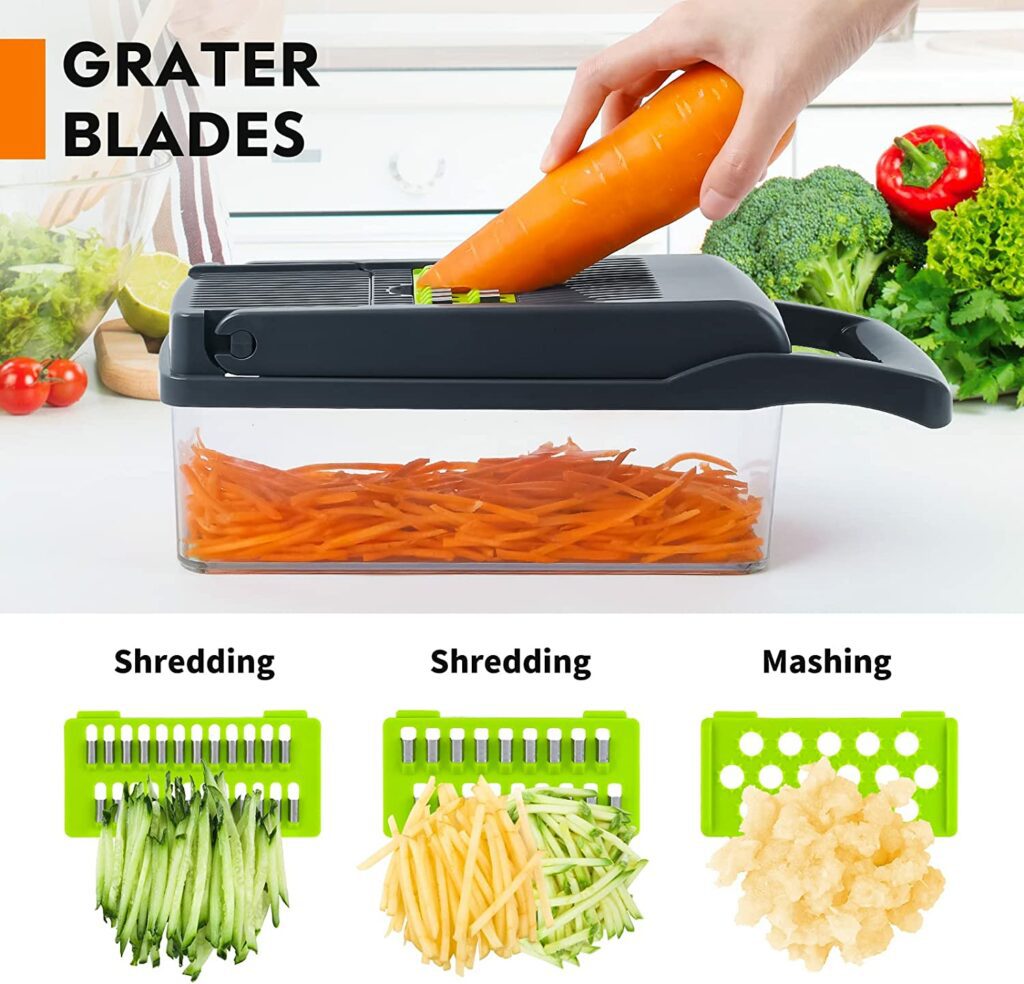 What is more, in the set with this dicer you will find also an additional bonus peeling tool for the vegetables which require the removal of their skin before being chopped. All the blades are made from durable stainless steel.
The body of the tool is made of ABS plastic that is BPA-free. So you can be sure that the construction won't break even if you decide to chop potatoes or something like that. The only thing is, considering all mentioned above, you can guess that this is not a beginner's tool.
It has too many functions which can be confusing for proper not used to deal with the cooking process. By the way, one more thing. You can't wash it in the dishwasher, because the materials of the chopper will become warped.
3. Brieftons Manual Food Chopper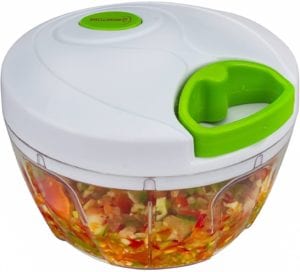 Vegetable dicer with an alternative design. A distinctive feature of it is that allows you to chop and mix vegetables simply by pulling a cord that is attached to the blades.
Besides, for those people who love to make a mess during their cooking, this is a perfect solution since it helps to prevent this problem to happen because of its construction. It works in such a way that it keeps everything enclosed during and after the cutting process unless the lid is opened.
What you have to do here is to put the vegetables that you want to chop into the container, then close the lid and start pulling the cord. And because the container is transparent, you're staying in control of the whole process. It allows you to adjust the amount of time that you're pulling the cord.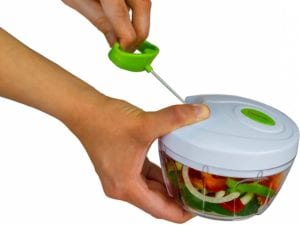 This is literally a perfect tool for making salads or preparing vegetables for a stir-fried dish because here you can chop them simultaneously.
It also reduces the time of your cooking even more compared to regular vegetable dicer. This dicer can be useful for soft vegetables such as avocado as well – it can easily turn it into a puree for your toast.
What is more, this device can even cut boneless meat.
Reading all the information above you might think that this dicer must be complicated to maneuver. However, it is extremely user-friendly in fact. The cord has a large comfortable handle that is designed in a very ergonomic way so that you can pull the cord many times without your hand getting tired.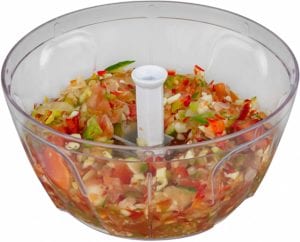 The lid has a smooth and soft surface so that you can comfortably grip it while cutting the vegetables. The container is big enough to fit 3 cups of vegetables and because of its round shape, it's a good choice for smaller kitchens.
The base of the chopper has been designed to resist slipping which securely holds the chopper down to the counter, even when it is wet. All the components are detachable and dishwasher-safe.
And even though this dicer looks like an electric one, it's not, it has one considerable advantage in front of them – it's very quiet. All the main parts of the body are made of ABS BPA-free plastic and the blades are made of stainless steel.
The only drawback of this item is that it doesn't offer you enough flexibility in the cutting style, that's why, mostly, it's only suitable for salad making.
4. Chef'n VeggiChop Hand-Powered Food Chopper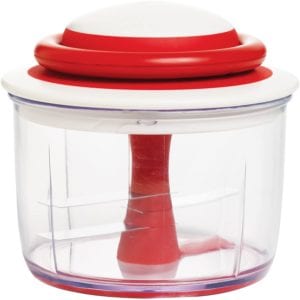 You can note that this vegetable dicer is similar to the previous one and you will be right. However, it is more versatile and it allows you to process various kinds of products. Apart from vegetables, here you can chop nuts here, mince boneless meat, make guacamole, and perform many more actions.
It has 3 strong and sharp blades inside and you can spin them by pulling a cord (just like in the previous model by Brieftons).
The cord is attached to a large, circular handle so that you can grip it securely and pull it and chop your vegetables in a matter of few seconds.
Another similarity of this vegetable dicer with the dicer by Brieftons is the capacity of the container – 3 cups of veggies. One more cool feature you will discover here is the lid coming together in the set with this dicer so it can be simply turned into a container for storing chopped vegetables.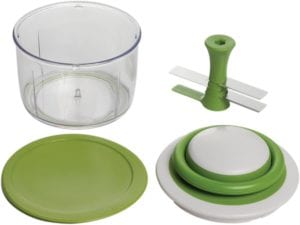 It is especially useful because almost none of us are able to measure precisely what amount of vegetables we're going to need for a certain dish.
Probably, you've faced a situation when you had made too much stuff and then you had to throw the food away. It won't happen in the case of this dicer because it can be used as a storage container.
Because of the round shape of this appliance, it feels compact and therefore will be suitable even for smaller kitchens. In order to clean it, take it apart and put all the parts into a dishwasher.
However, if you're a fan of multiple cutting styles and would like to have some flexibility considering how you want to dice your veggies, this tool is not your best choice.
5. Cuisinart CTG-00-SCHP Chopper
If you're not OK with all those giant sizes of vegetable dicers and you would like to have something more compact and portable instead, then this is your perfect option. You can take this dicer with you even when you're traveling or going camping with your friends.
This is a chopper that is not only portable but is also suitable for being used by children. Its construction is different from the previous dicers: it consists of a plunger that is connected to a zigzag-shaped stainless steel blade.
Here you can cut, chop, and dice such vegetables as vegetables, herbs, boneless meat, nuts – basically, everything. All you have to do here is to put the object into the container and press on the handle of the plunger, just like you would do with a blender.
By the way, the mechanism of this dicer is much easier to use than all those in classic dicers or dicers with cords. Thus, it is suitable for children (above 8) and for elderly people.
Well, with this vegetable dicer you can't expect to make large amounts of chopped vegetables (but that's what you didn't need, right?). Its capacity is only 0,5 of a cup, nevertheless, it's quite enough for one portion.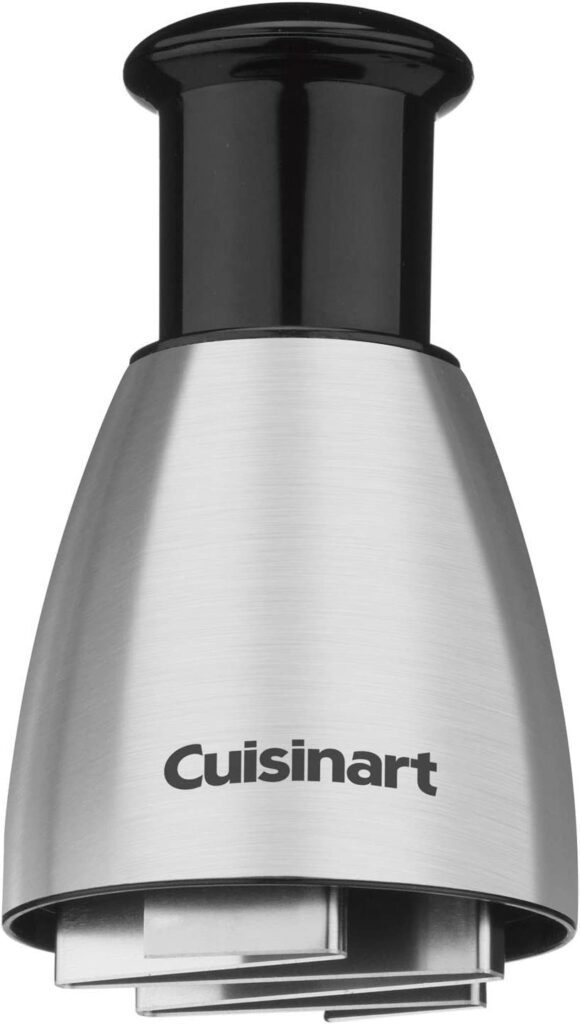 If you wish to cut larger pieces of vegetables such as onions, tomatoes, potatoes, and other things like these, then you can simply remove the base of the container and chop the vegetables on the cutting board.
This method will keep you away from making a mess because the container's wall will keep the chopped pieces restricted to a small area. This feature makes this dicer a versatile item, that allows you to measure, how much stuff you want to get at the end.
Since the zigzag blade is made of top-quality materials, it won't rust or get corroded. The body of this vegetable dicer is made of BPA-free plastic to prevent harmful toxins to get into your food. It's not dishwasher safe, so better wash it by hand – that is not so difficult because of the sleek materials.
The only drawback here stays the same as in the last two items – it doesn't give you much variety of cutting styles. However, considering the fact that it is a more portable and practical dicer, it will probably be appreciated by its audience.
6. Sedhoom Direct Vegetable Chopper and Slicer Dicer for Kitchen
Finally, the veggie dicer that brings you lots of possibilities to chop your vegetables in any shape you want. It seriously can help you to perform 9 different results. It comes with 9 blades in the set enabling you to cut vegetables, process your eggs, juice your fruits, and do much more.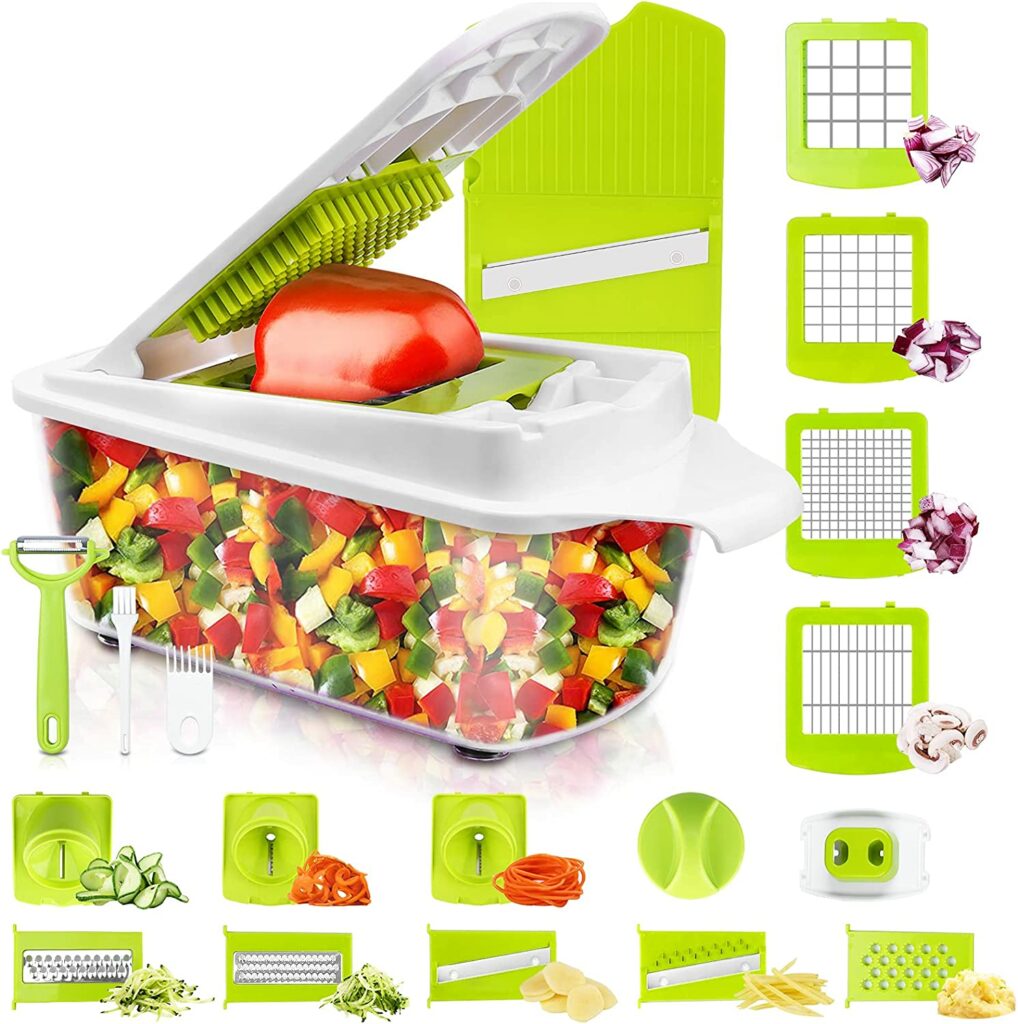 All the functions that those blades perform are equally effective. Obviously, the most prominent feature of this dicer will be its versatility. It comes with two sizes of julienne slicers which allow you to chop the vegetables in large quantities, making them suitable for salad or frying.
Moreover, in the set, you will find one fine slicer and a regular slicer. These are the classic vegetable dicer blades that will cut anything in a second, like an onion into small square particles. The size of a slicer just allows you to choose.
The blades are made of 430-grade stainless steel, which means they are highly resistant to corrosion and will not bend under pressure.
There is also a grater blade that is perfect for processing nuts or chocolate. Among interesting features of this dicer, two blades can be highlighted – it is an egg separator and lemon juice. And if the latter we have already seen in the vegetable dicer above, then the egg separator is something new.
It is actually an extremely useful function that lets you separate the eggs from the shell 10 times faster. It's essential if you want to make your cooking process shorter. An egg slicer blade will be a perfect addition to that.
Moreover, it comes with a cleaning tool that will help to clean out even the most stubborn remnants of veggies stuck in between the parts of the device. The item has two separate containers for storing all the blades that it comes with.
Apart from that, often people using vegetable dicer face the problem of its sliding during the process, and that might be dangerous (you can cut yourself). Here, the base of the suction has the feet to prevent sliding.
The item itself is made of high-quality BPA-free plastic. The only thing is the main advantage of this dicer – the abundance of blades – can become its main disadvantage for unprepared people. There are too big a variety of them and only two containers.
Also, because of that, be ready here for the storage of all components you will probably need a separate case. All parts and blades simply won't fit inside the chopper. It also has a relatively high price.
You can also check: 7 Best Food Processors Reviews
7. RüK Vegetable Chopper Slicer Onion Chopper Dicer
For those who have been going through this list regretting there is no option that would offer the versatility in cutting styles and would be compact at the same time, we have found a perfect variant for you.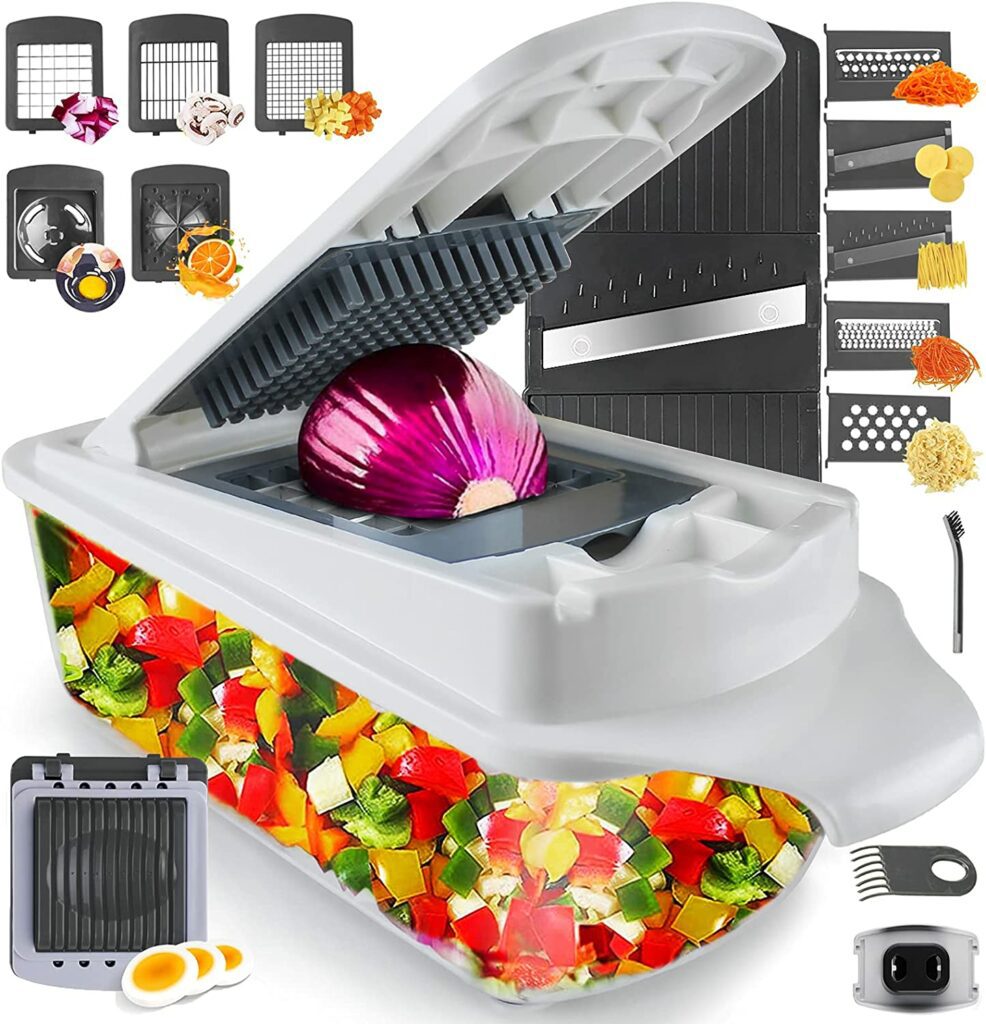 This product by RuK is capable of becoming your best helper no matter if you're cooking at home or take it away with you. You will be surprised how at this small size this model has so many blades. But the engineers of this dicer have done their job perfectly in terms of organizing their storage of them.
Moreover, they're organized in such a way that you will always know which one to use and so on. According to the statistics, people on average need 6 blades with the veggie dicer, so this is exactly the amount of them that this item has.
The blades include two different kinds of julienne slicers, a grater, a wave slicer, two slicers to make slices of two different thicknesses. The storage for the blades is placed on the lid of this device. The container for the sliced vegetables is traditionally placed below the blades.
Besides, it has a handle on the lid which allows you to grip the lid securely and another component to guard your finger against coming into contact with the blades. And just like in the case with the previous vegetable dicer, this one has silicone feet, so it wouldn't slide while you're chopping something.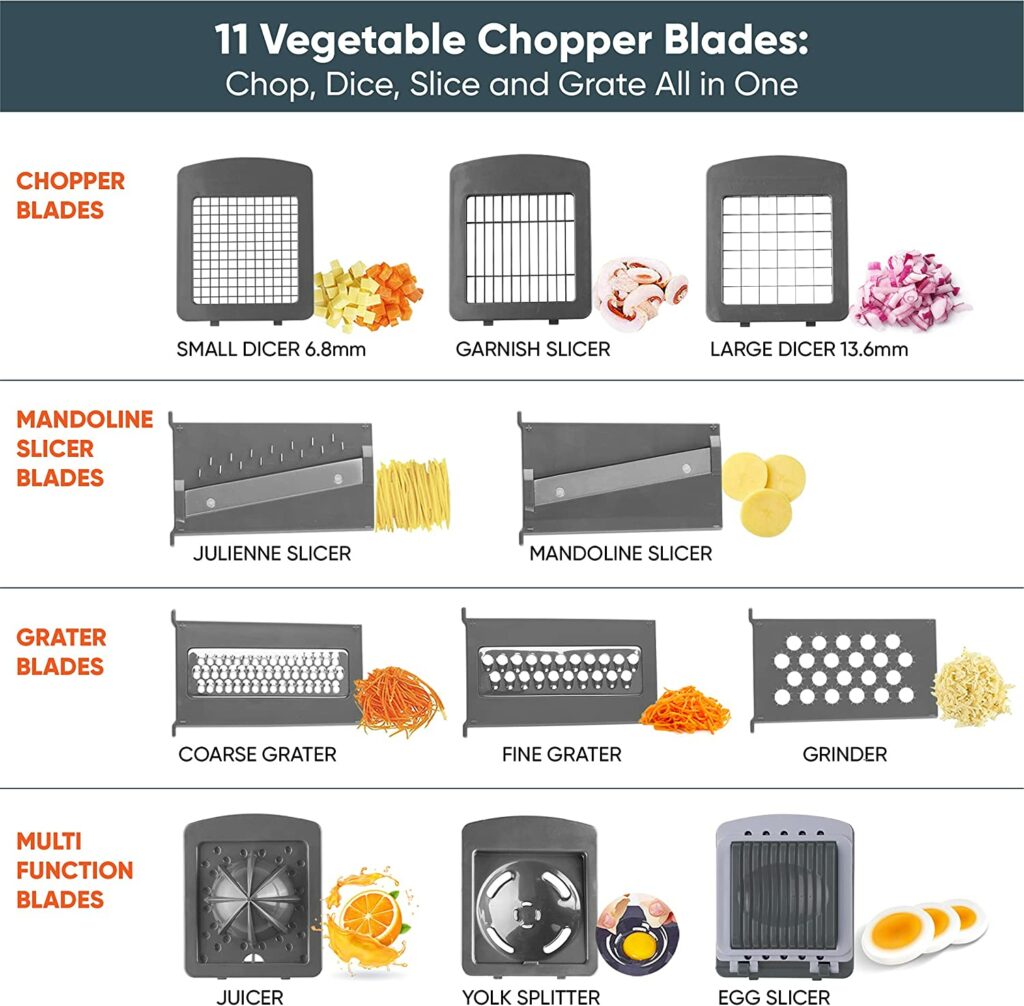 Another bonus feature of this item is that it comes in a set with a vegetable peeler. The blades are made of stainless steel and the body is made of ABS plastic which is extremely robust and durable (so you can take this device with you without worrying it can break).
All the parts of this vegetable dicer are dishwasher safe. And by the way, it is not quite a veggie dicer… but rather a vegetable slicer. It's not critical, but if you're looking for a device that will be diving the vegetables in square forms, then this is not the choice for you.
In other aspects, it's a great, durable, versatile, effective, compact, and lightweight item that will be a perfect addition to any kitchen. It comes at a great price as well.
KitchenAid 3.5 Cup Food Chopper – KFC3516
KitchenAid is one of the most famous kitchen appliances it is one of the most popular food Choppers in the market. With its excellent capacity and powerful motor, it can work a lot like a full-sized food processor, despite the fact that it's not bulky like the other food processors.
This will be a perfect option for those who would like to buy a food processor but don't want it to occupy too much kitchen space. This item is equipped with two speeds and a pulse function.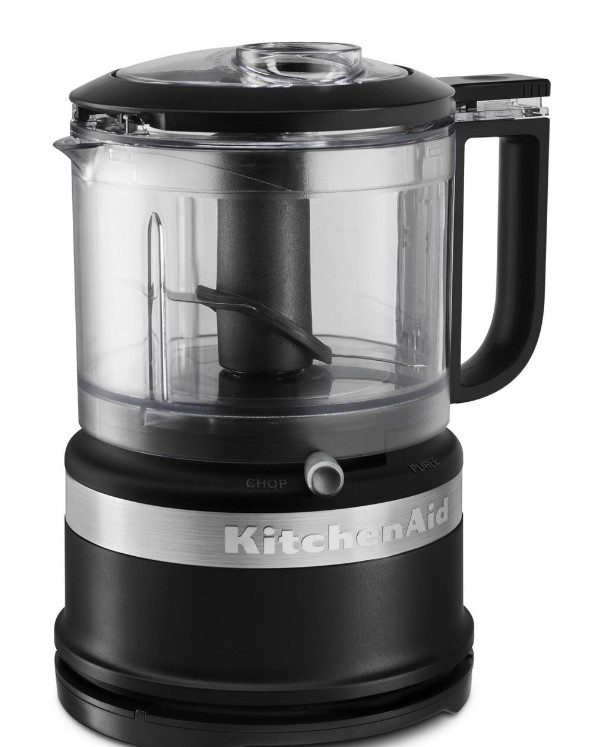 Even though this machine looks small it is truly mighty and it can top ingredients and even make purees. For example, you can use this food chopper to prepare cilantro and parsley for garnishes, chop onions, or just whip up sauces like salsa for a crowd.
The drizzle basin hair allows you to drip liquids into the bowl therefore here you can make your own olive oil and other salad dressings. This particular model is a 3.5-cup capacity and one cool thing about it is that it is available in several colors.
The weight of it is also not that much, it waits for only two pounds so it's easy to carry around and put away than your normal full-size food processor. You can also put this item into the dishwasher since the ball, lead, and s-shaped stainless steel our dishwasher safe.
The only possible drawback that we found is that the small bits of food tend to get stuck in the crevices of the lead and therefore you would have to pay extra attention to get it clean. In total, there are no other drawbacks, this item is just flawless.
Cuisinart Mini Prep Plus Food Processor
In case you're looking for something more powerful, this food processor by choosing art is a perfect option. This item features a powerful motor that can be operated but just a single touch of a button.
What is even cooler is that this item is dishwasher safe, or, being more precise, its parts are dishwasher safe. The functionality of this item is similar to a food processor. In total, it has two settings chopping green, that you can launch by clicking on a button.
It also features the top setting that uses the sharp side of an s-shaped blade and this option is ideal for softer foods like onions or herbs. The other function is grind which uses the blunt side of the blade.
It was designed to be used with more harsh foods, for example, hard cheeses or peppercorns. The capacity of this machine is three-cup bowls. It also features a locking lead with holes so you can add liquids or oils.
There is a motor with a power of 240 w. So it is speedy and Powerful and you need to watch that you don't over-chop or grain your ingredients.
Another essential aspect about this item is that it can be a bit loud from time to time despite the fact that it works quickly and that noise won't last long. In total, the item is quite lightweight and it waits for only 2.2 lb so it's easy to move around.
In addition, it won't take up much space to store it. It has a ball, lead, and blade that can go straight into the dishwasher. And the additional bonus about this food chopper is that it comes in a variety of colors that you can choose from.
FAQ for vegetable dicers for quick-cooking buyers
1. Is vegetable dicer suitable for usage by people with arthritis?
If people with arthritis chop only soft vegetables then all the vegetable dicers will be suitable. However, some harsher items like onions or potatoes require more effort and here is where the problems might start.
You should look for more compact dicers because they are the most effortless in usage. Don't choose the ones which have the cord to pull for cutting vegetables. Choose vertical dicers with smaller capacity, because smaller amounts require less effort to process. Or people with arthritis should look for electric dicer.
2. Can I chop tomatoes with my dicer?
Once again, it depends on the model of the dicer. Here you should pay attention to the blades. You should be careful when you try to chop tomatoes with the traditional squared blade because in this case it can just get smashed. But there are versatile vegetable dicers which can also slice vegetables. Probably, slicing is the better way to cut tomatoes.
3. Does it make sense to buy more expensive dicer?
The price of the dicer depends on the number of blades that it has and its capacity. If you are going to use it a lot and you are used to processing lots of vegetables, then good quality dicer will speed up the process significantly and will be definitely worth the money.
On the other hand, it's not logical to buy multi-purpose vegetable dicer if you're using it just from time to time. What is more, if you see that dicer has just 3-5 blades but it has a high price, it's a reason to doubt getting that item in particular.
4. In the case with cord vegetable dicers, how many pulls does it take to cut something?
Usually, it takes 3-4 pulls.
5. Can vegetable dicer cut a sweet potato?
It can 2 or three times but most likely it will eventually break. Pay attention to the construction before doing that.