All fans of Italian cuisine, namely pizza, have in their home not only pizza ovens but also other special kitchen appliances. In this review, you will find the best pizza cutters.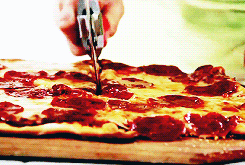 With a handy device, cutting is not a problem, and the slices are smooth and tidy. Get acquainted with the types of pizza cutters and their features.
Browse through the assortment in shops and find out which knife is the best, most convenient, and reliable. This overview will help you make the right choice for yourself, as a gift or in the office.
There are different kinds of pizza knives. Some devices are trusted. But they all deserve attention and need more detailed consideration.
The classic crescent-shaped knife
The crescent-shaped cutter with the blade is a classic that was used even before roller knives with the rotating blade was invented. The rounded shape allows you to cut the pizza without making traditional cutting movements.
For smaller models, the handle is made in the classic version, and if the blade is long, the handle is made at the top or has two holders at the edges. There are rough and massive cutters without handles, sometimes called "guillotines".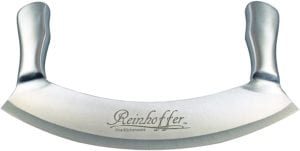 It is impossible to count the half-moon knife to the most convenient ones, as it is difficult to cut a hot pizza with a thick layer of filling. In the absence of skills edge turns out to be uneven, and the filler stretches for the blade or falls apart. It is necessary to cut it on the cutting board.
The cutter is not only suitable for pizza, but also for thin pies with open filling made of sandy and puff pastry. It is always difficult to cut such pies with a knife.
The most popular pizza cutter
The most popular knife is a sharp rotating wheel with a handle. There is no doubt that pizza cutters were invented in Italy, the birthplace of pizza.
But some historians claim that roller models were invented by Americans. By appearance, the disc cutters can be divided into two large groups – with the open and closed blade. The others are safer.
For cutting, you just need to roll a disc with effort, cutting a round cake into pieces. There are many variants of disk pizza cutters, but externally they differ mainly only in shape and length of the handle. The diameter of the round pizza knife can be different.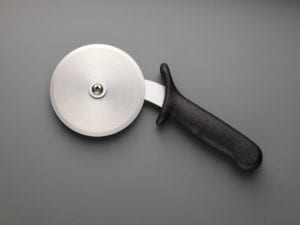 Not only the design but also the materials should be taken into account when choosing a pizza cutter. Above all, the material of the disc is important.
The ideal is strong stainless steel, which is most often used by manufacturers. Stainless steel is easy to wash, it is not afraid of moisture and scratches. The smooth surface prevents dough, filling and melted cheese from sticking.
It is important that the pizza cutter blade is hard and strong, smooth, and burr-free. Soft steel of insufficient thickness will quickly deteriorate. The cutting edge has to be well sharpened.
The handle can be made of stainless steel, plastic, or wood. The steel is not only strong but also hygienic. It can be washed with hot water and detergents. The wood absorbs dirt and grease and requires special care.
Plastic is afraid of hot, so it is important to make sure that the pizza cutter is not near the hot plate.
It is convenient if the handle is slightly curved, but it is quite possible to cope with cutting and straight knives. Still, most people prefer to cut pizza standing up.
Pizza scissors are an amateur choice
It is especially convenient to use scissors with a blade if the pizza is hot. The spatula eliminates the need to hold the cake with your hands. Plus, you can immediately serve delicious slices on plates. The shape of the scapula helps to make slices of the same size so that no one will be hurt.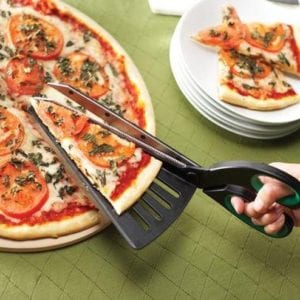 Cutting pizza with special scissors is not always convenient. How smooth and beautiful the edge will depend on the filling. It is not always possible to cut a juicy tomato or mussel beautifully. Rather, it is an extra accessory for those who already have a handy roller knife in their arsenal.
Criteria for choosing the perfect knife
Remember the short sale algorithm:
The best pizza knife is a rollerblade with a sharp rotating disc.
The convenient diameter of the round blade – at least 6.5 cm.
If the blade is closed by the body, it must be removable so that it can be washed and dried.
The material of the blade is strong stainless steel. The blade must not bend.
Mounting of the wheel – reliable, does not wobble, made of stainless steel.
Handle – plastic or steel (in priority), well fixed with a hole for hanging.
Products of well-known manufacturers are always more expensive. But there are also good quality goods in the inexpensive price segment. Compare quality, not brands.
If there are small children in the house, it is better to give preference to models with a closed blade. If there is no fear of cutting, you can buy an open round knife, it is easier to care for. For a gift on sale are beautiful pizza cutters with ceramic handles, drawings, and inscriptions. But do not forget about practicality and functionality.
This is the best choice of the pizza cutter:
Our Top Pick
KitchenAid KC113OHAQA Classic Pizza Wheel

This tool makes a clean cut in any crust and, unlike using a knife, actually presses the crust and toppings together, keeping the toppings on your pizza.

Check Current Price
Other great models of pizza cutters:
IMAGE
PRODUCT

TESUE Pizza Cutter Wheel Slicer

This pizza cutter stay sharp and anti-rust, slice smoothly and effortlessly. Ergonomic anti-slip handle fits comfortably in your palm.

Check Current Price

OXO 26681

This model comes with sharp stainless steel blade accommodates even thick-crust pizza.

Check Current Price

JuneLady Pizza Cutter Wheel Slicer

You can use this cutter for pizza, pie, waffles, pastry cookies, dough cookies and bread. Then, you will find more uses for this tool.

Check Current Price

Winco PPC-4 811642000910

This model can be used to cut pizza, lasagna, fudge, among other foods. It comes with stainless steel blade with durable plastic handle.

Check Current Price

Premium Professional Pizza Cutter Wheel By VestaHomeStore

This cutter is made of stainless steel which provides excellent resistance to rust and corrosion and makes a durable cutting tool.


Check Current Price

Zulay Pizza Cutter Wheel

This pizza cutter features a sharp and durable stainless steel roller circular blade that can cut through any crust large or small.

Check Current Price
KitchenAid KC113OHAQA Classic Pizza Wheel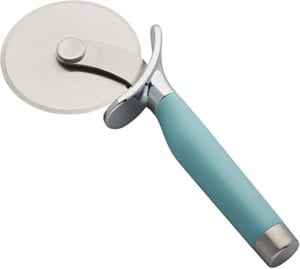 It's a real gift for true pizza lovers. With this knife, you can cut pizza, casserole, or cake into neat and beautiful slices.
The knife has special protection against cuts. Your fingers are safe and sound.
This pizza knife has a stainless steel disc blade, which does not need frequent sharpening.
The model ensures an even cut even in the thick dough with a thick layer of filling.
It can also be used for dividing open dessert and unsweet pies into portions. The handle is equipped with a stop that prevents the palm from slipping, thus avoiding cuts.
For convenient storage of the model, a hinge is provided on the hook. The alloy is resistant to wear and corrosion, which contributes to a long service life of the knife.
The product should be cleaned from leftovers in the dishwasher or manually with a soft sponge and the addition of a non-aggressive agent.
KitchenAid designs and produces high-quality luxury dinnerware. The company's main priority is to achieve the best results in cooking. Improving technology has brought the company many patents and awards.
Some innovations have revolutionized the world of cooking. The design and functionality of the dishes are constantly being adapted to the needs of consumers. Thus, it best meets the needs of a wide range of customers.
Stylish and comfortable kitchen accessories from this manufacturer can be your best helpers in the kitchen. It includes all kinds of ladles, sieves, whiskers, blades, and other necessary items in every kitchen.
For functional parts of these kitchen accessories used polished stainless steel, and for handles and holders – matte.
There are also hinges on the handle of this tool that can be used to hang it from hooks. This kitchen accessory can be easily washed both by hand and in the dishwasher.
You may also like: 5 Best Parmesan Cheese Grater Reviews
TESUE Pizza Cutter Wheel Slicer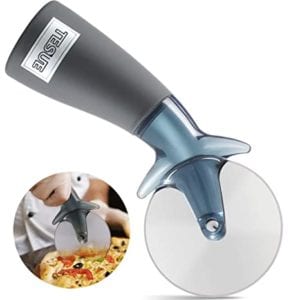 This pizza cutter is made of high-quality stainless steel and environmentally friendly plastic. It can be washed in the dishwasher.
This pizza knife is ideally suited for use at home, in restaurants and cafes.
The ergonomically shaped handle with a roughened insert at the bottom prevents slipping off your fingers during use.
Rotating, evenly designed with sharp edges, pizza slices can be cut as precisely and carefully as possible.
The kitchen appliance is manufactured using strong, durable steel with anti-corrosion properties.
The presence of a hinge at the base facilitates the convenient storage of the knife on the hook of the railing system. A dishwasher can be used to remove food remains.
The manufacturer TESUE is one of the world's leading manufacturers of kitchen accessories. Products have received well-deserved recognition, both among experts and the general consumer.
One of the distinctive features of the concern is the richest range of products. It includes all kinds of tools and accessories for the kitchen and much more.
At the same time, each type of product is represented by a wide model range. Each model meets the highest quality standards.
This variety allows the consumer to meet almost all the needs for home products. It has high quality, convenient and functional products.
The kitchen space should be practical and properly organized. The manufacturer combines in aesthetic unity of technology, ergonomics, and quality. This unity allows making life much more comfortable and beautiful.
All products are certified and meet all quality standards. Thus, buying it, you can be sure of quality and safety, confirmed by many prizes and awards that the company has received in recent years.
In the manufacture of the manufacturer of its products uses only innovative ideas and quality materials. These are stainless steel, glass, silicone, nylon, and plastic.
By creating "smart" products, the company seeks to simplify the process of cooking delicious dishes. They create culinary delights in the homes of its customers.
OXO 26681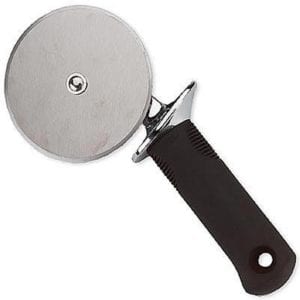 This pizza knife is made of high-quality plastic and stainless steel. It will allow you to gently cut into even portions of pizza or pie without damaging the filling.
It can be washed in the dishwasher. OXO products help to prepare delicious, gourmet meals and give pleasure to you and your loved ones.
This pizza knife model is a convenient and practical solution for everyday use. The pizza knife is made of durable, safe plastic with stainless steel elements.
The round pizza knife with a sharp blade allows you to quickly slice the ready pizza into slices. Also suitable for cutting raw dough for other dishes.
The ergonomic handle has an opening for practical storage in the kitchen. The product can be washed either in the dishwasher or by hand using standard detergents.
OXO is one of the leading manufacturers of kitchen accessories. The company has gained experience in the manufacture of products made of solid polymers and stainless steel.
This has allowed us to offer consumers high-quality kitchen accessories for a variety of purposes. Distinctive features of products are durability and excellent performance.
Thought-out accessories will always find their place in any kitchen. Their functionality and practicality are harmoniously complemented by a stylish design.
This makes kitchen accessories of this brand so popular with owners around the world.
JuneLady Pizza Cutter Wheel Slicer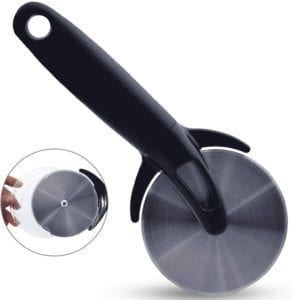 This pizza knife has a compact handle made of high-quality plastic. The cutting blade made of stainless steel does not need frequent sharpening.
It ensures practicality and reliability. For safe operation, a stop is provided to protect the user's hands from contact with the blade.
The product roller system is designed for long service life and does not need to be renewed.
The smoothly rotatable movable disc allows you to cut pizzas into portions, as well as cut dough for homemade noodles.
The handle is equipped with a hinge, with which you can hang the knife on a hook or a special stand anywhere in the kitchen space.
This pizza knife is made of stainless steel, absolutely safe to use, and helps to cut pizzas into perfect slices.
Thanks to the non-slip plastic handle, the knife is easy to hold in the palm of your hand and the stops prevent your fingers from getting into the sharp edge.
The model with a stainless steel cutting blade does not need frequent straightening and sharpening. It significantly extends the service life. The product can be cleaned by hand using conventional means or in a dishwasher.
The disc blade of the knife is highly durable and resistant to corrosion. This knife is very easy to clean. It can be easily disassembled with a screw in the center of the knife.
When disassembled, it can be washed by hand. But, this must be done with care, as the blade is very sharp. It can also be washed in a dishwasher. A special plastic container is included for storing the blade separately.
Winco PPC-4 811642000910
This pizza knife is ideal for slicing dough and pizza, even in deep shape. The knife has a large diameter round blade made of high quality hardened steel.
The ground edges of the blade will keep the knife sharp for a long time. The knife was manufactured using seamless joining technology.
This prevents the accumulation of dirt in places where welds are usually located.
The ergonomic, volumetric handle fits comfortably in the palm of your hand so that your hand does not get tired of long work.
Made of stainless steel, it is easy to care for and very reliable. It is equipped with a metal hinge for hanging.
Suitable for washing in the dishwasher. For easy attachment, you can buy a wall mount that matches the style.
Winco company is one of the world leaders in the production of high-quality products. They install innovative technologies and design.
For many years, the company's designers embody ideas that do not lose their practicality in the field of household accessories.
Winco – home and kitchen accessories of the highest quality and excellent design. Made only from the most modern materials with innovative coatings.
Premium Professional Pizza Cutter Wheel By VestaHomeStore
The pizza cutter from the manufacturer VestaHomeStore ensures that a whole dish is divided into slices of the desired size.
The round blade is made of high-quality stainless steel. It can come into contact with dishes that are susceptible to mechanical damage without causing damage.
For example, trays with Teflon coating. The model can withstand temperatures up to +210 ºC.
This pizza cutter has a handy plastic handle with a hole for hanging from the hook.
The pizza cutter can be cleaned with warm water using standard detergents as well as in the dishwasher.
The blade is fastened to a stainless steel base, which ensures the structure is strong and reliable in use.
The pizza knife is made of stainless steel with a handle covered with silicone. It can be washed in the dishwasher.
The material of this pizza knife has excellent resistance to corrosion and rust. This ensures the durability of use and always a beautiful appearance.
The top of the knife is covered with a plastic lid, which eliminates the possibility of injury during use. The comfortable handle of the knife allows you to easily cut even slices of pizza without tiring your hand.
The surface of the dishes on which you will be cutting pizza will also be safe. Cleaning this knife is also very convenient, as the blades can be removed by simply unscrewing the screw in the middle of the design.
The manufacturer provides a warranty for howling. So, if you have any questions or problems, you can contact the manufacturer directly.
You may also like: 7 Best Cheese Slicer Reviews
Zulay Pizza Cutter Wheel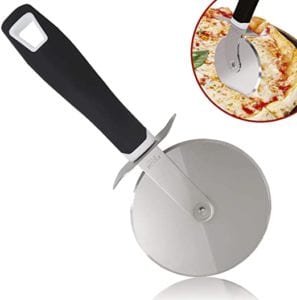 This pizza cutter is designed for both professional and home use. The ergonomic handle is made with a pleasant overlay.
Its stainless steel blade is so sharp that it can easily cut any filling and dough without damaging the appearance of the dish.
The knife is easy to clean thanks to the removable blade. It can be washed in the dishwasher.
The round knife, which you can hold by the handle, is convenient to use in a compact manner.
Zulay produces and sells a wide range of teaks and other culinary accessories for a wide variety of dishes all over the world. For example, pizza peels.
Unique sharpness, high performance, environmental safety, and amazing durability. These are the qualities that have made Zulay products so popular with housewives in many countries.
Zulay kitchen accessories are ready to take on not only the fine work of the chef but also the routine work of his assistant. This company produces kitchen accessories, which should always be at hand.
The blades of this pizza knife masterfully cope with cutting into even pieces. The knife handle is made of non-slip material and fits comfortably in your hand.
FAQ for pizza cutters buyers:
What is the advantage of the pizza cutter?
This pizza cutter allows you to gently cut the pizza into even pieces while leaving the filling in place.
Can I cut with the pizza cutter?
Yes, there is a risk of injury if you use the tool carelessly. This is especially dangerous when cleaning the pizza cutter. It must be done particularly carefully. There is less risk of cutting yourself when slicing pizza. Some models have special nozzles that completely cut the risk of injury.
How do I cut a pizza without a pizza cutter?
You can use a large chef's knife for this. But, slices of pizza may turn out to be uneven, as this knife does not allow you to cut the filling gently. This is why most pizza lovers recommend using pizza cutters.
Is it better to cut pizza hot or cold?
Cutting hot pizza is not quite convenient, as holding the edges of the pizza is quite problematic. At the same time, cold pizza does not convey all the flavors you can get from hot pizza. Thus, the average temperature is optimal.