The need for different dishes in the kitchen occurs with almost any cooking. People who eat a variety of meals used to see in their diet, both fried and boiled, as well as stewed and baked dishes.
Each of the meals requires its own dishes for cooking. When you come to the store for pans, pots, saucepans, and even bakeware, the question arises: what is better to buy?
Since you will need different sizes of dishes, the most advantageous option would be to buy a full set, which immediately includes several items. But what is the best material to choose from? We decided to consider the 3 most popular types of cookware, which are most often seen on the shelves.
If you can choose the best cookware, then, you can check these reviews that include both advantages and the best models of different cookware types:
7 Best Ceramic Cookware Sets Reviews 2020

Ceramics and earthenware are used to make baking moulds, pans and saucepans. This porous material transmits air well - you can't "dry" a dish in it. Ceramics are ideal for baking in an oven.


Check the review

7 Best Nonstick Cookware Reviews

Non-stick cookware is functional and easy to maintain. Non-stick cookware pans do not rust, are not afraid of exposure to aggressive chemicals contained in products such as acids and alkalis, in such cookware you can store food in the refrigerator.


Check the review

5 Best Stainless Steel Cookware On The Market

Stainless steel products are the most popular. All because they are not afraid of the mechanical, chemical and physical effects that can be destructive to other materials.


Check the review
The most popular became ceramic, nonstick and stainless cookware. When cooking, you will need to consider a number of features that accompany each material. Depending on your needs, you should make the right choice, and we hope our article will help you with that.
| Characteristics | Ceramic Cookware | Non-stick Cookware | Stainless Cookware |
| --- | --- | --- | --- |
| Service life | About 5 years | About 1 year | Over 10 years |
| Oil usage | Minimum quantity | Not necessary | Necessary |
| Heating Speed | High | High | Low |
| Weight | Depends on the external coating of the frying pan | Average weight | Most of the products are heavy |
| Ease of maintenance | Manual cleaning and gentle care are required | Requires care, scratches easily | Scratch-resistant, low-maintenance |
| Availability in stores | Average | High | Average |
| Universality | Most of the products are designed for ovens | Best suited for short term frying | Best suited for braising and cooking |
| Heat preservation | Long time | Short time | Long time |
| Price | The cost of a set of 5 items starts at $70 | The cost of a set of 5 items starts at $50 | The cost of a set of 5 items starts from $100 |
Ceramic Cookware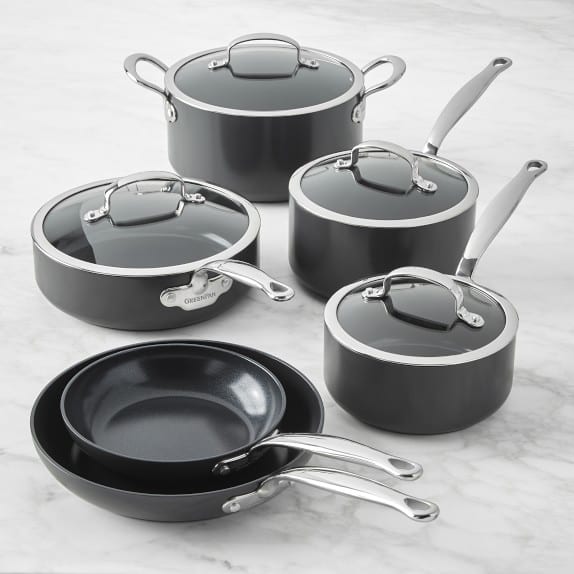 Ceramic coating of frying pans and pots, as well as special forms for baking, is one of the non-stick coating options. It is a special coating of nanocomposite polymeric substance, which contains micro-particles of sand.
Actually, the ceramic coating is a special kind of durable glass with the non-stick property. When cooking, it is necessary to use special tools and blades that will not damage the coating of ceramic cookware. Usually, these are silicone or wooden blades that will not damage the coating itself.
Ceramic-coated pans distribute the temperature evenly. By the way, the heating of ceramic dishes can be very high – up to 400 degrees Celsius. Heating is fast enough, but the dishes do not tolerate sharp temperature changes. If there is a difference, then the dishes will lose their non-stick properties, as well as lose proper appearance.
Nonstick Cookware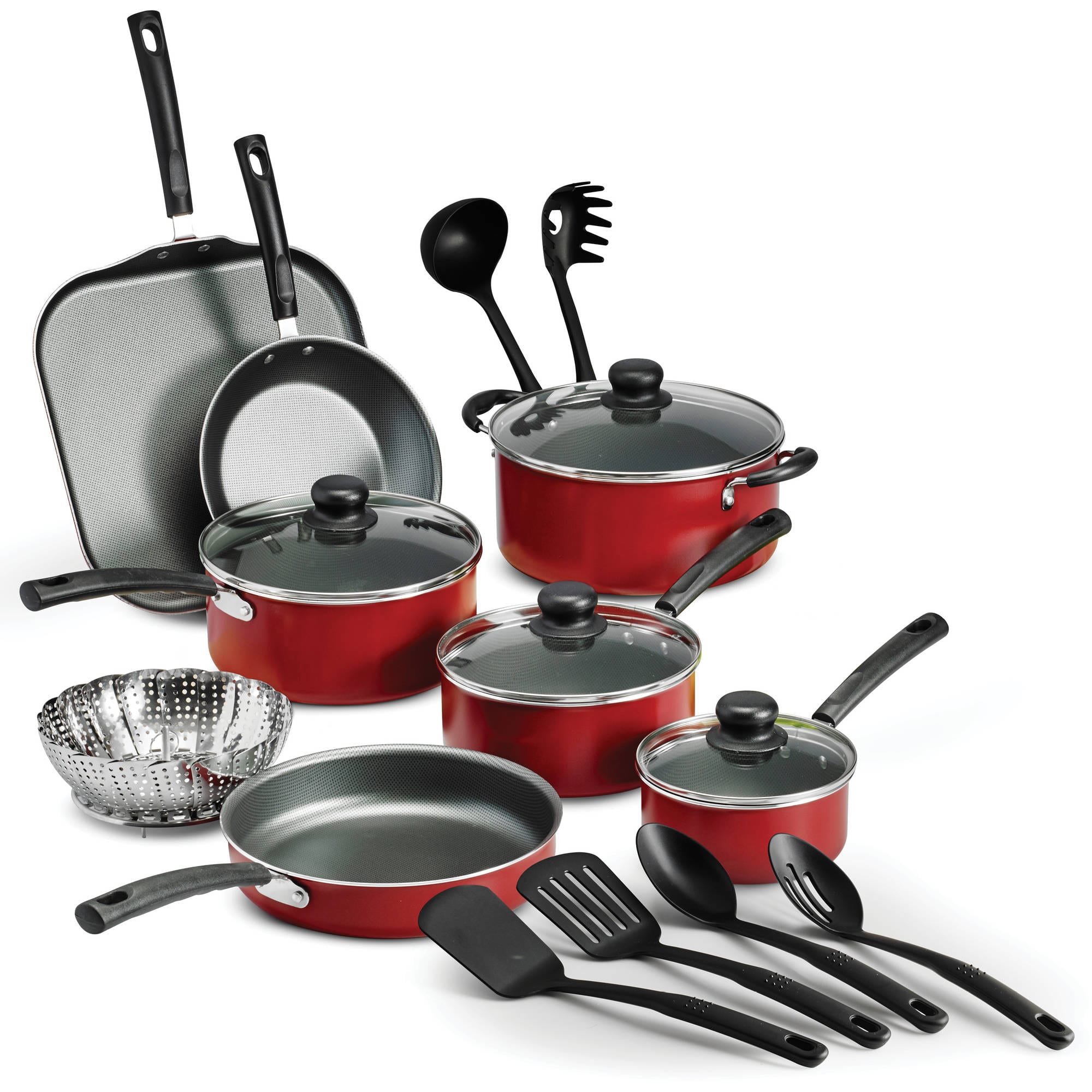 The main advantage of Nonstick Cookware is that you do not need to use oil during the cooking process. Food does not stick to the non-stick coating, so you can cook with almost no oil.
The first drawback you can notice is the short cooking time. In non-stick cookware, you can't fry or stew food for long periods of time, especially in high temperatures. This limitation is due to the fact that when heated above 200-250 degrees Celsius, the coating starts to emit poisonous substances that get into your food. Also, such dishes should not be used in microwave ovens and ovens at high temperatures.
During the cooking process, you will only need to use wooden or silicone tools. This is because the Nonstick Cookware coating is easily damaged and scratched, and then loses its non-stick properties. You should wash such dishes with a soft sponge without abrasive materials. At the same time, Nonstick Cookware is the most affordable and most common in stores.
Stainless Cookware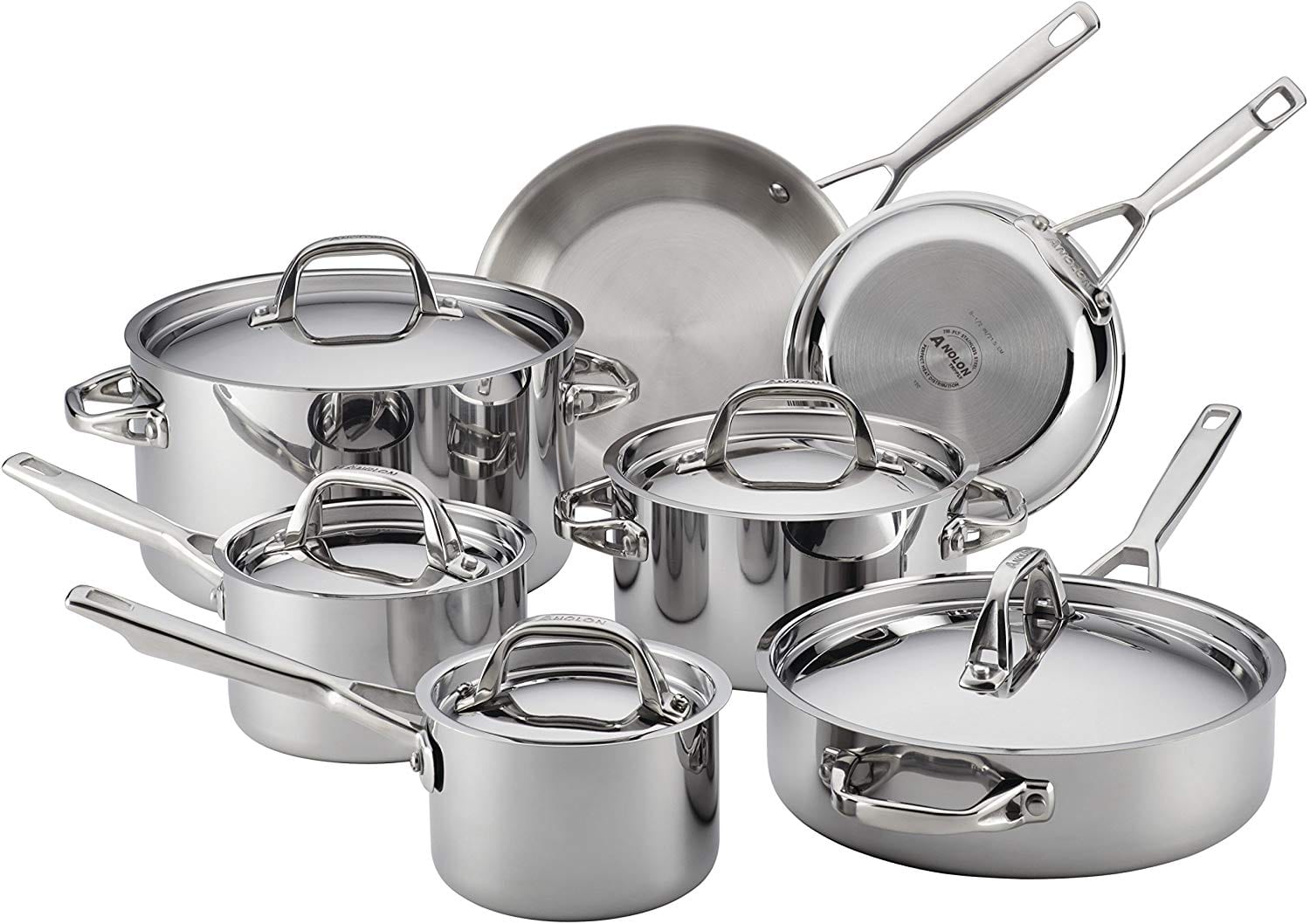 Stainless Cookware is highly durable and wear-resistant. You won't need to think about special care for your dishes – for example, buying special products and dishwashing sponges. Stainless Cookware is resistant to oxidation and mechanical damage – you can wash it even with hard and metal sponges.
Stainless steel dishes can have 2 types of bottoms – multi-layer capsule or single-layer. Layered products are more popular, they help to save time during the cooking process. It is worth noting that a special technology prevents food from sticking to the surface of a frying pan or pan – of course, when using oil.
Single-bottomed cookware is lighter, but it heats up much faster and is more suitable for cooking woks and other dishes with contrasting temperatures. Stainless cookware is rust-resistant and does not leave germs or bacteria on its surface. It is also worth noting the excellent appearance – polished steel frying pans and pots look great in the kitchen.
You choose which type of cookware is best for you. If you stick to the proper nutrition or low-calorie diet, it is best to use coatings that do not require oil when cooking. It is also worth paying attention to the financial component – sometimes the cost of a good set of stainless steel tableware can reach up to $ 300-400, and it will not be the highest price in the market of such products. First of all, pay attention to your needs and capabilities. We hope that our article will help you make the right choice.
You may also like: Top 7 Healthy Cookware Sets On The Market