Who doesn't like Italian cuisine? Mozarella, pizzas, pasta… The last is especially good if it's truly a homemade fresh product. Buying pasta in the supermarket is completely not the same. Sometimes even not all Italian restaurants are not truly Italian and cannot make good pasta.
And yes, the restaurant is good, however, you won't be coming there every day, right? And who said you have to go to restaurants to get a taste? There is always a way to make something yourself. Moreover, homemade pasta has been becoming a real trend lately.
Of course, you can say that making pasta on your own is time and power-consuming. Well, it is, if you're doing everything manually. Whenever it is a discovery for you, but nowadays, there are lots of electric pasta makers on the market that will make the best pasta for you.
By the way, did you know that there are more than 350 different kinds of pasta out there? The lifetime won't be enough to try them all, but producing is more than possible because all those electric pasta makers are extremely productive.
Get one of those great items that you will find on our list and invite all your friends to an Italian dinner!
Our Top Pick Electrcic Pasta Machine
Marcato Atlas Pasta Machine

Easy to use and clean
Powerful
Compact
Made of stainless steel

Check Current Price
Other great electric pasta machines:
Image
Product
KitchenAid KSMPEXTA


Made of plastic
Multiple discs
Affordable

Check Current Price
KitchenAid KSMPCA


Comes with lots of attachements
8 different settings

Check Current Price
Hamilton Beach Electric Pasta Maker & Noodle Machine


Heavy
9 different settings
Easy to clean

Check Current Price
Philips HR2370/05


Nice and compact design
Works fast
Parts and discs are dishwasher safe

Check Current Price
Philips HR2375/06


Extra powerful
Easy to use
Preset cooking functions
Easy to store

Check Current Price
ZXMOTO Pasta Maker


Made of stainless steel
Can work without electricity
9 different settings

Check Current Price
1. KitchenAid KSMPEXTA Gourmet Pasta Press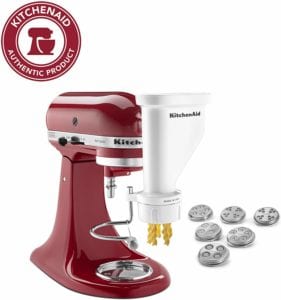 This pasta maker by KitchenAid might look like an alien machine but in fact, it is quite a powerful and versatile item. Mainly, the design is one of its advantages. In order to improve the design of your kitchen and lift up your mood, the manufacturer decided to paint the pasta maker in red color and customers appreciated it.
In addition to the pasta press attachment which has a wire cutter, it includes the pusher, six pasta discs, cleaning tool. You can change discs when you want to make various types of pasta: macaroni, fusilli, bucatini, rigatoni, and many more! This item is truly useful for all pasta lovers.
If you make the setting right, you can even make first-class spaghetti with it. Unlike its roller counterpart below, which is all-metal, this particular product from Italy is made of durable plastic. Of course, it would be perfect if this machine would be made of out better materials, but when it's capable of delivering a great product, it's not crucial.
This is a new model of the KitchenAid extruder. The older version of it has demonstrated a very decent level of durability. The only weak aspect of this item is its pasta ring which can be broken easily, so be careful with it. Apart from this, this tool doesn't seem to have any significant disadvantages.
Another cool bonus of it is that it comes in the set with a pasta press, pusher, and cleaning tool so you got basically all you need to start making your own homemade pasta.
You may also like: 7 Best Pasta Strainers Reviews
2. KitchenAid KSMPCA Pasta Cutter Attachment Set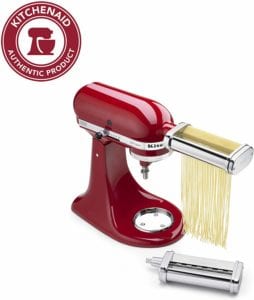 At first, you might think that this item repeats the previous one, but no, it's not a mistake of the editor. These are two different pasta makers that have a number of differences (and similarities as well). The distinctive feature of this machine is its attachments.
In the picture they look quite heavy-duty – well, that's how it is. The fact that they're manufactured in Italy speaks volumes about the quality. The KSMPRA attachment set comes with a pasta roller, two pasta cutters (for spaghetti and fettuccine), and a cleaning brush.
By the way, they can be connected to the multipurpose power hub on any KitchenAid stand mixer, not only this particular one. Moreover, in a matter of choosing the thickness, this device has 8 different settings so you will definitely find something special for you.
An interesting thing about this pasta maker is that if you are able to get the setting correct you can level achieve an extreme thickness of pasta. When you need to clean it, just air dry it and then scrape off the dough using the cleaning brush that comes with the package.
This set including the roller and extruder bundled will truly give you the opportunity to distinguish the range of pasta types that your KitchenAid pasta maker can do. The only aspect that consumers might not like here is its price – it's considerably more expensive than its alternatives.
3. Hamilton Beach Electric Pasta Maker & Noodle Machine
If you compare this machine to the other items on our list you will notice that this one is really heavy. It waits for more than 9 LBC and because of this, you should consider that this is not portable and once you place it try not to relocate it too frequently.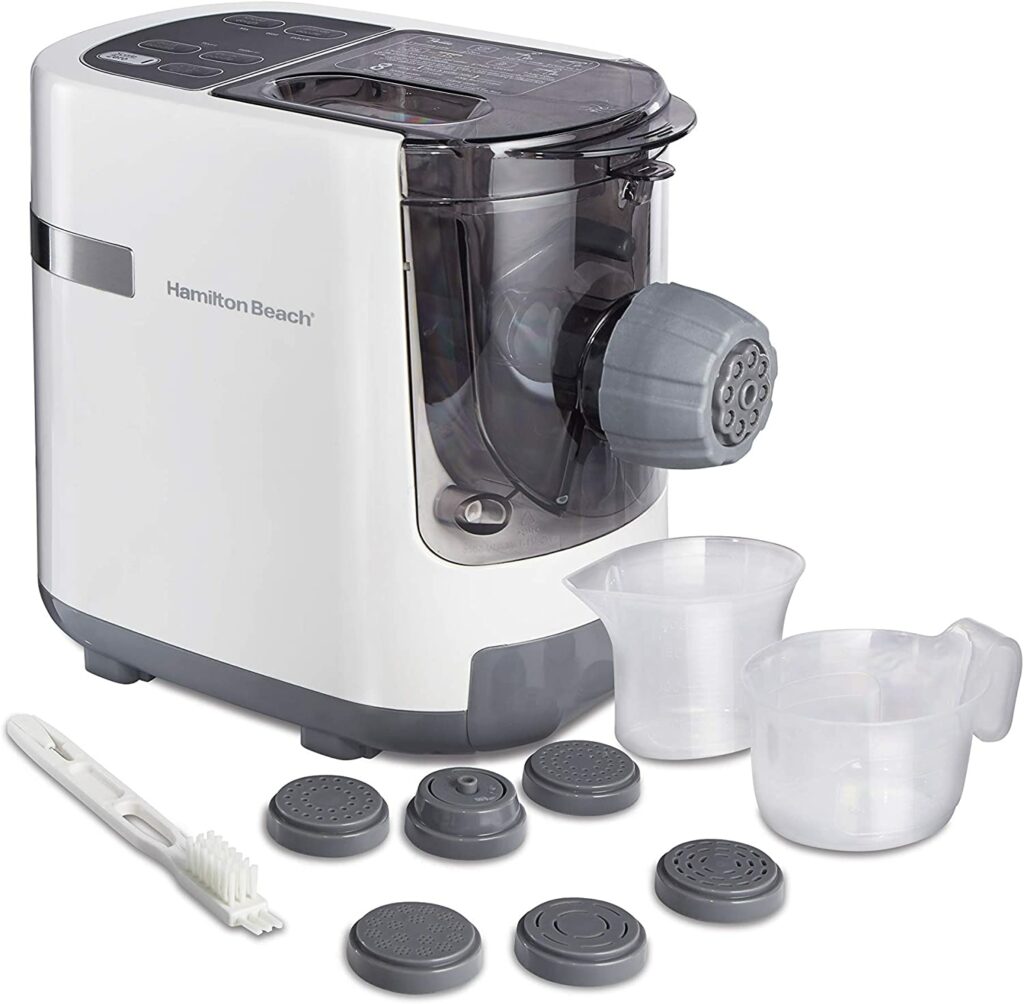 However, its weight does not demolish its positive features because it's capable of producing the most delicious pasta and we are sure you will love it. The tool has nine thickness settings and it can work on up to 500 G of flour in one take.
Another cool point is that it can even get dough 0.5 mm to 3 mm thick. There is also a built-in cutter for making spaghetti or fettuccine. And it will save you money from buying separate attachments for that.
What is more, it is so easy to clean. You will only need an evidence brush after usage. As always, remember I never clean it with water because the device is electric.
The machine comes with one year warranty so you are safe. The only possible drawback is that this machine can be a little bit too loud while it's in the process so use it during the daytime.
4. Marcato Atlas Pasta Machine Electric Motor Attachment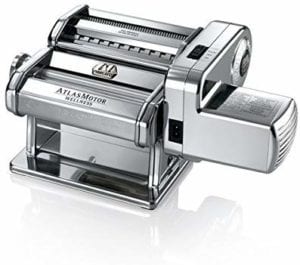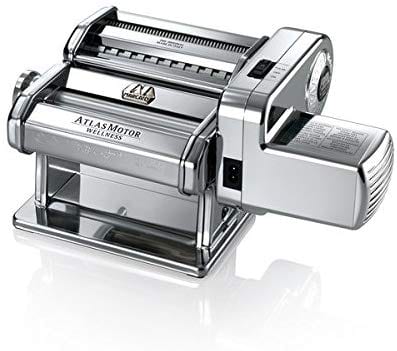 The outer design might be not the biggest advantage of this item, but everything is outshined by its ability to make great pasta. Moreover, many customers and experts consider this pasta maker the best one on the market today.
The body is made of stainless steel and anodized aluminum and it's driven by a 110V motor. It has a table clamp that holds it down, an easy-to-remove double cutter, and a crank to drive the rollers. Another distinctive feature of this device is that can make really long pieces.
By the way, considering the rollers, you can stay calm – they are guaranteed not to contain any harmful heavy metals that are present in lower-quality machines.
Another distinctive feature of this device is that among all the other items presented in our list this one is the easiest to set up.
Besides, the manufacturer provides a 10-year warranty here. The motor has 2 different speeds that can be adjusted when you need to get the pasta of a certain thickness. The body of the machine is made of nickel-plated and chrome-plated steel for long-term resistance to corrosion and features flat rollers for making the dough sheet.
The double cutter is easy to remove. The only aspect is that the machine might be a little bit difficult to clean after usage. Apart from this, no significant flaws are identified. Its price is average, so it is a bearable investment.
5. Philips Compact Pasta and Noodle Maker HR2370/05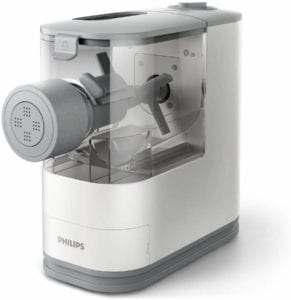 Philips is known for making the best kitchen appliances in the world, and this product is not exception. Unlike the previous electric pasta makers, when some of them look, let's be honest, quite ugly, this one distinguishes itself with a sleek and elegant design.
This model represents the new generation of pasta makers. Another feature that distinguishes it from the previous items on our list is that it is fully automatic. It is great at speed, and it does all the work for you. Around 18 minutes after you put the flour and all your desired ingredients in the mixing compartment, you're guaranteed 2-3 services of pasta.
There are also some other useful functions, such as mixing, kneading, and extrusion. Moreover, it has a unique stirring bar for even mixing.
The construction of this pasta maker is compact and saves you lots of space – that's especially useful if you have a small kitchen. And since the discs can be removed, they can be cleaned in the sink or the dishwasher.
It is an all-in-one machine, which means that it mixes and makes pasta for you. All you have to do is add the ingredients, set the desired type of pasta, and let the machine do all of the work for you. If you got that type of modern family that is always on the go, then this kitchen appliance will become a perfect solution for you.
In the set here you will also find smart built-in storage for shaping discs. A recipe book that comes in the set with this item is a pleasant bonus. It is a little pricy compared to previous pasta makers on this list, but it is explained by the fact that this maker is fully automatic.
6. Philips Kitchen Appliances HR2375/06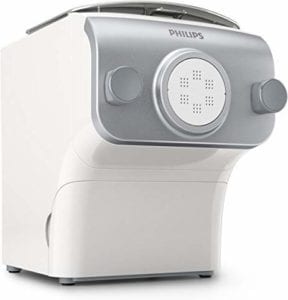 Another wonderful pasta maker by Philips is more powerful than the item we had right before. If you know that you're going to need large amounts of pasta, maybe you like to invite your friends for dinners, or you're even planning to use it for commercial purposes, then this is your perfect pasta maker.
To use it, all you need to do is add the correct ingredients. The control panel that this machine has is easy to read and use. It only has 4 total buttons, and each one is clearly labeled so that there is no way that you can get yourself mixed up when you are using the machine.
Once again, even though it is a serious machine it still doesn't lack the design element. It will perfectly fit the interior of any kitchen without occupying too much space. Obviously, this pasta maker is fully automatic which will allow you to save time and energy.
It has more controls which allow producing a bigger variety of pasta types, and apart from that, it has pasta time and overall ease-of-use thanks to the LED display and the preset cooking function. Its attachments include four default shaping discs (spaghetti, penne, fettuccine, lasagna), measuring cups, and a cleaning tool.
At the bottom of the pasta maker is a storage drawer for these attachments. Another prominent feature of this pasta maker by Philips is that it can knead and extrude a pound of dough in 15 minutes! The machine is completely easy in use and clean – its parts are dishwasher safe. A recipe book comes in the set for more inspiration.
Another cool feature is that it has a hidden drawer at the bottom. This storage drawer is designed to help you keep track of the various shaping discs and cleaning tools.
The only dubious moment here is the fact that there is no setting for the dough to rest before extrusion. However, it's not critical – if it's required it can be done manually. Another thing is that if you really want this pasta maker, be ready to invest a considerable sum of money into it.
You can also check: 7 Best Pasta Pots with Strainer Reviews
7. ZXMOTO Pasta Maker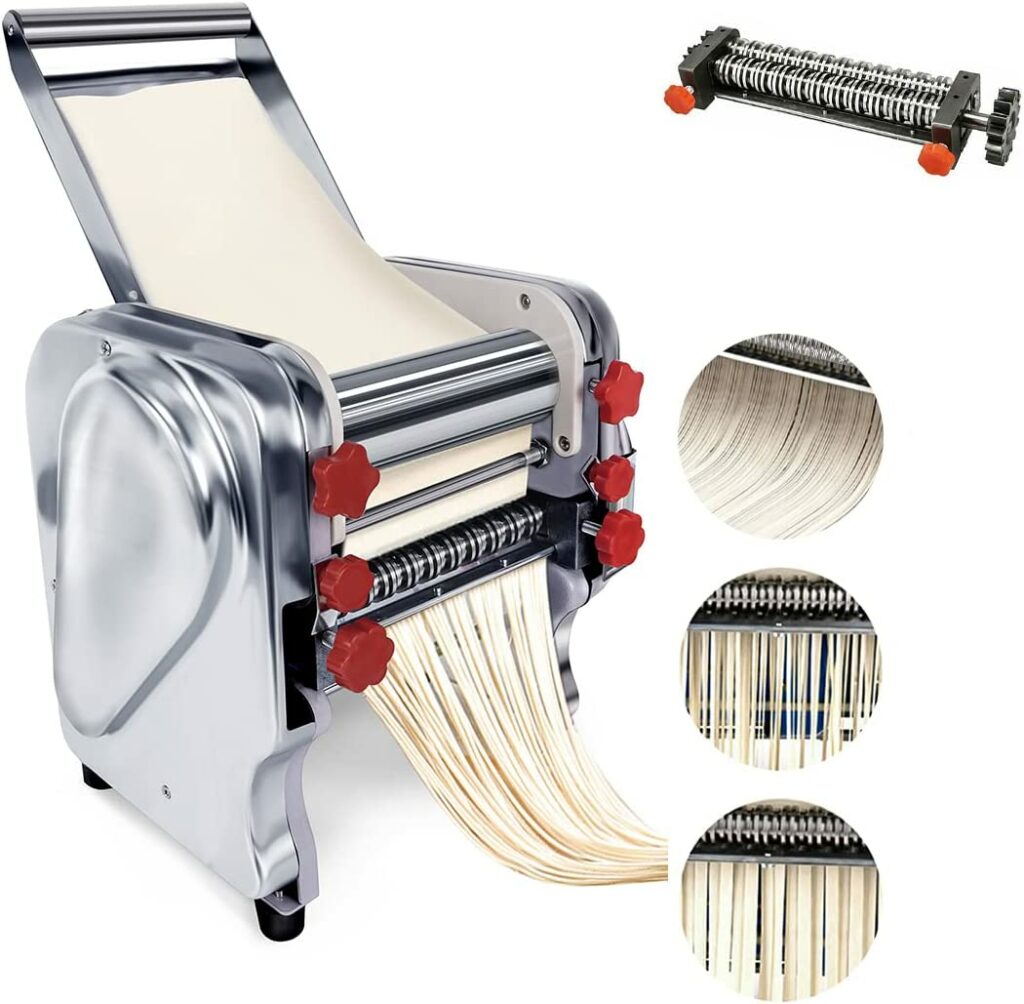 This is one of the best pasta makers on the market, however, don't consider this option as a budget one. It is made of top-quality stainless steel and it's also quite heavy. On the other hand, this factor means that this item is not easy to crack and it's not also a portable one.
And of course, this pasta maker is incredibly durable. It's easy to clean and the rollers and Cutters are made with adonized aluminum. Which is also easy for cleaning. It can run without electricity after your charge the motor.
It's quite easy to handle after you read the manuals. The mother that it has is quite powerful and it's perfect for any thickness of pasta that you might need. In total, the machine includes nine different settings of sizes and you can choose the optimal one.
But even though this item is quite compact you have a disability to place it even in a small kitchen. The only aspect is only the price of it – it's one of the most expensive items on this list.
8. Starfrit Electric Pasta & Noodle Maker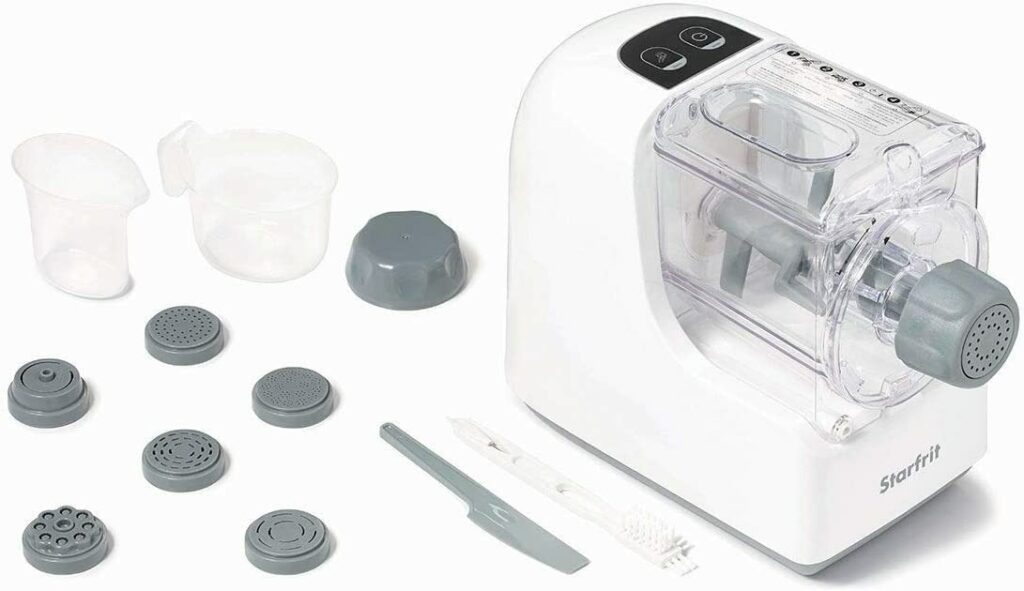 This is a small and compact electric passing machine. It is remarkable for The Unique pasta shapes that it can produce and in general, it can produce lots of pasta variations including dumpling wrappers and panic.
Of course, it sometimes shut off mid-cycle and you would have to return or extrude several times which is not really convenient. In addition to that, there is no drawer to keep the other discs either.
Because it has a lower price it does not have that versatility like other electric machines to make a multitude of different shapes.
But all in all, if you don't need to make pasta that often and you have a small size kitchen and you just want to have a compact and affordable device for that, this pasta maker by Starfrit is a nice choice.
9. Philips Compact Pasta and Noodle Maker
This is another has to make her by Phillips but it's just a more compact option. In general, it is a great choice for smaller batches of pasta because this small electric machine takes off its big professor.
And even though the pasta will be produced in a thicker size than with a traditional roller it still will be great. All extra attachments are included in the kit here. What is more, this machine is also cheaper than the original Phillips Pasta Maker.
But the quality of the pasta doesn't demolish because of it. You will need the ingredients such as water, flour, salt, and optionally eggs. Then you just need to select the right program and then the extruder starts mixing and needing.
When the machine stops you will need to get the work finished and a slice of the pasta at its desired length. It's really that simple. So if you just want to have fresh great-tasting pasta without any additional effort and you don't want to acquire a bulk machine for that this is the best choice.
FAQ for electric pasta makers buyers:
1. Are electric pasta makers any good at all?
In fact, if you want a traditional pasta maker but don't want to put in the effort to roll the dough manually, the electric pasta machine was made for you. There are a lot of nice options – and affordable. Choose the electric pasta maker, look at its power consumption, and decide which one will work best for you.
2. Can I wash my pasta machine?
You can clean the pasta-making machine (electric) either with a damp cloth or with a wooden brush. But never wash the machine with water or in the dishwasher.
3. How do you use an electric pasta maker?
First of all, you need to get the ingredients for the dough ready. Usually, it's not much, all it takes to make standard pasta is flour, eggs, and salt and pepper. Then check, if your pasta maker has a mixing container or if you must do that in advance – it's important.
Most of the electric pasta makers have those containers so you can just put all the ingredients there. The rest of the job the machine will do for you. The only task you must do here is to cut pasta with suitable discs, depending on the type you want to get.
4. How do you clean a pasta maker?
Check how many detachable parts your appliance has. Then take them out and put into the dishwasher (of course, if they're dishwasher safe). Then wipe the machine with a wet warm cloth. Be careful with power nests.
5. Why does my pasta dough have holes?
It probably has to do with several things: the temperature of the dough (the holes go away as the dough warms up), the gluten in the dough (as the flour absorbs moisture, it gets more elastic from the gluten and thus the holes go away), and finally the moisture content of the dough.
According to another version, these holes have a tendency to appear at the beginning of the making process, and they will disappear as you're making more and more dough.