When choosing a microwave, as with any other household appliance, you should pay attention to its functionality. Before you start buying, you need to decide what you need the microwave for and how you will use it.
You can simply heat up your food or prepare different dishes. This is the main criterion by which people usually choose the size of their microwave oven. Simpler microwave ovens have fewer tools. Thus, they need smaller sizes than more advanced microwave ovens.
There is a video that will give you some helpful advice when choosing a microwave oven.
Some people only choose microwave ovens by external parameters. This way of selecting and buying is a mistake. If the selected microwave oven does not have all the necessary functionality, it will no longer be in demand.
Thus, the necessary functions must always come first when selecting a microwave oven.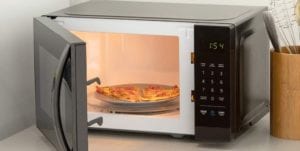 Microwave with grill, convection or steam function will have a large size. You will need more space in your kitchen to install it. It can also be integrated into your kitchen headset. But, a microwave oven must also have all the features to be built-in.
You may also like: What is a Convection Microwave? Pros & Cons
Microwave manufacturers and retailers strongly recommend that you test the size of your chosen microwave not visually, but by the characteristics, you have specified.
These are usually stated in the microwave package. You can also see the dimensions of this technique in the attached instructions.

Small microwave


takes up little space in the kitchen
the only function is to heat the food
microwaves heat food up
can accommodate small dishes






Big microwave


requires more room in the kitchen

can be integrated into the kitchen unit

has different cooking modes

heats food with infrared radiation

holds large dishes

If you need the smallest set of options, such as just warming up food, a small microwave will do. You can install it on any work surface in your kitchen. The cooking process will be very simple as the equipment will be installed in the right place and level for you.
The small size of your kitchen may also be the reason why you choose a small microwave. But, the popularity of such models is also due to their placement in offices, catering facilities and so on.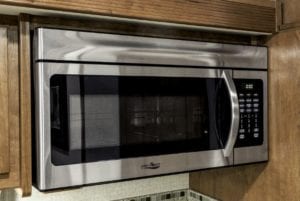 Small and large microwave ovens do not differ in principle. The main difference is in power supply, capacity and, of course, size. Small microwave ovens have two main types.
The first one is called "Solo" and is intended only for heating food, mainly one dish. The second variety is a fully functional unit. They are also small in size but at the same time have a large set of functions.
You can use the grill, cook different dishes and much more. The second type is more expensive than microwave ovens for heating food.
You should also note that the inner chamber volume of a small microwave oven is accordingly small. Thus, in such devices, you can not heat food in large plates.
Both sizes of microwave ovens have their advantages. The main thing you have to rely on when choosing is your needs and the allowable sizes.
You can also check this: How to cook rice in microwave fast & safe